Ham and cheese casserole with cauliflower is the ultimate low-carb comfort food. I created the recipe to use up leftover ham, but I liked it so much that I'll be buying ham steaks specifically to make it.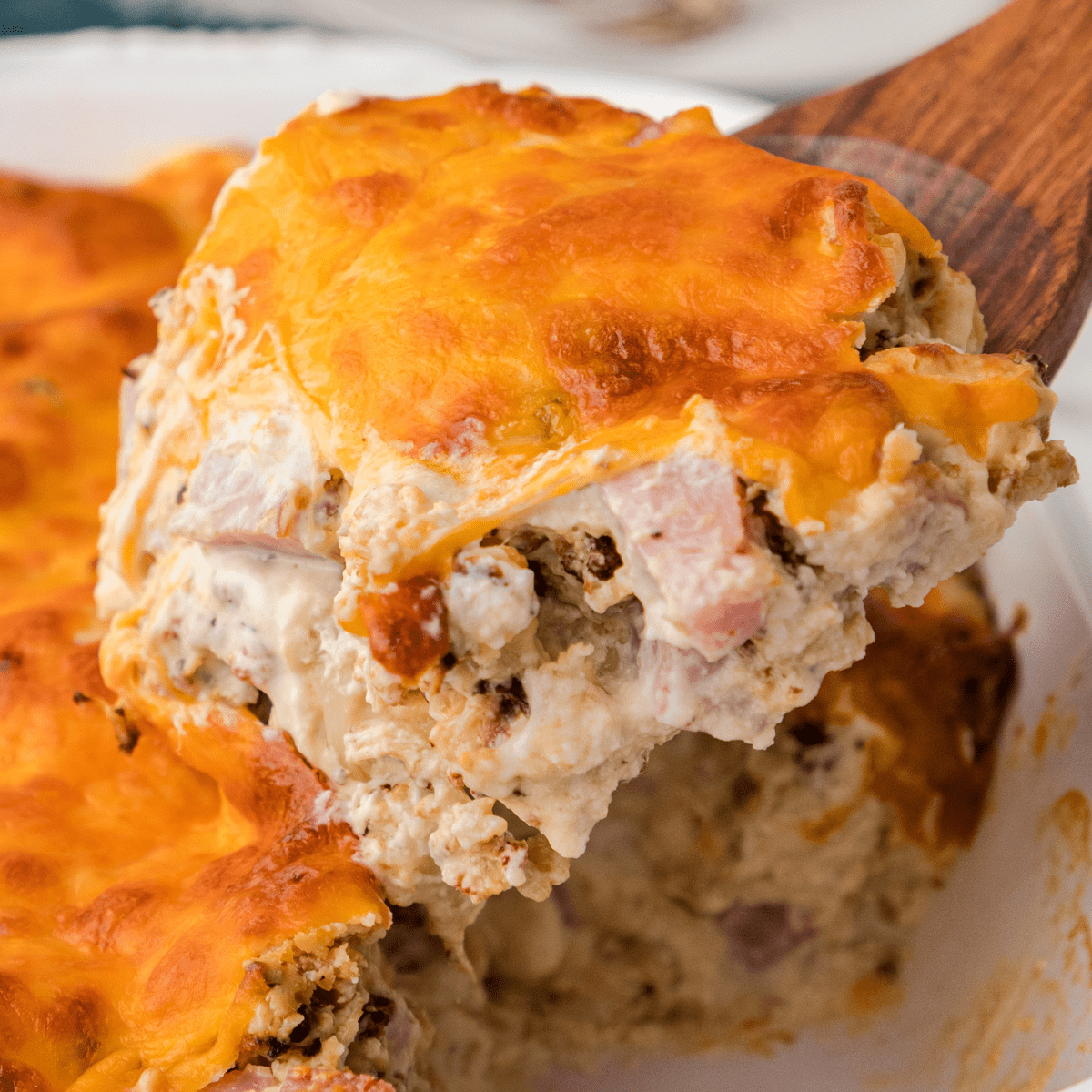 When I was in the fifth grade, I was in a recipe contest with the other girls in my Girl Scout troop. I remember that my recipe was a casserole with ham and a cream sauce, and I remember that it had both potatoes and water chestnuts in it. I remember that because one of the judges thought that the water chestnuts were undercooked potatoes.
Anyway, since my mom passed away several years ago, I have no one to ask for the recipe from that Girl Scout contest.
I was thinking of that casserole though, when I decided to put this recipe together.
After Christmas dinner, we had almost 15 pounds of ham to use up. Joe packaged a lot of it in 1-pound bags, but we still had two tubs full of it in the fridge. I ate a lot but I was getting tired of plain old ham for every meal.
Enter this recipe.
We had intended to eat roasted cauliflower for Christmas Eve dinner, and we forgot to cook it, so there were almost two full heads in the refrigerator. I put the two things together with some various cheeses and creamy bits and this recipe was born.
This ham and cauliflower casserole does take a bit of time to prepare because you have to first roast the cauliflower and then bake the casserole. For that reason, I don't think it's a good candidate for a weeknight meal, although it does reheat very nicely, so you could easily make it on the weekend and just heat it up during the week.
What you'll need to make low carb ham & cheese casserole with cauliflower
EQUIPMENT
In addition to a sharp knife and cutting board, you'll need measuring cups and spoons plus a deep 9x13 pan.
INGREDIENTS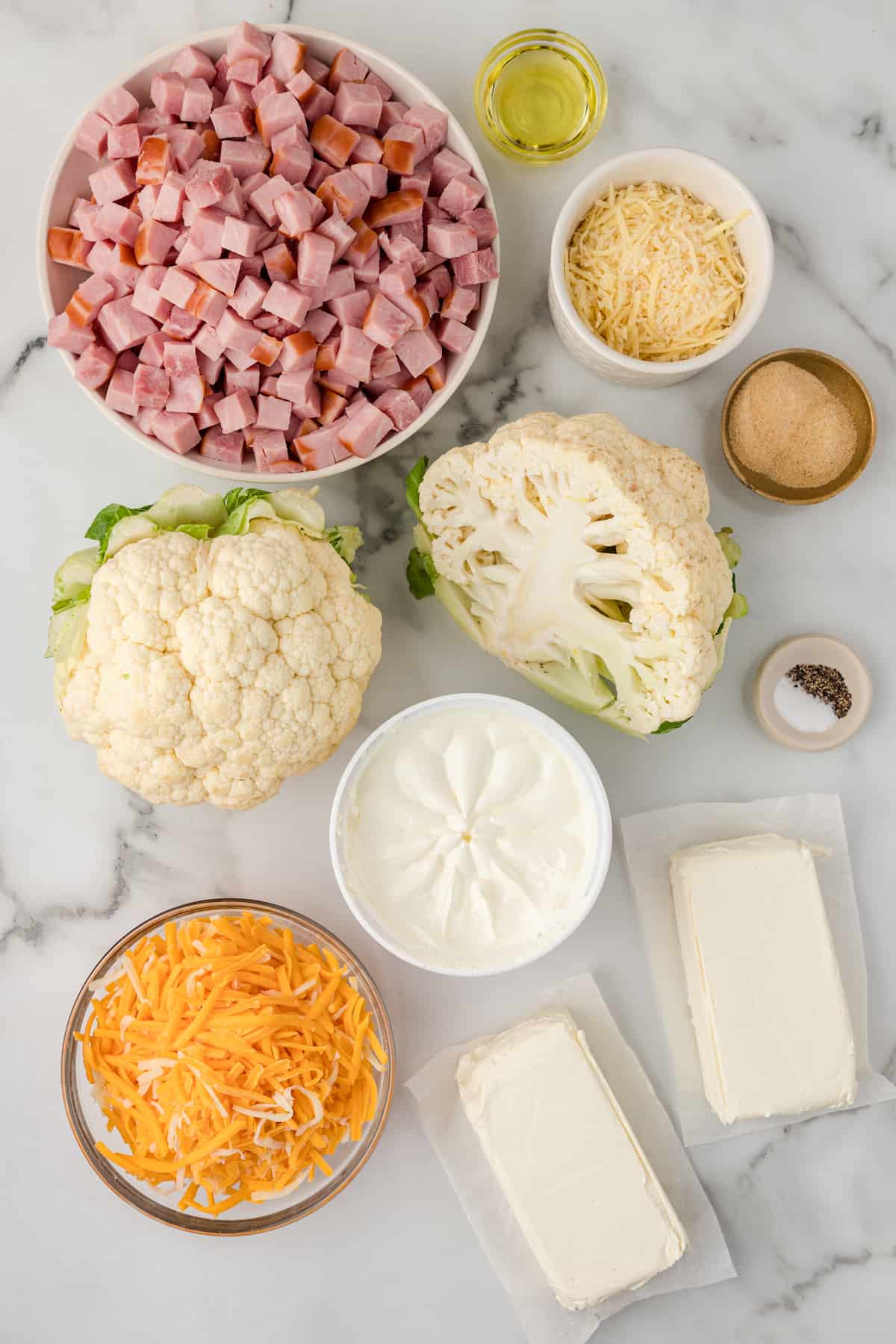 See printable recipe card at the bottom of the page for all measurements.
Fresh cauliflower - The cauliflower is the hero of this dish. Most ham and cheese casseroles use shredded or cubed hash brown potatoes, but I wanted a lower carb meal. So I replaced the potatoes with roasted cauliflower, and I love how it turned out.
Extra virgin olive oil extra virgin - This is optional, just used to keep the cauliflower from getting dry in the oven.
Low-fat cream cheese - This binds the ingredients together and gives the casserole a creamy texture.
Greek yogurt or sour cream - Greek yogurt has fewer carbs, less fat, and fewer calories than sour cream, so I use it whenever a recipe calls for sour cream. But you can use the real thing if you prefer.
Onion powder - I love how the combination of onion powder and garlic powder gives the filling a hearty flavor.
Garlic powder - I usually prefer fresh garlic, but I didn't want the bite of fresh garlic in this casserole. Garlic powder is a little more subtle.
Salt & pepper - I don't generally season things with salt and pepper, but if you prefer, you can add some to the cream cheese mixture, according to your taste.
Grated Parmesan cheese - Note that this is not the powdery shelf-stable kind but the slivered kind that you buy in the refrigerated dairy case.
Diced ham - You can use a ham steak or a leftover whole ham.
Shredded cheddar cheese - I had a 2 cup bag of pizza cheese which was a blend of sharp cheddar and mozzarella, but swiss cheese or really any cheese would be terrific.
How to make this easy ham casserole recipe
Preheat the oven to 425ºF.
Chop the cauliflower into slightly larger than bite-sized pieces. You should remove the core and the leaves but can include the thinner, more tender stalks. Place the cut cauliflower in a 9x13 baking dish.

At this point, you can toss the cauliflower in olive oil to keep it from getting dry in the roasting process. It's not 100% necessary. I didn't do it and the final dish came out very nicely anyway, even though the roasted cauliflower did look pretty dry in the intermediate step.
Roast the cauliflower for 45 minutes or until the florets are just starting to become tender. Don't overcook.

While the cauliflower is roasting, prepare the cheese mixture.
Soften the cream cheese by microwaving the two blocks on a plate or in a large bowl for one minute.
Combine the softened cream cheese with Greek yogurt, garlic powder, onion powder, and Parmesan cheese in a small bowl. Optionally, add some salt and pepper. You can taste it at this point. Prepare for awesomeness.

When the cauliflower is tender, remove from the oven and lower the temperature to 350ºF.
Add the ham to the cauliflower in the baking dish and stir together.

Pour the cheese mixture over the top and then mix it all together right there in the baking dish.

Sprinkle the shredded cheddar over the cheesy ham mixture.

Bake for 30 minutes or until the cheese is melted and the mixture is bubbly.

How to store leftover ham casserole
This casserole reheats beautifully, and I like to make it on the weekend and then reheat it for weeknight dinners.
Store leftovers in an airtight container for up to 5 days.
To reheat, spoon out a serving and microwave for 30-60 seconds, according to the wattage of your machine.
Alternately, you can reheat the whole thing in the oven at 350º for 10-15 minutes or until heated through.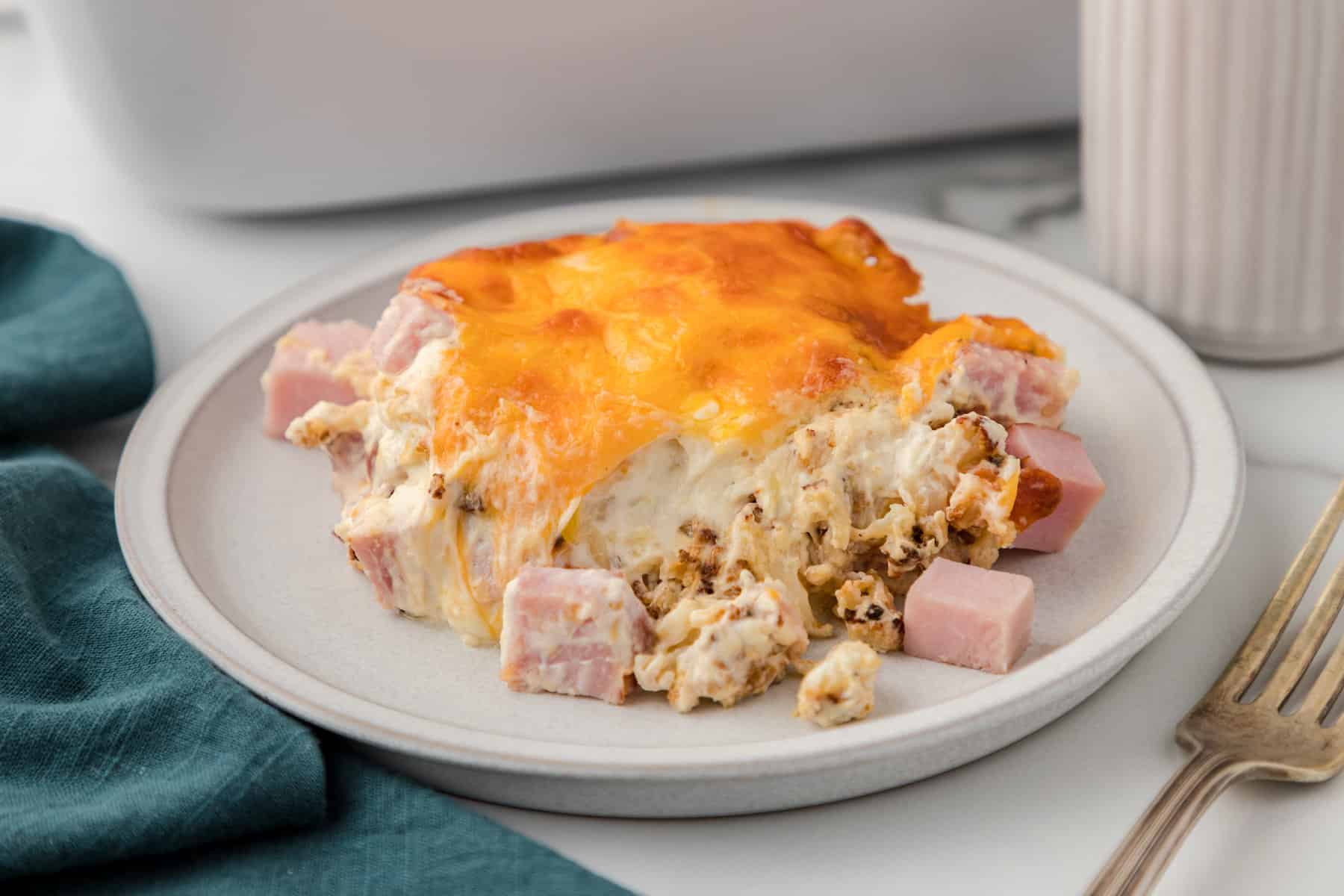 Check out these other low carb recipes:
Recipe