These homemade oven baked spicy jalapeno poppers are wrapped in prosciutto and stuffed with a cream cheese and cheddar filling. This easy & healthy recipe is low carb & keto. One of the best simple appetizers, no frying needed. Can be baked in the oven or air fryer.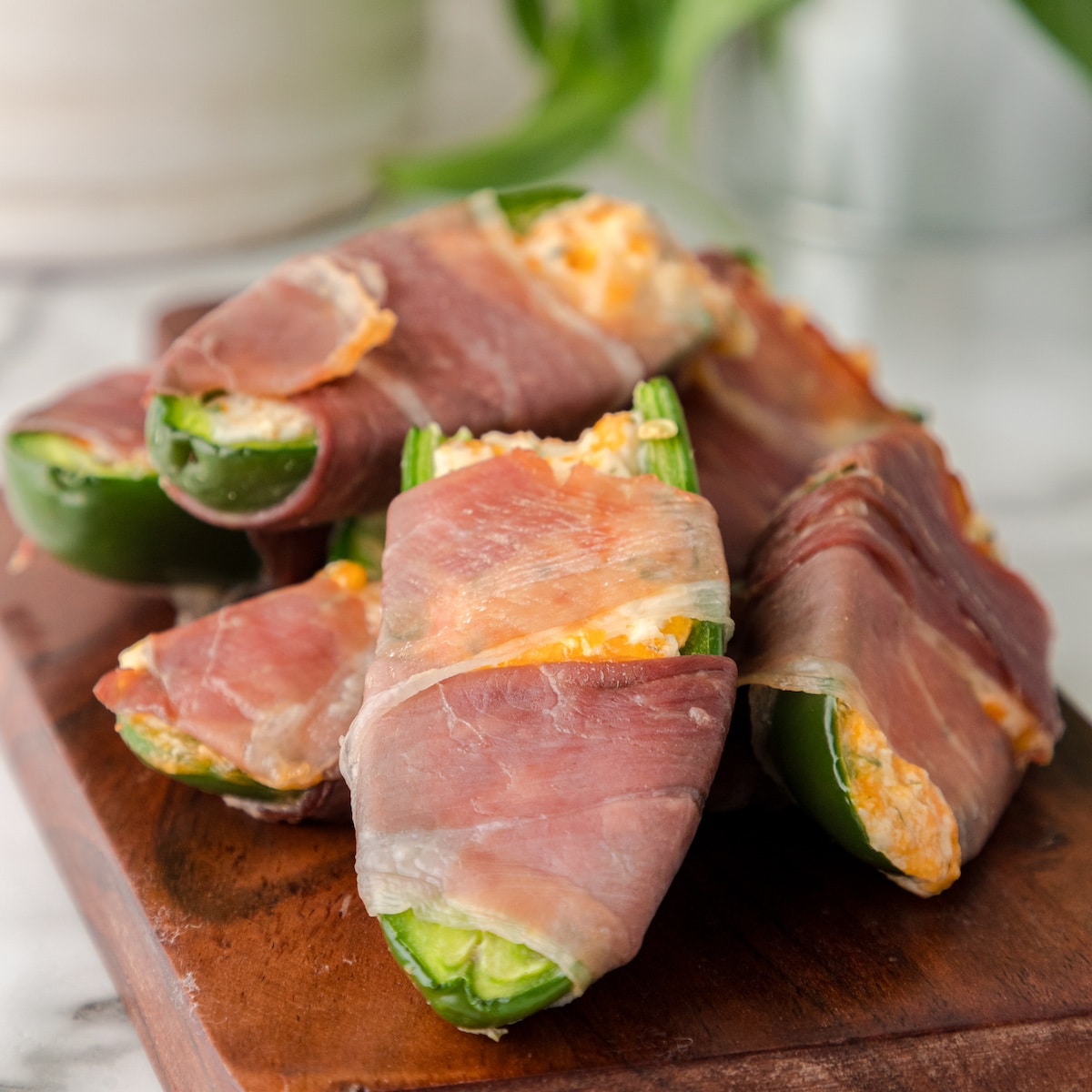 I love jalapeño poppers. Seriously, they could be my favorite food, especially the ones from Arby's; I think Arby's are the best.
Unfortunately, Arby's (and most other commercial pepper poppers) are breaded and deep fried, leaving them laden with carbs, fat, and calories. Since I eat a very low calorie, low carb diet as as a bariatric surgery patient, I can't manage eating for the rest of the day if I indulge in even a couple of Arby's pepper poppers.
Fortunately for me, this simple and easy recipe comes to the rescue with super healthy pepper poppers that have virtually no carbs and lots of the flavor I love.
Why this is the best keto jalapeno popper recipe
These jalapeno pepper poppers bake up crispy on the outside and gooey on the inside and taste so good!
They are made with 6 simple ingredients. It's enough for a top-notch flavor and so simple to put together.
These little pepper poppers have less than 100 calories per popper, so they make perfect snacks for any time!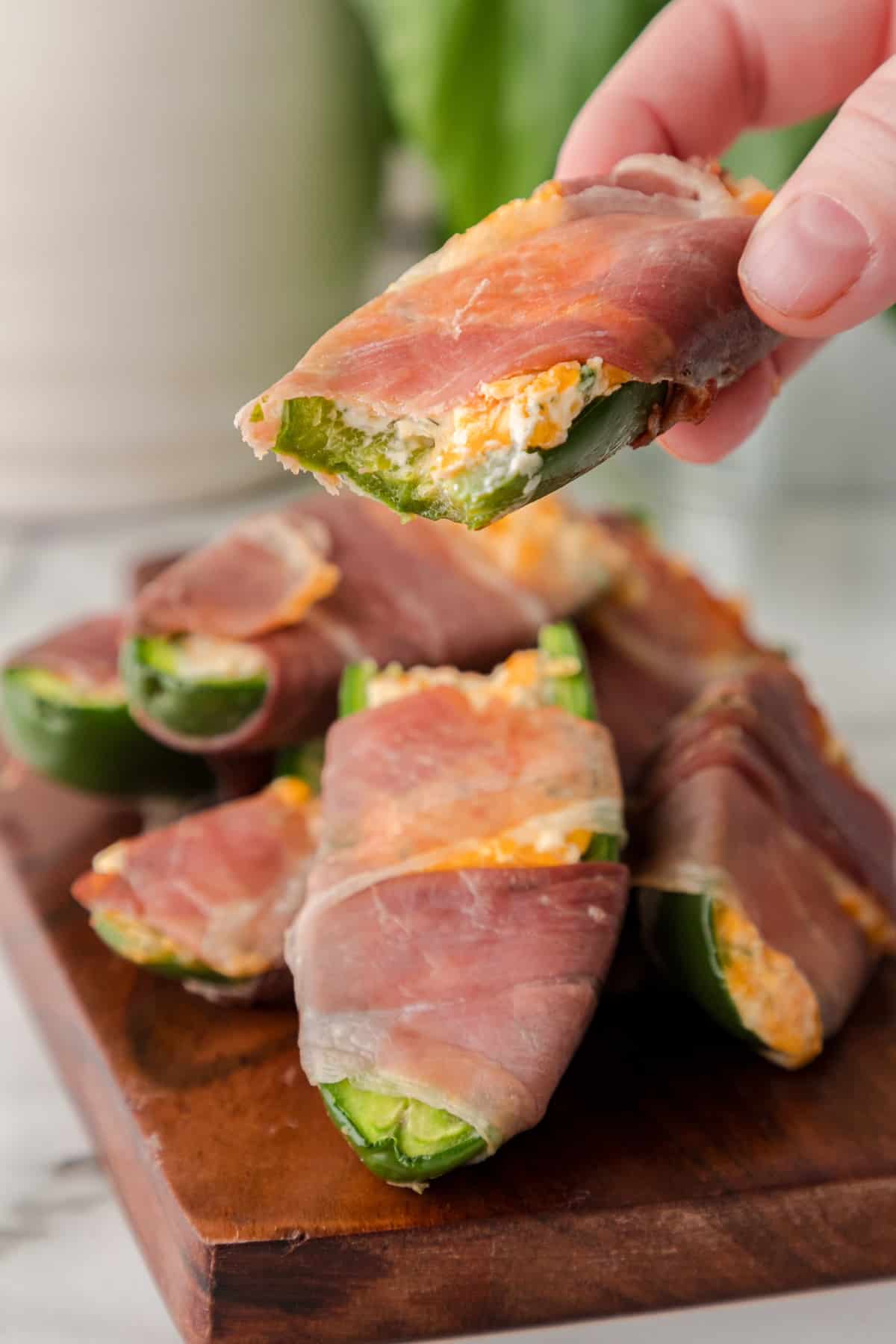 The prosciutto adds protein to the peppers, making them more filling than traditional breaded pepper poppers.
Because we're using prosciutto instead of bacon, these little babies cook much faster than bacon-wrapped pepper poppers.
What you'll need to make the best keto jalapeno poppers recipe
EQUIPMENT
Disposable gloves - You could make this recipe without disposable gloves, but they help cut down on the capsaicin transfer. Capsaicin is the compound that makes hot peppers hot, and if you cut the peppers without gloves and then wipe your face (or butt!) without first washing your hands, your skin will burn like fire. Ask me how I know. It's best to use gloves and then throw them away before touching anything else.
Parchment paper - I like to line my baking sheet with parchment paper, but this is optional.
Baking sheet - Any heavy duty baking sheet will be fine. I have stoneware baking sheets and aluminum baking sheets, and there is virtually no difference in the pepper poppers made on either one.
INGREDIENTS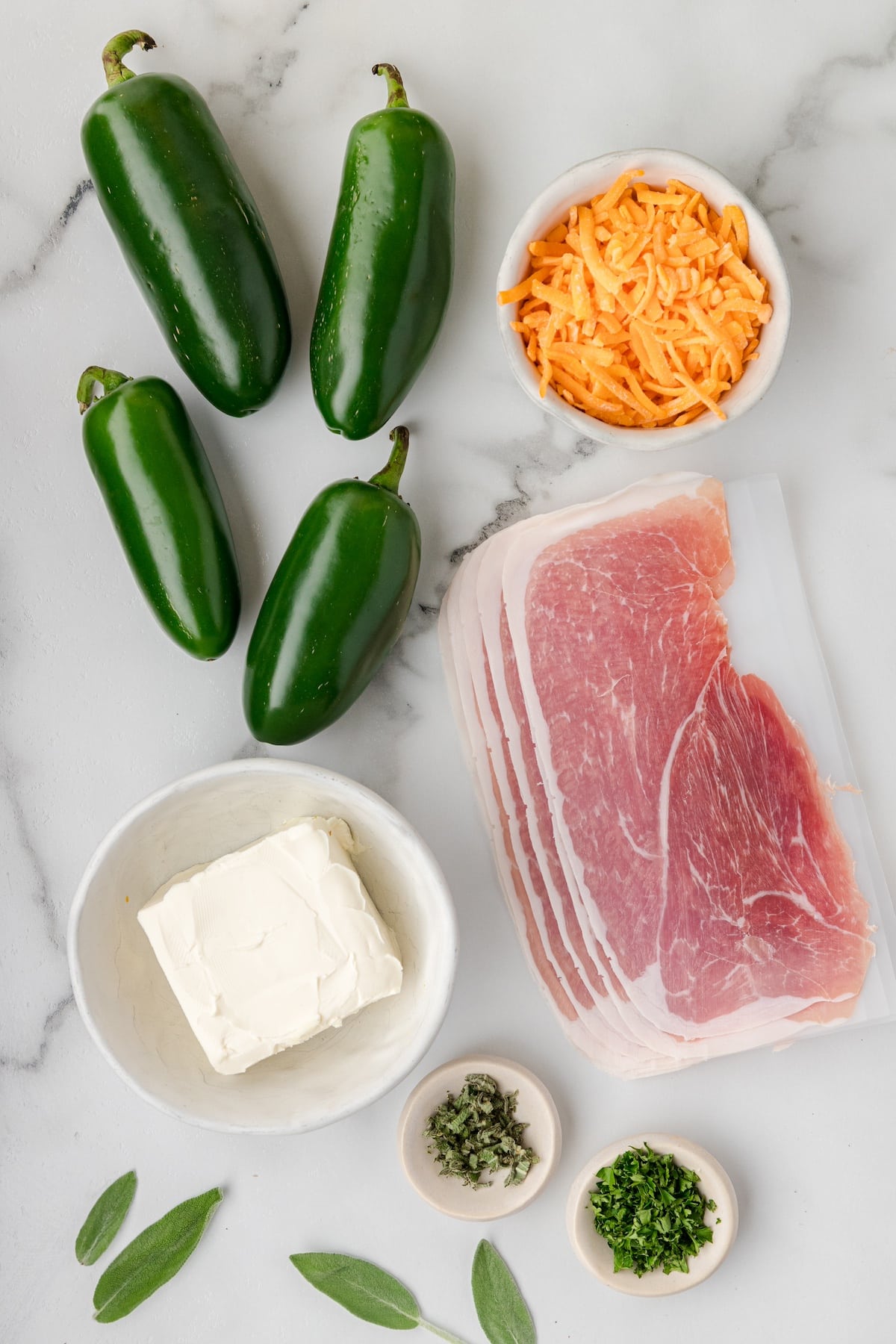 See printable recipe card at the bottom of the page for all measurements and nutritional information.
Jalapeno peppers - You could use any small to medium hot or sweet pepper for this recipe, but jalapenos are the gold standard for pepper poppers. Aim for 4-5-inch long peppers. Smaller ones won't hold much filling.
Prosciutto - Prosciutto is is a thinly sliced pork product that's made by curing the leg of the pig in salt. It has a unique flavor and texture. If you can't find prosciutto, bacon would work too but would add more fat & calories. It will still taste amazing, but buy the thinnest cut bacon you can find.
Italian parsley - You'll want fresh leaves if possible.
Sage - You'll also want fresh leaves if possible.
Cream cheese - I use the low fat Neufchatel variety, but the full fat will also work just fine. It needs to be softened to room temperature.
Shredded cheddar cheese - I love the mix of cream cheese and cheddar in this recipe. You could substitute another shredded cheese if you don't like cheddar.
How to Make Homemade Low Carb Keto Jalapeño Poppers in the Oven
Preheat the oven to 350°F. Line a baking sheet with parchment paper and set aside.
Prepare the filling. Mince the Italian parsley and sage (or alternately, you could just chop it with scissors into very small pieces) and add the filling ingredients to a mixing bowl.

Mix herbs thoroughly with cheddar cheese; blend into cream cheese.

Prepare the peppers. Use disposable gloves. Cut the top of each jalapeño off and cut the jalapeño peppers in half from top to bottom to make long, thin boats. Remove the seeds and ribs to reduce the spiciness.

Use a spoon to fill jalapeno halves with the cream cheese mixture, but don't overfill as the cheese will expand when heated.

Prepare the prosciutto. Cut each slice of prosciutto in half lengthwise so that there are two thin strips each. Wrap a prosciutto strip around the cream cheese filled jalapeños.

When wrapping, cover the pepper top to prevent cream cheese filling from spilling out when it expands during baking. You can secure the end with a toothpick, but I rarely need to do that because prosciutto is so thin and easy to work with.

Bake the jalapeno poppers. Place the wrapped jalapeños on the lined baking sheet lined. Bake at 350°F degrees for 15-20 minutes. Remove from oven and allow to cool for 2-5 minutes. The filling will be very hot.

How to Make Homemade Low Carb Keto Jalapeño Poppers in the Air-Fryer
These poppers come out great in an air fryer. To cook them that way, simply place the pepper halves in a single layer in the air fryer basket. Preheat the air fryer to 370ºF and cook for 6-7 minutes or until the prosciutto is crispy.
Pepper popper variations
As I said above, you can use any sweet or hot pepper that's approximately the shape of a jalapeno. It should be small enough to eat in a bite or two but big enough to hold a healthy spoonful of filling.
Some people like to add spices like garlic powder and onion powder to the filling. I recommend a scant teaspoon, and then taste to see if you want to add more.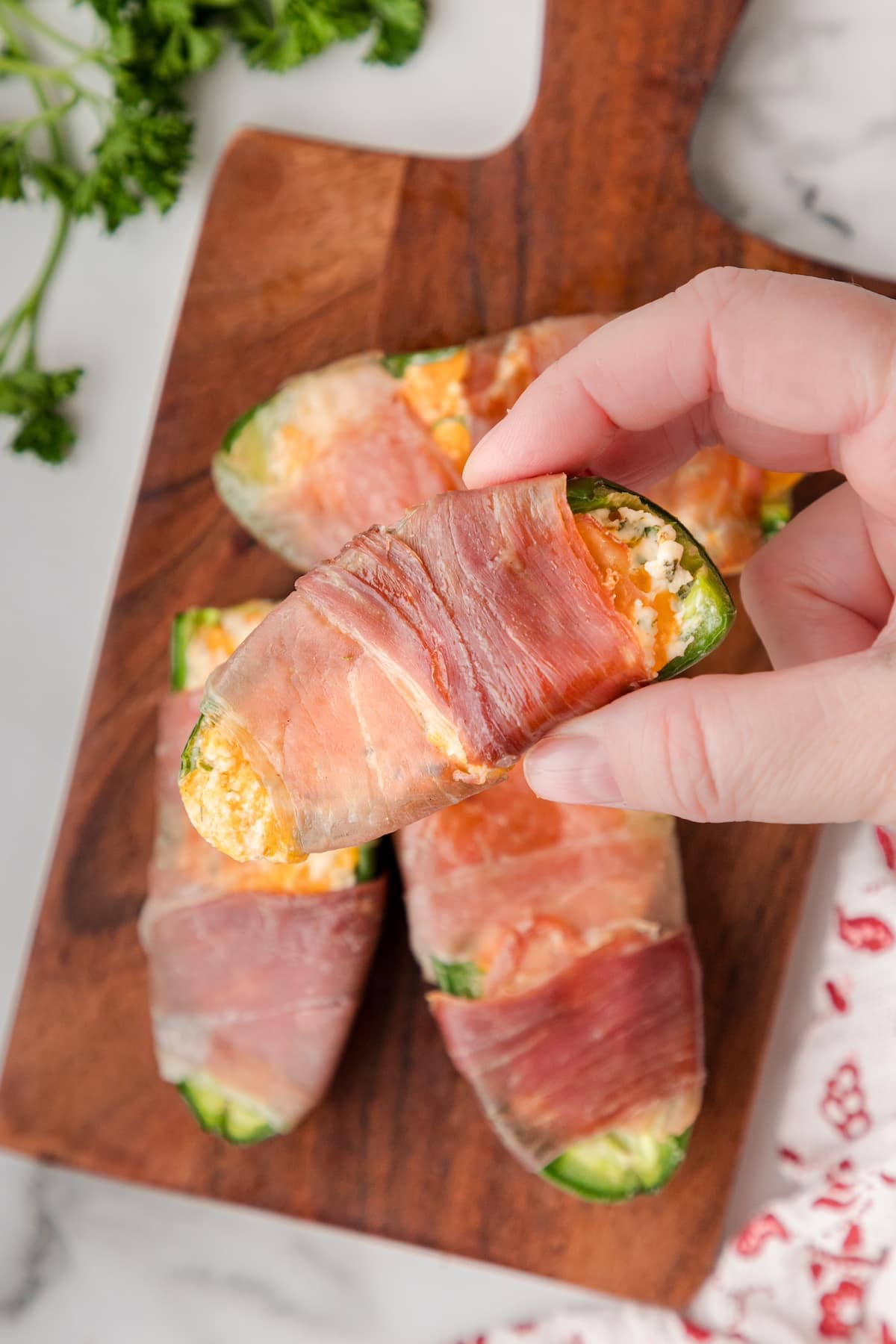 You can replace the sage with minced green onions if you prefer. It changes the flavor but is still really good.
To make the peppers extra spicy, you can add the jalapeno seeds into the filling or add a pinch of cayenne to it. Use just a pinch and taste before adding more.
Can prosciutto-wrapped jalapeno poppers be made ahead?
Yes! You can assemble these, place them on a plate or baking sheet, cover it tightly with plastic wrap, and keep in the refrigerator until you're ready to bake them, up to 3 days.
Storing leftovers
Don't throw away any extra cream cheese filling! It's delicious on crackers or cucumber slices.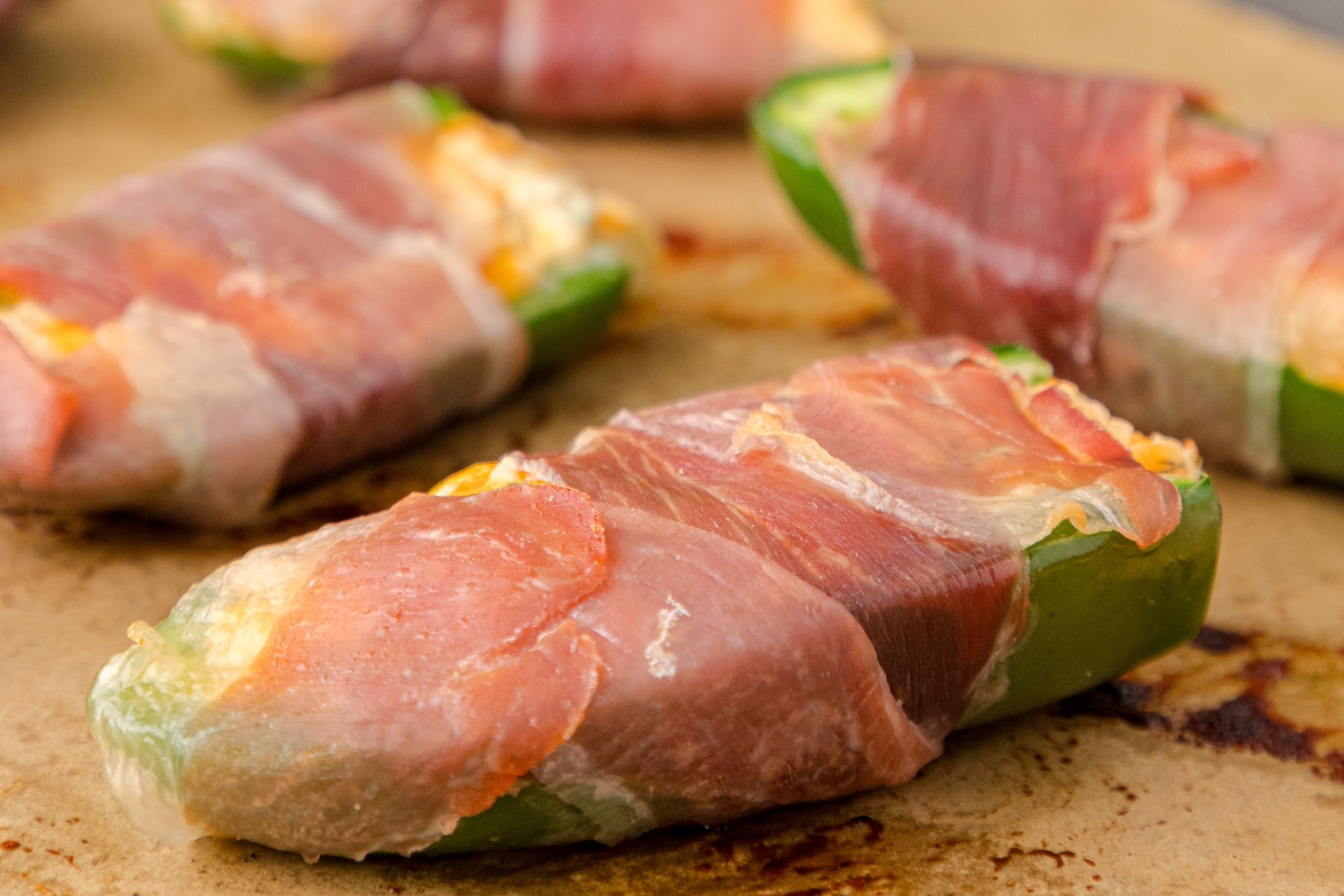 I store leftover jalapeno poppers in the fridge on a plate inside a zippered plastic bag, but you can use any airtight container you like. They will keep for about 4-5 days. To reheat, pop them in the air fryer at 370ºF for 2-3 minutes or in the oven at 350ºF for 10 minutes. You can also microwave them, but the prosciutto will get soggy that way.
These prosciutto-wrapped jalapeno poppers can also be frozen. Flash freeze them by placing on a room temperature baking sheet for 30-60 minutes. Once they are hard, move them to a zippered freezer bag and place it in the freezer. They'll be good for up to 3-4 months. To serve, simply place the frozen peppers on a baking sheet and bake in a pre-heated oven for 10-15 minutes or until hot.
Here's more keto appetizers to try:
Check out these other spicy recipes while you're here:
Recipe