Buffalo Chicken Zucchini Boats is a healthy AND delicious low carb dinner recipe! It's quick and easy and super simple to throw together on busy weeknights with just a few cheap ingredients including chicken breast, buffalo sauce, and blue cheese crumbles. If you like buffalo wings, you're going to love this healthy zucchini boat version of that famous spicy chicken.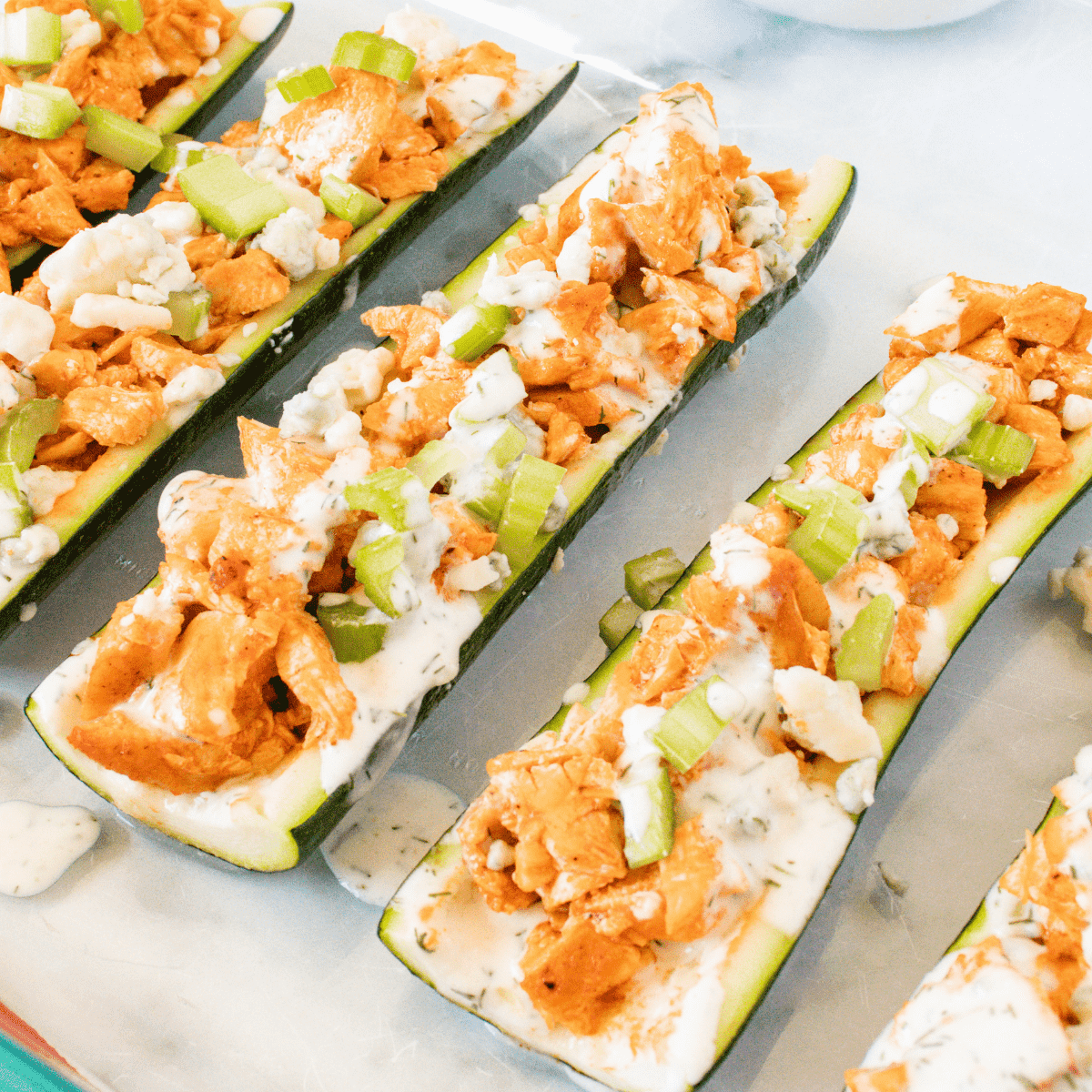 Why you'll love these buffalo chicken zucchini boats
These zucchini boats are easy to make and take about 5 minutes to prep.
You can make these zucchini boats ahead of time and keep them covered in the fridge until you're ready to bake.
Stuffing zucchini boats with spicy buffalo chicken makes a super low carb meal that is reminiscent of a buffalo chicken sandwich. You get the rich insides without all the carbs of a roll which makes it perfect for a keto or bariatric diet.
Mixing a small amount of butter with the buffalo sauce gives the buffalo chicken a rich, spicy flavor.
What you'll need to make buffalo chicken zucchini boats
EQUIPMENT
Scoop set - I like to use a scoop to hollow out the zucchini boats, but you can use a spoon if you have a really sturdy one.
Deep 9x13 pan - You'll need this to bake the zucchini boats. I don't recommend using a sheet pan as they will release a lot of liquid.
INGREDIENTS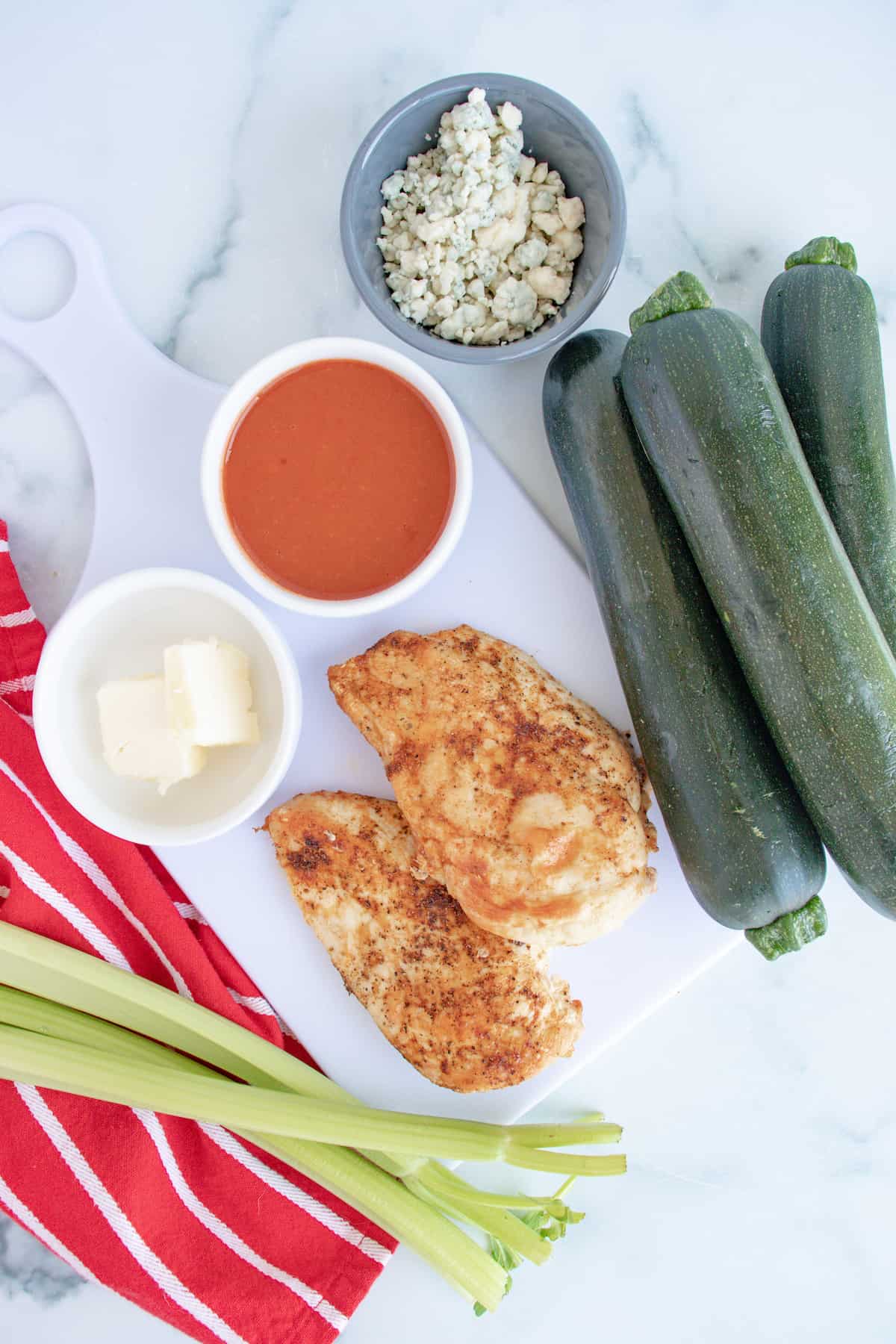 See printable recipe card at the bottom of the page for all measurements and additional information.
Boneless skinless chicken breasts or canned shredded chicken or ground chicken or turkey
Frank's RedHot Sauce - This is my favorite buffalo sauce (not sponsored). If you prefer something else, use whatever you like.
Melted butter - You'll mix this with the hot sauce to make it a little more rich and authentic tasting.
Zucchini - Medium to large zucchinis will work best for stuffing.
Blue cheese crumble - These are used for garnish at the end. If you really love blue cheese, you could toss an extra handful or two into the chicken mixture. I am going to try that next time I make this dish.
Diced celery diced - I personally hate celery but I know that it's the standard thing with buffalo chicken, so I put some on top of my zucchini boats. But I don't actually put it on when I make these for my own family.
Ranch dressing or blue cheese dressing - Homemade ranch dressing is the very best (follow the link for my recipe), but blue cheese dressing is also very nice for drizzling at the end.
How to make buffalo chicken zucchini boats
Preheat the oven to 400ºF.
Wash and dry the zucchini and slice each in half lengthwise. Use a scoop to carefully hollow out each zucchini half. Set aside in a 9x12 baking dish.

In a medium bowl, combine the shredded chicken, hot sauce, and melted butter. Stir until the chicken is completely coated in buffalo sauce.

Add the buffalo chicken mixture to each zucchini boat.

Tightly cover the baking dish with foil and bake in the pre-heated oven for 25-30 minutes.
Once the zucchini is cooked through, remove from the oven and sprinkle the boats with blue cheese crumbles, chopped celery, and a drizzle of ranch dressing.

Serve hot.
Can I use ground chicken or turkey in this recipe?
Definitely! I would use one to two pounds of ground chicken or turkey. As mentioned above, you can also use two cans of shredded chicken for a quick and easy recipe.
Variations of buffalo chicken zucchini boats
As stated above, you can use whole chicken breasts, canned shredded chicken, or ground turkey or chicken.
If you want a milder version of this spicy recipe, you could mix a block of cream cheese or a cup of plain Greek yogurt into the buffalo chicken mixture. Make it even more mild by adding a few spoonfuls of homemade ranch dressing.
I like to dice some onion and caramelize it in a little butter and then toss that in with the chicken and buffalo sauce. You can do the same with some diced celery or green bell pepper and cook those to make them tender. Or leave it raw if you want. You do you.
If you hate celery as much as I do, you could garnish with some chopped green onion tops instead of diced celery.
You can throw in a couple of handfuls of shredded cheddar cheese or mozzarella cheese or even pepperjack to the chicken mixture or top the chicken with cheese before putting it in the oven.
You could crumble some bacon and throw that in with the chicken.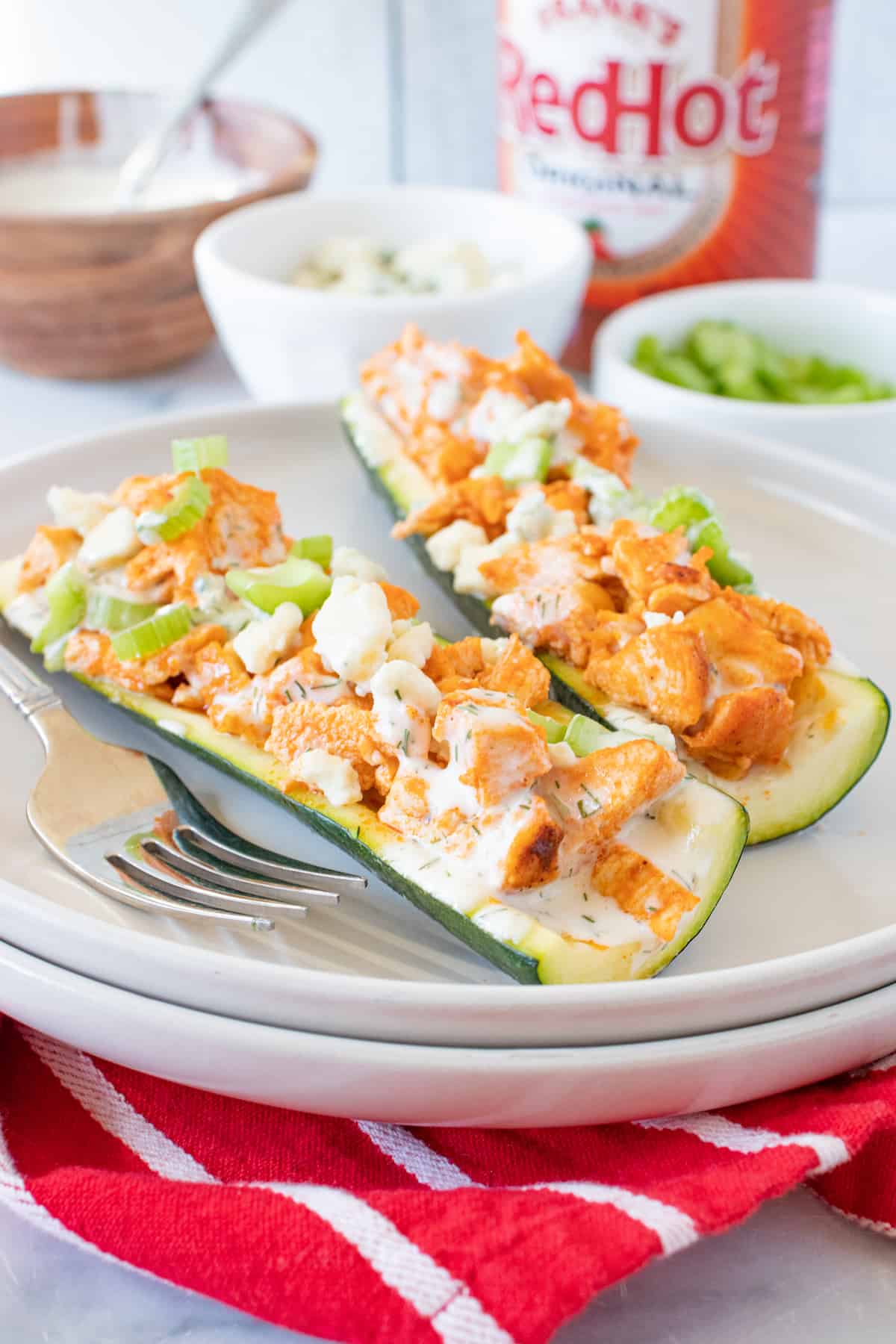 What do to with leftover buffalo zucchini boats
Wrap leftover buffalo chicken zucchini boats in foil or place in an airtight container and store in the refrigerator for up to 3-5 days.
You can also freeze zucchini boats. Wrap tightly in plastic wrap and then two layers of aluminum foil, then drop into a zippered plastic bag. Store in the freezer for up to 3 months.
To serve frozen zucchini boats, thaw overnight in the fridge. Microwave the zucchini boats for 2-3 minutes or until heated through, or reheat in the oven at 300ºF for 10-15 minutes.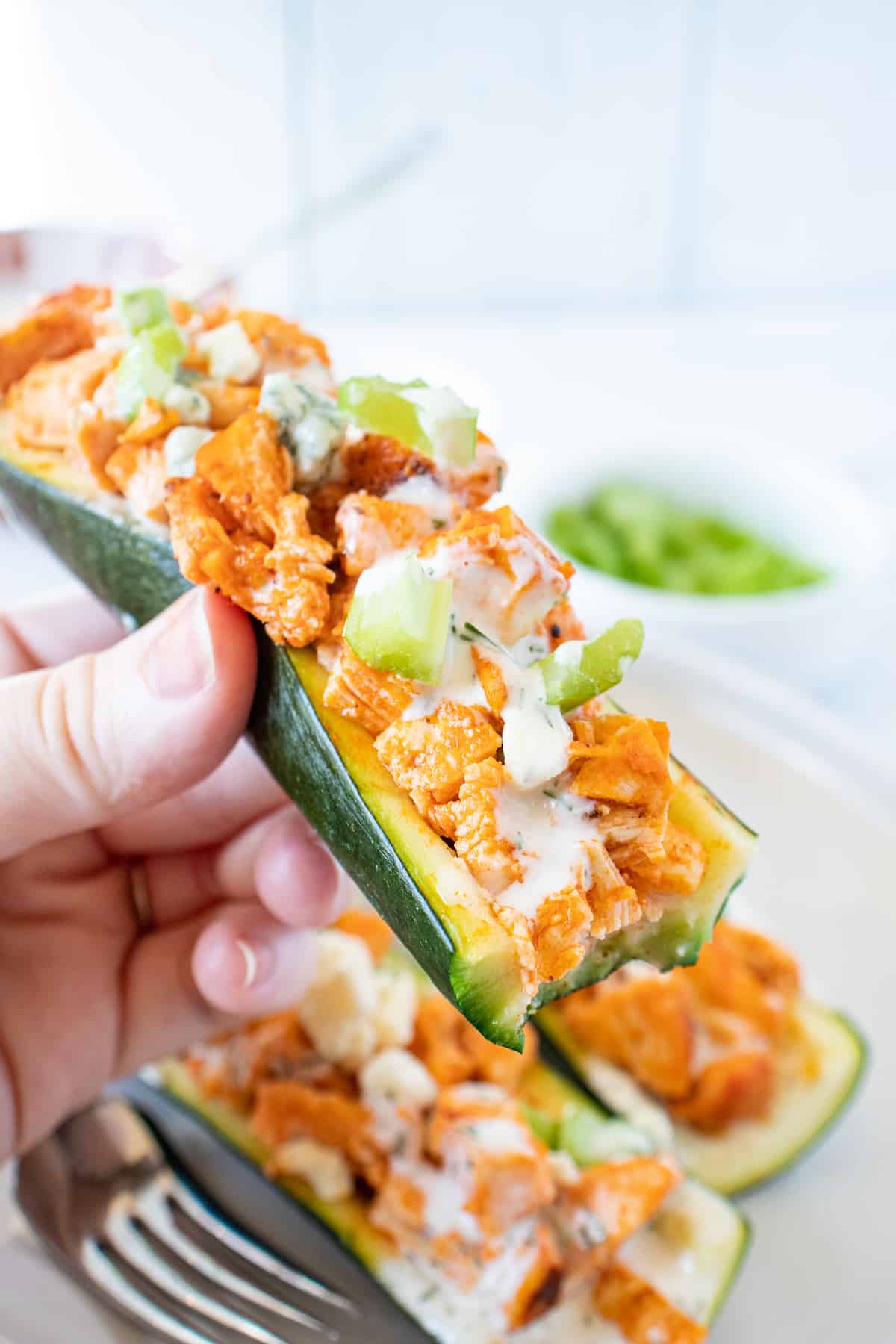 Serve this buffalo chicken zucchini boat recipe with one of these delicious side dishes:
Recipe