How to make the best healthy meatloaf - This easy recipe uses a combination of juicy ground beef and lean ground turkey for a healthy, clean eating, low carb meal. Makes a juicy and flavorful meatloaf!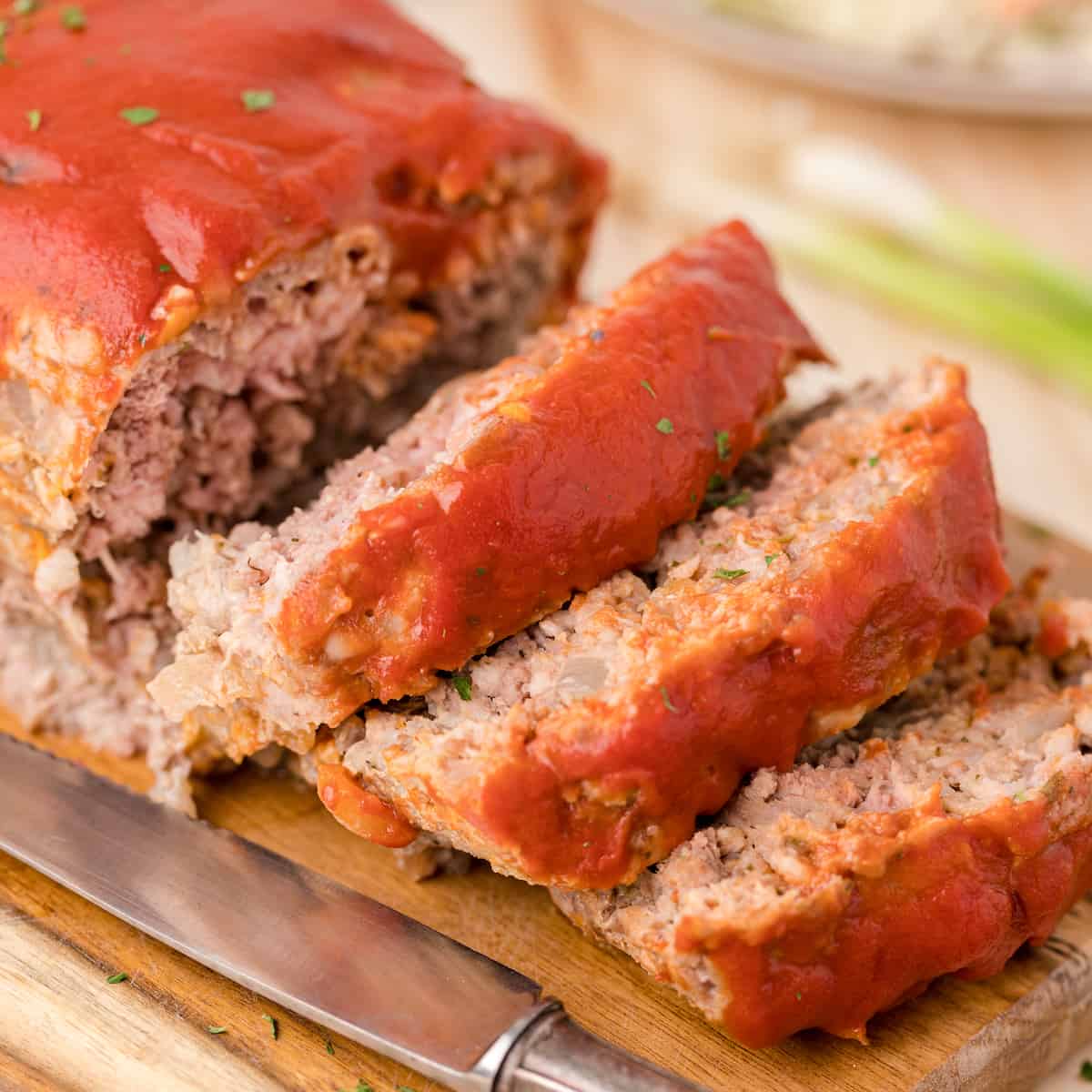 I'm in the mood for some comfort food, and nothing is more comforting than A-1 sauce slathered over a big hunk of meatloaf. I don't make meatloaf, mind you. This is 100% Joe's department.
Raw meat is so not my thing.
We've never really loved turkey meatloaf, because it tends to get dry, but we do try to cut fat and eat healthier foods.
This version of a traditional meatloaf combines moist, juicy ground beef with lean ground turkey for a lighter twist on the original.
We both really like this version of meatloaf. We've been using it for the duration of our marriage.
When my mom made meatloaf, she added hard boiled eggs in the center, so that is definitely an option. We don't add them to ours because hard boiled eggs covered in A-1 sauce would be weird, and I can't eat meatloaf without A-1 sauce. So that's that.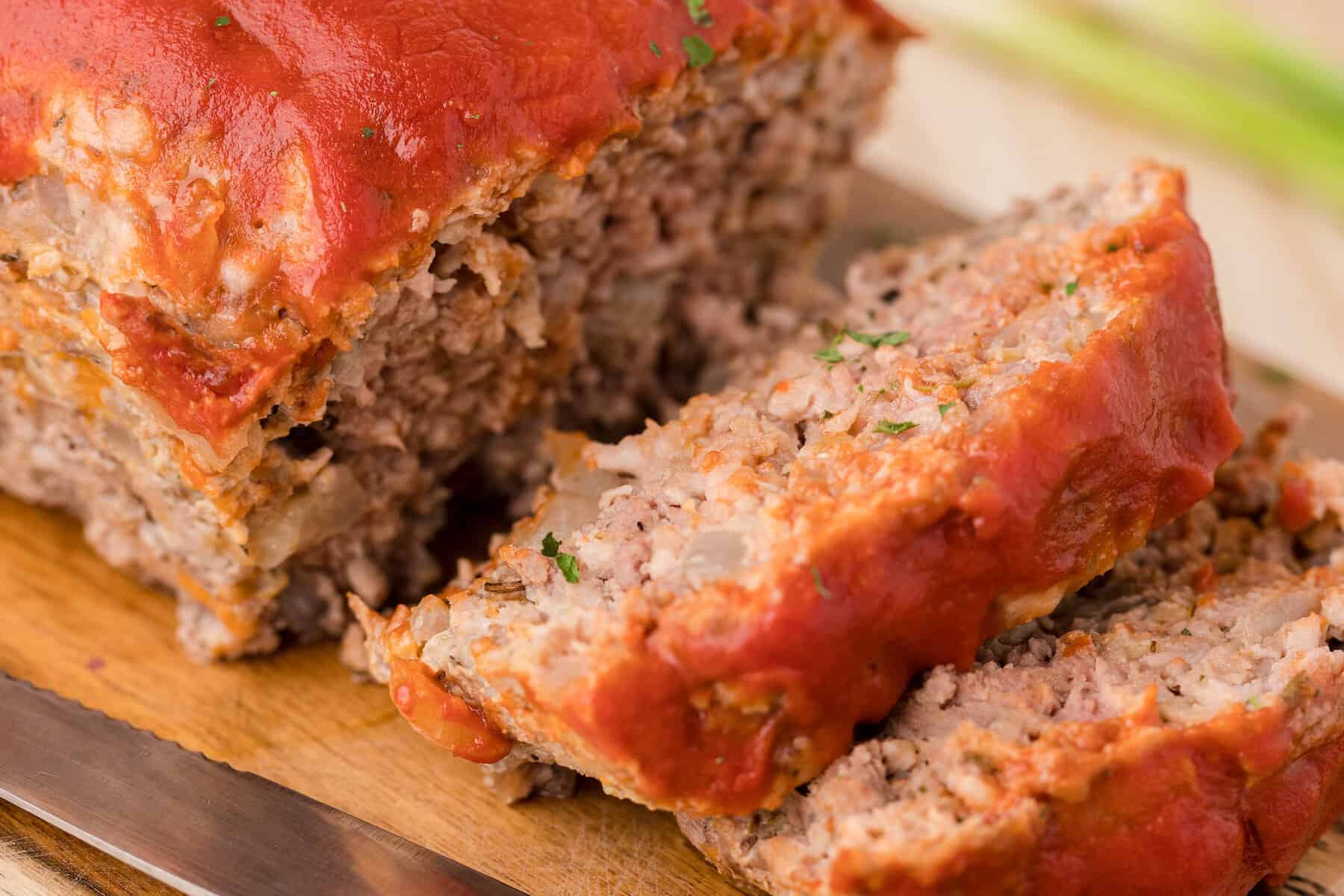 Why this is the best healthy meatloaf recipe
This meatloaf uses a mixture of ground beef and ground turkey. The ground beef is juicy and has lots of flavor. The ground turkey is extremely lean. Together, they make a winning combination.
Using a blend of lean ground beef and ground turkey makes the meatloaf have very few calories. A slice that's one-sixth of the full loaf has fewer than 240 calories and 19 grams of protein.
It's easy! Mix it all up, stuff it in a loaf pan, and bake!
Kids love meatloaf because it's slathered in ketchup glaze.
For traditional comfort food, I serve this meatloaf with crockpot mashed potatoes and Parmesan roast carrots. If I'm looking for a healthier meal, I skip the potatoes and serve it with roasted red beets or roasted brussels sprouts.
What a healthy meatloaf is made from
Equipment
To make a healthy meatloaf, you'll need some measuring cups and spoons, a skillet, a garlic press, and a loaf pan. I also recommend using a meat thermometer so that you'll know when it's save to take the meatloaf out of the oven.
Ingredients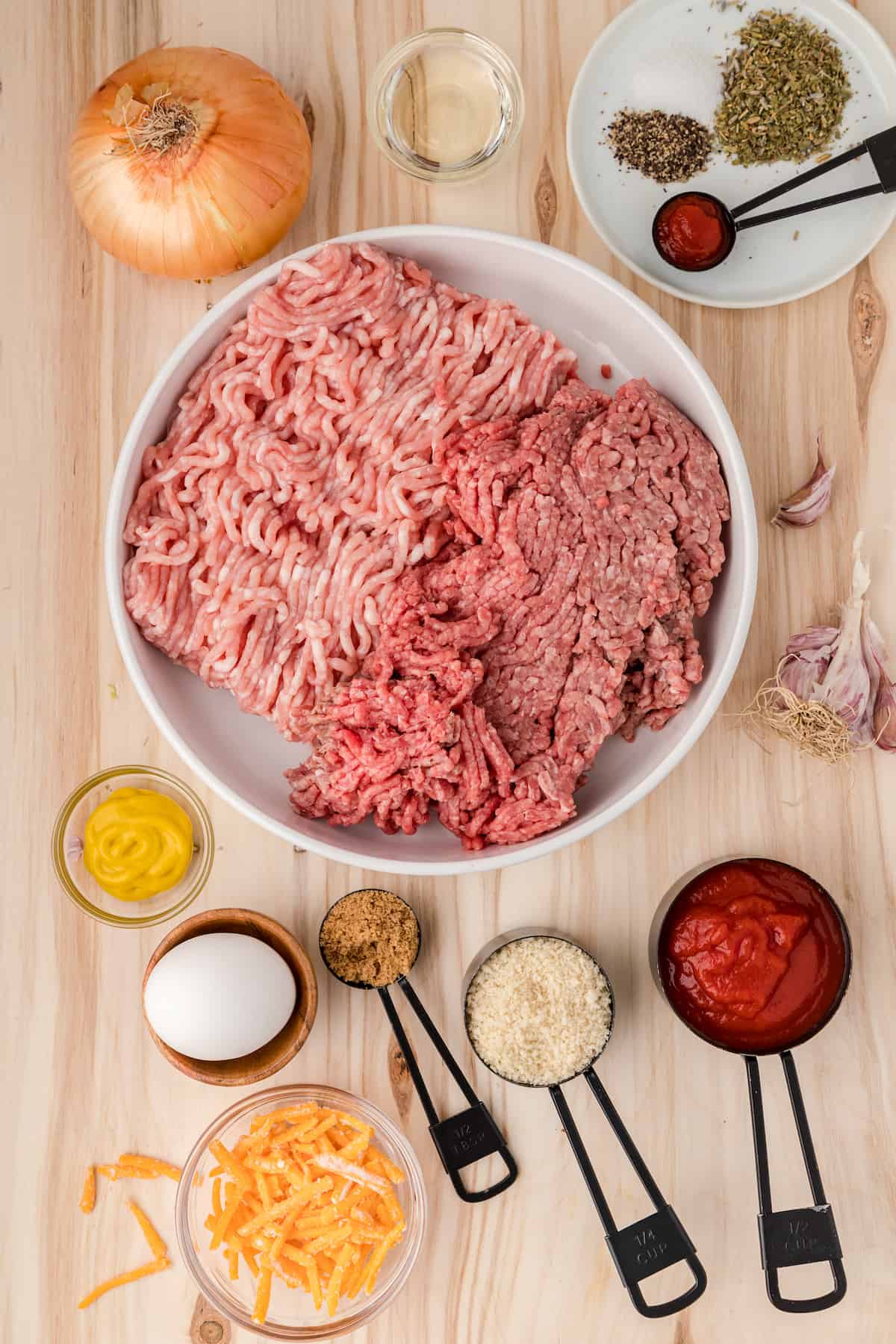 See the printable recipe card at the bottom of the page for measurements.
Olive oil
Chopped onion - Chopped onion should be required in everything. Pre-cooking it in a bit of olive oil brings out the natural sweetness, giving the meat so much flavor. If you have an onion-hater, cut it super small but don't leave it out if you can help it. The onion contributes so much to the flavor. If you have to leave it out, add a tablespoon of onion powder to the breadcrumbs.
Fresh garlic - There is no substitute for the pungent flavor of fresh garlic.
Low fat shredded cheddar cheese - Cheese makes everything better. It might sound weird to put shredded cheese inside a meatloaf, but it adds a little fat to the ground turkey, making it juicier, and it also gives the meat a robust flavor.
Bread crumbs - These, with the egg, hold the meatloaf together and make it taste more like a meatloaf and less like burgers. You can substitute this with almond flour for low carb, gluten-free, and Whole30 diets.
Italian seasoning - Also makes the meatloaf taste like a meatloaf rather than a burger.
Ketchup - A tiny bit of ketchup mixed in with the meat gives it a slightly sweet flavor.
Salt & pepper
A large egg - This binds the other ingredients together.
Ground turkey
Ground beef - I recommend using 93% lean ground beef as it has the fewest calories but still has enough fat to make the meatloaf juicy and full of flavor.
More ketchup - This is the base of the glaze. If you can find low sugar ketchup, that's great to use as it lowers the overall calories of the finished meatloaf.
Brown sugar - This is just a tiny amount of sugar in a comparatively large amount of ketchup. The brown sugar gives the glaze an almost BBQ-y flavor that's really nice.
Mustard - Adds to the BBQ flavor. It might sound weird, but trust me, you'll love it.
How to make the best classic meatloaf recipe
Preheat the oven to 350ºF.
Heat olive oil in a medium skillet over medium heat. When it's hot, add onion and garlic. Sauté until onion is translucent and beginning to brown. Remove from heat.

Combine onions with cheese, breadcrumbs, Italian seasoning, ketchup, salt, pepper, and beaten egg in a large bowl.

Toss together until well blended.

Mix ground meat together. Crumble over the breadcrumb mixture.

Mash together with your hands until it's evenly blended.

Spritz a loaf pan with cooking spray (or line it with parchment paper or aluminum foil) and press the meat mixture into it.

Bake for 35 minutes or until the internal temperature in the center reaches 165ºF.

While the meat bakes, make a glaze by mixing together ½ cup ketchup with brown sugar and mustard.

After the first 35 minutes, spread this over the meatloaf and return to the oven for 5 minutes.

Do you have to sauté the onions for meatloaf?
I guess that's a matter of personal preference. If you don't sauté the onions, you're going to have crunchy raw-ish onions in your cooked meatloaf. I think that would be gross, so I pre-cook my onions and recommend that you do too.
Can this recipe be made gluten-free?
Yes, you can make a healthy meatloaf gluten-free. The recipe includes a small amount of breadcrumbs, so you would need to use gluten-free breadcrumbs or pulse some gluten-free bread in the food processor to make your own breadcrumbs. You could also use almond flour which is naturally gluten-free.
You'll also need to look closely at the ketchup to make sure it's gluten-free.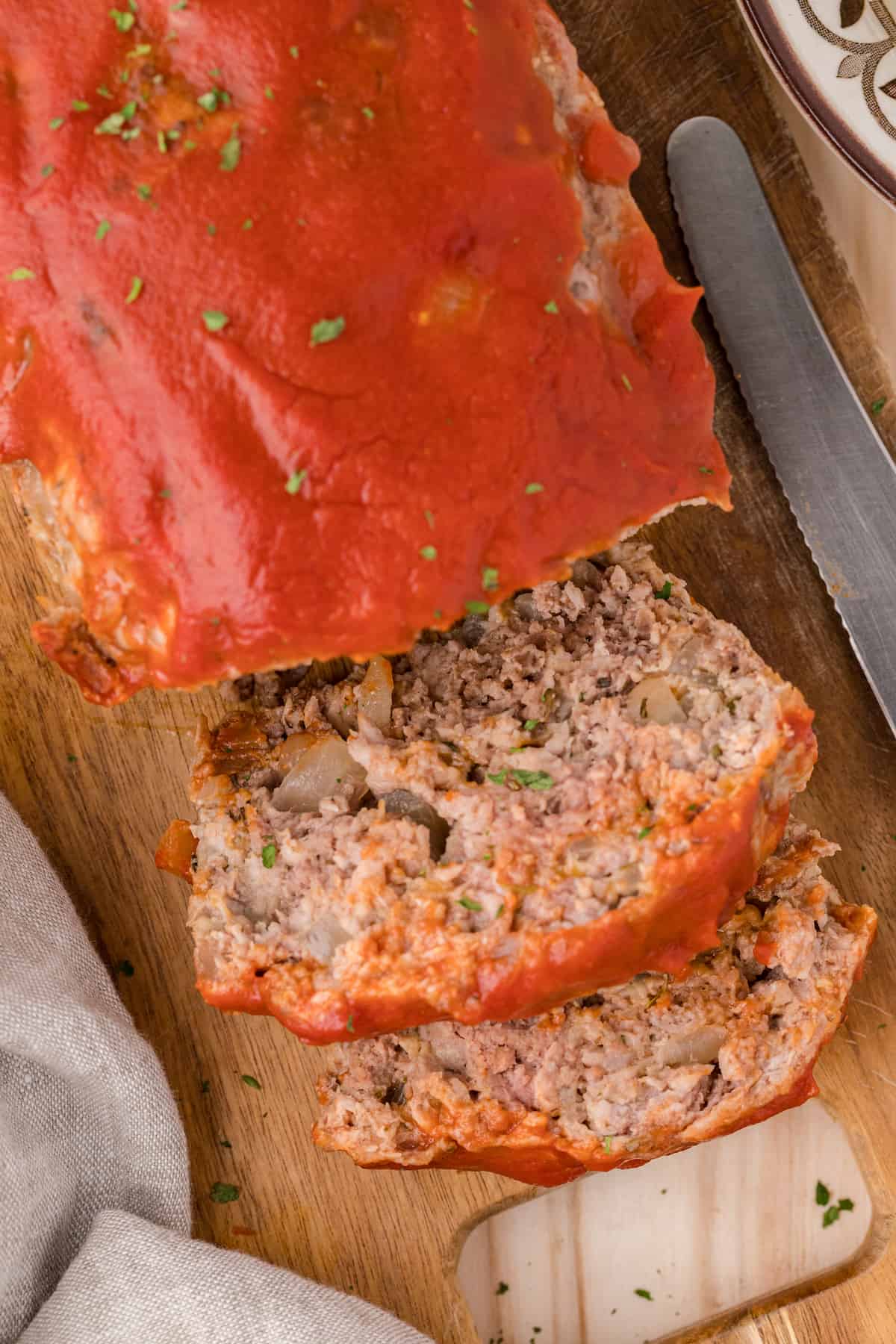 Cook's tips
Use the leanest ground beef you can find. I prefer 93% lean which means it's only 7% fat. Traditional 80/20 ground beef (80% meat, 20% fat) is loaded with calories and fat, which makes it much less healthy but also much more greasy.
When you first take your healthy meatloaf out of the oven, it may have juices on top of the meat. If it does, it's not a big deal. Let it sit for 5-10 minutes, and the juices will re-absorb into the meatloaf, and then you can add your ketchup glaze and finish cooking.
Don't pour the juices off or your meatloaf may be dry!
Let the meatloaf rest and cool for 10-15 minutes before cutting and serving. If you cut it while the meat is really hot, the slices may crumble.
You can use ground chicken in place of ground turkey. You can actually make a meatloaf from all ground turkey or all ground chicken, and that would make a very lean meatloaf. But because it's so lean, it's also going to be on the dry side. If you want a juicy meatloaf, you're going to have to mix some beef in with the poultry.
I don't personally like bell peppers, but if you wanted to increase the veggies in your meatloaf, you could dice some green and/or red peppers and add those to the onion before sautéing in step one.
How to store leftover meatloaf
Wrap slices of leftover meatloaf in plastic wrap and store them in the refrigerator for up to 5 days. Alternately, you can put the slices into a zippered plastic bag or airtight container.
Meatloaf is also freezer-friendly. Wrap the slices individually in foil, then plastic wrap, then drop them into a zippered freezer bag. It should stay nice for 3 months. If you're planning to freeze a whole meatloaf (or even half of it), it's best to leave the ketchup glaze off until you cook it to serve. But if it's already on there, you can still freeze it, and it will be fine.
To serve frozen meatloaf, allow it to thaw overnight in the fridge and either heat in the microwave or pop it in the oven at 350ºF for 10-15 minutes.
Why did my meatloaf fall apart?
More than likely, you didn't use enough bread crumbs and eggs. Those two ingredients are necessary to hold the meat together in a loaf shape.
Another mistake that people often make is forming their meatloaf on a sheet pan. You can do that with some recipes (when they have more egg and breadcrumbs than this recipe has), but this recipe will not hold together that way because there just aren't enough of the binder ingredients for it to hold its shape. It needs a loaf pan.
Check out these other healthy and delicious main dish recipes:
Recipe