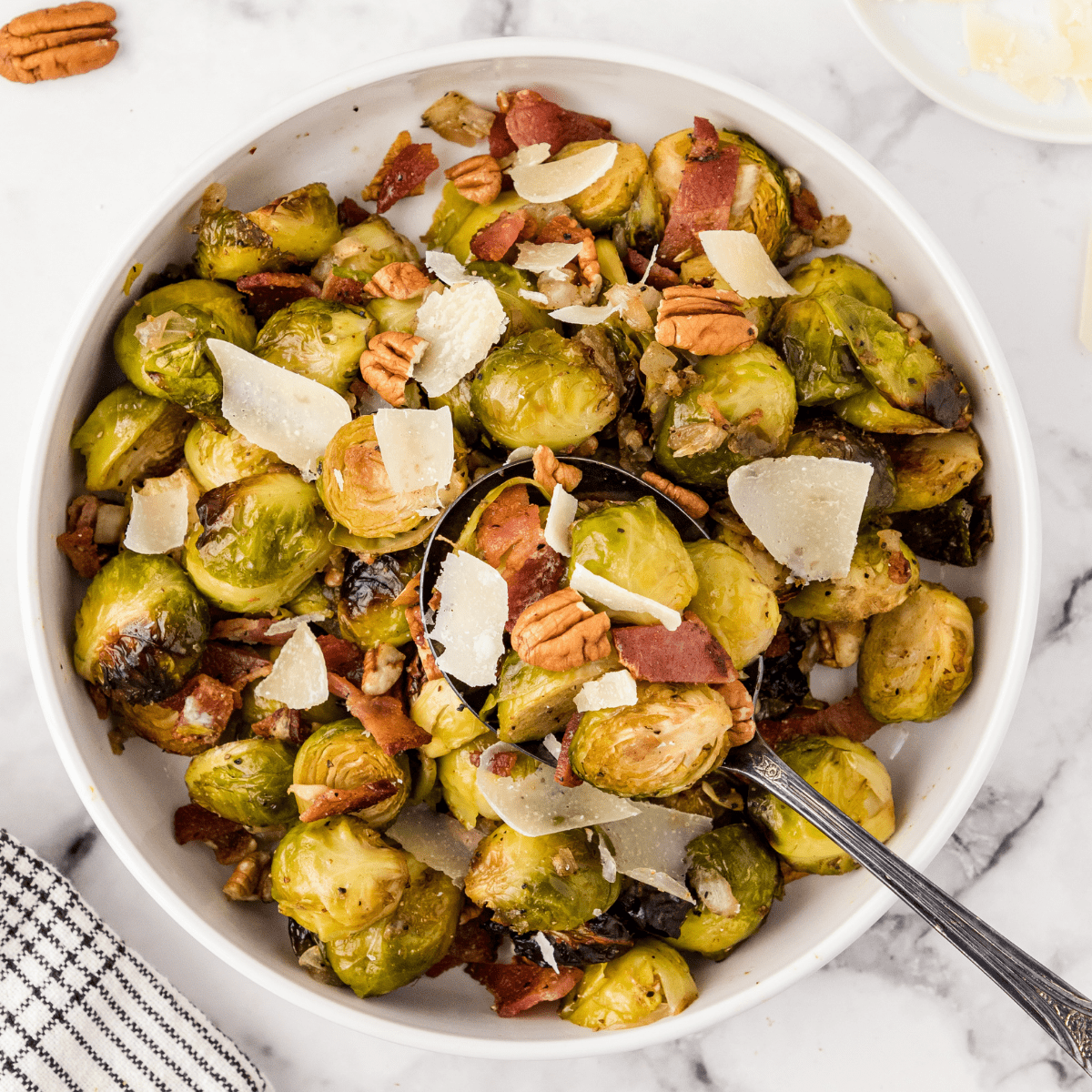 Why you should roast your brussels sprouts
Roasting brings out the sweet taste hiding inside brussels sprouts. You can pair roasted brussels sprouts with bacon, pecans, and Parmesan cheese, and you have a winning side dish for any meal!
I love brussels sprouts. I know they're an often hated vegetable, but I think they are really yummy, especially when roasted and mixed with bacon.
Because, you know, bacon.
We have been making these roasted brussels sprouts for years, and we always enjoy them. I especially like to serve them on Thanksgiving and Christmas dinners.
Because the bacon and pecans are totally optional, you can take the extra time to add them if you have it, or you can leave them out and have awesome brussels sprouts a little quicker. They're great either way.
But come on. BACON.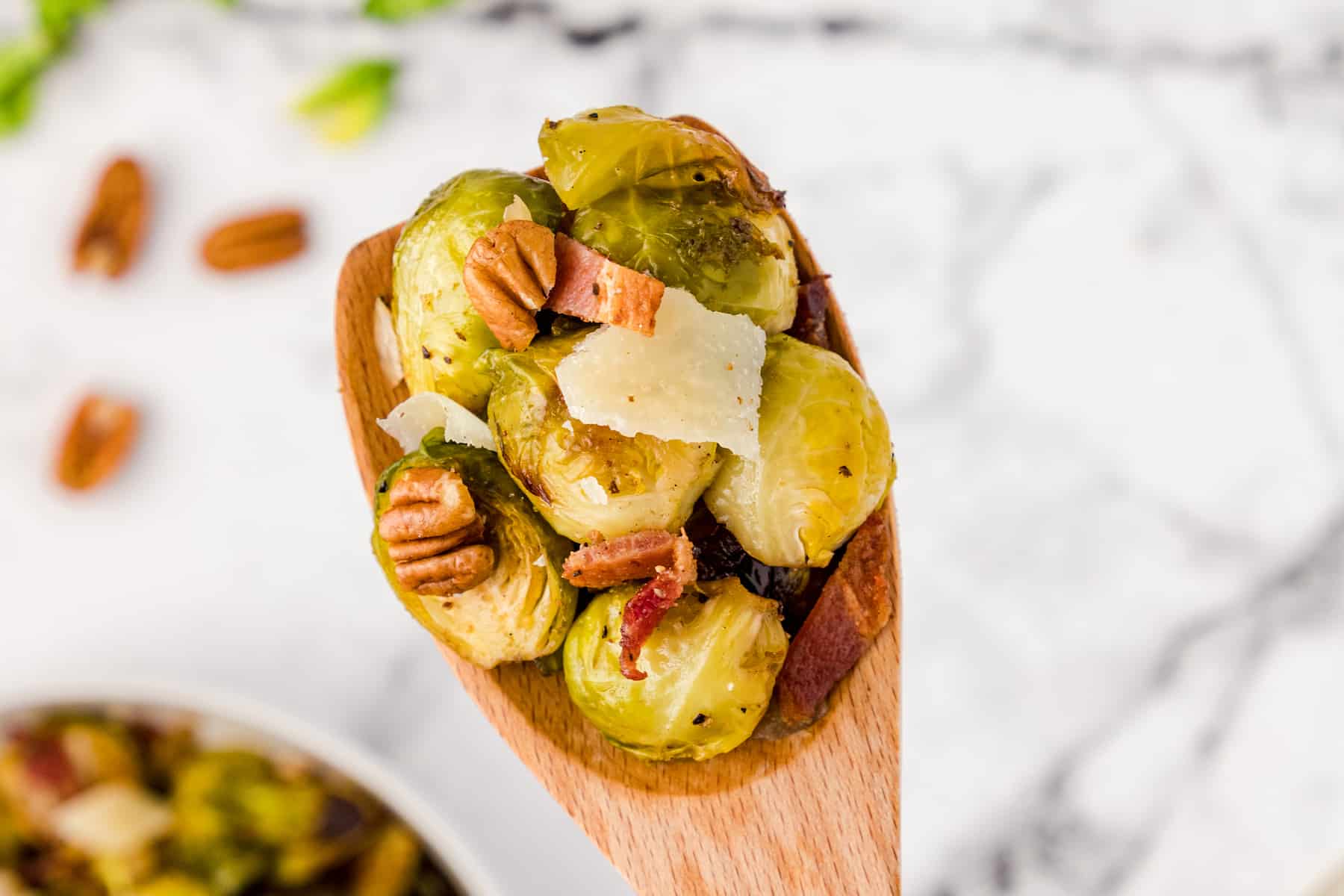 Anyway, have you ever seen a brussels sprouts plant? It's a curious stalk with big leaves that stick out on stalks, and the little sprouts form at the base of each leaf, really weird looking actually.
Here's a photo I found on flickr of brussels sprouts stalks at Whole Foods. They've obviously removed the leaves, so imagine a big, wide leaf with a long stem attached at the top of each sprout. (I think it's on top of the sprout, but it may be on the bottom. I don't exactly remember because our brussels sprouts plants don't have any sprouts just yet.)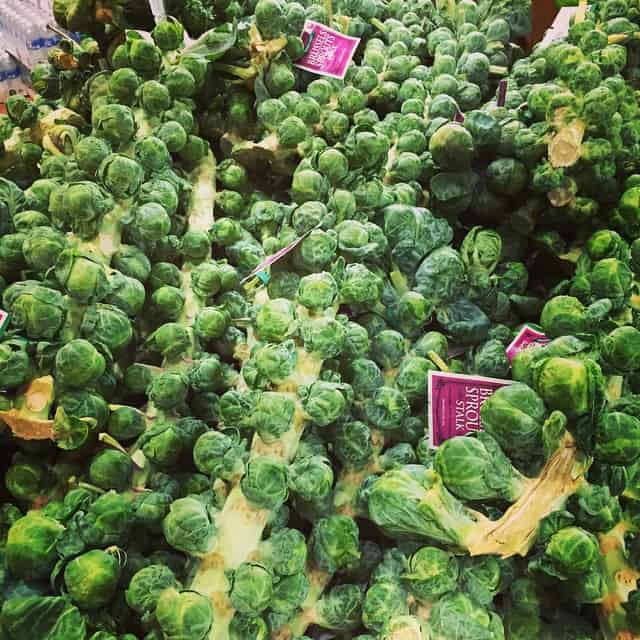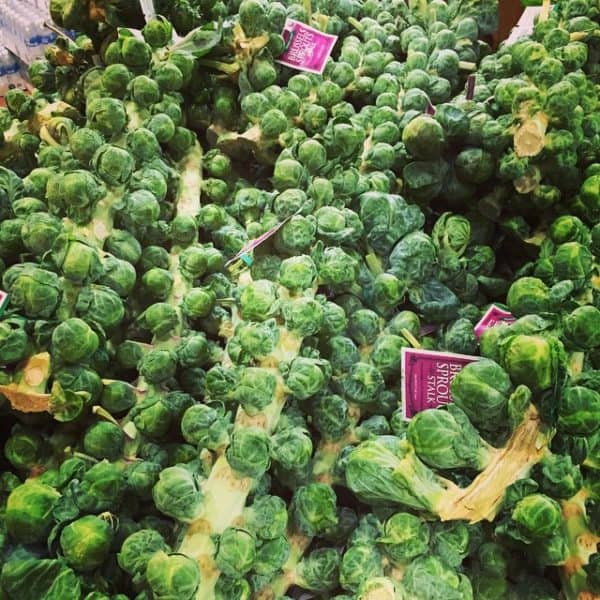 So one plant makes many sprouts, but once you pick them, the plant is done. They don't grow back. And typically, you don't pick them until the weather gets cool, just before the first frost of the fall.
You have to grow a lot of plants to get a lot of brussels sprouts, and we don't have a lot of space, so we typically grow enough for one good sized dinner which is sad for a whole season's worth of work. But anyway.
You didn't ask me about how brussels sprouts grow, but I thought you might like to know. I always think it's interesting to know where my food comes from.
Now you know. You're welcome.
What you'll need to make bacon brussels sprouts
Equipment
You'll need a skillet to cook the bacon, a sharp knife to cut the sprouts in half, a bowl to toss the sprouts with oil, and a sheet pan to roast the brussel sprouts in the oven.
Ingredients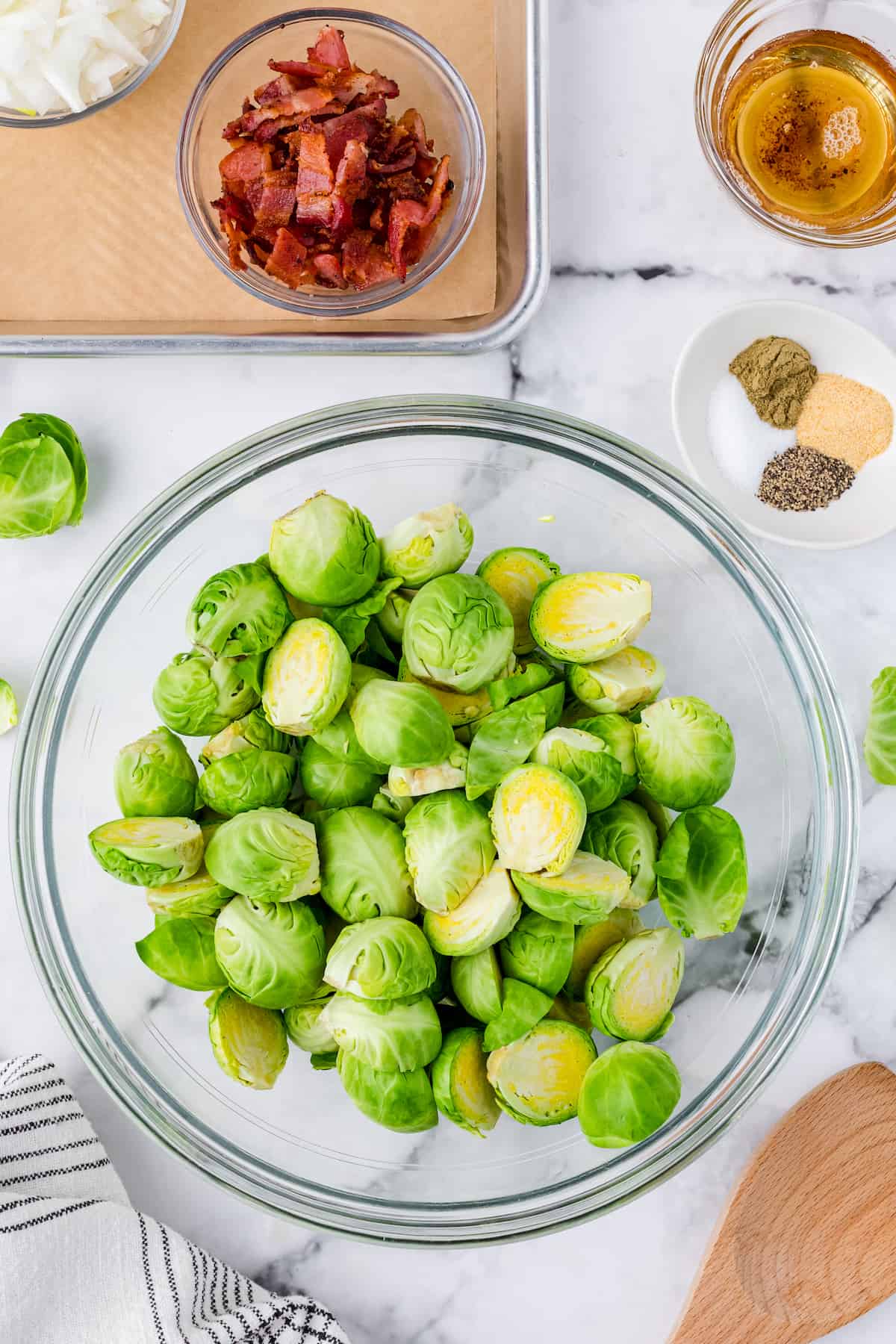 Bacon - I only used half of a pound, but you could use more if you wanted.
Brussels sprouts, cut in half - Of course, these are the star of the show!
Chopped red onion - The onion, when roasted, gets really sweet and makes a nice complement to the bitterness of the brussel sprouts.
Bacon grease or olive oil - You can drizzle this over the sprouts and then stir them to coat well.
Garlic powder - I love garlic powder on brussels sprouts.
Freshly ground black pepper
Salt
Dried sage - This is the secret ingredient that makes the sprouts pop.
Chopped pecans, optional - These add a crunch which makes the texture really nice.
Grated Parmesan cheese - not the powdery stuff but the actual slivers of cheese
How to roast brussel sprouts with bacon
Preheat oven to 400ºF.
Fry the bacon using your preferred method; we just fry it in a skillet but you can bake it or do it however you want. Reserve 3 tablespoons of the bacon grease for later in the recipe (optional - you can use olive oil if you prefer, but the bacon grease will give the brussels sprouts a very nice flavor.)


When the bacon is done, blot it dry with a paper towel and crumble or chop it.

Cut sprouts in half lengthwise and remove any dried outer leaves. Add to a medium bowl with onion and spices. Toss to coat.

Arrange in a single layer on a baking sheet.

Roast for 25-30 minutes or until the sprouts are slightly browned and tender.
Toss the bacon and pecans with the roasted sprouts.



Sprinkle with Parmesan and serve hot.
Another way to roast brussels sprouts
If you like brussels sprouts, you may also be interested in how to roast them from frozen.
Roasting brussels sprouts is so easy and so tasty that I can't imagine why you'd prepare them any other way. And, bacon.
How to store leftovers
You can store these brussels sprouts in an airtight container in the refrigerator for up to 5 days.
Check out these other recipes for easy side dishes with roasted veggies
Recipe