It is not only possible to roast frozen brussels sprouts, it is easy using these instructions. This simple recipe makes crispy and tender brussels sprouts, perfect for any occasion and any meal.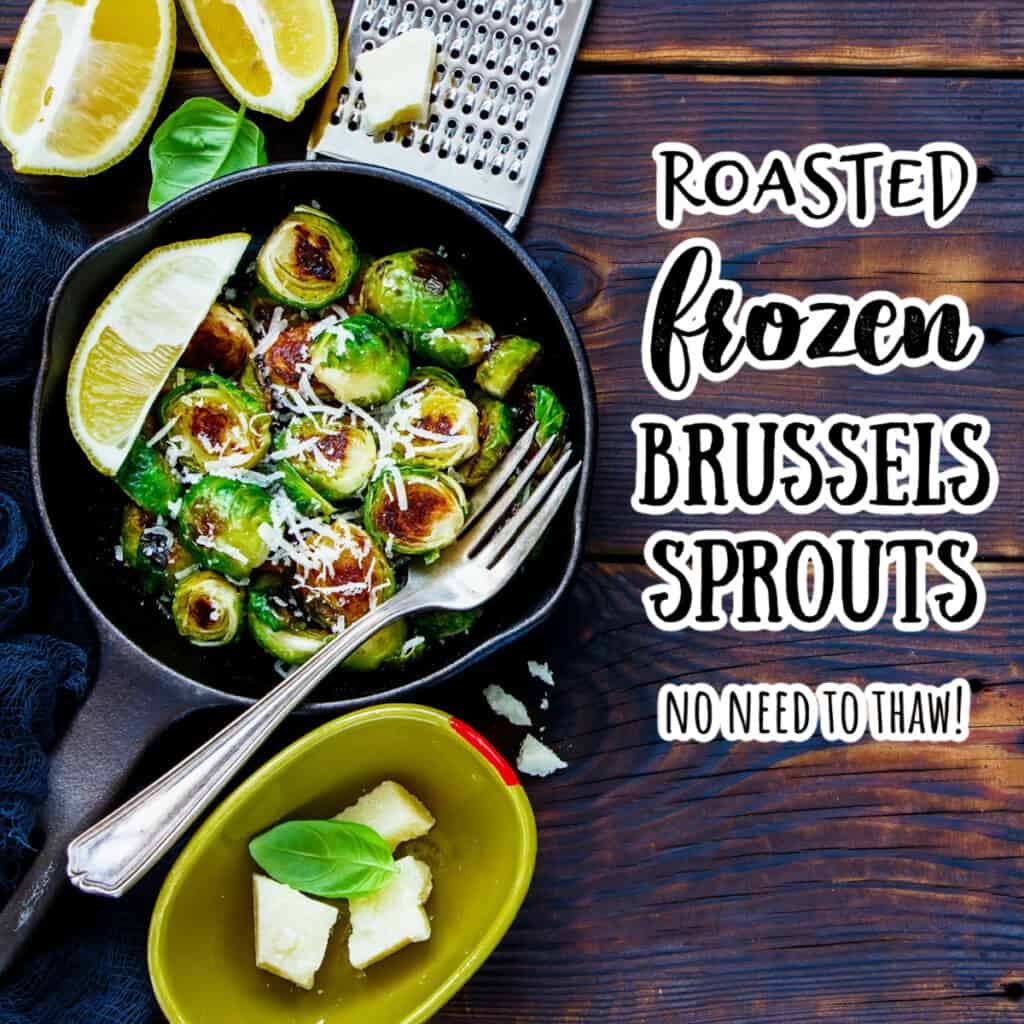 I love roasted vegetables. I can't think of a single vegetable that doesn't taste better when roasted. Even the veggies that normally get a bad rap - asparagus, brussels sprouts, beets, cauliflower - are flavorful and tasty when you roast them.
When I was in college, I was a vegetarian (and for many years after college, actually). One of the restaurants on campus had this roasted vegetable plate which was oh so delicious. It would come out with quarters of onion, zucchini and yellow squash, mushrooms, carrots, and more, all arranged in a pretty pattern on a giant platter. I loved to eat there and order those veggies. (I didn't know about the importance of protein back then.)
Anyway, it is always best to roast fresh veggies. They take on a rich, full flavor, and they don't lose their texture. All you have to do is toss them with a bit of olive oil, maybe a sprinkle of your favorite seasoning and some salt and pepper, and pop them in a hot oven. Boom, you're done.
I have been hungry for roasted brussels sprouts for a couple of weeks, but I couldn't find any in the produce section of the grocery store. So.
I bought a bag of frozen brussels sprouts.
I wasn't sure if roasting frozen brussels sprouts would work or not, but I tried it, and it did. It worked beautifully.
I can't wait to try this with different frozen vegetables, to see what works and what doesn't.
Are roasted frozen brussels sprouts a healthy side dish?
Yes! These sprouts are vegan, gluten free, dairy free, and allergy free. They are also appropriate for keto, paleo, low carb, low fat, low calorie, and whole30 diets.
The recipe instructions tell you to toss the frozen sprouts in a bowl with one tablespoon of olive oil. That is what I do. However, if you want to make the dish even lighter, you could spray the sprouts with cooking spray instead of using straight oil.
What you'll need to roast frozen brussels sprouts
This is a very simple recipe with minimal equipment and minimal ingredients.
Equipment
You will need one or the other of the following to cook the sprouts:
Ingredients
Of course, you will need a bag or two of frozen brussels sprouts. I do one pound at a time, but the instructions are basically the same for larger quantities, as long as you can spread them in a single layer on your baking sheet or skillet.
Frozen brussels sprouts
Onion (optional)
Olive oil
Salt & pepper
Easy brussels sprouts recipes
You can sprinkle the brussels sprouts with any seasoning imaginable after drizzling with olive oil. I especially like one or a combination of the following:
Garlic powder
Chopped or pressed garlic cloves
Onion powder
Freshly ground black pepper
Kosher salt
Everything bagel seasoning
Rosemary
Lemon pepper
Crushed red pepper for heat
Do you have to thaw frozen brussels sprouts before roasting?
No, you don't! You can roast them frozen, as long as you adjust the temperature and don't roast them too hot.
How to roast frozen brussels sprouts
The key to roasting frozen vegetables is not to cook them at too high a temperature. When you roast fresh brussels sprouts, you do so at 425ºF the whole time. But if you roast frozen ones at the normally high temperature, the outsides will get brown and crispy while the insides remain frozen or, at the least, very cold. So you will cook the frozen brussels sprouts at 350º instead of 425º for most of the cooking time.
There is absolutely no prep time for this recipe. Remove the brussels sprouts from the freezer and dump them onto the sheet pan.
Preheat the oven to 350ºF.
Place frozen brussels sprouts in a bowl with olive oil and some salt and pepper (and whatever other spices you want). You can add a diced onion if you want. (The onion is optional.)

Dump the frozen brussels sprouts onto a sheet pan or an extra large cast iron skillet. Spread in a single layer on the pan.

Roast the sprouts at 350 degrees F for 30 minutes. As I said above, the lower temperature is important since they were frozen when you started. You don't want the outsides to brown before the insides thaw and then cook.

If you weren't able to buy halved brussel sprouts, you can cut them in half at this point. Be careful as they will be very hot.
Turn the oven up to 425ºF and roast for an additional 10-15 minutes, until the outsides are brown and starting to get crispy.

The brussels sprouts will come out of the oven tasting as if they went in fresh. You won't be able to tell the difference between fresh and frozen.
When do you cut the brussels sprouts in half?
I buy them already halved, but if yours are whole, you can roast them at 350º as the recipe directs, and then cut them in half (carefully, they'll be super hot!) before turning the oven up to 425º in the last step.
Can frozen brussels sprouts be cooked in the air fryer?
Yes, they can. You will probably have to cook them in batches as most air fryers can't hold a pound of sprouts and cook them evenly.
Spray the air fryer basket with cooking spray and fry the sprouts at 400ºF for 20 to 30 minutes, checking every 5 minutes starting at 20. You want them to be nicely browned but not burned.
Air fryer brussel sprouts come out just as nicely as brussel sprouts roasted in the oven, but you have to make sure you don't put too many in the air fryer at one time. They need space around the sprouts to roast properly.
To serve these roasted brussels sprouts
I recommend a healthy sprinkle of Parmesan cheese, crumbled bacon, and/or fresh lemon juice to garnish the brussels sprouts. They're also delicious drizzled with balsamic vinegar prior to serving.
Why didn't my brussels sprouts get crispy?
If you follow these instructions, they will get crispy. If you fail to turn up the temperature to 425 degrees, they will not get crispy.
How to store roasted brussels sprouts
Keep any leftovers in an airtight container in the refrigerator for up to 4 days.
To reheat, you can either microwave (they will get a little mushy) or toss them on a sheet pan in the oven for 10-15 minutes at 350º.
You can't refreeze the cooked sprouts. They'll get mushy.
Check out these other delicious roasted vegetables while you're here:
Recipe