This low carb, keto, & gluten-free soup is healthy and under 200 calories a bowl. Quick and cheesy. Uses chicken broth but could be made vegetarian with vegetable stock instead.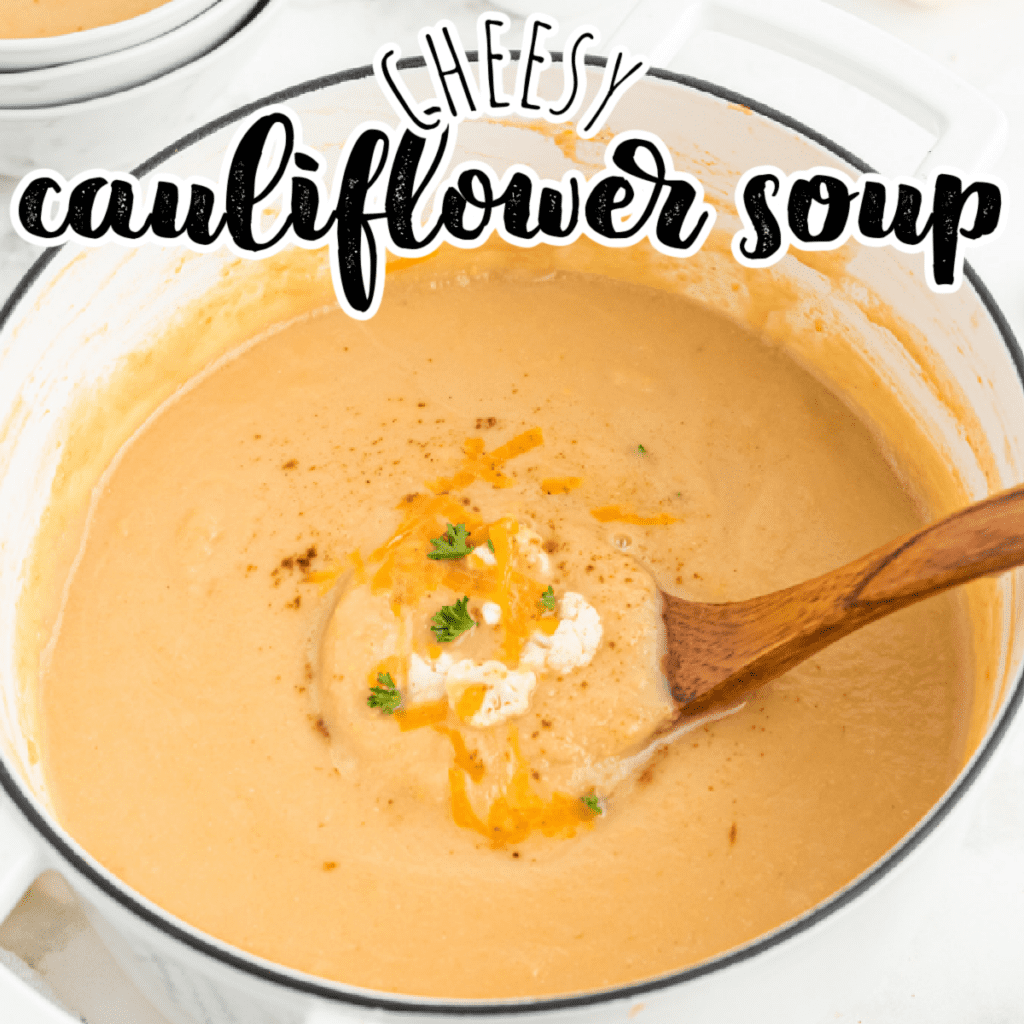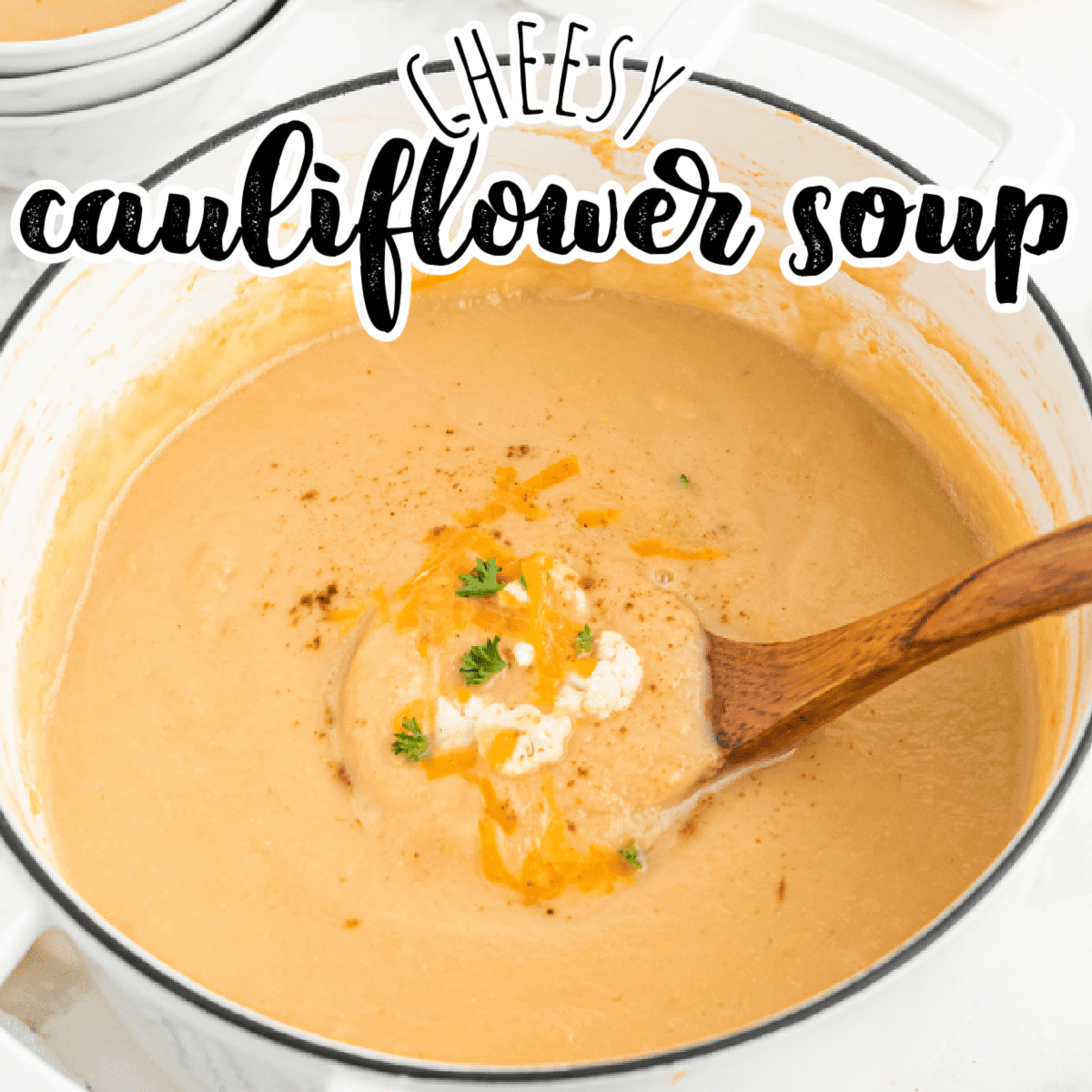 Grace is picky.
I don't actually call her picky most of the time because I would like to believe this is just a phase, and she's going to grow out of it soon. At least, that's what I tell myself.
We aren't desperate, but we do play tricks to coax her out of this picky eating business.
One such trick is to allow her to plan our meals.
Skeptical?
It works.
We don't do it every day (not even every week), but when I let Grace choose what we'll have for dinner, she picks healthy foods and eats them.
Last Friday, I asked Grace what we should have for supper, fully expecting her to pick pizza or McDonald's or some such meal. She didn't.
Soup, she said, with bread.
She really would have liked Joe's awesome crock pot potato chowder, but it was already after lunch when I asked. There wasn't enough time for that to cook.
I happened to be paging through the new Everyday Food magazine, and I passed a recipe for cauliflower cheddar soup.
I suggested it.
Sounds good, she said.
After I picked myself up off the floor, I called Joe and asked him to pick up the ingredients.
I have not seen Grace eat cauliflower - cooked or raw - for at least a year. Maybe 2 years.
But she agreed to have cauliflower soup for dinner.
And she ate it.
She told me about halfway through her bowl of soup that she didn't like it.
She ate half of a bowl of soup that she didn't like.
No kidding.
I did like it, and this soup is definitely going in to our meal rotation.
If my calculations were right, it has only 156 calories per cup, so it's incredibly healthy in addition to delicious.
What you'll need to make Cheesy Keto Cauliflower Soup
Equipment
You will of course need a stockpot, sharp knife, and cutting board, and the only other thing you'll really need is an immersion blender or a regular blender. I used to always use a regular blender, but since I invested in this immersion blender, I use it pretty much all the time. I love that thing.
Ingredients
Unsalted butter
A medium onion, chopped
A large head cauliflower, trimmed and chopped into bite-sized pieces - You're eventually going to puree the soup, so the chop doesn't have to be pretty.
Cayenne pepper - You could leave this out if you really needed to, but I wouldn't. The recipe calls for a teeny tiny amount, and there is absolutely no heat in the soup. The pepper just gives it a richer flavor.
Low sodium, fat free chicken broth - I like my soup to be on the thick side. If you prefer a thinner soup, you'll want to use extra chicken broth. Also, if you want to make this soup vegetarian, simply use vegetable stock in place of the chicken broth.
Water
Shredded sharp cheddar cheese - Your soup is going to taste a lot like your cheese, so use something you really like.
How to make cheesy cauliflower soup
In a large pot, melt the butter over medium heat. Add onion and cook, stirring occasionally until the onion is soft, about 8 minutes.

Add cauliflower and cayenne pepper and cook until it begins to brown. This step took about 20 minutes for us.

Pour broth and water into the pot and bring to a boil over medium-high heat. Reduce the heat and simmer until the cauliflower is very tender, another 20 minutes or so.

If you have an immersion blender, you can blend the soup right in the stockpot. This is obviously the easiest way. Move the blender around until the soup is mostly (but not 100%) smooth.

If you don't have an immersion blender, do the following. Be very careful when blending hot liquids as they can erupt from the blender if you're not careful!

Transfer the mixture to a heat-safe bowl.
Fill the blender halfway (only halfway!!!) with the cauliflower mixture and chop coarsely. Pour the coarsely chopped cauliflower back into the original pot.
Refill the blender halfway. This time (and any subsequent times necessary), purée the soup until it's completely smooth. Return the soup to the original pot.

If you prefer your soup to be thinner, add more chicken broth to the pot of soup at this point and stir until it's blended.
Heat the soup over medium until it's hot and bubbly. Add the shredded cheese and stir until it's all melted and incorporated.

To serve, sprinkle with additional cayenne pepper and a few pieces of shredded cheese.

A note on the blender
As noted above, you have to be very careful when blending hot foods in your blender, as the agitation can make the hot food erupt from the blender and spray all over the place, burning you badly. An immersion blender is really the best way to go.
When we make this soup at my house, we like to leave it a little chunky so that there's something to chew. If you prefer, you could easily blend it 100% smooth.
More easy soup recipes
Check out these other delicious soups, stews, and chowders while you're here:
Recipe