This crockpot soup is the ultimate comfort food for fall and winter dinners. Contains chicken broth, milk or cream, cream cheese, and potatoes. Favorite food of picky eaters. Includes vegetarian option.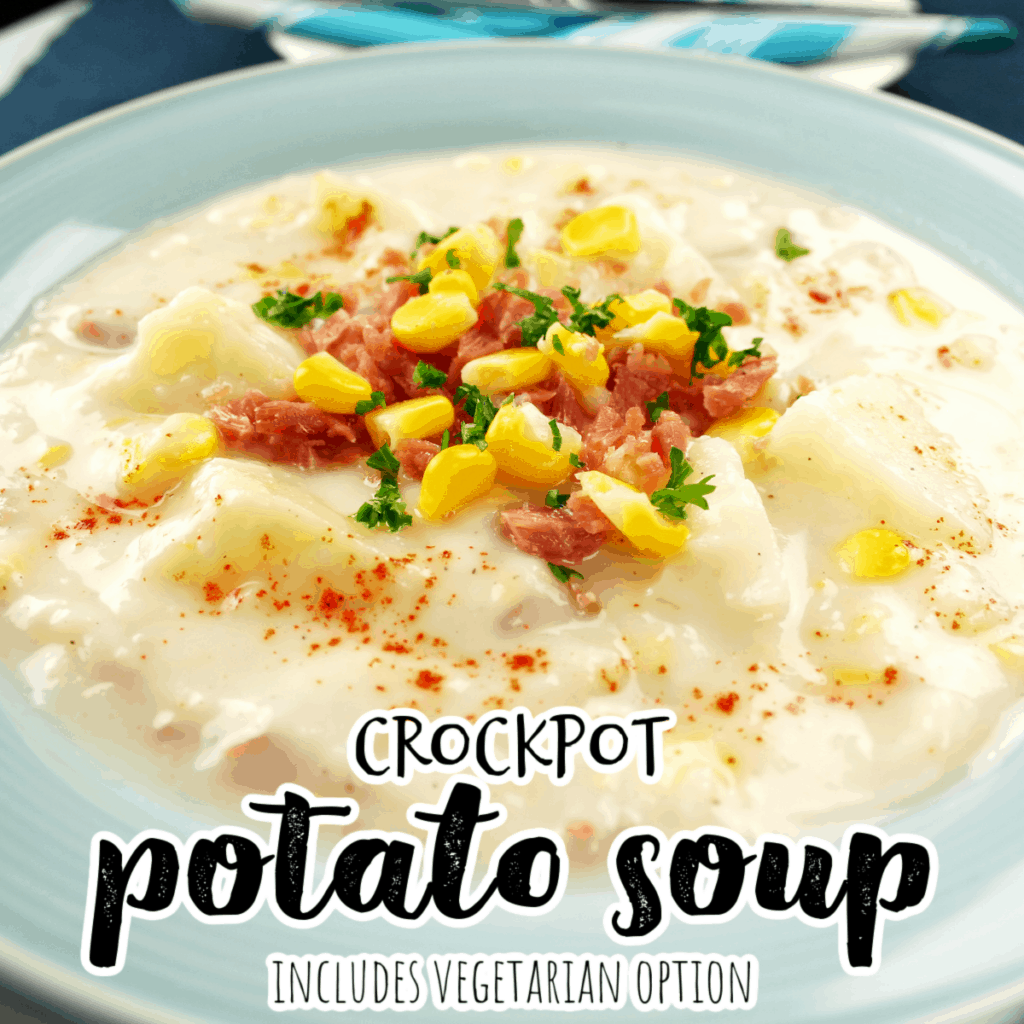 I love this potato chowder. Year round, we eat it at least once a month.
To make our mornings easier, we prepare our potato chowed the night before we want to eat it. We do all of the dicing, chopping, and mixing, and then put the mixture into the removable crock for our largest Crock Pot.
Joe puts the crock in the fridge or out on the porch (when it's cold enough).
In the morning, all he needs to do is set the crock in the Crock Pot and turn it on.
When we all get home, we put the cream cheese in, set the table, and eat.
What you'll need to make Crockpot Potato Soup
Equipment
Obviously, you'll need a slow cooker to make Crockpot soup. You'll also need a garlic press. If you don't have a garlic press, mince the garlic as small as possible with a sharp knife.
Ingredients
10 cups raw potatoes, chopped - This is approximately 10 medium-sized potatoes. It is not necessary to peel them first, but you can if you want to.
1 large onion, chopped
2-3 Carrots, chopped
1-2 cups corn kernels, frozen - You don't have to measure, just throw in a couple of handfuls.
3 cloves garlic, pressed or minced
3 14-ounce chicken broth - I use low sodium, fat free broth, but you can use whatever you want. Also, to make the soup vegetarian, you can substitute vegetable stock.
1 can condensed cream of chicken soup - You can substitute any cream soup here, including cream of mushroom or homemade cream of something soup.
¼ tsp black pepper
8 oz low fat cream cheese, also called neufchâtel
How to make Crockpot potato soup
Add diced potatoes, all the vegetables, garlic, chicken broth, cream of chicken soup, and pepper to a 6-quart slow cooker.
Cook 8-10 hours on low, until the carrots and potatoes are soft.
Add the cream cheese to the soup and cook another 20 minutes, stirring occasionally to break up the block of cheese.
To serve, top with chopped scallions, crumbled bacon, and shredded cheddar.
Potato soup variations
If you don't want to use commercial cream soup, you can make your own (vegetarian or meat-based) cream of something soup using this recipe from Once a Month Mom.
Vegetarian soup
To make potato soup vegetarian, simply use vegetable stock in place of the chicken broth and cream of mushroom or cream of celery or homemade cream of something soup.
Crockpot corn chowder
I have shared a really good Crockpot corn chowder recipe, so check that out. But if you're committed to making this potato soup into corn chowder, simply reduce the potatoes by half and double or triple the corn.
More easy soup recipes
Check out these other delicious soups, stews, and chowders while you're here:
Recipe