This low carb gluten-free cheesy vegetable soup is really delicious! It's loaded with fresh veggies and lots of cheese. Super quick and easy, it's the best comfort food for families in fall and winter.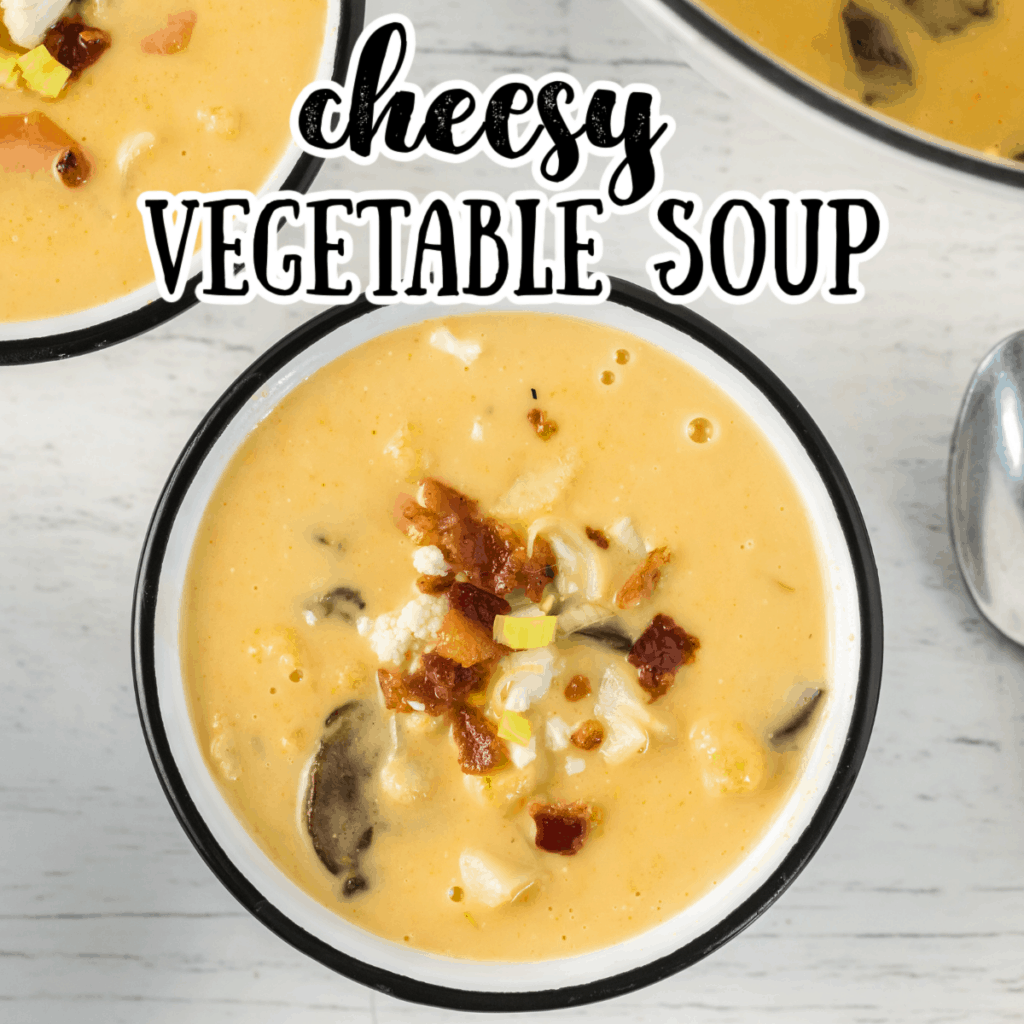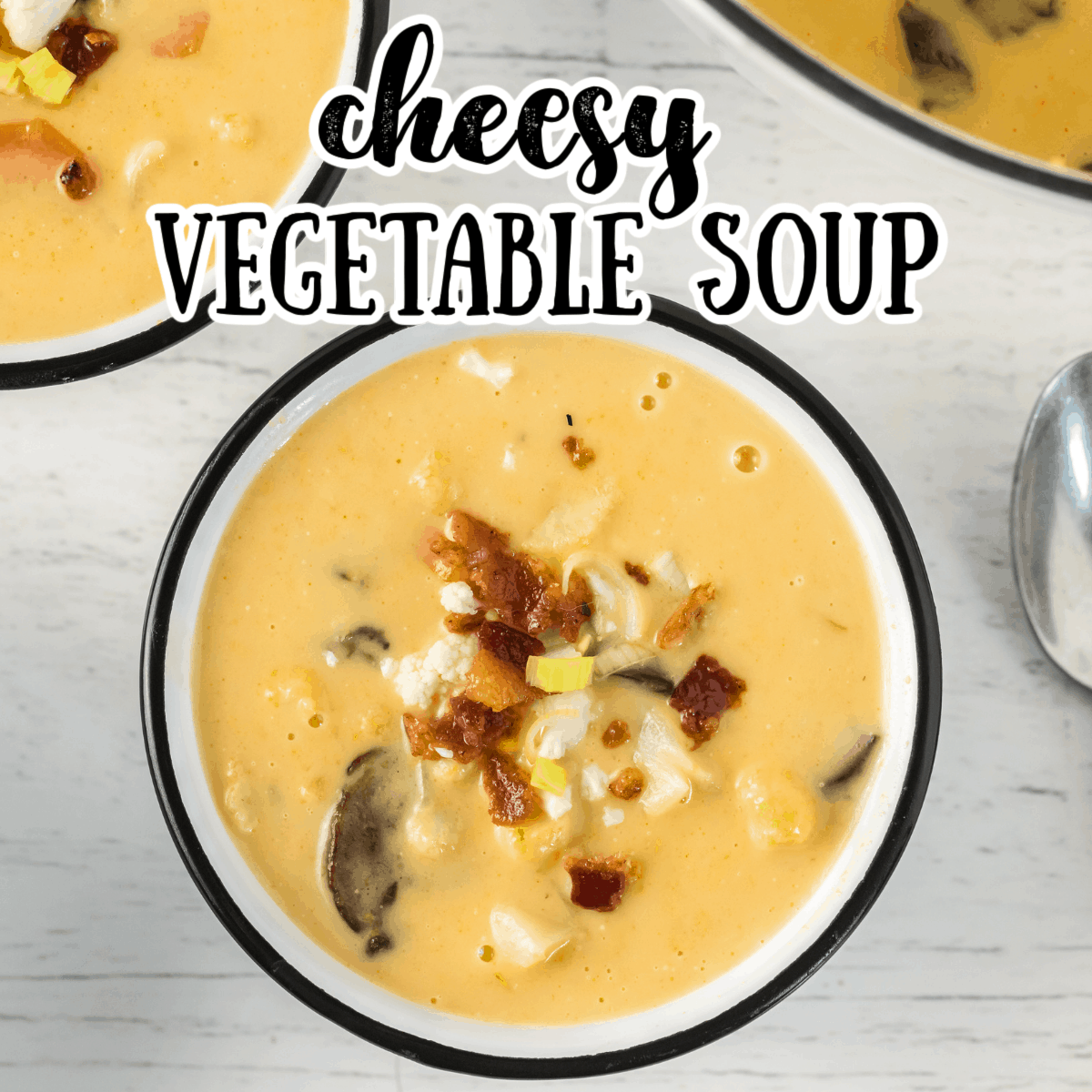 We try to cook a new recipe every week or two. It keeps our dinner rotation fresh and interesting, and it allows us to sample all different kinds of cuisine.
With this in mind, Joe and I were excited to join a challenge where participants have to create a recipe using a secret basket of ingredients. What a fun project!
Talk about exciting! So the challenge was to create a comfort food recipe using the following ingredients:
Shredded sharp cheddar cheese
Cauliflower
Cremini mushrooms (sometimes called baby bellas or baby portabellos)
Leeks
When I think of comfort food, I immediately think of creamy, cheesy soup.
The cheeseburger soup we make is my ultimate comfort food. So Joe and I put our heads together and came up with this cheesy vegetable soup.
Most vegetable soups have a tomato base, which is delicious, but I wanted to start with something creamy and cheesy.
This recipe is perfect - it includes all the fresh veggies (and you could certainly include more variety if you wanted), and the cheesy base is rich and thick.
I think you're going to love this soup as much as we do. It's definitely going to get a spot in our regular dinner rotation.
What you'll need to make cheesy vegetable soup
Equipment
You will need a garlic press for this recipe. If you don't have one, you can mince the garlic as fine as you can with a sharp knife. Other than that, you just need normal kitchen stuff like a large stockpot, knives, and a cutting board.
Ingredients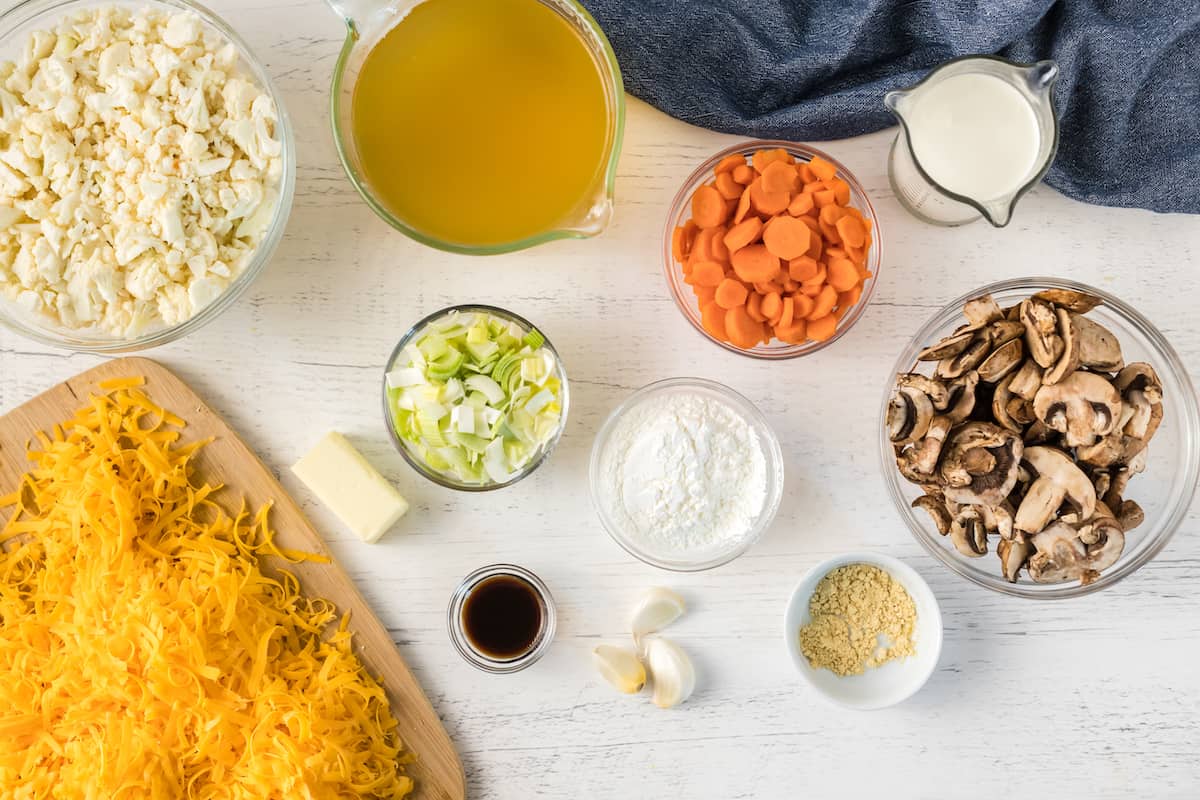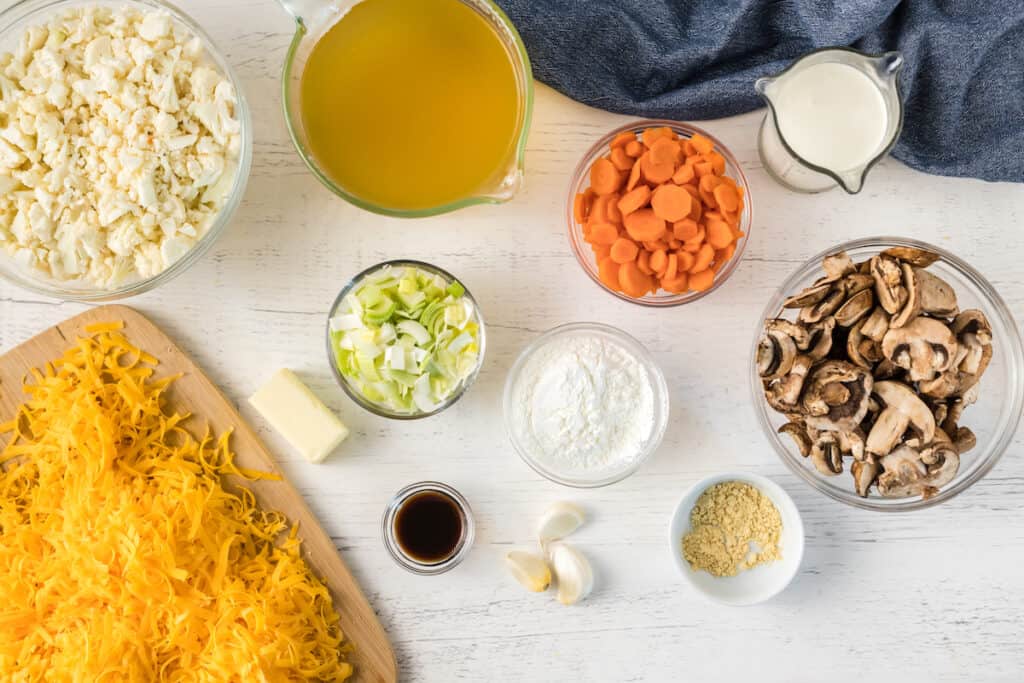 Butter - salted or unsalted, it doesn't matter.
One large leek - Leeks are large, skinny, onion-like vegetables. Like onions, they have many layers, and all those layers can sometimes hold dirt inside. I like to soak leeks in cold water for 10-15 minutes and then swish them around really well in the water before cutting them.
A few carrots, sliced
3 cloves garlic - For the love of all that is holy, buy whole garlic cloves and press or mince them. The stuff in the jar does not even come close to the flavor of fresh garlic.
Crimini mushrooms -These mushrooms may be labeled baby bellas or baby portabellos. If you can't find them, just use regular white button mushrooms.
1 large head of cauliflower
Low sodium chicken broth
Light cream - If you can't find light cream, you can use half and half or even heavy cream. I'd probably go with heavy cream myself.
Sharp cheddar cheese, shredded
Cornstarch
Crumbled bacon - This is optional and just for garnish, although if you felt so inclined, you could definitely cook a pound of bacon and throw it in with the soup. That would be amazing.
How to make cheesy vegetable soup
Melt the butter in a large pot. Sauté leeks, carrots, and garlic until tender.

Add mushrooms, cauliflower, mustard powder, and Worcestershire sauce with approximately 45 ounces of the chicken broth. Simmer for 15 minutes or until the cauliflower is tender.

Reduce heat. Add cream and cheese and stir constantly until completely melted and well blended.

Combine cornstarch with remaining chicken broth. Add mixture to soup gradually to thicken. Simmer additional 10 minutes (or longer if desired).

Garnish with a sprinkle of chopped leeks, cauliflower, and bacon to serve.

More easy soup recipes
Check out these other delicious soups, stews, and chowders while you're here:
Recipe