Creamy Crockpot corn chowder is full of corn, carrots, potatoes, and cheese, making it a simple and easy meal for any night of the week. Let it cook all day in the slow cooker. Easy to make vegetarian and gluten-free.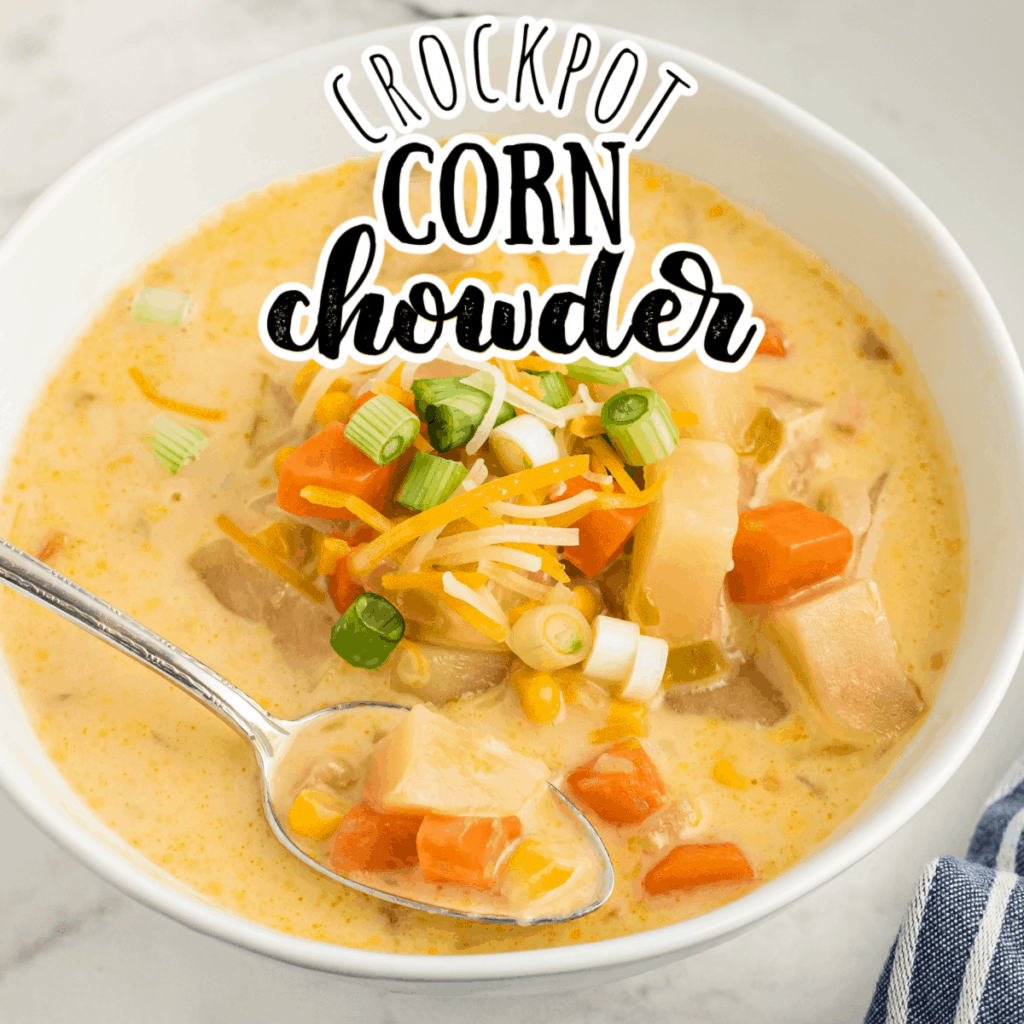 One of Grace's favorite suppers these days is crockpot potato chowder. She would eat it every day if we let her.
Joe really likes corn chowder, so I started looking for a recipe that looked good.
Unfortunately, most corn chowder recipes call for creamed corn, a flavor I really dislike.
Not able to find a decent creamed corn free recipe, we tweaked our faithful potato chowder recipe a bit.
The results were really good. I loved the cheesy corn potato flavor, and Joe was thrilled, too. This is definitely a keeper.
What you'll need to make Crockpot corn chowder
Equipment
Well, obviously, you'll need a Crockpot or some other brand of slow cooker, but other than that, this recipe only requires standard cooking equipment: a large skillet, a knife and cutting board, and measuring cups and spoons.
Ingredients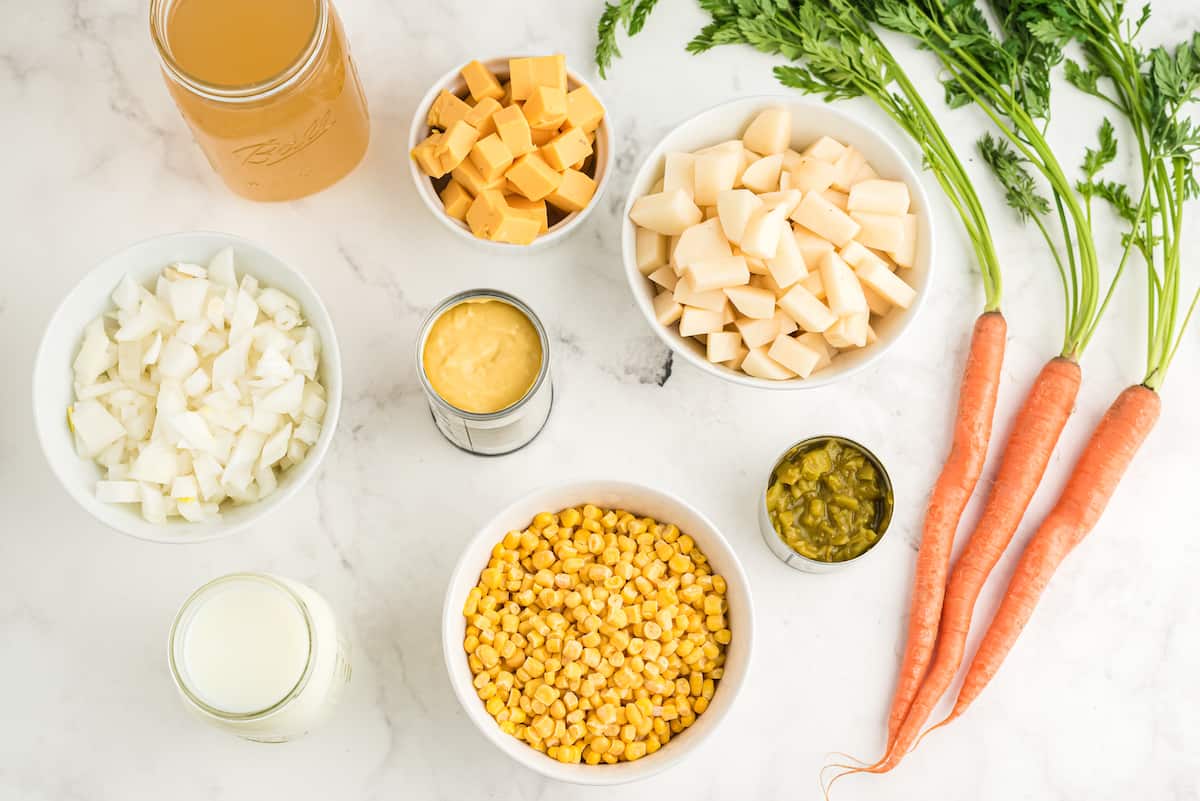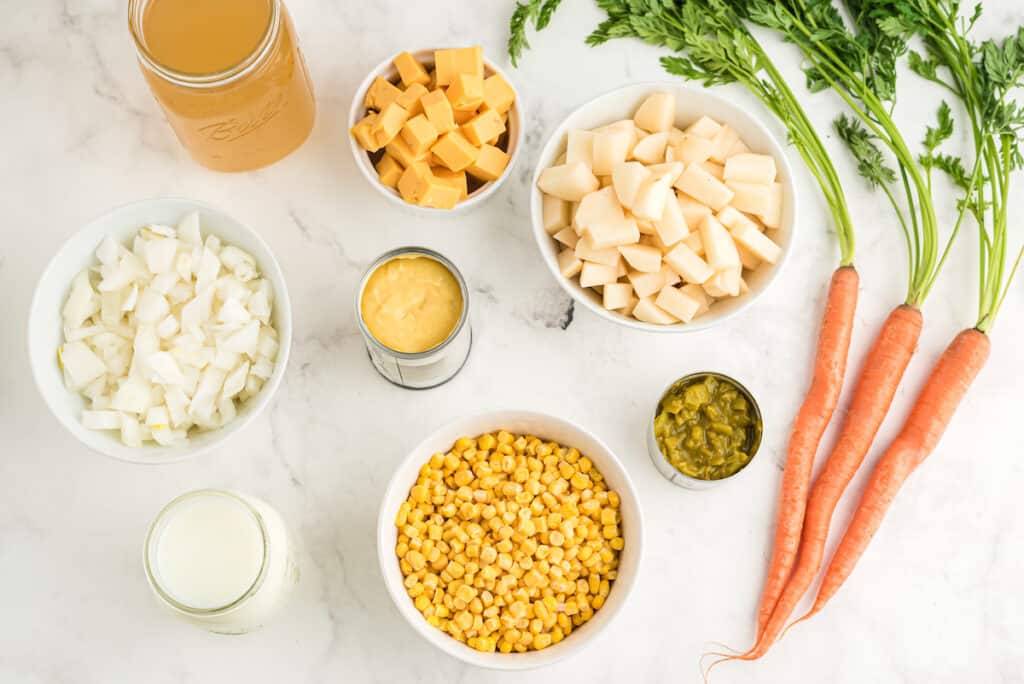 Olive oil - This is for sautéing the vegetables. You could substitute an equal amount of butter if you'd prefer that.
Chopped onion - Since I originally created this recipe in 2012, Grace has decided that she hates onions and will not eat even a single bite of food that contains onions. I had to get creative and now use onion powder in place of the actual onions.
Chopped carrots
Diced green chiles - These come in a can and give the chowder a nice flavor. You can probably leave them out if you're not into them.
Fat-free reduced-sodium chicken broth - Substitute vegetable stock if you are vegetarian
Cream of chicken soup - If you want to make this recipe vegetarian, you can use this recipe to make vegetarian "cream of something" soup.
Potatoes, peeled and cubed
Frozen corn - You could really use any kind of corn here. Canned corn (which I despise) would be fine, thought might make the finished chowder a bit salty. If you like the taste of traditional canned creamed corn, use that. Or best of all, if you have frozen your own fresh corn, you can use that. Any corn will do.
Skim milk - If you use a different type of dairy or non-dairy milk, it will work. Just maybe stay away from vanilla-flavored milk because that would be gross.
Mexican-style Velveeta - If you can't find this, you could use regular Velveeta or even shredded real cheese (let's not delude ourselves; Velveeta is not real cheese). I would use 2 cups of shredded cheddar or pepper jack in place of the Velveeta.
How to make slow cooker corn chowder
In large skillet, heat olive oil over medium high heat. Add onion, carrots, and green chiles. Cook and stir until tender, about 5 minutes.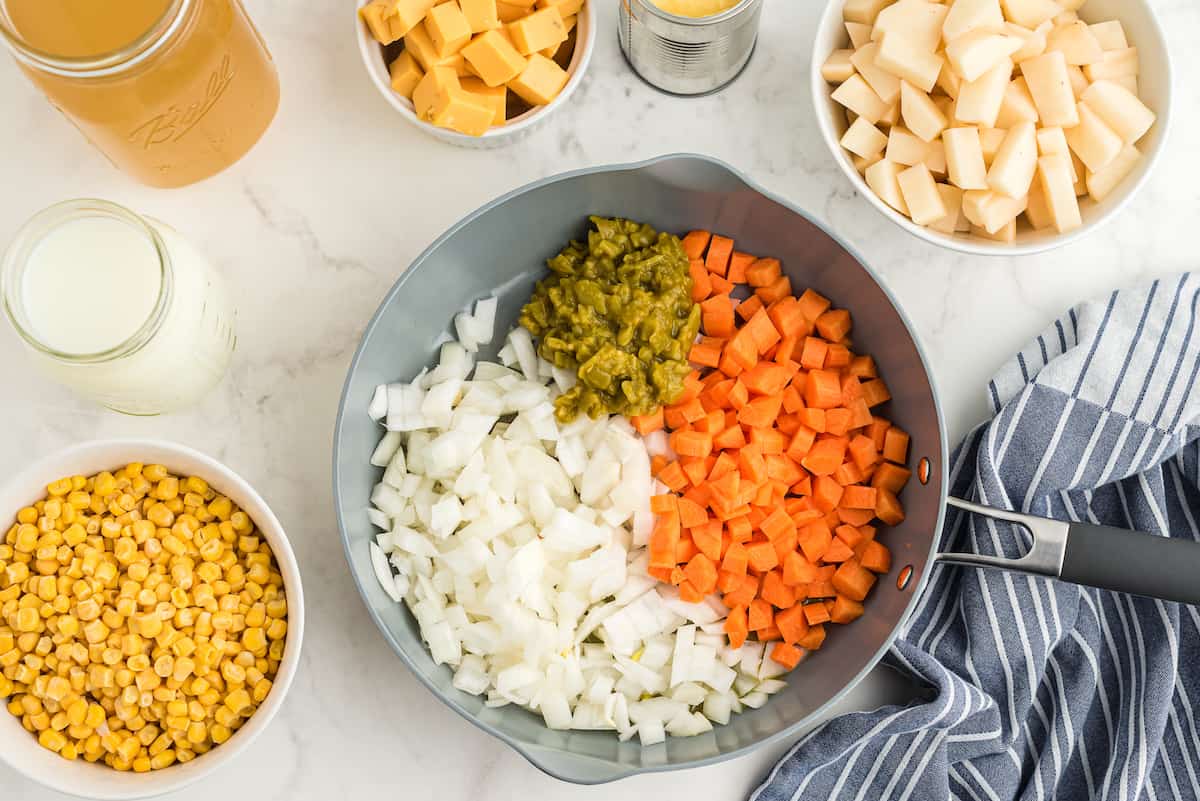 Pin
In a 6-quart slow cooker, mix all vegetables (including those cooked above), chicken broth, cream of chicken soup, potatoes, and corn.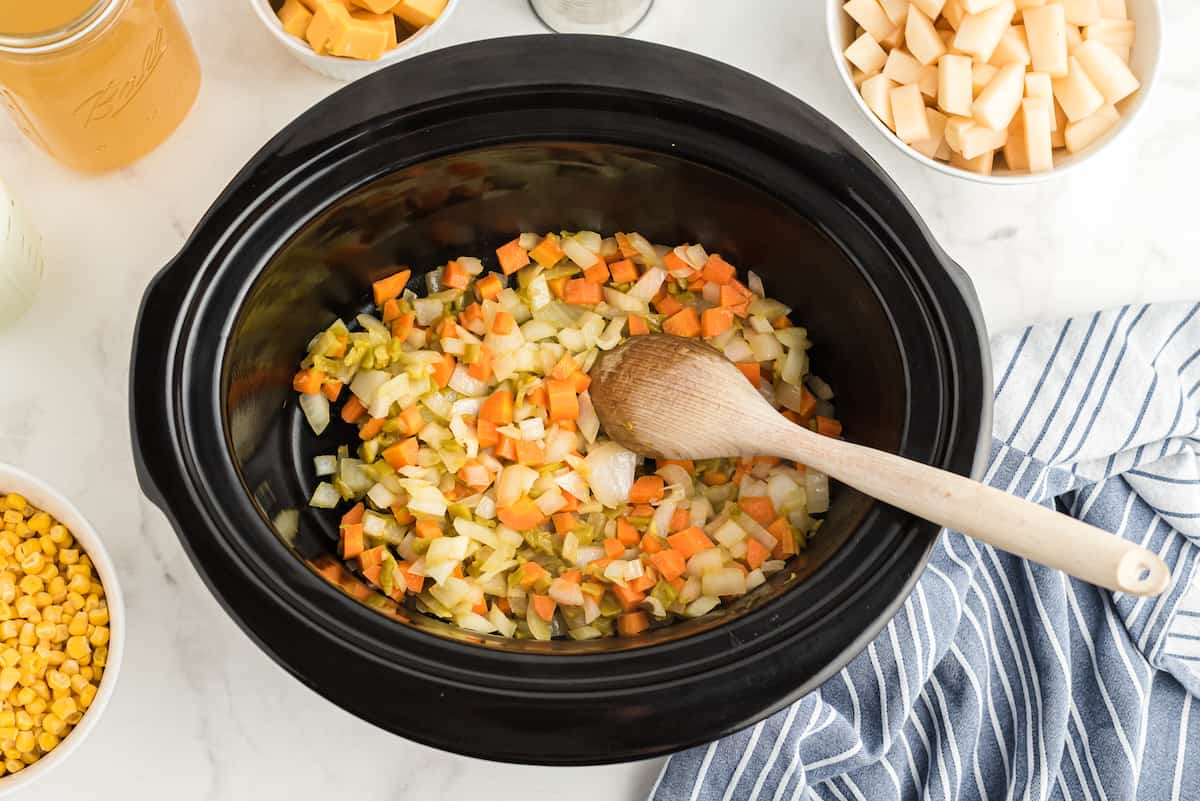 Pin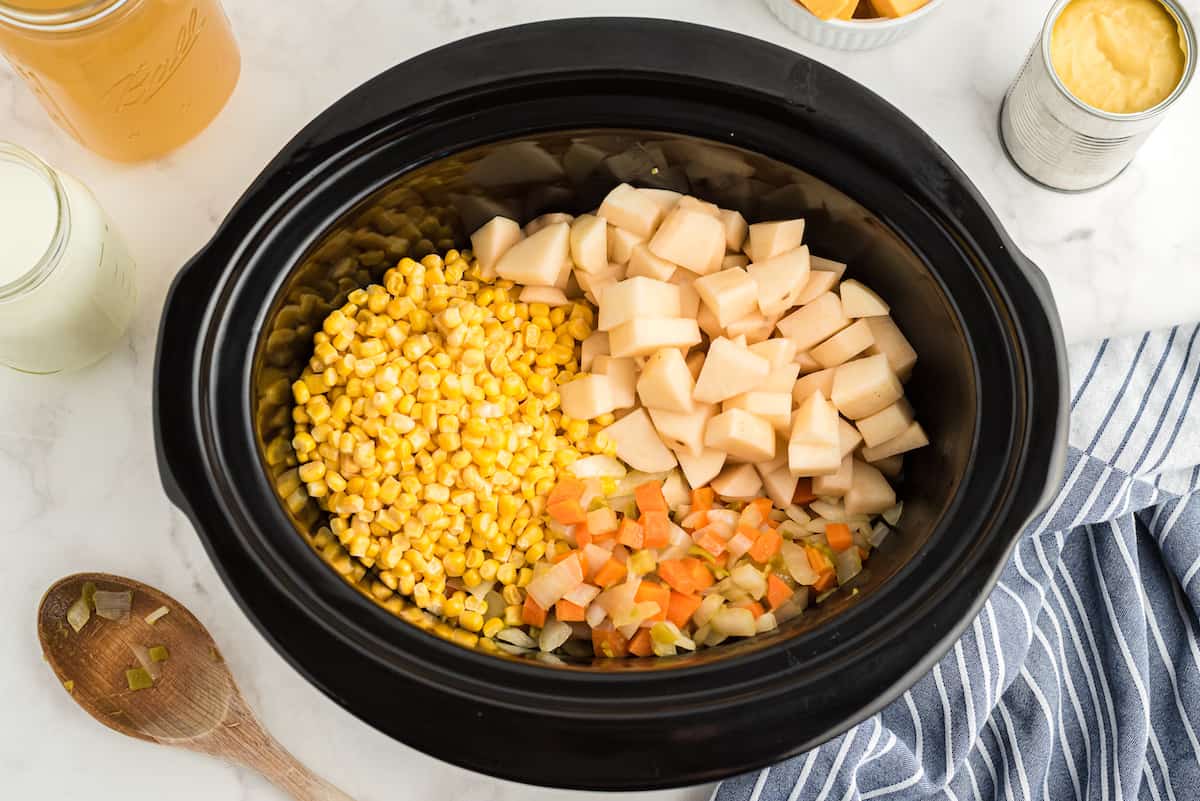 Pin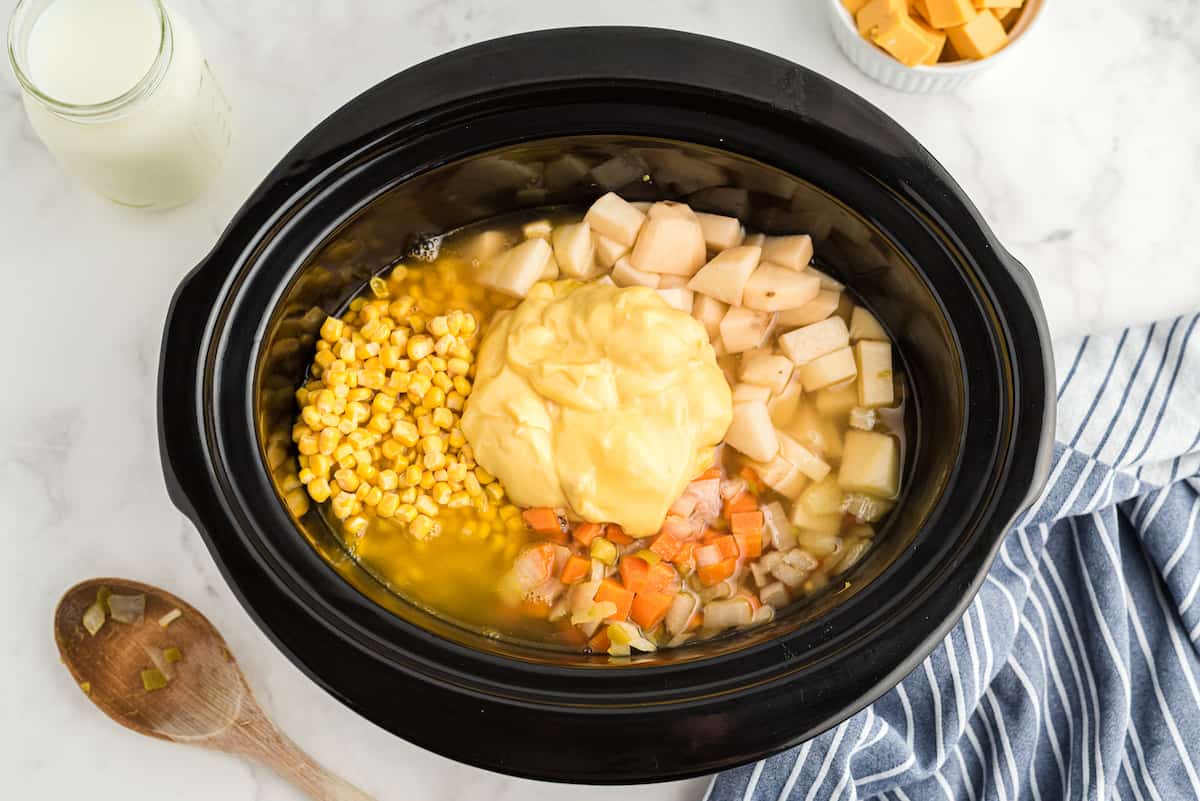 Pin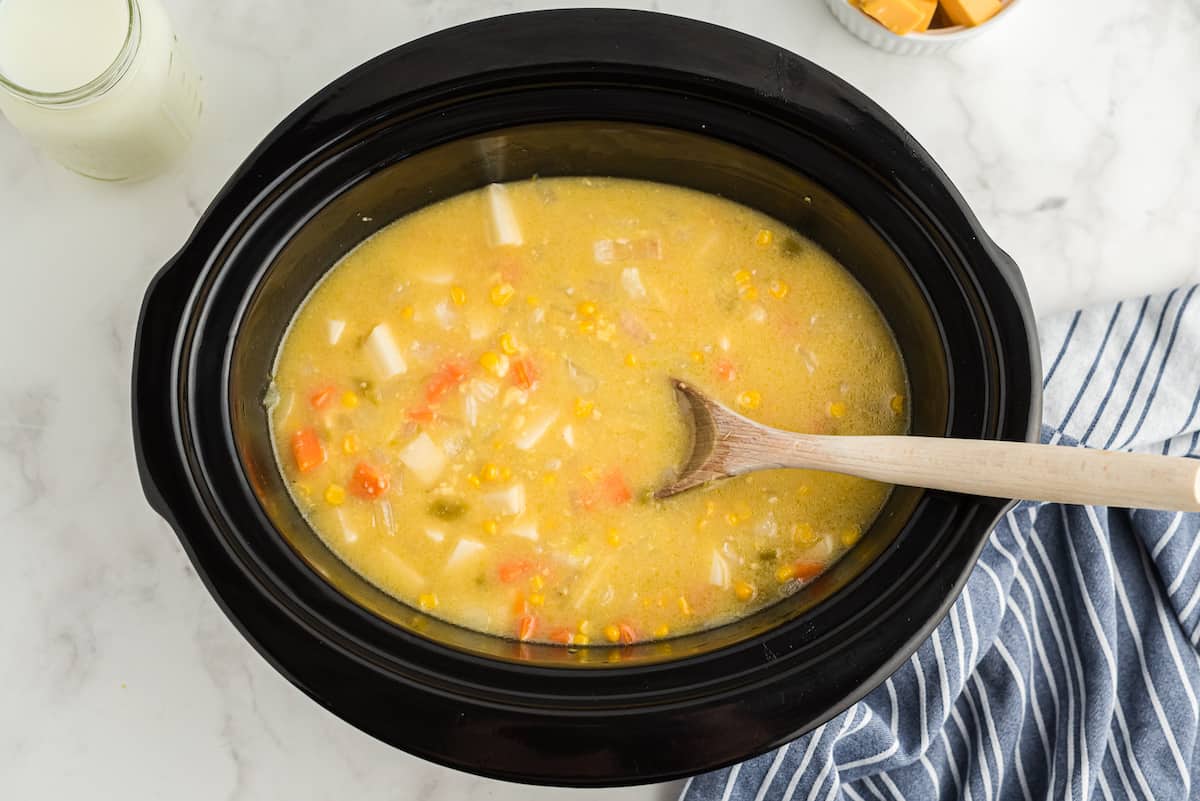 Pin
Cook 8-10 hours on low.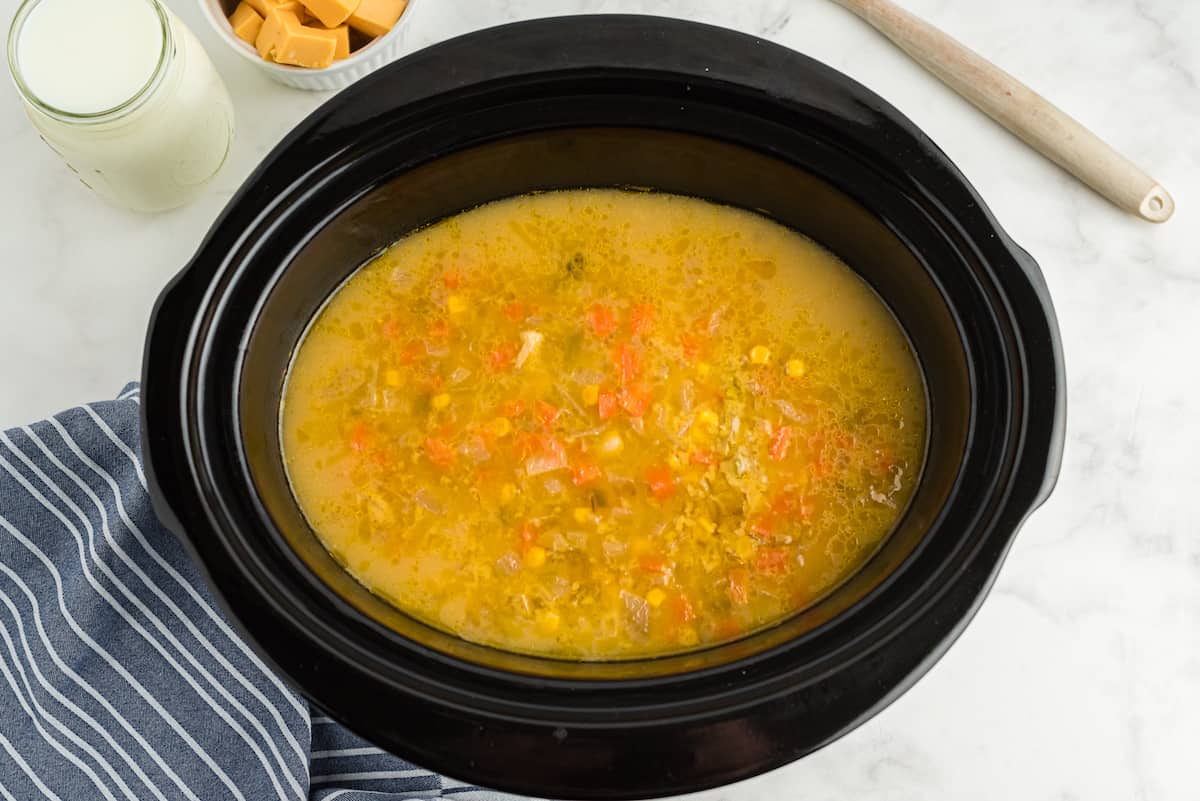 Pin
Add milk and Velveeta and cook another 20 minutes, stirring occasionally.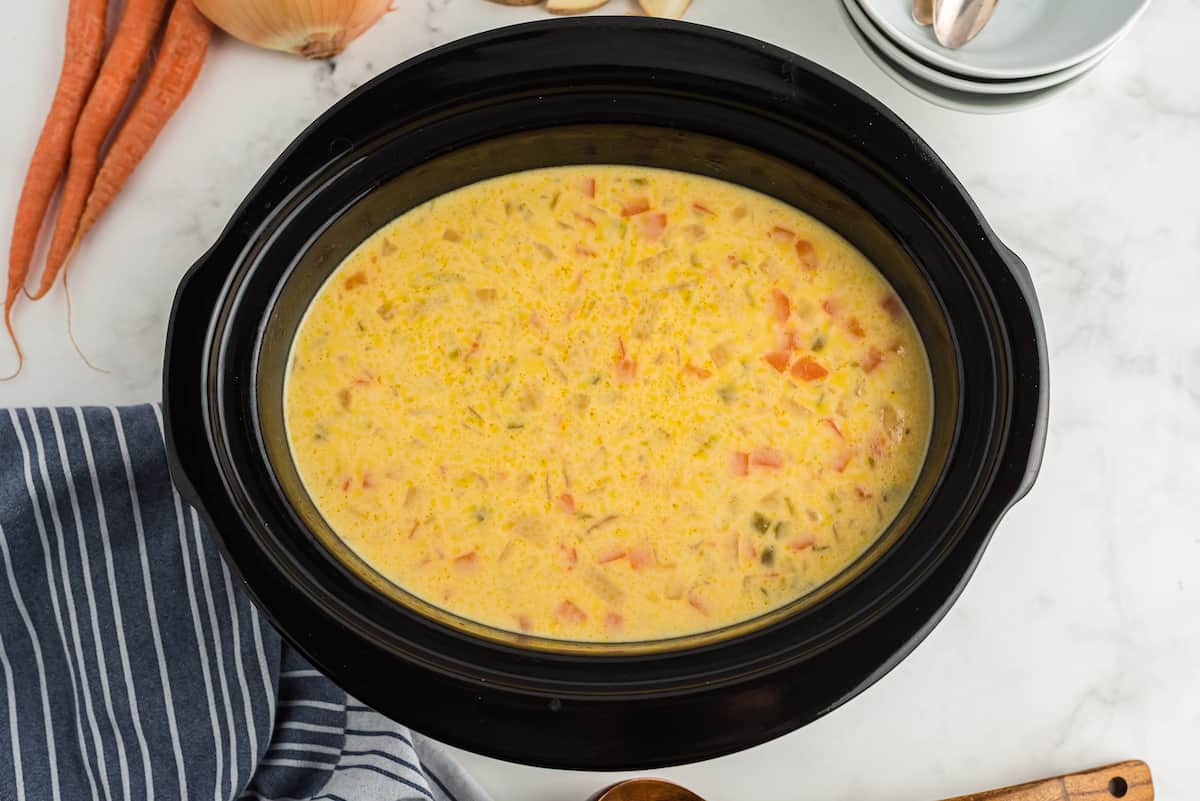 Pin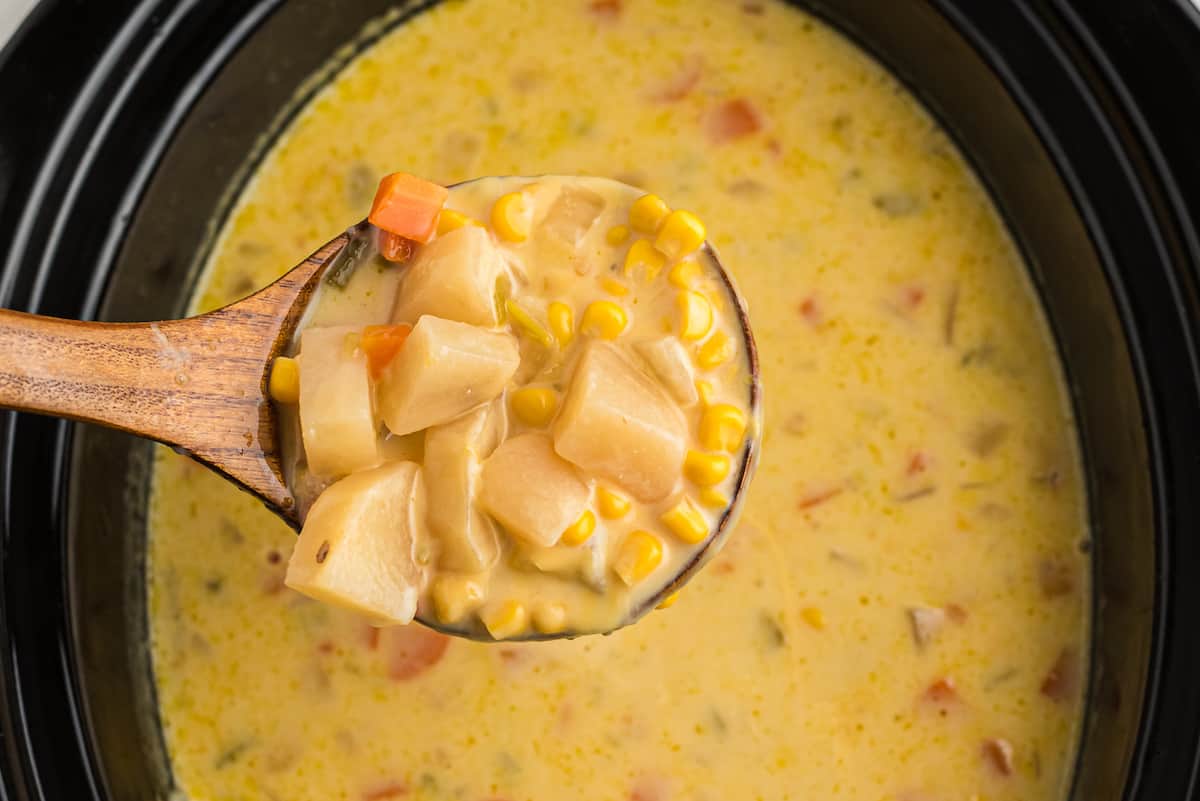 Pin
Top with chopped scallions, crumbled bacon, and shredded cheddar.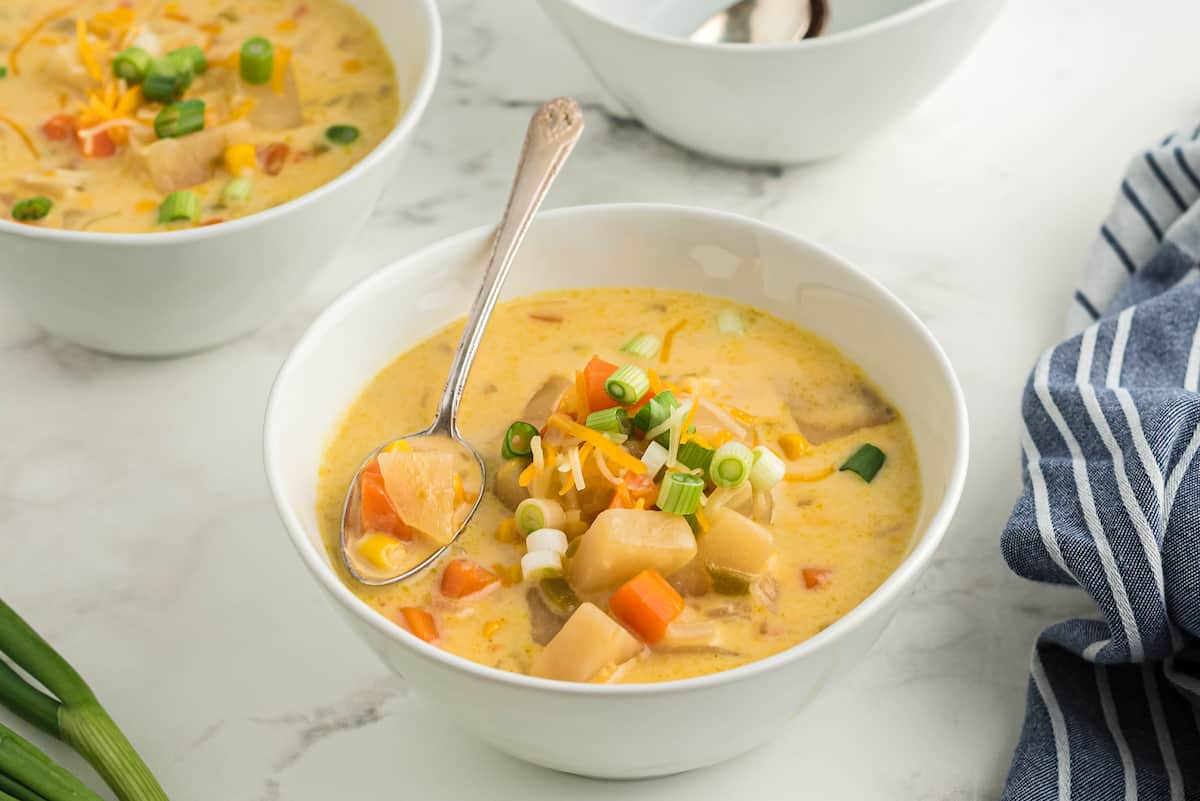 Pin
Variations of corn chowder
As I have mentioned several times, you could make this vegetarian by using vegetable stock instead of chicken broth and also making your own "cream of something" soup instead of cream of chicken. I have used the recipe I linked from Once a Month Mom literally for years, and it always turns out really well. It can also be gluten-free if that matters to you.
This soup is absolutely to die for if you add some cooked and crumbled bacon at the same time as everything else, before turning the slow cooker on.
You could also add some cubed ham or cubed or shredded chicken in that step, with or without the bacon.
Check out these other delicious soups, stews, and chowders while you're here:
Recipe