The classic Chinese or Asian soup recipe that is healthy and better than takeout! Perfect as a side or appetizer. Tofu, mushrooms, bamboo shoots in a familiar flavorful spicy and sour broth.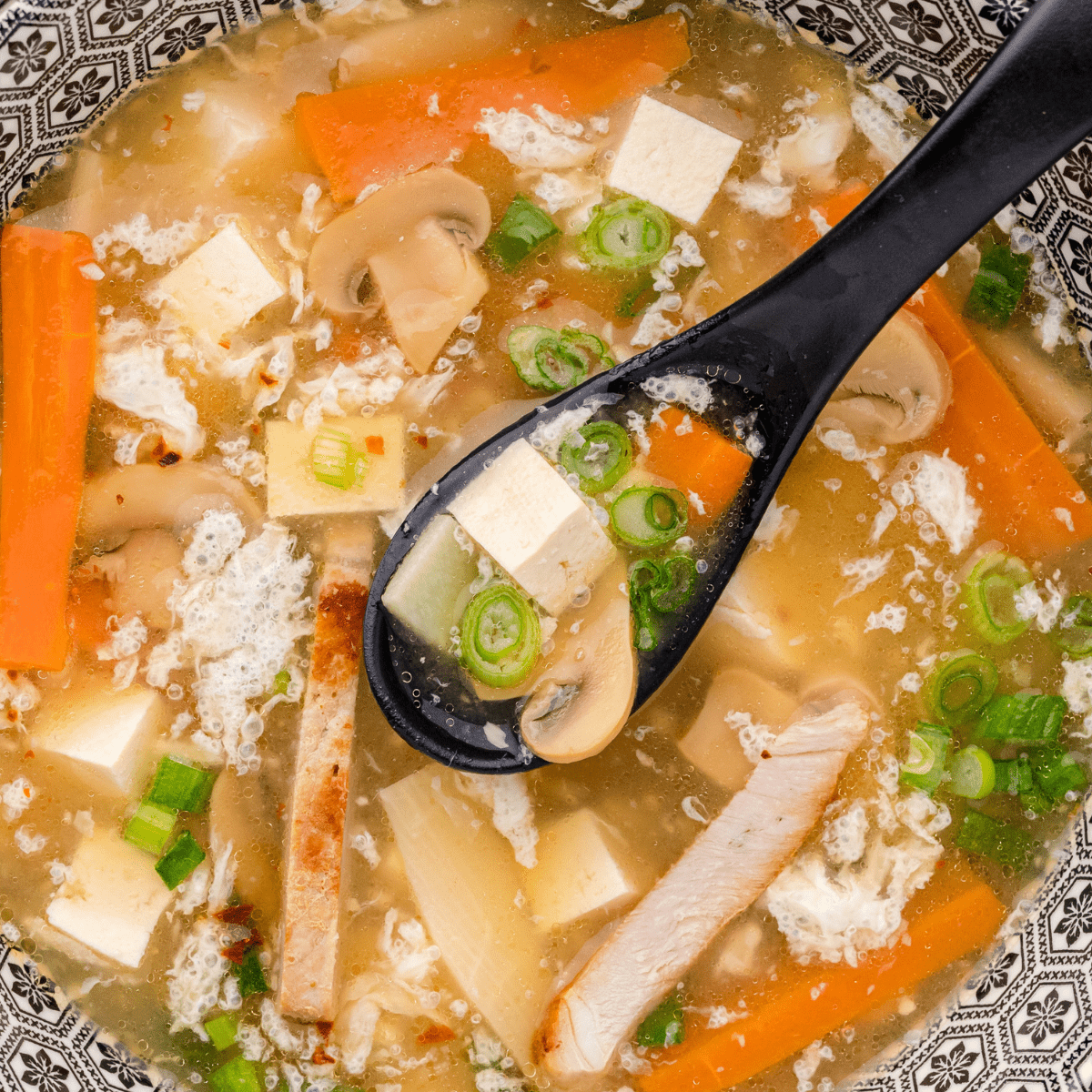 I'm not a big soup fan.
Chili, yes (especially topped with cheese and sour cream).
Chowder, yes (especially when topped with cheese and green onions).
Chicken broth soups, not so much. Except for one.
Every time I've ever been sick or had dental work or in any way didn't feel like eating, I have craved hot and sour soup from my favorite Chinese takeout restaurant. There is just something about it that makes my body feel good.
I found a recipe for hot & sour soup on the Nakano website, and I couldn't wait to try it. The recipe used simple, whole ingredients that I could find at my local grocery store, and that made it easily within my reach.
I mean, I'm not against soups that use authentic ingredients from an Asian grocery store, but to be honest, I don't even know the location of an Asian grocery store. If I'm going to make my hot and sour soup, I'm going to have to use regular old grocery store ingredients. It is what it is.
What you'll need to make the best homemade hot and sour soup recipe
The only equipment you'll need is a nice big stockpot, a microplane grater, and a garlic press. If you don't have a garlic press, you could mince the garlic as fine as possible with a very sharp knife. The pieces will be larger, and you'll run the risk of getting a chunk of garlic in your mouthful of soup. But you can do it. Same with the microplane grater for the ginger. You could use a knife if you absolutely had to or a box grater, but the pieces are going to be much larger.
Ingredients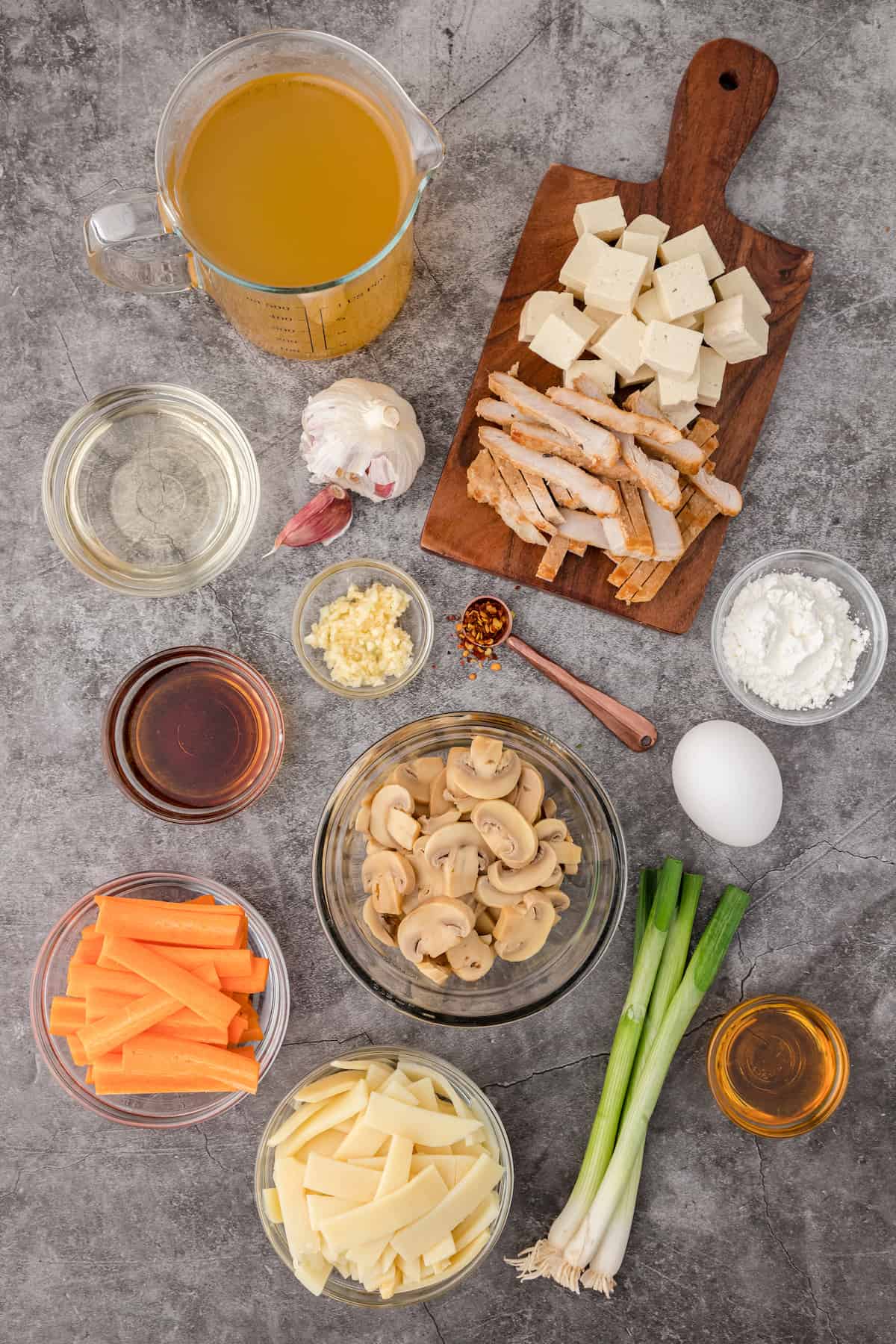 See printable recipe card at the bottom of the page for all measurements and nutritional information.
Low sodium chicken stock - This recipe contains chicken broth and soy sauce, and I think the two of these provide plenty of salt. I use the low sodium versions of both.
Fresh garlic - You'll want to press this with a garlic press for the best results.I don't recommend garlic powder, but if you feel you must use it, go for about ¼ teaspoon.
Fresh ginger - You'll want to grate this on a microplane grater for the best results. I don't recommend dried ginger, but if you feel you must use it, go for about ¼ teaspoon.
Light soy sauce - I like to use low sodium. You can use traditional soy sauce if you prefer it.
Crushed red pepper flakes - This adds some heat to the hot and sour soup.
A pork chop, sliced paper-thin - If you want to add some extra flavor, you can marinate the pork. Slice the chop into julienne strips (very thin and long) and put the strips into a zippered plastic bag. Whisk together ¼ cup light soy sauce, ¼ cup olive oil, and 2 tablespoons cornstarch and pour that over the strips in the bag. Marinate for 15-30 minutes and then remove from the bag and add to the soup.
Canned mushrooms - You can use straw mushrooms, shiitake mushrooms, or plain button mushrooms. Drain the mushrooms if you're using canned. If you're using fresh, sauté them in a little butter before adding them to the soup.
Carrots, sliced into sticks about the same thickness as the bamboo - I often buy tiny carrot sticks in a bag in the produce department. Are they called grated carrots? They might be.
Firm tofu - Remove the tofu from the package and place on top of a couple of paper towels. Add a couple more on top and then press very gently to remove the excess water. If you press too hard, you'll crush the tofu and turn it into crumbles. Be gentle. After pressing, cut the tofu into cubes.
Canned bamboo shoots - Drain these.
Corn starch - You'll mix this with a small amount of water and then stir the cornstarch mixture into the soup to thicken it.
White from a large egg - You'll beat this and slowly drip it in the soup to form ribbons of cooked egg.
Green onions - You'll add a handful of these to the soup, but you may also like to have some extra to use for garnish.
Garlic flavor rice vinegar - You can use plain rice vinegar or seasoned rice vinegar, but I think the garlic flavor tastes the best in this recipe.
White pepper - This adds a nice flavor to the soup. You can substitute black pepper if you need to, but you'll want to double the amount as black pepper is much more mild than white pepper.
Dark toasted sesame oil - This is essential. Don't leave it out.
How to make homemade hot and sour soup
Heat chicken broth in a 2-quart pot over medium high heat. Add garlic, ginger, soy sauce, red pepper, pork, mushrooms, and carrots. Simmer for 15 minutes or until carrots are beginning to soften. (Simmering means that you keep the liquid at a level of heat that keeps it bubbling with small bubbles, but it should not boil with big, rolling bubbles.)

Add tofu and bamboo shoots. Simmer for 5 minutes more.

Combine water and cornstarch in a small bowl; whisk until smooth. Add cornstarch slurry to the soup and stir well. Let simmer until soup thickens, 5 to 10 minutes more and pork is cooked through.
Beat the egg white in a small bowl and slowly pour, in a fine stream, around the edge of the soup pot. Stir well and heat for another minute or two.

Mix in the rice vinegar, white pepper, and sesame oil.

Sprinkle the green onions over the soup. Immediately remove from heat and serve hot.

Variations on hot and sour soup
I like my hot and sour soup with both pork and tofu in it. You could easily use chicken and tofu, just tofu, or just pork. Use whatever combination of protein you prefer.
Can hot and sour soup be vegetarian?
Yes. Use vegetable broth and leave out the pork chop. It will still taste good.
Can hot and sour soup be vegan?
Yes. Use vegetable broth, leave out the pork chop, and use a vegan egg substitute for the egg drop at the end.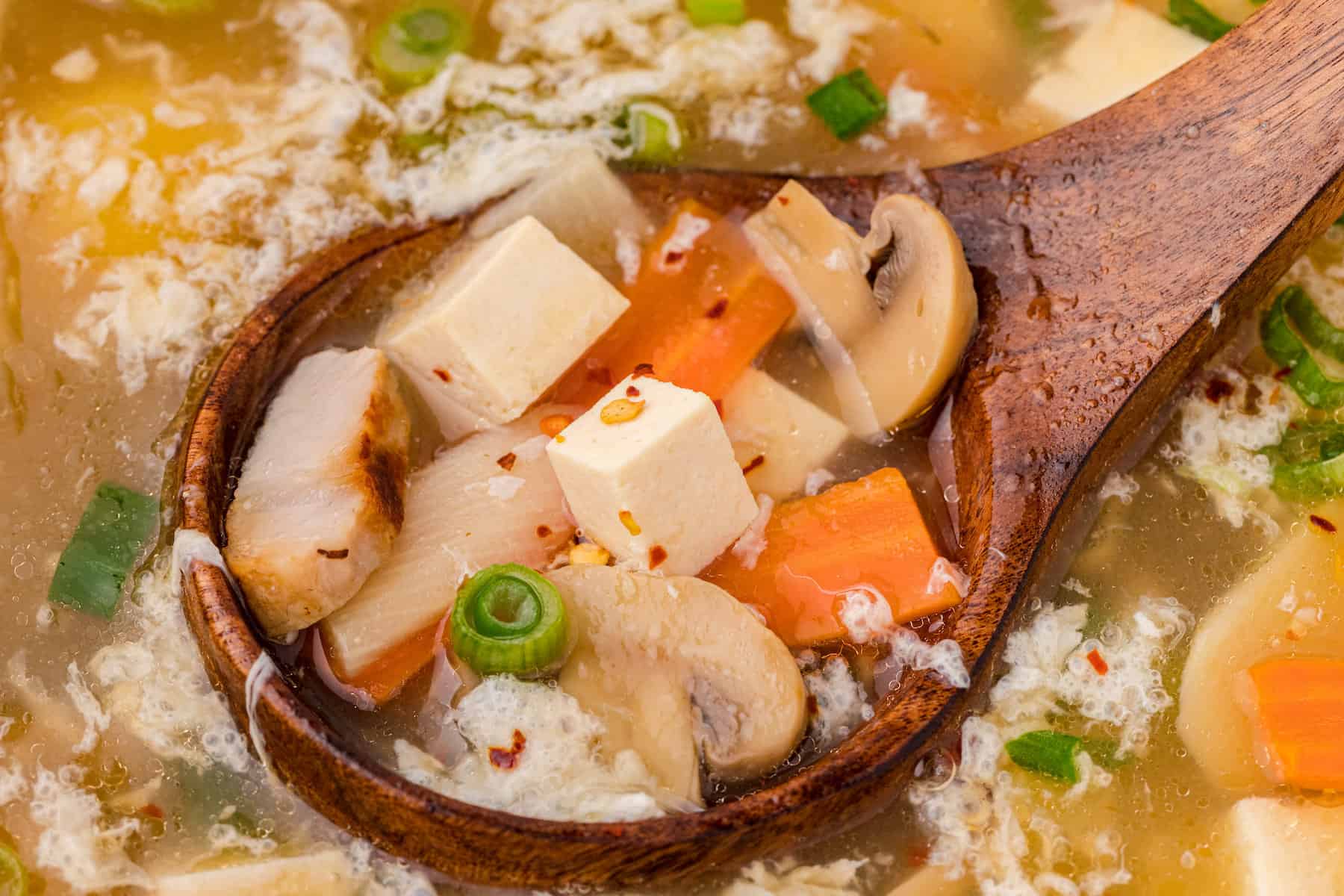 Is Chinese hot and sour soup healthy?
Yes, it is healthy. Using low sodium soy sauce cuts down dramatically on the amount of sodium, and there is no sugar. Everything else in the soup is healthy, low fat, and low calorie, while still having a lot of flavor. Because you're making the soup from scratch, you have full control over the ingredients and can ensure there's no msg or other undesirable preservatives.
Dropping the egg ribbons into the soup
If you've ever had egg drop soup, you might notice that the process with the egg at the end resembles the egg drop process. Hot and sour soup usually includes thin ribbons of cooked eggs, and slowly pouring beaten egg into hot soup is how you make them.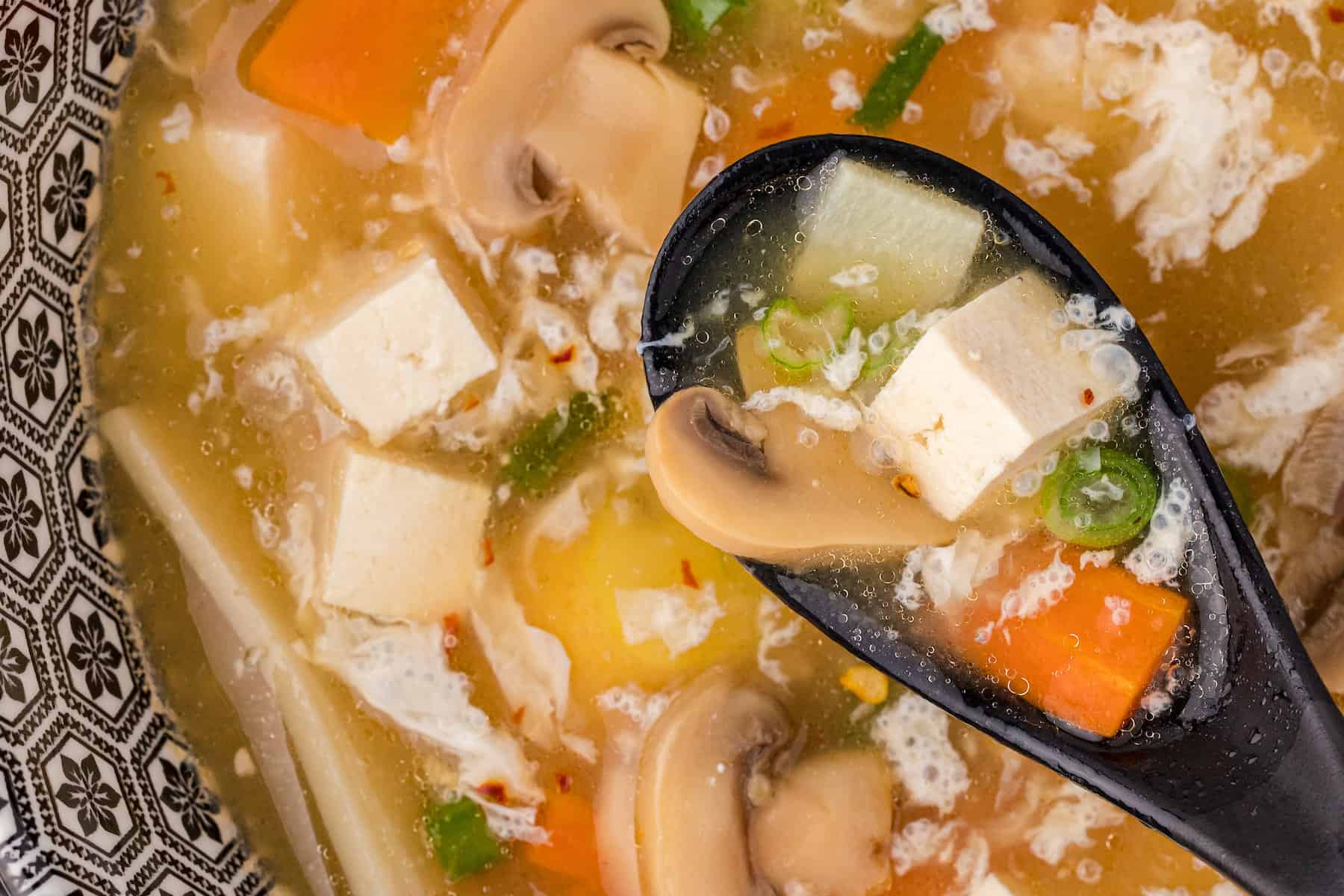 How to store leftover soup
You can keep this soup in an airtight container in the refrigerator for up to 5 days.
More easy soup recipes
Check out these other delicious soups, stews, and chowders while you're here:
Recipe