Creamy Chicken Enchilada Soup is a hearty and delicious soup that's quick and easy to make. With shredded chicken, black beans, Velveeta, cream cheese, and customizable spices, this soup is perfect for cool nights and impressive enough for dinner guests. Use rotisserie chicken for the easiest prep, making this soup a 30 minute meal made on the stove top.
Why this is the best creamy chicken enchilada soup recipe
This soup is like the definition of comfort food – shredded chicken, black beans, sweet corn, spicy tomatoes, and enchilada sauce in a rich, cheesy base. It's so hearty and so delicious!
This soup is quick and easy and takes only about 25 minutes to make.
There are a lot of different flavors in this soup, and when mixed together, they create a flavor explosion in your mouth.
Using red enchilada sauce gives this soup its characteristic enchilada flavor. There's no need to use taco seasoning or any other spices.
What you'll need to make creamy chicken enchilada soup
Equipment
A big stockpot or a Dutch oven - This should be a nice, big soup pot as this recipe makes about 10 cups of soup (That's a little less than 3 quarts.)
Garlic press - I prefer to press fresh garlic with a garlic press as this results in a fine mince that is easy to disperse in the soup. If you don't have a garlic press (you'll use it daily if you have one!), you can mince the garlic with a sharp knife, but you will not be able to get the pieces as small as a press would.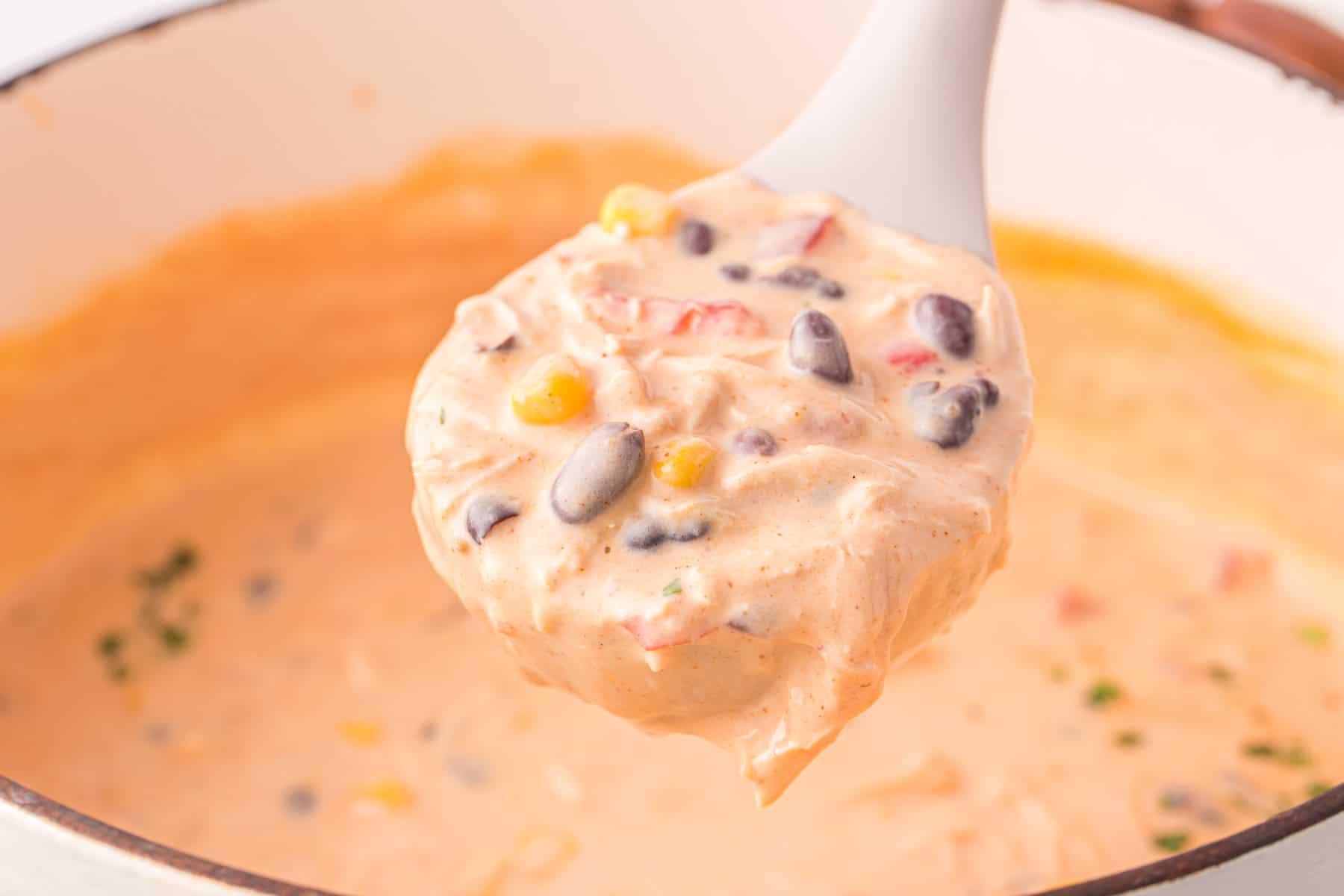 Ingredients
See printable recipe card at the bottom of the page for measurements and nutritional information.
Cooked chicken, shredded - You can use seasoned, rotisserie chicken, leftover boiled chicken frozen, diced chicken breasts, or even chicken thighs. Be aware that if you use cold or frozen chicken it may take longer for the soup to heat through. Whatever you use, shred the chicken with two forks before adding to the soup. Always heat chicken to 165 degrees Fahrenheit internally before serving.
Black beans - Drain the beans before adding to the soup. You can substitute pinto, red kidney or white beans instead if that's what you like.
Onion - I use sweet onions and usually throw in the whole thing, even though the recipe technically only calls for half of it. You could use any kind of white onion (or even red) that you have. If you have some extra time and really want to kick up the flavor of the soup, you could caramelize the onion ahead of time in some butter. Let it sauté in the stockpot for 15-20 minutes at a medium-low heat until the onion is nice and brown and soft. Don't wipe out the pan. Just deglaze it with some chicken broth. This means that you will pour some of the chicken broth into the pot and scrape up all the brown bits that are sticking to the pan. This will give your soup a ton of extra flavor, and you will love the result.
Fresh garlic - There is no substitute for the flavor of fresh garlic cloves, but if you must, you can use jarred minced garlic or garlic powder. I don't recommend this substitution.
Corn kernels - Frozen is fine; no need to thaw. You can use canned or fresh corn instead, though the texture may change and it may cook differently than frozen corn.
Rotel, undrained - Rotel is canned diced tomatoes mixed with green chilies. You can substitute any diced tomatoes with green chiles or even a can of diced tomatoes (not drained) plus a can of diced green chilis (drained). You can use a spicier mix for more spice or a milder mix for less spice.
Red enchilada sauce - I prefer to make my own enchilada sauce using chili powder (following the recipe I linked just there), but if you need to, you can also use canned or jarred enchilada sauce for this recipe. Be aware that the consistency and flavor of the soup may change depending on the enchilada sauce you use.
Low sodium chicken broth - Substitute vegetable broth if needed.
Mexican-style Velveeta - I love Mexican Velveeta (sometimes labeled Pepperjack Velveeta, depending on your region). It's spicy and has lots of flavor. If you prefer a milder soup, use regular Velveeta. If you don't like Velveeta, use an equivalent amount of shredded cheese (cheddar cheese or pepper jack or any cheese of your choice). Your soup won't be as creamy as mine, but it will still taste good.
Cream cheese - I prefer neufchâtel which is just like cream cheese but has less fat and fewer calories.
Optional toppings
When you put your soup into bowls, you can add whatever toppings you want or none at all.
Tortilla strips or crushed tortilla chips - This is my favorite topping for enchilada soup because it gives a nice crunch to the soup.
Shredded Mexican cheese blend - There is a lot of cheese in this recipe, but if you want, you can top it with a little more.
Sour cream
Sliced or chopped avocado
Lime wedges - I love to add a splash of fresh lime juice to every Mexican recipe I make. It really enhances the spices.
Chopped fresh cilantro - I love cilantro and use it often, but if you don't like it, leave it out.
Green onions
Sliced jalapeños - If you want to make this soup even spicier, add some fresh or pickled jalapeños.
How to make the best creamy chicken enchilada soup
In a large stockpot, stir together the shredded chicken, black beans, onion, garlic, corn, Rotel, and enchilada sauce until combined.

Add the chicken broth and mix well.

Heat over medium-high heat until bubbling, stirring frequently and scraping the bottom, about 5 minutes.

Once boiling, continue cooking for 10 minutes or until everything is heated through. Be sure to stir occasionally so that nothing sticks to the bottom of the pan.
Reduce the heat to low and stir in the cubed Velveeta and cream cheese.

Continue to stir and simmer until both cheeses are melted and the soup is thick and creamy, about 5 minutes.

Serve hot with your choice of toppings.

Can I adjust the spice level in this recipe?
You can easily adjust the spice level of my creamy chicken enchilada soup to your preference.
If you prefer your soup to be spicier, you can add hot Rotel, hot enchilada sauce, some diced jalapeños, or a pinch of cayenne pepper.
If you prefer a milder flavor, you can use mild Rotel. You can also use regular Velveeta instead of Mexican Velveeta.
It's best to adjust the spice level gradually, so you can taste as you go and add more as needed.
How should I store my Chicken Enchilada Soup?
If you have leftovers, allow the soup to cool to room temperature before transferring it to an airtight container. You can store it in the refrigerator for up to 3-4 days.
To reheat chilled soup, simply heat it up on the stove or in the microwave until heated through. If the soup is too thick after refrigerating, you can add a little bit of water or chicken broth to thin it out to your desired consistency.
I don't recommend putting this soup in the freezer as the cheese may not hold up well after thawing.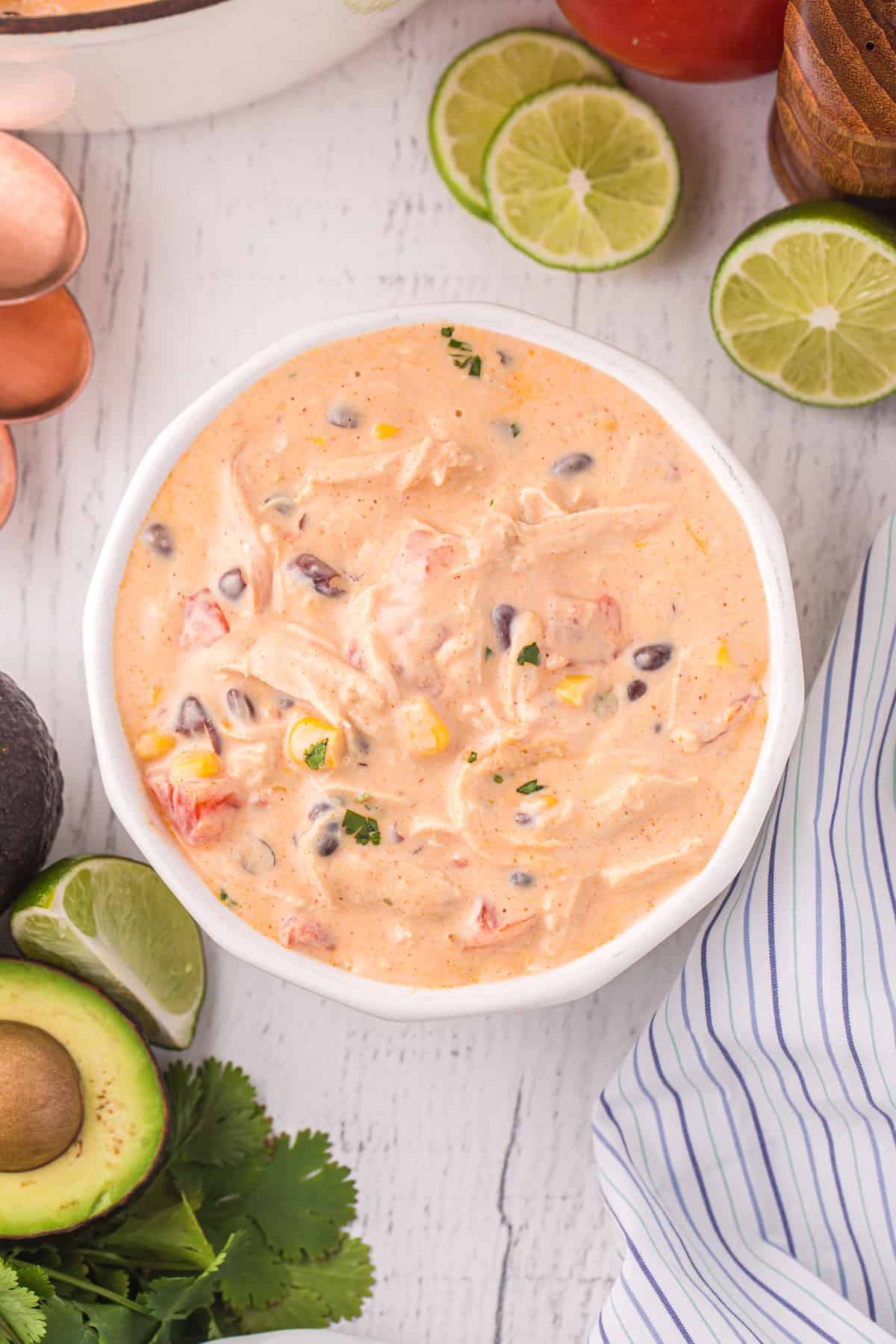 How can I make this soup vegetarian?
That's an easy one. Leave out the chicken, substitute vegetable broth for chicken broth, and double the beans and veggies. You may also want to throw in some diced red bell pepper.
Can I use canned chicken in this recipe?
I use canned chicken for a lot of recipes, but in this particular soup, shredded rotisserie chicken is a better option than canned chicken. But if canned is all you have, go ahead and use it.
Can I use tomato sauce instead of diced tomatoes?
No, you cannot. They are very different, and your soup will be weird.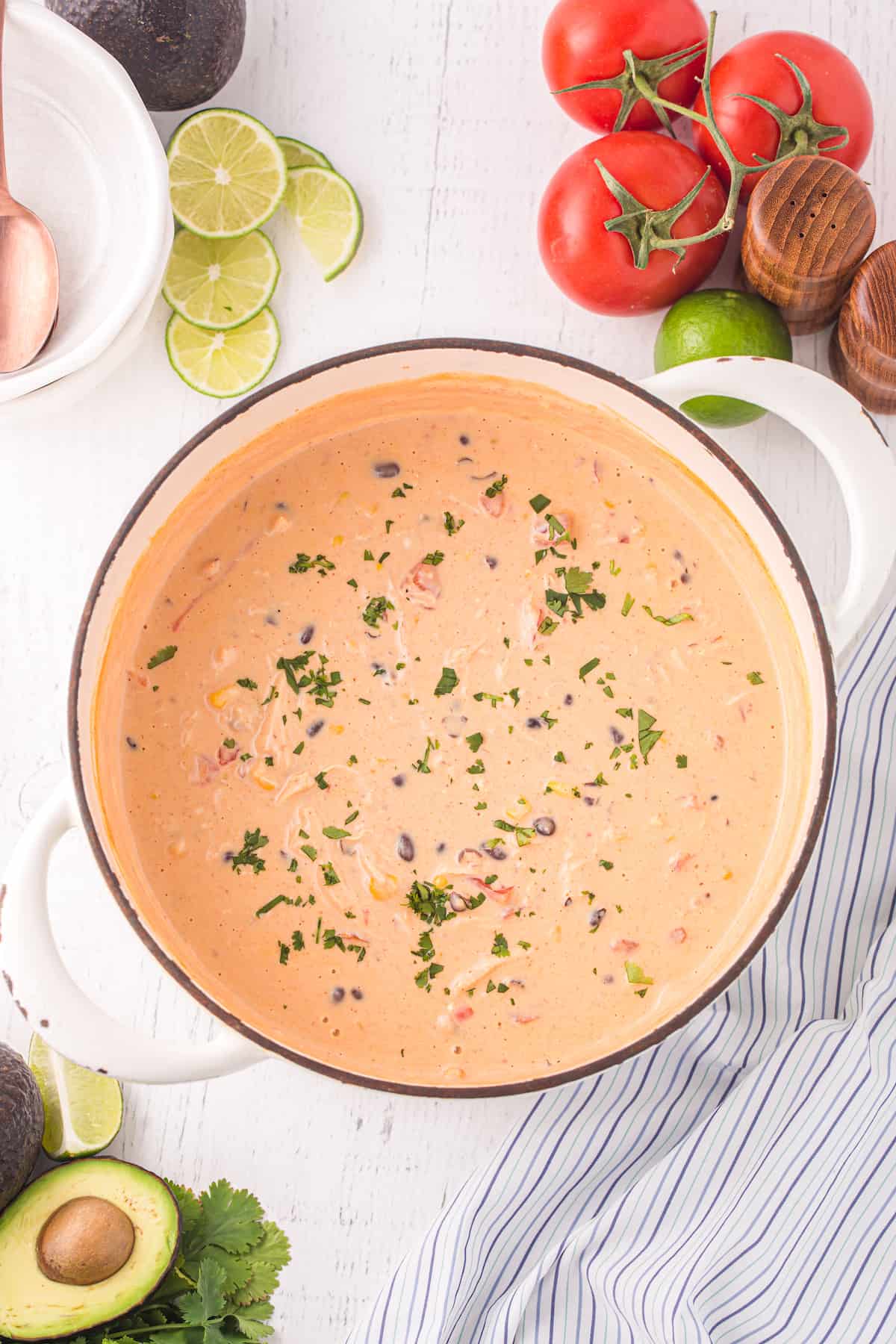 Can I use green enchilada sauce in place of red sauce in this soup?
Yes, you can. Your soup will be very different, but it will still taste very good.
Try these other delicious soup recipes while you're here:
Recipe