Quick and flavorful Ground Beef and Green Bean Stir Fry is easily made in under 30 minutes all in one pan! Lean ground beef with crisp green beans all tossed together in the most delicious Asian-inspired sauce that's better than take-out. Serve over rice for a quick weeknight meal packed with flavor!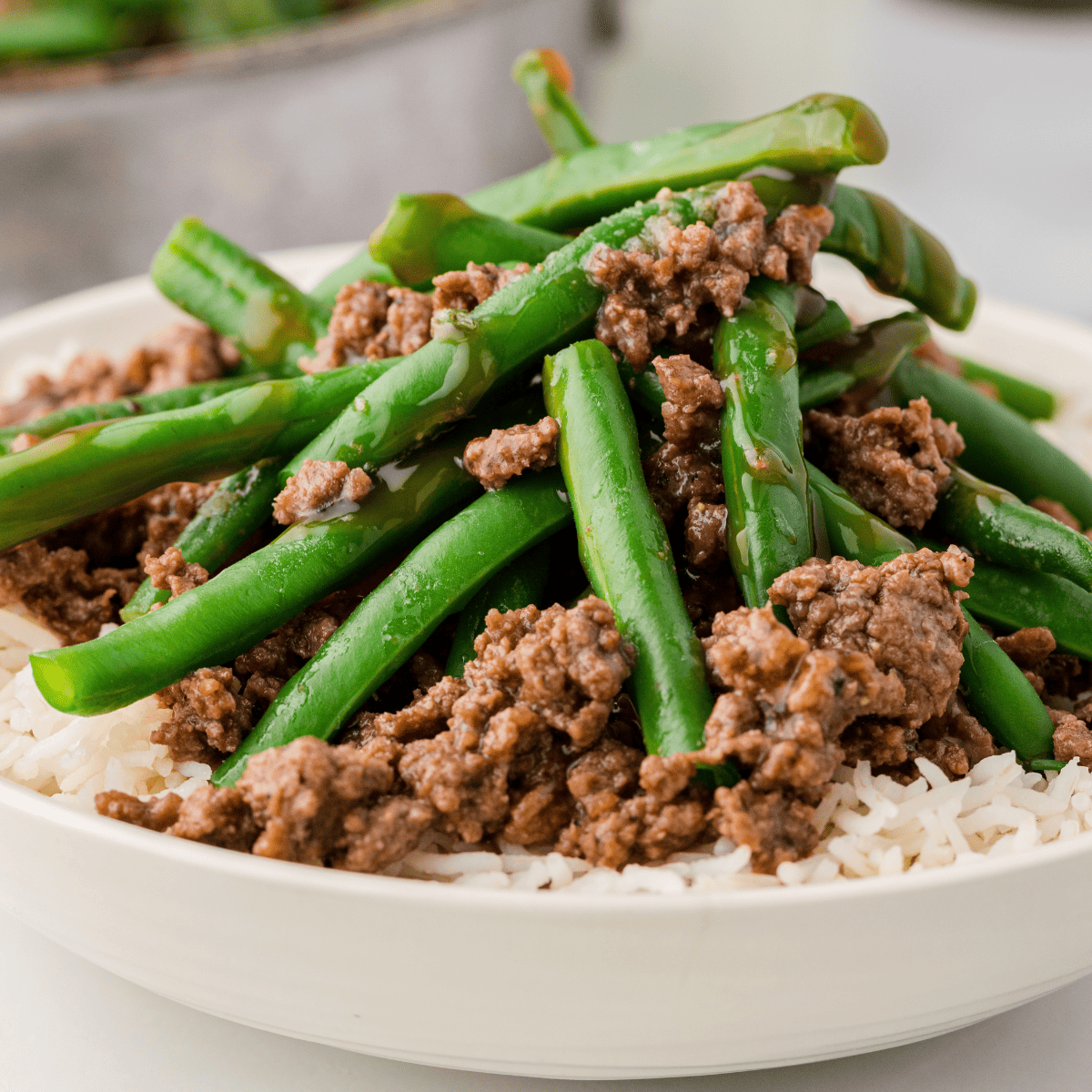 I love fresh green beans. I think it goes back to when I was a little girl and ate vegetables fresh out of my grandma's garden. There's nothing quite like eating food that was growing just a few short hours ago.
Today, our garden rarely produces enough food for us to eat a whole meal out of the garden, but we try anyway.
I saw a meme recently that said, "Gardening is a great way to spend 3 months of your life to save $2.17," and that is entirely true, but we still do it because the food tastes so much better.
So we supplement our green bean haul from the grocery store, and Joe serves his fresh food with pride and no one knows that most of it came from a big box store. Oh well.
Anyway, Joe and I have been eating this beef and green beans meal a lot lately. We both love it, and it is quick and easy to throw together after work.
I personally think that our beef and green beans recipe is better than the beef and green beans or chicken and green beans at the local Chinese restaurant. It has a lot more flavor and is a lot healthier and the green beans are typically fresher. So I'll take ours over take out any night of the week.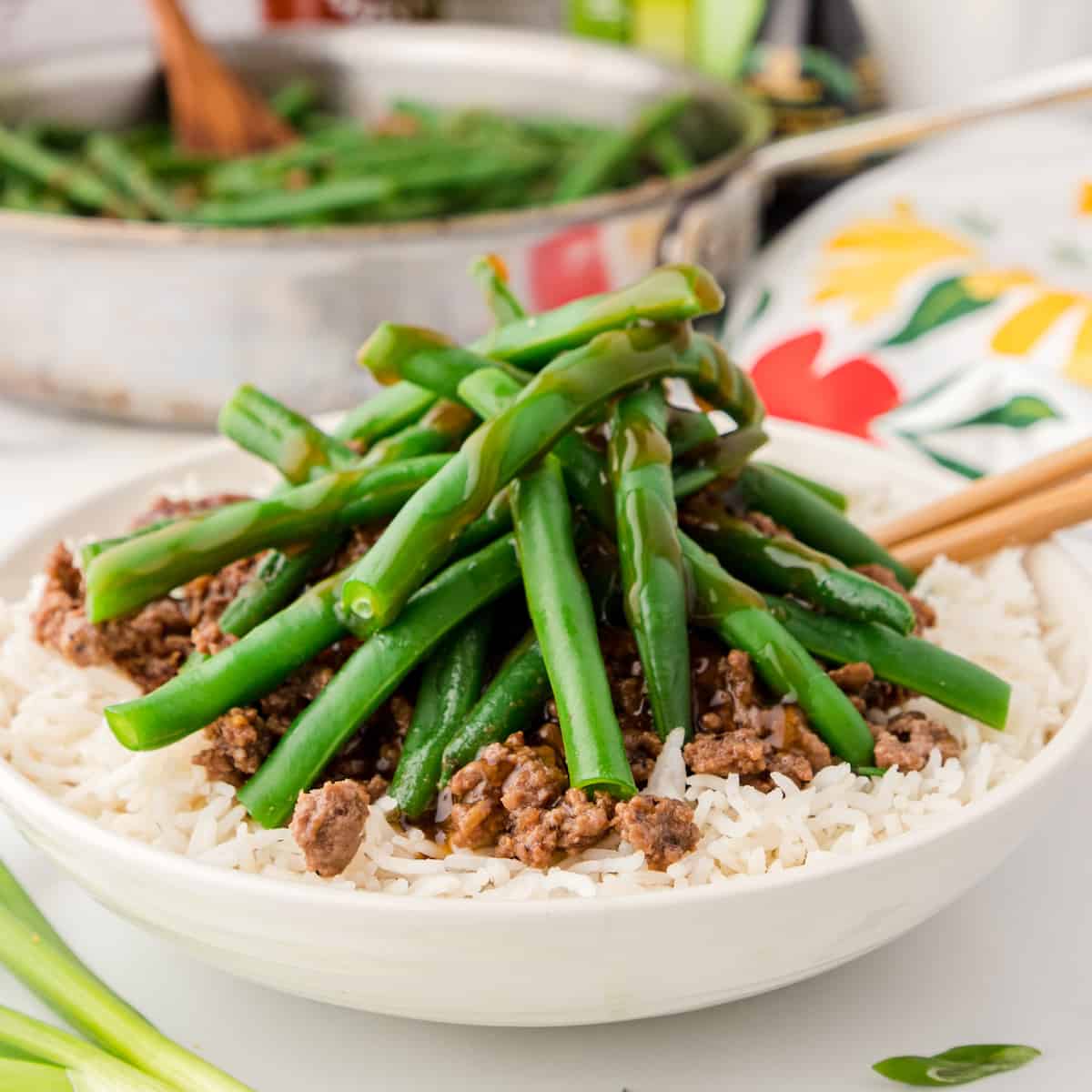 What you'll need to make beef and green bean stir fry
EQUIPMENT
This is a simple recipe that requires very few tools. You'll need a garlic press to mince the garlic and a wok or large skillet.
I prefer a garlic press to cutting the garlic with a knife. When you use a knife, the pieces of garlic are larger and less even. With a garlic press, the pieces are uniformly tiny and are thus more evenly distributed in the stir fry.
INGREDIENTS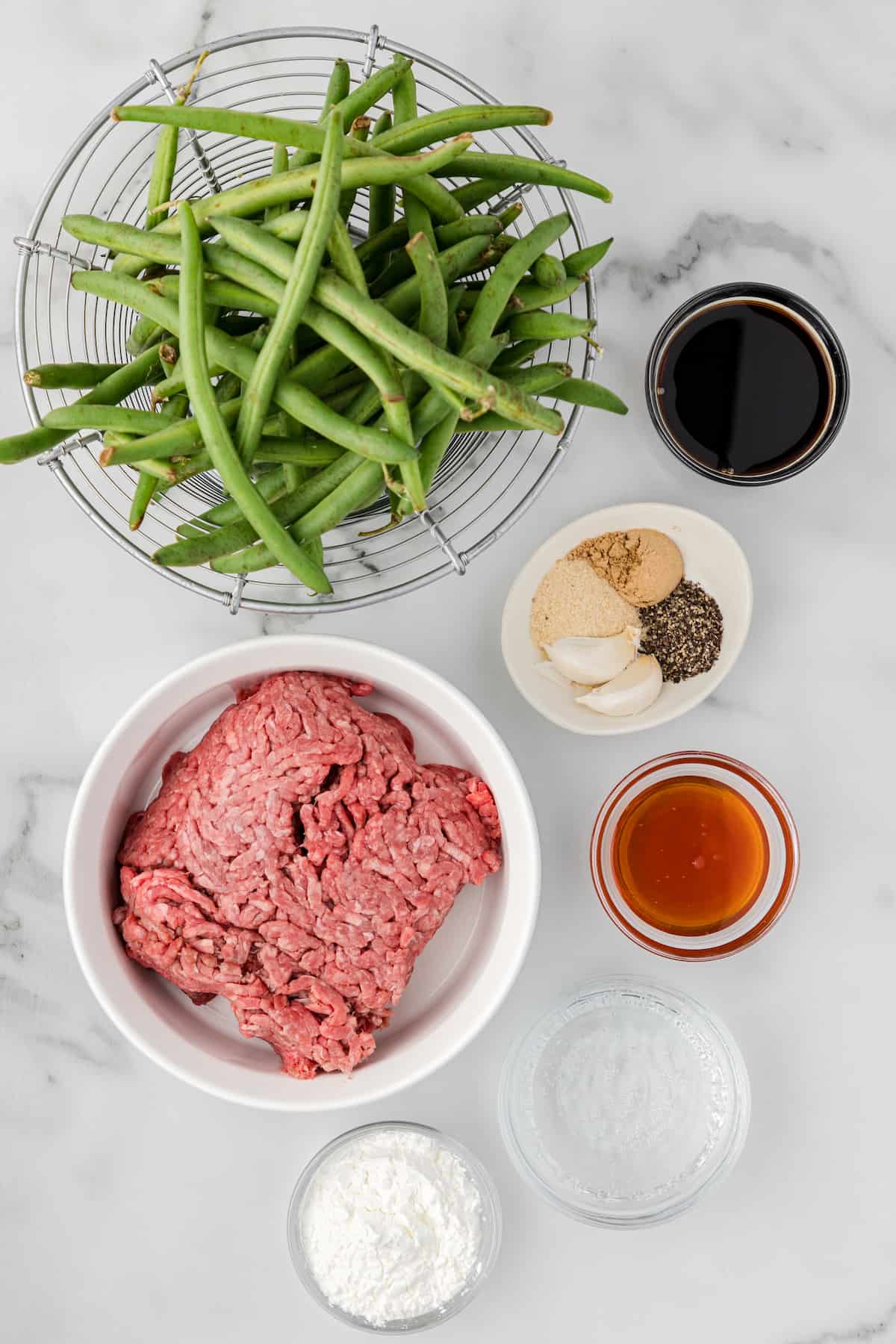 See printable recipe card at the bottom of the page for measurements and nutritional information.
Ground beef - You could also use ground turkey or ground chicken. I generally only buy 90% or 93% lean ground beef, but you can use what you want.
Fresh garlic - There is no substitute for the pungent flavor of fresh garlic. You can use garlic powder if you really need to, but the flavor won't be the same.
Ground ginger - You can use fresh ginger if you prefer it. Sometimes I do use fresh and sometimes I use the ground stuff. Like the garlic, fresh tastes better.
Onion powder - I have a seriously onion-phobic kid who will literally pick through every morsel of a dish if she thinks there's any onion in it. So, I use onion powder. When she leaves home, I'll be cutting a whole sweet onion and sautéing it in some olive oil before cooking the ground beef.
Ground black pepper ground - Just a little to season the beef. You can add a pinch of salt too, if you prefer it.
Soy sauce - I prefer low sodium soy sauce, and I generally look for a brand that is gluten-free.
Sesame oil - This gives Asian foods a rich, unmistakeable flavor. I really love sesame oil. However, a little goes a long way so don't overdo it.
Honey - This makes a nice glaze on the green beans.
Green beans - These are the star of the stir fry. Use the freshest, nicest ones you can find, and trim the ends before you throw them in the wok.
Cornstarch - You'll mix the cornstarch with a bit of cool water, and then you'll add that slurry to the stir fry to thicken the sauce. Alternately, you can use an equal amount of all purpose flour or another thickener of your choice.
Water
How to Make Chinese Copycat Beef and Green Bean Stir Fry
Season the ground beef with pressed garlic, ginger, onion powder, and black pepper.

Cook in a large skillet over medium-high heat until beef is evenly browned. Drain the fat.

Mix in soy sauce.

Stir in the honey.

Mix in the sesame oil.

Stir in the green beans and cover. Simmer for 7 to 10 minutes, until the beans are tender to your satisfaction.

Mix cornstarch and water in a small bowl to make a slurry. Stir into the beef mixture and cook an additional 5 minutes or so, until the sauce is thickened.

Serve over white or brown rice or cauliflower rice.

Variations
If you want your green bean stir fry to have a bit of spice, try adding a tablespoon of red pepper flakes with the other spices in step one.
If you want to make your stir fry more traditional, you can add other veggies such as bell pepper, broccoli, carrots, and mushrooms.
Sprinkle the stir fry with some toasted sesame seeds for a nice finish.
Replace the ground beef with thinly sliced steak or chicken breast.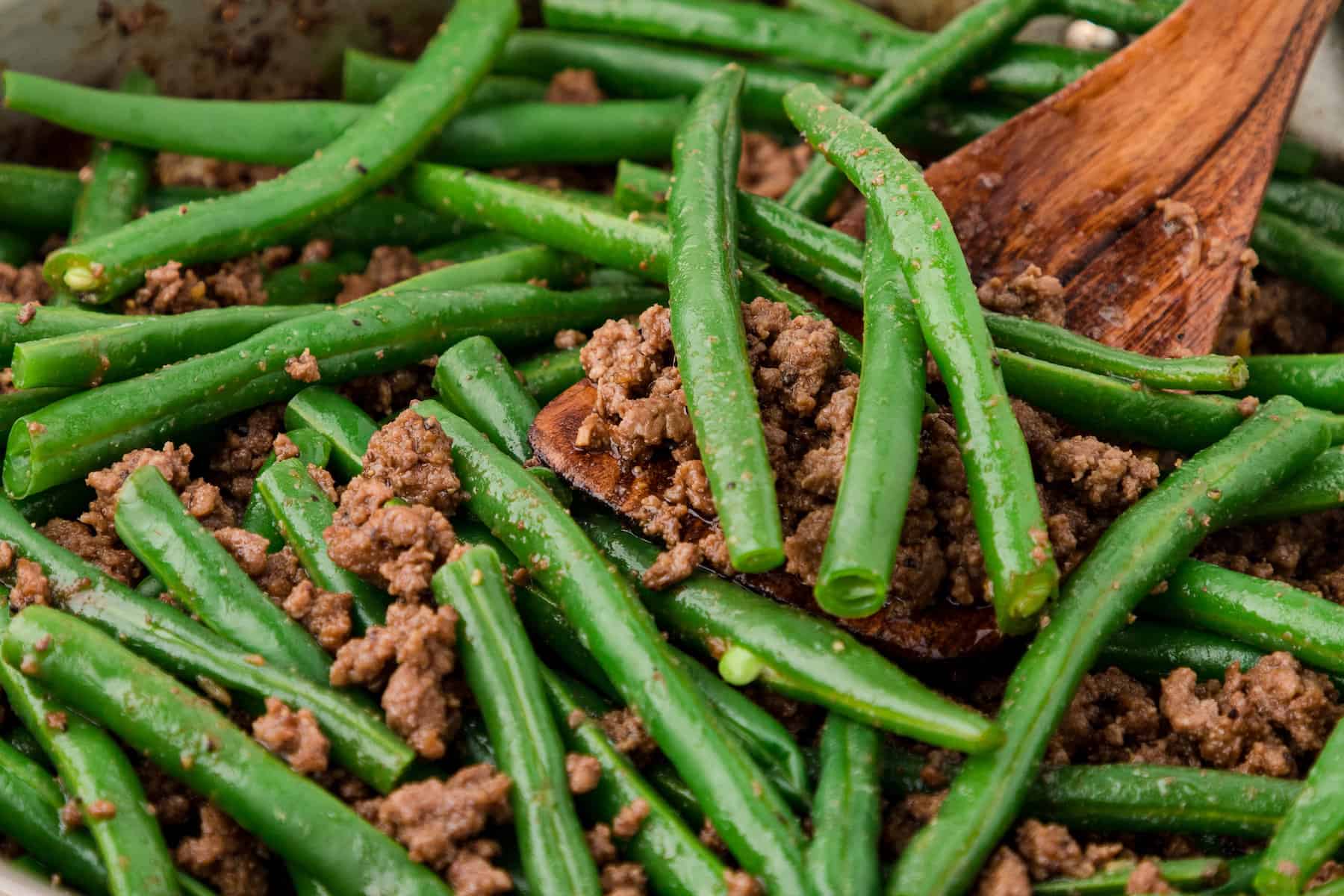 Try these other delicious beef recipes while you're here: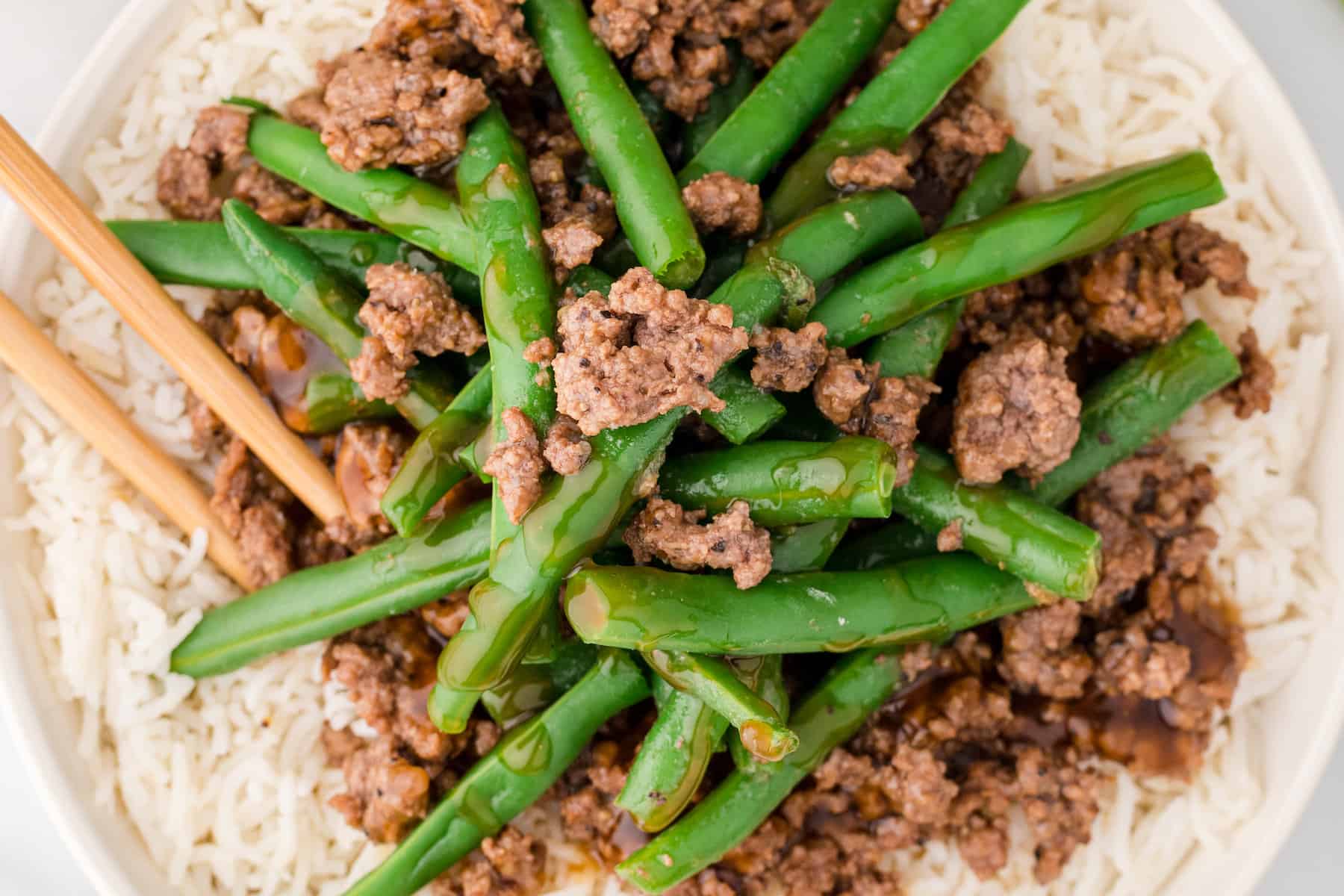 And these other stir fry dishes:
Recipe