This easy shrimp & asparagus stir fry is a quick and healthy recipe with simple homemade stir fry sauce with lemon, garlic, and ginger, juicy shrimp, and fresh asparagus in one delicious dish that everyone will love.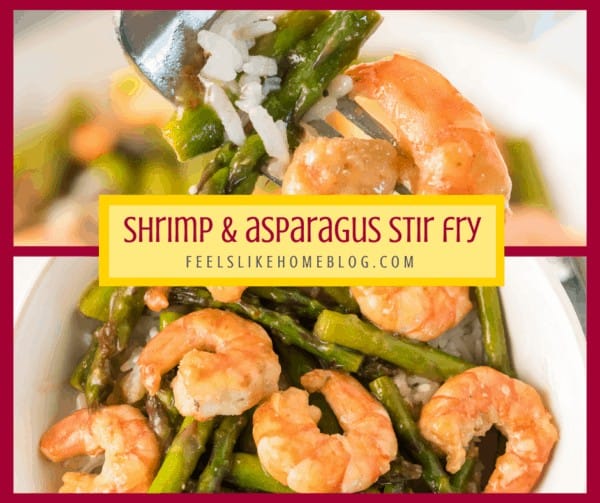 Asparagus is my favorite vegetable. There's nothing like the sweet flavor of a perfectly cooked spear.
Normally, we roast our asparagus, but in this recipe, the asparagus is sautéed for a slightly different but still amazing flavor.
Everyone thinks that the skinniest asparagus spears are the best, but I disagree. I think the fatter ones are sweeter and more tender while still retaining their crispness. Sometimes the really thin ones get mushy when you cook them.
When you grow your own asparagus, you have to worry about the spears getting too fat and woody, but that is not a concern for most of us who buy ours in the grocery store.
So all that to say that this is the best time of year to eat asparagus as spring is fresh asparagus season. Ours is just starting to peak up through the ground, and I can't wait to pick it and make this stir fry again.
Asparagus is very healthy, and shrimp is very healthy, and the lemon sauce on this stir fry adds a little zip of lemon/garlic/ginger/soy sauce flavor while still allowing the true stars of the dish to shine through (those being the shrimp and asparagus). I don't want to eat any sauce that overpowers my favorite vegetable.
How to Make the Best Healthy Shrimp & Asparagus Stir Fry
Prepare the sauce. Whisk together the chicken broth, soy sauce, garlic, ginger, cornstarch, lemon, and sugar in a small bowl. Set aside.

Prepare the shrimp. In a large skillet or wok, heat 2 tablespoons of olive oil over medium-high heat. Add the shrimp to the pan and cook just 3 minutes on each side. Season shrimp with ¼ teaspoon salt. At this point, the shrimp should be opaque, but slightly undercooked. Remove from pan.

Prepare the asparagus. In the same skillet, heat another 2 tablespoons of olive oil over medium-high heat. Add the asparagus spears and cook until tender. Season with ¼ teaspoon salt.

Put the shrimp stir fry together. Add the shrimp and lemon sauce back into the skillet with the asparagus. Simmer for 5-6 minutes or until sauce is thickened.



Serve over rice if desired.

While you're here, check out these other amazing shrimp dishes:
Recipe