This rich buttered shrimp recipe uses Old Bay, butter, and lemon juice to prepare the very best shrimp you'll ever eat! Once you've had buttered lemon shrimp with Old Bay, you'll never prepare shrimp another way.
Some people prefer their shrimp steamed with Old Bay, but I prefer mine buttered. I'll admit that this recipe isn't very healthy, but I only eat it once a year, on New Year's Eve, so I don't mind too much.
There was a time when I didn't like seafood at all, but I have come around to its flavors and benefits in the last few years. When I say benefits, I mean that seafood is super high in protein and super low in calories (although maybe not so much when you drown it in butter, but the protein remains). I have to carefully track my protein, so it matters to me.
Even if you don't track protein, seafood and specifically shrimp is a great way to celebrate a holiday or special occasion.
This recipe uses Old Bay seasoning which I thought was everywhere, but I have learned that it is unique to the eastern and southeastern United States. If you can't find Old Bay, you could substitute Seafood Seasoning or Cajun Seasoning, but Old Bay is much better and available on Amazon these days. Just be careful and make sure you're ordering 1 can and not a pack of six. It should be under $8. (This link will take you to a single can purchase.)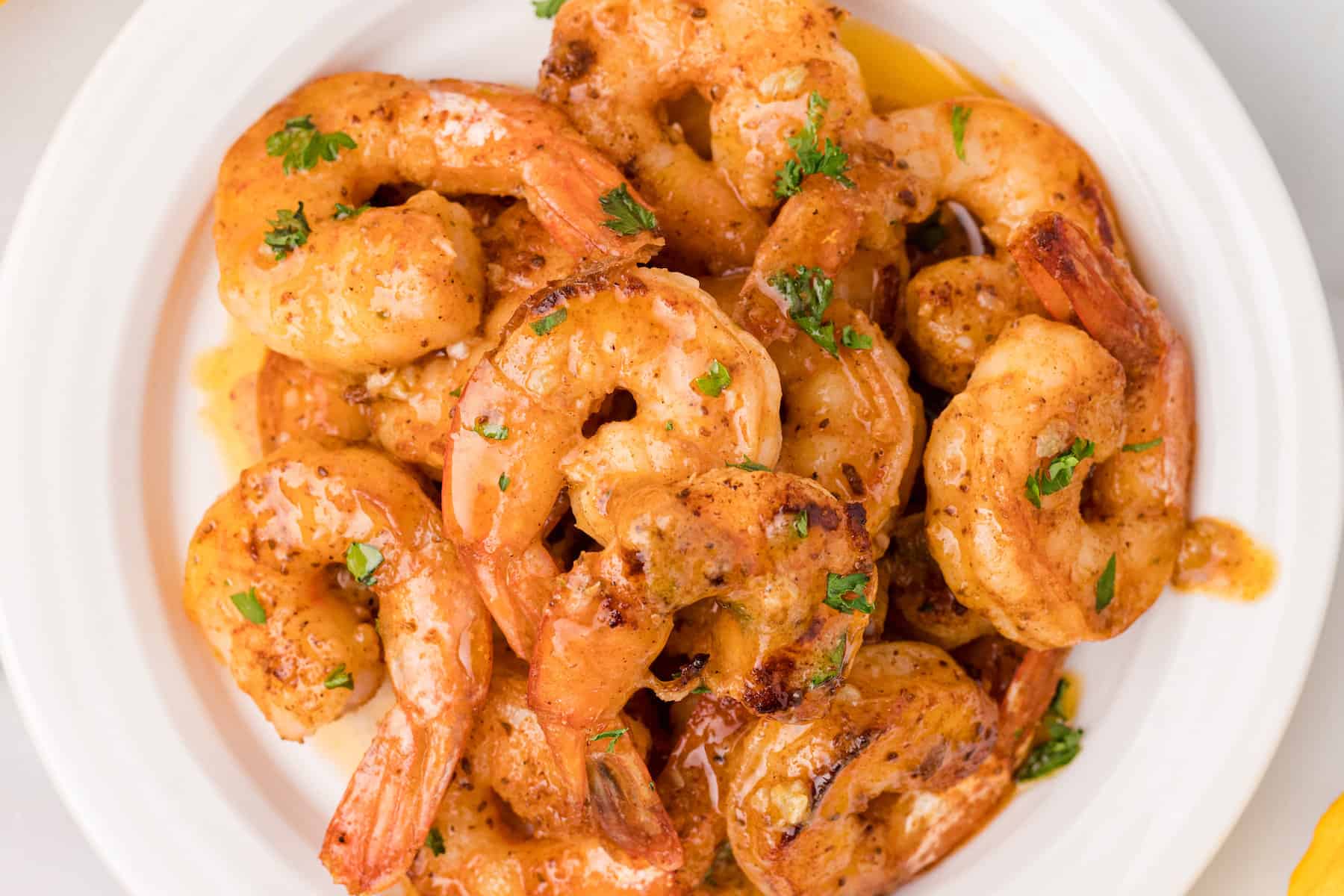 Why you'll love this buttered lemon shrimp recipe
This recipe is perfect for weeknights because it comes together very quickly. In the time it takes to heat your skillet, you'll have melted a stick of butter and cooked the shrimp. Seriously, less than 10 minutes.
This shrimp is amazing. The fresh, bright taste of lemon mixed with the bite of fresh garlic and the creamy butter? It's like heaven.
WHAT IS OLD BAY?
Old Bay seasoning is sold by McCormick and was originally created by the Baltimore Spice Company in Maryland. In the eastern US, it is synonymous with seafood dishes, but I've eaten it on popcorn, French fries, corn on the cob, fried chicken, potato salad, and many other dishes and meats.
Old Bay is a blend of celery salt, paprika, and black and red pepper. It is smoky, salty, and a little spicy, so a little goes a long way.
What you'll need to make buttered lemon shrimp
EQUIPMENT
12-inch skillet - Any large skillet will work. Ideally, it would be large enough to cook the shrimp in a single layer, but more than likely, you'll have to pile them in and just toss them around in the butter.
Garlic press - If you don't have a garlic press, you will need to mince the garlic as fine as possible using a very sharp knife.
Citrus juicer - If you don't have a citrus press, you could squeeze the lemon in your hand. You won't get as much juice, but you'll get most of it.
INGREDIENTS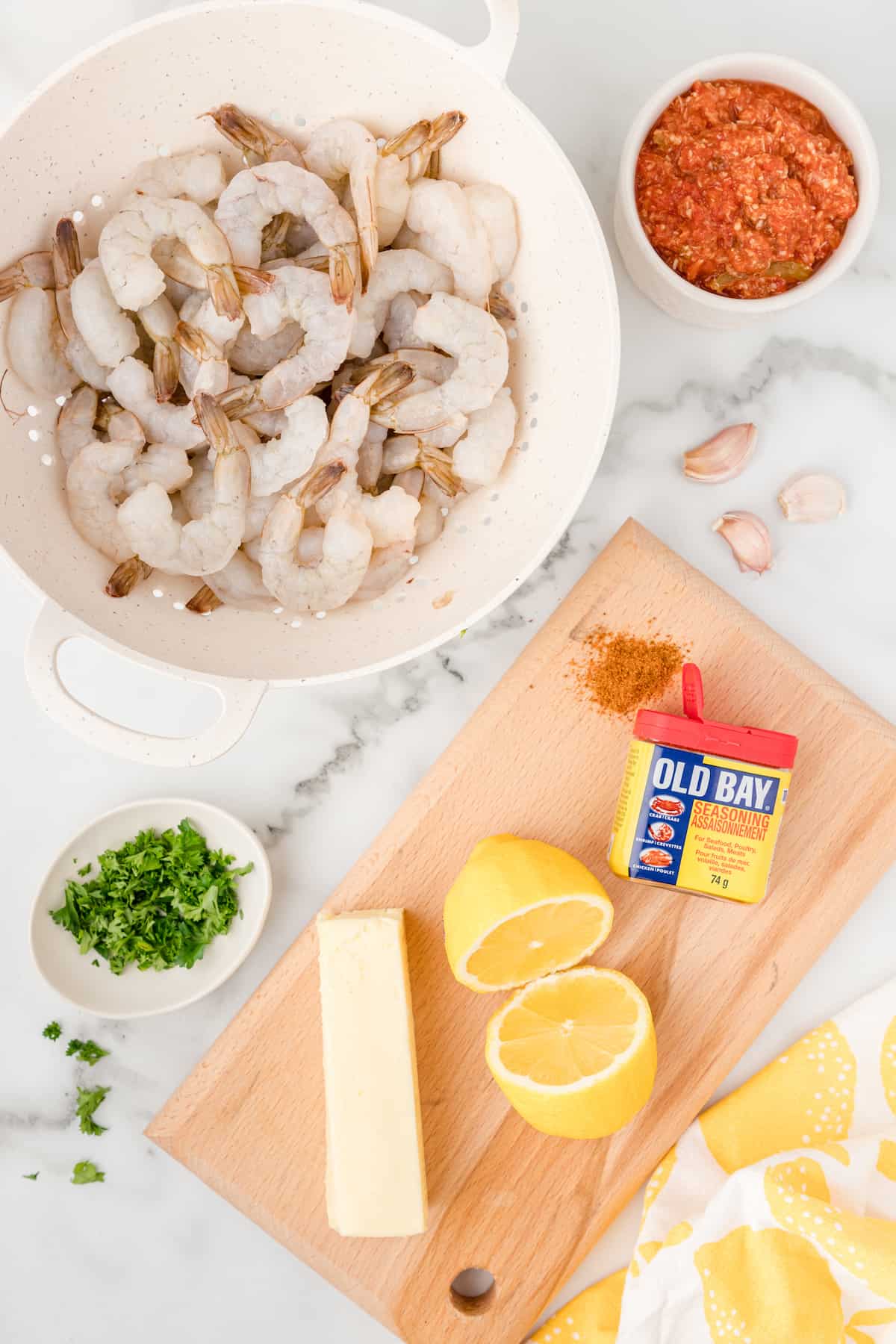 See printable recipe card at the bottom of the page for measurements.
Raw shrimp, peeled & deveined - I prefer extra large or jumbo shrimp, but you could probably use almost any size.
Butter - It doesn't matter whether it's salted or unsalted butter.
Fresh garlic - Please spend a dollar and buy a bulb of fresh garlic. It makes a big difference. Garlic powder and that horrible minced garlic in a jar just don't compare to the bite of freshly pressed garlic. You can't beat it.
Fresh lemon juice - As with the garlic, freshly squeezed lemon juice really matters in this recipe. Lemon juice from a carton or a plastic bottle (or a plastic lemon!) will not give you the results you deserve in this recipe. A real lemon costs less than a dollar. Buy one.
Old Bay - As I wrote above, you can substitute Seafood Seasoning or cajun seasoning, but the name brand Old Bay will give you the best flavor.
Red pepper flakes - These are optional. I like Old Bay just the way it is, but some really adventurous eaters prefer to sprinkle their shrimp with some red pepper flakes for additional heat.
Cocktail sauce for serving - I love shrimp with cocktail sauce. Some people prefer it with melted butter, so you could do that too. But I think this recipe has so much butter in it already that more melted butter would kind of be overkill.
How to Make the Best Lemon Garlic Butter Shrimp Recipe
Melt the stick of butter in the largest skillet you have over medium-high heat.

Add the garlic, lemon juice, and Old Bay. Stir it around to combine and sauté for a just a minute until the garlic is fragrant.

Reduce to medium heat. Add the shrimp and sauté for 2-3 minutes, until pink. Raw shrimp cooks quickly. Be careful not to overcook the shrimp or it will get rubbery and be tough to peel.

Remove lemon garlic shrimp from the pan and serve with cocktail sauce. Some people like to sprinkle with additional Old Bay and some fresh parsley right before serving.

How to store leftover shrimp with lemon garlic butter sauce
Shrimp is by far the best when it's freshly cooked. Reheating often makes it rubbery.
That said, I would not throw leftovers in the trash. I would store them in an airtight container in the refrigerator and eat rubbery shrimp the next day for lunch.
As with any seafood, you should only keep leftover buttered shrimp for three days and then discard any that remains.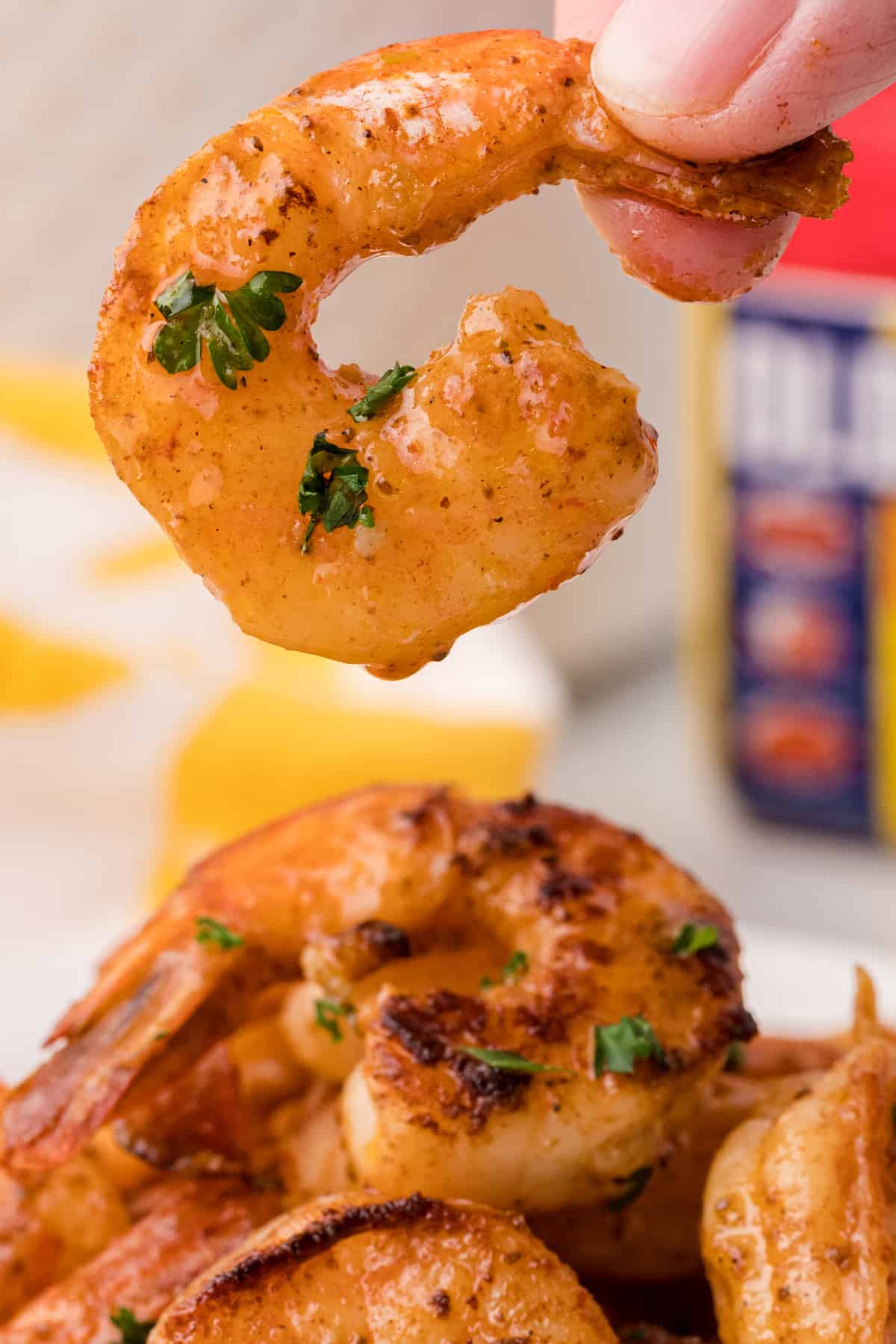 Try these other shrimp recipes while you're here:
Recipe