How to make the best white pizza with spinach, onions, and mushrooms - This recipe uses a homemade dough and ranch dressing to make a thick and crispy crust. Easy to make with lots of garlic and fresh veggies. This is a healthy vegetarian recipe.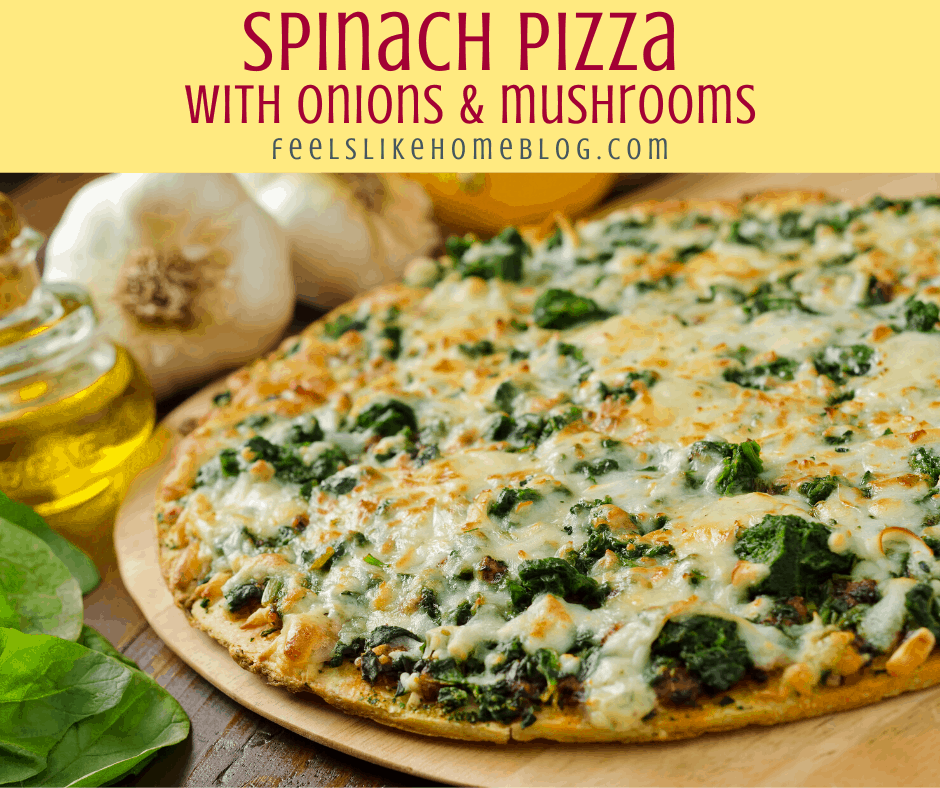 The thing I love most about pizza is that you can eat it every week, and it never gets old.
I suppose it would get old if you ate it the same way each and every week, but we don't. We've had chicken crust pizza (my favorite!), BBQ chicken pizza, chicken bacon ranch pizza, pulled pork pizza, Taco Bell copycat Mexican pizza, and a grilled pizza with traditional pepperoni and mushrooms.
Our CSA subscription started last week, and we have a lot of great veggies in the fridge, so we thought we'd try our hand at a veggie pizza. Greens have been especially prevalent in the boxes we've gotten from the farm, so spinach had to be the #1 ingredient. We've also gotten a couple of onions, so one of those went in. After that, we went with some grocery store favorites including mushrooms and black olives. If we'd had garlic scapes, we would have included those as well. I love garlic scapes.
I think there's something to be said for a homemade pizza crust. We almost always make our own and love the texture of the thick crust, but if you are pressed for time or just prefer to cut out that bit of the work, you could buy a premade crust in the dairy case of the grocery store or even use a package of crescent rolls. Your baking time will be slightly different in those cases, so watch your pizza carefully and adjust times as needed.
We also make our own ranch dressing using this recipe for ranch dressing mix. It's one of those easy recipes that you can make once and stick away in the cupboard and use for months. It's easy to whip up and then we store it in a half-pint mason jar with the rest of the spices.
The great thing about this pizza is that you can use whatever vegetables you like. I'm not a fan of fresh tomatoes, so we didn't use them, but if you are, you could very easily add halved cherry tomatoes or even a whole Roma tomato diced up. Same with bell peppers, cauliflower, and broccoli. All would be great additions to this pizza.
How to make the best white pizza with spinach, onions, and mushrooms
Preheat the oven to 400º and spritz your pizza stone with cooking spray.
Unroll the dough on the stone. Starting at the center, press dough into a large circle. Try to fill the stone if you can.
Press garlic onto uncooked dough using a garlic press. Use a knife to spread garlic around achieving an even layer of garlic over the entire crust.

Pre-bake the crust for 10 minutes or until the crust is just beginning to turn golden on top.

Spread ranch evenly over the garlic, leaving a 1-inch border around the edge of the pizza. You may not need the entire ½ cup of dressing. It's better to err on the side of dry than too wet.
Top ranch with spinach, mushrooms, onion, and olives and then the cheese. Note that you can add the cheese before or after the toppings.
Bake for13 to 16 minutes or until crust is golden brown and cheese is melted.
Here is the link to our favorite homemade pizza dough. You could use a pre-made dough, and that would certainly save both time and effort, but the homemade dough is really delicious and I promise that you won't regret taking the extra time.
Here is the link to our favorite homemade ranch dressing powder. That post includes directions for making dressing from the seasoning mix.
If you're interested in homemade pizza, check out these 24 frugal & healthy recipes for everything from the perfect grilled crust to the most unique pizza toppings.
Recipe