How to make homemade chicken bacon pizza with ranch or BBQ - This simple and easy recipe makes the best garlic crust that's baked in the oven with ranch dressing or barbecue sauce. More ideas for variations including buffalo.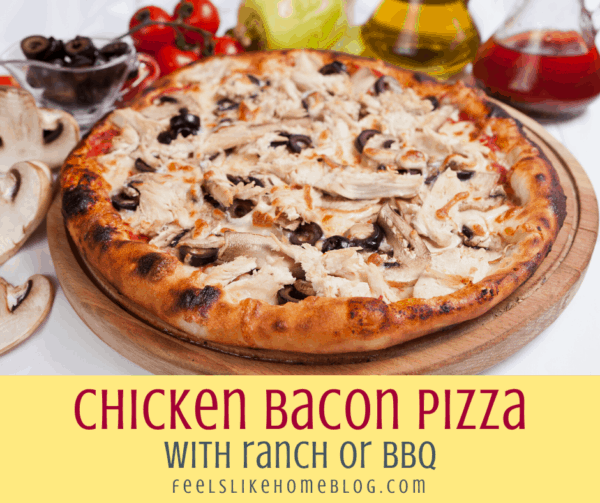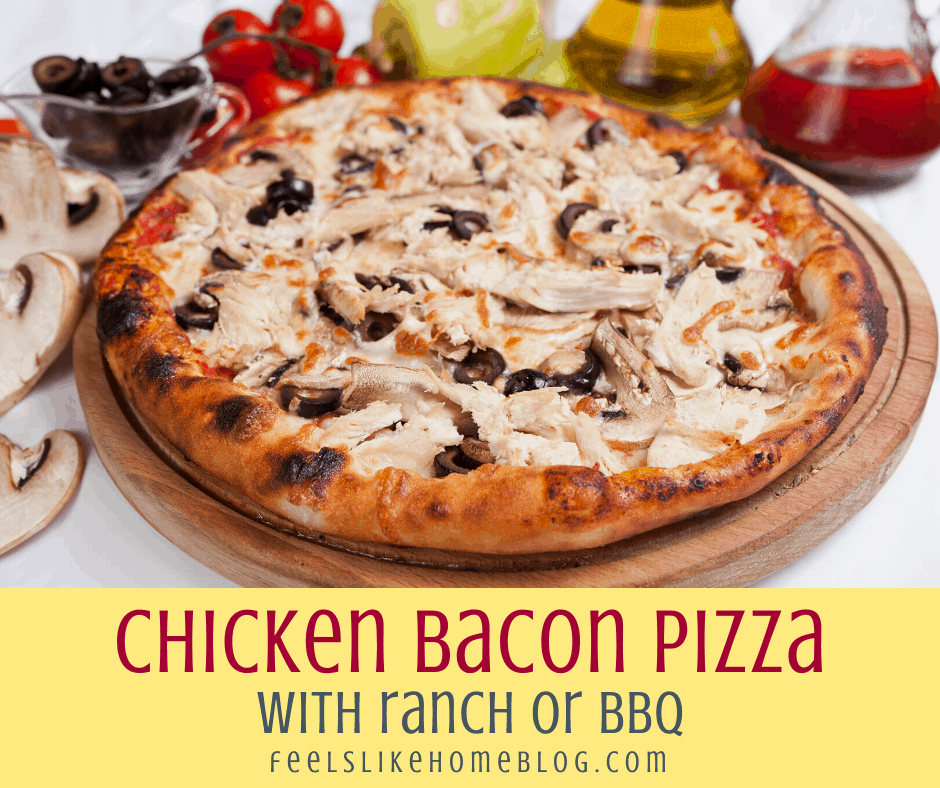 This past weekend, we made some homemade pizza, and it was delicious. In fact, this pizza was the best one we've made in months, and we make pizza almost every week.
See, we had gotten into a pepperoni and mushroom rut, and this was a wild departure from that.
We originally made half of our pizza chicken bacon ranch and the other half BBQ chicken and bacon. Gracie liked the ranch half better, and Joe and I liked the BBQ sauce side better, but the whole thing was delicious.
How to make a chicken bacon pizza with ranch or BBQ sauce
Preheat the oven to 400º and spray a pizza stone with cooking spray.
Fry bacon in a skillet until it is crispy. Drain and pat dry with paper towels. Chop coarsely. Remove all but 1 tablespoon of grease.
Add chopped onion to skillet and sauté until translucent and soft.
Unroll dough on the pizza stone; starting at center, roll into a large circle.

Pre-bake the crust for 10 minutes or until the crust is just beginning to turn golden on top.

Spread sauce evenly over dough. Top with chicken, bacon, onion, tomato, and cheese.
Bake 13 to 16 minutes or until crust is golden brown and cheese is melted.
Variations on the original recipe
We created this recipe using ranch dressing and BBQ sauce. It was very flavorful and delicious. However, there are many variations you can easily make:
If you want a chicken bacon ranch stromboli, use ranch dressing (here's my homemade recipe for ranch dressing which is amazing!).
f you want a BBQ chicken stromboli, use BBQ sauce (my favorite is Sweet Baby Ray's or Jack Daniels, but I have also made a sugar-free BBQ sauce which is pretty good).
If you want a buffalo chicken stromboli, use Frank's RedHot or a different buffalo wing sauce.
If you want a traditional pizza flavor, use pizza sauce.
If you're looking for more unique pizza topping recipes, check out these 24 healthy & frugal pizza recipes.
Recipe