How to Make the Best Homemade Pizza Dough - 24 delicious recipes: These simple and easy recipes are frugal and healthy and make a hearty meal. Thick but crispy crust with traditional and unique toppings.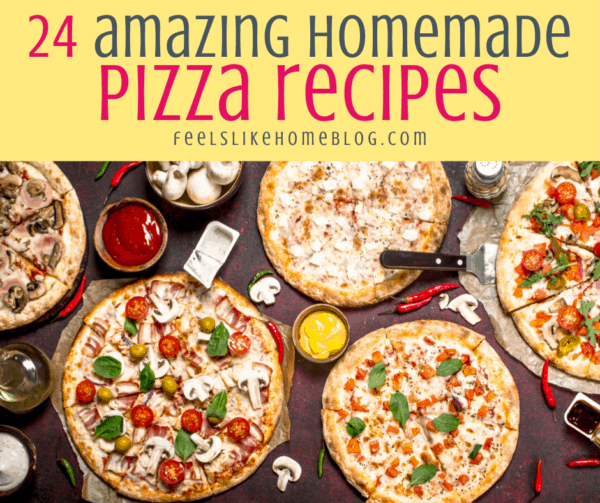 We eat a lot of homemade pizza.
All three of us love pizza, homemade or commercial or delivery.
Homemade pizza is healthier. We can use low-fat cheese and pepperoni. We can load it up with veggies. With 4 different food groups represented (grains, dairy, protein, and vegetables), homemade pizza is a complete and healthy meal.
And then, if you serve it with a salad or a fruit cup, you've increased the health factor even more.
Homemade pizza is crazy cheap. We buy flour in 25 pound bags and re-package it with our vacuum sealer contraption. We do something similar with the yeast. The rest of the crust ingredients (sugar, vegetable oil, etc.) are used in such minor amounts that the cost is negligible.
There is some cost in the cheese and pepperoni, but it's so much less than a commercial or delivery pizza that I'm happy to buy them.
It's delicious. Plus, we can customize the toppings for our own tastes.
Like, say one of us hates green and red peppers. That person can claim a hunk of pizza and keep it free from said peppers.
Because we eat so much of it, I have posted quite a few homemade pizza recipes here on Feels Like Home. Here are some of our favorites: