How to make the best homemade chicken and mushroom stromboli - This simple and easy recipe includes shredded or pulled chicken, bacon, onions, and mozzarella cheese, and it can be made with BBQ sauce, mustard, pizza sauce, or ranch dressing for four completely different flavors.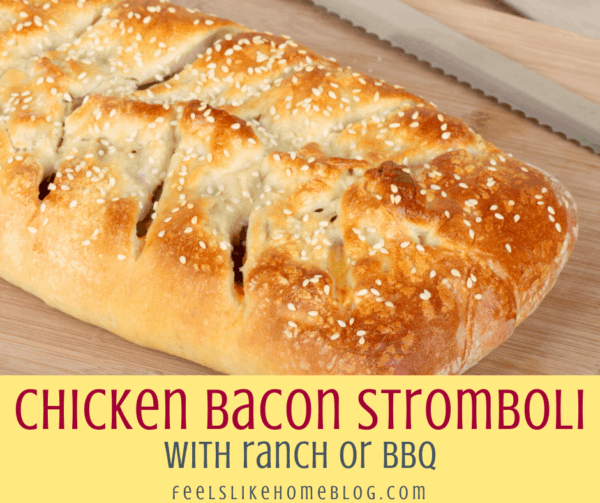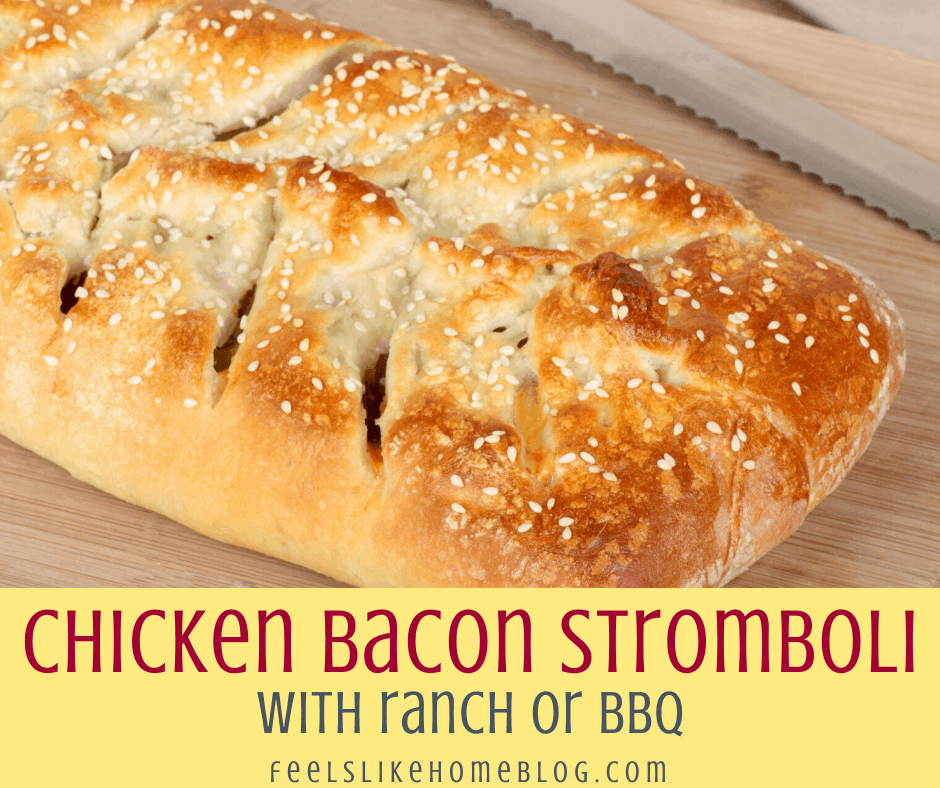 We have a local pizza joint that makes the most delicious deluxe chicken stromboli ever. It's just fabulous.
At one point, Joe and I were ordering the deluxe stromboli a few times a month, so we sat down to figure out how much it would cost to make the same stromboli at home.
It turns out that we could make 4 of ours for the price of 1 take out, so we came up with a plan to make it ourselves. It's not exactly the same, but it's close enough to pass.
The best part about this stromboli recipe is that you can use any sauce you want, creating several very different flavors with the same recipe.
Check out this post for 23 more homemade pizza recipes!
How to make a homemade chicken and mushroom stromboli
Preheat the oven to 425º. Spritz a pizza stone with cooking spray.
Divide pizza dough in two equal portions and roll each into a 10-inch circle. Transfer to the prepared pizza stone and set aside.
Cook bacon in a medium or large skillet. Remove bacon from pan and pat dry with paper towels. Coarsely chop and set aside. Do not clean skillet.
Add onion, red pepper, and mushrooms to the bacon grease in the skillet. They won't cook while baking, so you will need to sauté the veggies over medium heat until they're tender or however you like them. When done to your satisfaction, remove veggies from the skillet and pat dry if needed, and combine with chicken and chopped bacon in a large bowl.
Spread half of sauce (mustard, ranch dressing, BBQ sauce, buffalo sauce, or pizza sauce) over half of each dough circle. Divide the chicken mixture in half. Spread one half of chicken mixture over the sauce on one half of each dough circle and then sprinkle with half of the cheese.
Lift plain side of dough and fold over filling so that it meets the other side, forming a half moon. Pinch the edges to seal. Coat stromboli with cooking spray or melted butter.
Bake until puffed up and golden brown, about 25 to 30 minutes.
Let stand at least 5 minutes before serving.
I like to eat my stromboli by dipping the pieces into pizza sauce. Joe prefers his plain.
Variations on the original recipe
We created this recipe using horseradish mustard which is a spicy brown mustard with lots of horseradish in it. It's very flavorful and delicious. However, there are many variations you can easily make:
If you want a chicken bacon ranch stromboli, use ranch dressing (here's my homemade recipe for ranch dressing which is amazing!).
f you want a BBQ chicken stromboli, use BBQ sauce (my favorite is Sweet Baby Ray's, but I have also made a sugar-free BBQ sauce which is pretty good).
If you want a buffalo chicken stromboli, use Frank's RedHot or a different buffalo wing sauce.
If you want the flavors of a pizza, use pizza sauce.
Recipe