Last week's pizza stone post was so popular that I decided to do another one.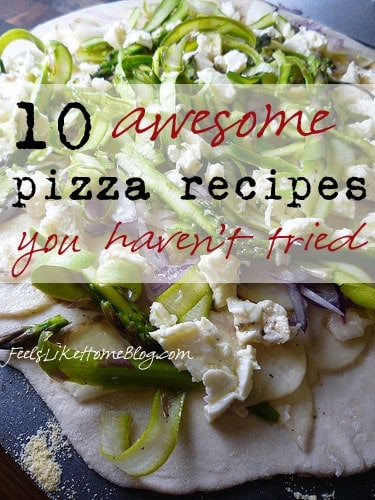 Except I decided to focus on pizza instead of excluding it. My only rule this time?
No pizza recipes that I'd ever made before.
That means veggie ranch pizza is out. So is chicken bacon ranch pizza and the ubiquitous pepperoni. And also? No heart-shaped pizzas on this list.
10 Pizzas to Cook on a Pizza Stone
*The bold title of each pizza is linked to the recipe on the original blog. If there is no link, the original post has been taken down.
Southwest BBQ pizza - I'm pretty sure I've never had a pizza with corn and black beans on it, but this one sounds delicious.
BBQ pork pizza - I've had lots of BBQ pizzas. I think BBQ is my favorite pizza topping. I have never had BBQ pork pizza, though. I'm intrigued.
White pizza - I adore white pizza. Simply adore it. I order it most of the time when we're out, and I'd love to make it at home. I never have because Joe isn't a fan of ricotta cheese, and he prefers red pizza. One of these days...
Old Forge White Pizza. This white pizza is wholly different from the one above, but it's still intriguing. In the notes at the bottom, Stephen writes that it needs more than 1 cup of cheese per serving to be tasty. That's my kind of pizza!
Potato pizza - This is much different than the potato pizza we made at home. This one uses potatoes as the topping rather than the crust.
Caramelized onion and garlic three cheese pizza - Be still my beating heart. This one has my name written all over it.
Meatball pizza - We got a meatball pizza from Sam's Club last week, and it was delicious. I never thought to put meatballs on a pizza, but it was really tasty. This recipe includes a recipe for homemade meatballs to use.
Cilantro chili pizza - Start with homemade cilantro pesto, then add red onions and sun dried tomatoes. Oh my! This another one with my name all over it.
Chicken florentine pizza - Alfredo sauce on a pizza? Why not? This pizza is quick and easy, adding some chicken strips to a bag of spinach and a jar of alfredo sauce. I would probably add a couple of cloves of garlic, too.
Shaved asparagus pizza - Intriguing, isn't it? I can't wait until our asparagus comes up so that we can try this one.
What's your favorite kind of pizza to make at home?