e How to make the best BBQ pulled pork pizza - This quick and easy pizza recipe makes a crispy, thick crust pizza with a sweet barbecue sauce and leftover shredded pork.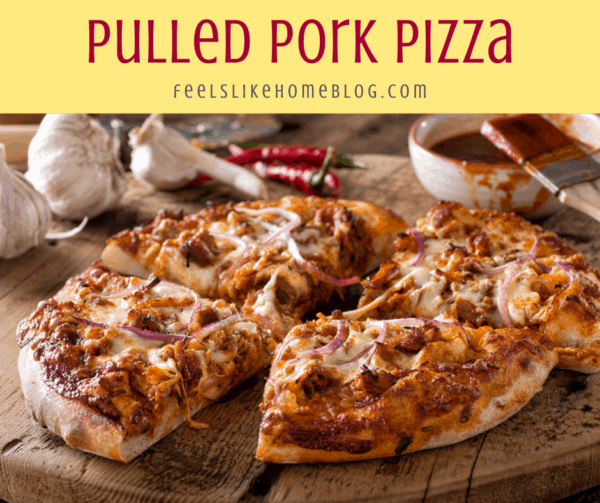 A week or so before the accident, Joe and I decided to make a major change in our finances.
Our goals are to build up an emergency fund of at least three month's salary (how apropos given that we'd need such a fund just a week later!), start putting more money into retirement savings, and spend less each month.
Given these new financial priorities, we decided to cut out our restaurant habit. We have been known to go out or order in four times a week - or more - between lunches with friends, breakfasts with Grandma and Pappy, and assorted "hey! We've got nothing to eat!" outings.
We always stick to kid-friendly places, and we don't usually have an extravagant meal, but the bills were adding up to hundreds of dollars per month.
We thought that the transition would be easier if we integrated inexpensive, fun food traditions instead of just saying, "We're not going out to eat, period."
Thus, a new tradition was born - Friday night pizza. I had previously talked with Amy from Mom Advice about her family's Friday night pizza a few times. Friday night pizza works for Amy because her whole family knows what to expect, and they experiment with all different kinds of crusts and toppings. It's predictable, but with all the variety, it doesn't become boring.
Amy makes her pizza crust from scratch, mixes it in her bread machine, rolls it out, and bakes it. It's a very inexpensive meal (especially if the pizza is meatless), and it's a fun meal for the whole family.
If you're looking for more homemade pizza recipes, try this post with 24 of them!
How to Make the Best BBQ Pulled Pork Pizza
Preheat the oven to 400º. Spray your pizza stone with cooking spray.
Unroll dough on the stone. Starting at the center, press dough in a large circle.

Pre-bake the crust for 10 minutes or until the crust is just beginning to turn golden on top.

Heat a tablespoon of olive oil in a medium skillet over medium heat. Sauté the mushrooms and onion for 3 to 4 minutes. Add garlic and continue cooking until onion is translucent and mushrooms have softened.
Spread BBQ sauce over the pizza crust, leaving a 1-inch ring at the edge without sauce. Sprinkle shredded cheese over the top. Next sprinkle onions, mushrooms, and garlic over the cheese and top with pulled pork. Finish with another sprinkle of cheese.
Bake the pizza for 15 to 20 minutes, until edges are browned and cheese is melted.
Recipe