The best easy slow cooker BBQ pulled pork recipe - This simple recipe makes tender, juicy meat and will make lots of leftovers. It makes a perfect weeknight dinner because it's quick and easy thanks to the Crock Pot! Naturally healthy and low carb.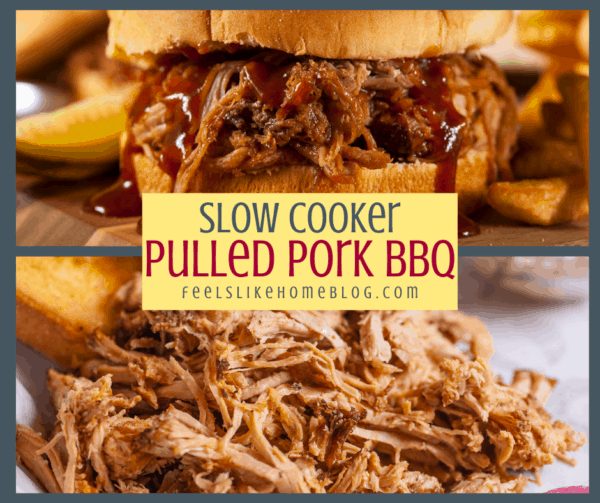 I love pulled pork. Really and truly love it. And so does Allie, who asks for pulled pork BBQ every single time we go to a state fair or carnival.
This particular pulled pork recipe uses fire roasted diced tomatoes which are made by Hunt's. They used to be more common in the grocery store than they are now. If you can't find them, use diced tomatoes with green chilis instead.
Really though, any can of diced tomatoes would work, so if you wanted to use tomatoes with onions or even plain diced tomatoes, the recipe will work.
If you can't find the fire roasted tomatoes, you should add one tablespoon of BBQ seasoning to the sauce in the blender. Otherwise, you may find that the flavor of the finished pulled pork is a little flat.
How to make spicy slow cooker pulled pork
Start with a 2-3 pound pork tenderloin. (Generally, I prefer to make pork shoulder as this is a more tender roast, but that is not necessary here since you will be shredding the meat anyway.) We get ours at a local grocery store that sells meats in bulk. So our roast is always a piece of a whole tenderloin that the butcher has cut into several smaller pieces for us.
In a blender, combine fire-roasted diced tomatoes (with liquid from the can), brown sugar, cider vinegar, garlic, salt, oregano, paprika, and red pepper. Blend until smooth.
Place the frozen pork in your slow cooker and add the onions on top. Pour tomato mixture over top.
Turn the slow cooker on high for 4-5 hours or on low for 8-10 hours.
When pork is very tender, remove from the Crockpot and cool slightly.
Pour sauce into a medium bowl. Remove onions from sauce and set aside. Skim fat from sauce and keep warm.
Shred the pork with 2 forks. At this point, it will be so tender that it will be falling off the bones and very easy to shred. Return pork to slow cooker with onions and 1 cup of sauce. Cook on high for 15 to 30 minutes or until hot throughout.
To serve, spoon 4 ounces of pork onto a toasted roll. Top with a slice of sharp cheddar cheese and sauce for dipping.
I like this way of cooking pork because the true flavor of the pork (which is what I love most about pulled pork) really shines through. If it's a good roast, it will taste amazing even without the extra sauce. In fact, Joe and the girls eat it without sauce most of the time when we're at home. I always top mine with a bit of sauce.
This spicy pulled pork is great with homemade applesauce and oven baked sweet potato fries.
Recipe