How to make the best crockpot sweet potatoes - This simple and easy side dish casserole is perfect for healthy holiday meals! Can use canned or fresh sweet potatoes. Top with pecan streusel topping and a few marshmallows.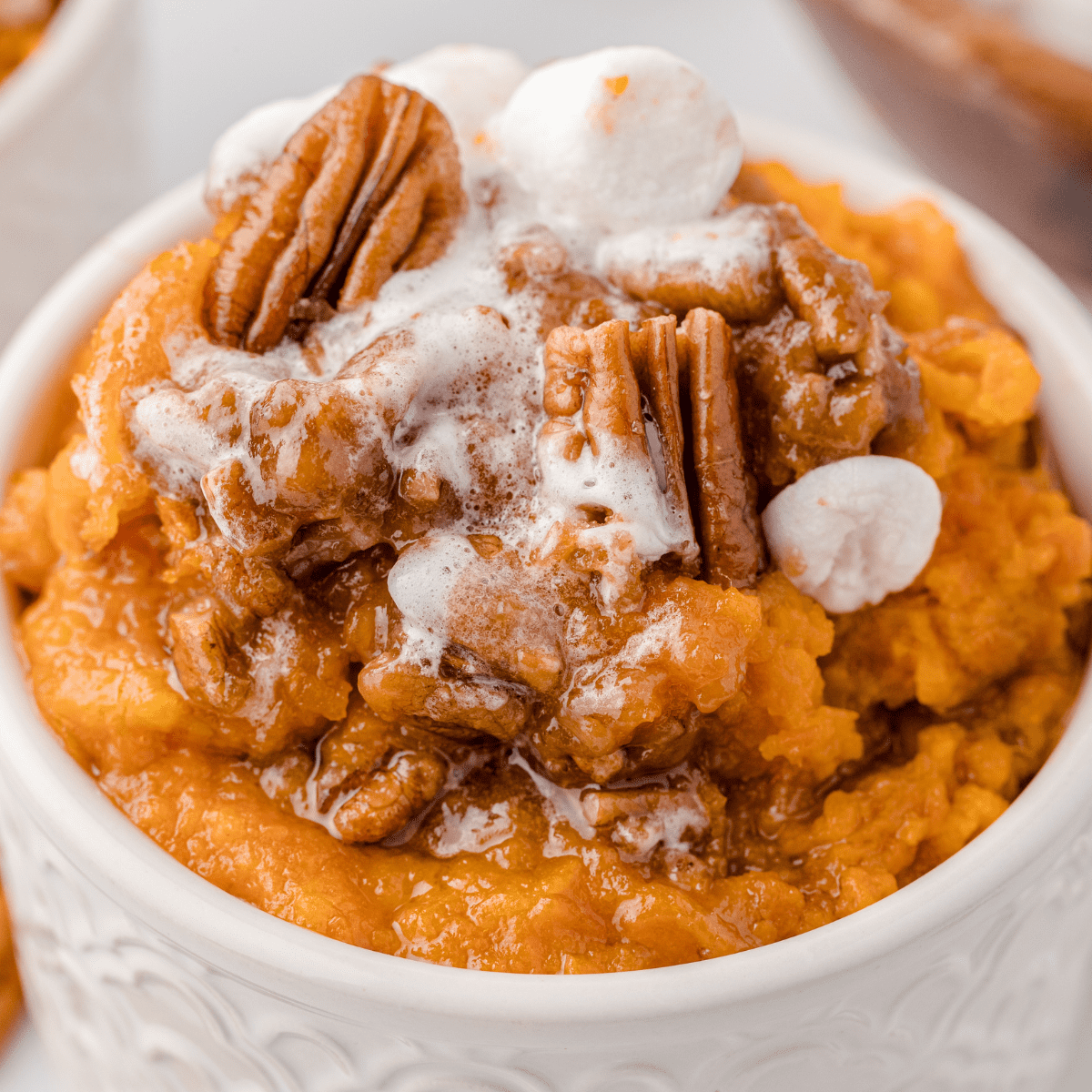 We celebrated a big family meal today today.
So, we tried a new dish today. That is so unwise, really, to serve a brand new dish when the whole family is coming over, but it's what we did. It turned out to be a wonderful and delicious addition to our holiday table. You'll love it, too.
I went ahead and tried this casserole side dish today, even though I'd never made it before, because I love sweet potatoes, and every holiday feast deserves a good sweet potato dish. At least, I think it does.
I've been making candied sweet potatoes for pretty much every holiday ever since the beginning of my cooking journey, and they are delicious, but after having them just 12 days ago (at a different family dinner), I thought we could maybe use something a little different.
I wanted sweet potatoes, but I didn't want them drowning in melted marshmallows and sweet syrupy sauce. So, that's where this recipe comes from.
What you'll need to make crockpot sweet potato casserole
EQUIPMENT
Crockpot - Obviously, this is a slow cooker recipe. So you'll need a slow cooker. It doesn't matter whether it's an Instant Pot slow cooker or a Crockpot or whatever. I use a 6-quart model.
Potato masher - I suppose you could use a fork (or a couple of forks) but a potato masher makes it so much easier.
Measuring cups & spoons
INGREDIENTS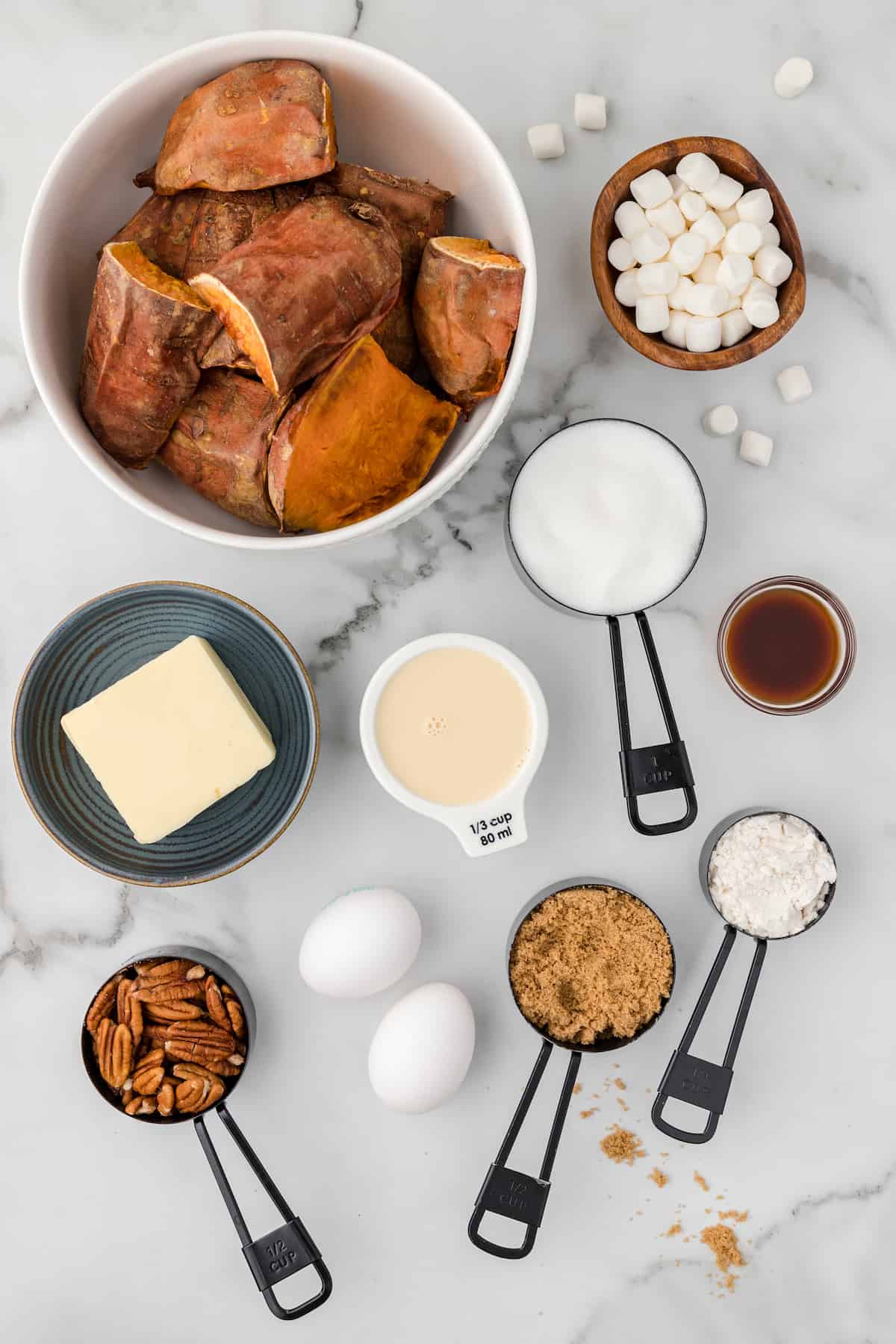 See printable recipe card all the way at the bottom of the page for measurements.
Sweet potatoes, cooked and mashed - You can use fresh sweet potatoes in this recipe or canned ones. I would not use potatoes canned in syrup however, as the recipe already has sugar in it.
White sugar - You could substitute your preferred sweetener for the sugar, including honey, maple syrup, agave nectar, or a low calorie sweetener.
Butter - You'll use butter both in the potatoes and in the streusel topping. It doesn't matter whether you use salted or unsalted butter.
Evaporated milk - This makes the casserole creamy. For a sweeter casserole, you could use sweetened condensed milk, but then I'd probably leave out half of the white sugar above.
Eggs - These give the casserole a bit of bulk. I don't know if bulk is the right word. They help the potatoes to hold together as a binder.
Vanilla extract - I prefer to use vanilla bean paste, but I wrote vanilla extract into the recipe because that's what most people have. Vanilla bean paste has a lot more rich vanilla flavor and has a thicker consistency because it's got actual crushed vanilla beans in it (as opposed to being a liquid that beans were soaked in, which is what vanilla extract is). You can find vanilla bean paste on Amazon pretty cheap. It's worth the price. Soooooo good.
Pecans - If you have a nut allergy, you can leave these out or substitute with another kind of nut such as almonds. But the streusel topping can hold its own without the nuts if you need to skip them.
Light brown sugar - Light or dark doesn't really matter. Use what you have, and it will be delicious.
All-purpose flour - You can use any c4c flour substitute here. Its only purpose is to give the streusel some bulk and to make it hold up when the sugar melts during cooking.
Pumpkin pie spices - These are optional and not included on the recipe card below. But if you want a bit of extra flavor in the streusel, you can add a teaspoon of pumpkin pie spice or plain cinnamon.
How to Make Crock pot Sweet Potatoes with Marshmallows
Cook the sweet potatoes according to your preferred method:
Method #1: Wash the potatoes. Pierce with a fork, put them in the microwave, and press the baked potatoes button. When they're tender, allow them to cool slightly and then peel them. The peels should come off pretty easily once they're cooked. (The microwave is my preferred method because it's quick and easy.)
Method #2: Wash the sweet potatoes and drop them wet into the CrockPot. No need to pierce with a fork or wrap in foil. Put the lid on and cook on low for 6-7 hours or on high for 3-4 hours. The potatoes are done when they are tender. Let cool and peel.
Method #3: Wash the potatoes. Wrap in aluminum foil and bake them in the oven at 350º for an hour. Let cool and peel.
Method #4: Wash and peel the raw potatoes. Salt a pot of boiling water. Cut sweet potatoes in chunks and boil until soft. I think you lose some of the healthy nutrients when you boil them, but they taste just as good this way.
Mash the cooked potatoes.
Mix together the mashed sweet potatoes, white sugar, ½ cup melted butter, evaporated milk, eggs, and vanilla in a large bowl.

Scoop into the crock of your slow cooker.

Mix together ⅓ cup melted butter, pecans, brown sugar, and flour.

Spoon on top of the sweet potato mixture in the crock.

Top with a scant handful of marshmallows (if you like).

Cook on low for 3-4 hours or until the topping is melted and gooey.

Can I use yams in this recipe?
People often call sweet potatoes yams, but this is a mistake. Yams are an African root vegetable that are not traditionally sold in US grocery stores. Sweet potatoes have dark orange flesh. Yams have yellow flesh.
So, I would not recommend using African yams in this recipe. But if you happen to find sweet potatoes mislabeled as yams (again, bright or dark orange flesh), those will be perfect.
How do I keep the marshmallow from melting into goo?
I personally like the marshmallow goo, but if you want your marshmallows to be more like plump pillows, simply wait to add them until 5-10 minutes before you're ready to serve.
Can I make CrockPot sweet potatoes ahead?
Yes, absolutely. Mash the potatoes and mix them up with the eggs, melted butter, sugar, etc. Store them in an airtight container in the refrigerator for up to two days. Don't make the streusel topping until you're ready to put them in the slow cooker.
How do I store leftovers?
Keep leftover Crockpot sweet potato casserole in an airtight container in the fridge for up to 4-5 days.
If you wish to freeze slow cooker sweet potatoes, do so in an airtight container for up to 2 months. Thaw overnight in the refrigerator before reheating in the microwave or slow cooker.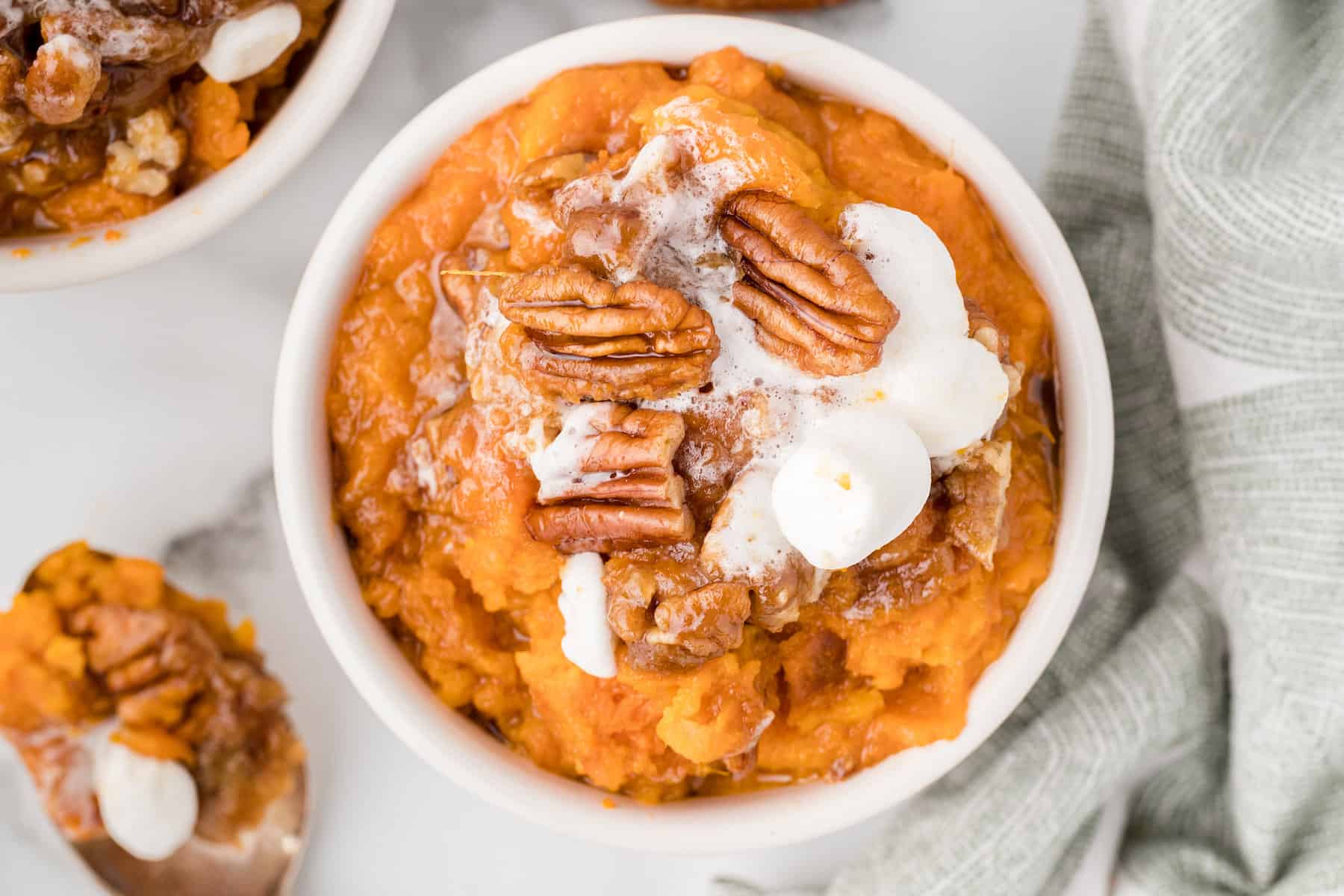 THE REST OF OUR THANKSGIVING MENU
We don't get creative with our Thanksgiving menu. We like routines. We like the comfort of the same old food.
And for the leftovers, try one of these delights:
You can read more about my easy and traditional Thanksgiving menu.
Recipe