Use up your leftover turkey and stuffing in these quick and easy muffins. This dish is a quick and easy way to use up Thanksgiving leftovers. This easy recipe transforms turkey and stuffing into muffins that are perfect with a drizzle of leftover gravy.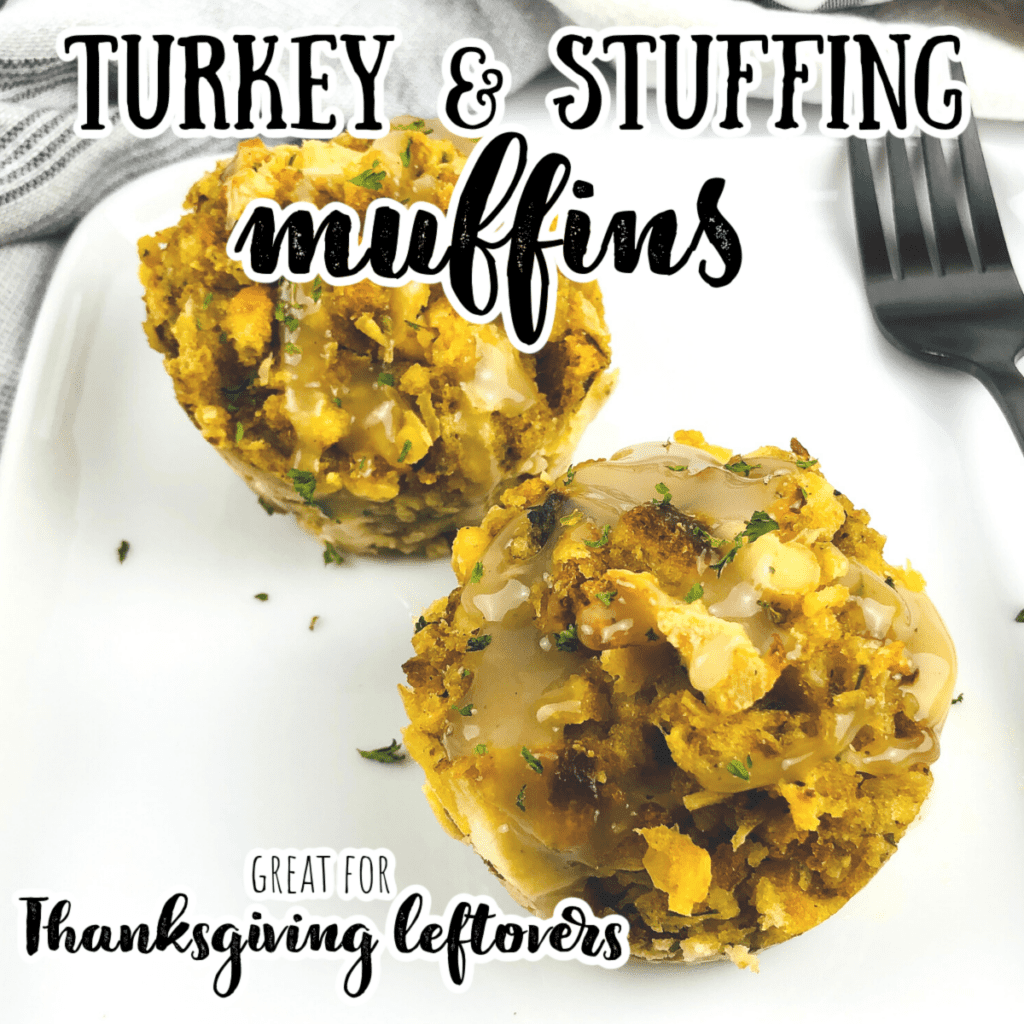 For a few years, my family went out to a restaurant instead of having Thanksgiving dinner at someone's house.
I hated this plan. I mean, it was the bummer of my entire year.
The reason that I hated the restaurant plan was that there were no leftovers. I love having leftover turkey and leftover stuffing and leftover green bean casserole and leftover cranberry sauce and leftover cranberry salad.
Despite my love of leftovers, my family gets tired of eating Thanksgiving dinner over and over and over. I have, in the past, made turkey enchilada casserole and turkey salad and turkey quesadillas and turkey wraps. These are all good.
But then, I thought, what if I cooked the leftover turkey and stuffing together? How amazing would that be?
It's not the same as eating Thanksgiving dinner over again because it's mixed together and baked. The flavors are there, but the consistency is entirely different.
What you'll need to make leftover turkey and stuffing muffins
Equipment
This recipe requires standard kitchen equipment including a mixing bowl. You will also need a muffin pan.
Ingredients
2-3 cups stuffing - You can use any kind of stuffing in this recipe, including my chestnut stuffing and my cornbread veggie stuffing. Both are delicious, but so is regular old boxed stuffing. Use whatever stuffing you have.
12-16 ounces of pre-cooked and cubed turkey - This is by weight. Aim for 1.5-2 cups of cubed meat.
6 large eggs
2 tablespoons of milk
Salt & pepper
1 cup of turkey gravy
How to make easy turkey and stuffing muffins with Thanksgiving leftovers
Preheat oven to 350ºF.
Spray muffin pan thoroughly with cooking spray. These muffins tend to stick, so be generous with the cooking spray.
In a large bowl, mix stuffing and turkey until well combined.

Fill the wells of the prepared muffin pan, but don't pack the mixture down. You want spaces for the egg mixture to fill in. (The muffin pan shown has only 6 wells, but this recipe makes 12 muffins.)

Whisk the eggs, milk together with a couple pinches of salt and pepper. Divide this mixture evenly between the muffins, carefully pouring it over the top of the stuffing mixture. Don't fill the wells more than half way with egg. (If you run out of egg, whisk together one more egg with a splash of milk and a dash of salt and pepper.)
Bake cup for 20-25 minutes until golden brown on top.

Cool in muffin pan for 10 minutes, then run a sharp knife all around each cup to release.

Drizzle with gravy to serve.

Tips for the best turkey and stuffing muffins
Make sure your stuffing isn't too dry. If it is really dry, the muffins won't hold together as well. If you think it's too dry, mix it up with a splash of turkey stock or chicken broth. You don't want the stuffing to be soggy though; just moist enough to stick together.
Make sure you grease the muffin tin really really well. These muffins like to stick in the pan. I use cooking spray, but you could also use butter or shortening to grease the wells.
Stuffing muffin variations
These muffins are so simple and classic, and they can be made from a whole lot of different leftovers.
Vary the meat - You could try cubed ham or chicken, or even roast beef. Crumbled and cooked sausage would be amazing, too. Oh, and crumbed bacon? Is there any savory food that is not improved with bacon? I don't think so.
Add potatoes - I wouldn't add mashed potatoes, but you could add cubed white or sweet potatoes to the stuffing mixture.
Add vegetables - Cubed or shredded beets or carrots, or squash or corn would be delicious mixed into the muffins.
Add greens - I'm not a huge fan of cooked greens, but if you are, you could add spinach, collard greens, kale, or whatever you have.
Replace the gravy with cranberry sauce - I prefer these muffins with a drizzle of turkey gravy, but if you have leftover cranberry sauce, that would also be really good on top of the muffins.
Storing turkey and stuffing muffins
If you store them in an airtight container, these muffins will last 3-4 days in the refrigerator.
However, you can also freeze them. Place the muffins on a baking sheet in the freezer for a few hours. When the muffins are frozen on the outside, transfer them to an airtight container or a plastic freezer bag. They will stay fresh for about 3 months, a little longer if you wrap them in plastic wrap or aluminum foil before putting them in the bag.
To serve frozen muffins, simply pop them in the microwave for a minute or bake in a 350ºF oven for 15 minutes or so.
THE REST OF OUR THANKSGIVING MENU
We don't get creative with our Thanksgiving menu. We like routines. We like the comfort of the same old food.
And for the leftovers, try one of these delights:
You can read more about my easy and traditional Thanksgiving menu.
Recipe