This rich and creamy praline pumpkin pecan pie includes a streusel topping that is made from brown sugar, butter, and pecans. The topping is crispy and crunchy and adds an amazing sweetness to the traditional Thanksgiving pie. You will love it!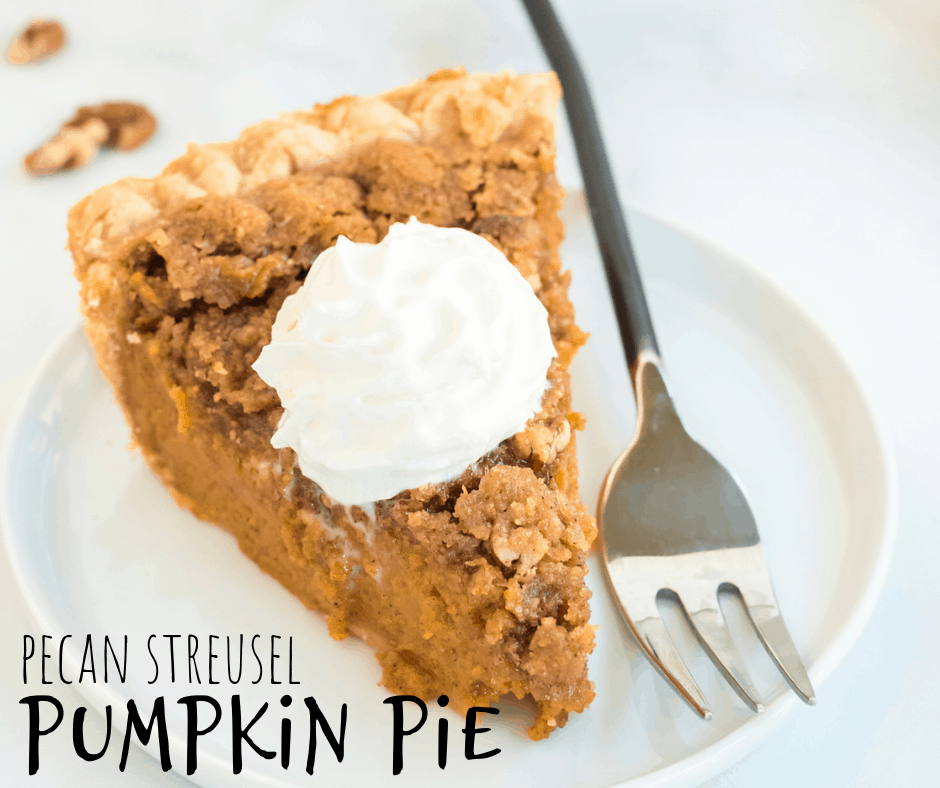 I love pecan pie.
I mean, I could marry it and move away with it to a deserted island.
Maybe I wouldn't go that far.
I wish I could live on pecan pie, but I don't know if my teeth and hips could stand such a diet.
Pumpkin pie, not so much. I like it enough, but I don't love it. (I do love pumpkin dump cake, though, so check that out!)
I do love pumpkin pie when it's mounded with 2 cups of Cool Whip, but then it sort of ceases to be pumpkin pie and is really just pumpkin-y whipped topping, so I don't think that counts.
Anyway, when I started having my family's Thanksgiving celebration feast at my house, I set out to find a great pumpkin pie recipe. I didn't find one at first, so I asked my granny for her recipe. This is it.
This pie pulls together the creamy goodness of a traditional pumpkin pie with the flavors of pecan and a little bit of brown sugar for good measure.
The result is amazing, truly.
This recipe is so good that you don't need to do a trial run ahead of time, but you can if you want to experience the decadence twice.
Allie and I made this pumpkin pie for Thanksgiving last year, and she actually asked me to make a second batch of the pecan crumb topping.
"Why?" I asked her.
"Because it will taste really good on top of our pumpkin soup," she said. I knew she was right.
"Are you sure you don't just want to eat the pecan topping?" I asked.
"Well, maybe." And the truth came out. She did eat a good bit of the yummy melted butter and brown sugar mixture, but she was also right that it was heavenly as a garnish to the pumpkin soup we had for dinner that night.
So there you go. The pecan crumb topping is a multipurpose recipe. ha!
This and 12 other recipes are found in my brilliant ebook called How to Host a Stress-Free Holiday Meal. You'll want to check that out so that you can have the least stressful holiday hosting of your entire life while enjoying the best food ever - complete with rich and creamy crockpot mashed potatoes, a fantastically juicy roast turkey (I bet you've never even heard of this roasting method!), and a whole bunch of decadent desserts.
What you'll need to make praline pumpkin pecan pie
Equipment
This is a pretty standard pie recipe, so you will need a deep pie plate, a pie shield (to prevent the crust from burning while the pecans toast and the pie cooks), and a pie server to cut and serve the slices.
Ingredients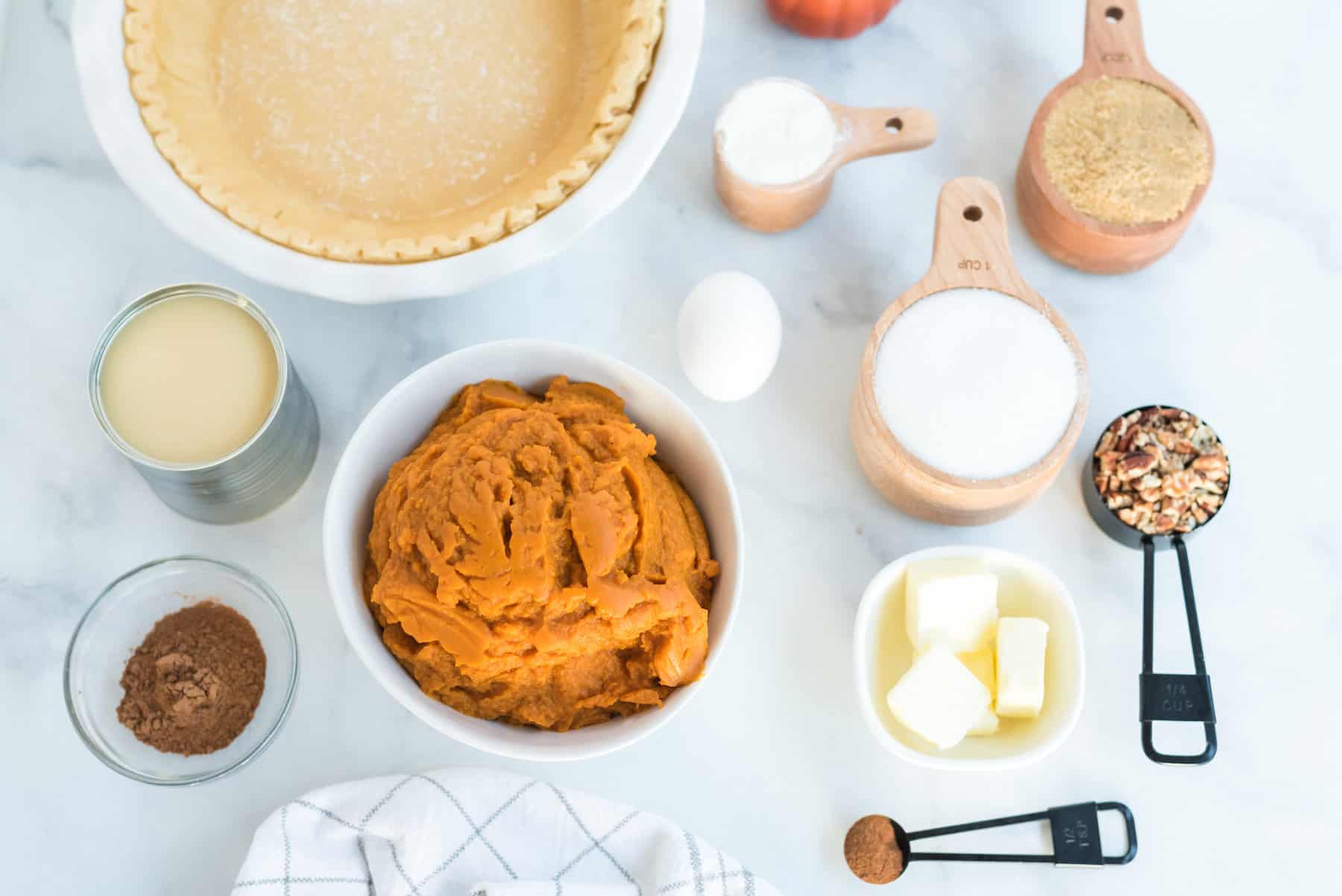 1 unbaked pie crust - Use your favorite recipe or a commercially pre-made one. A package of pie crusts in the dairy case contains 2 crusts. You will only need 1 of these crusts to make a praline pumpkin pecan pie. You can use the second one to make a beautiful pecan pie and have two very impressive desserts to serve this Thanksgiving.
Pumpkin puree fresh or canned will be fine, but make sure you get 100% pure pumpkin and not the pumpkin pie filling with added spices.
Large eggs - This binds the pumpkin together and makes the pie set up. You can't make a pumpkin pie without at least one egg.
Sweetened condensed milk - This sweetens the filling and makes it rich and creamy.
Sugar - I prefer white granulated sugar in this recipe, but you could try an artificial sweetener like Splenda or stevia or brown sugar in its place.
Pumpkin pie spice - I prefer McCormick's pumpkin pie spice because it's heavy on the cinnamon and light on the ginger. However, it is possible and very easy to make your own pumpkin pie spice blend. See below for instructions.
Praline pecan streusel topping
Packed brown sugar - This is the base of the praline topping. You can't make the streusel without the brown sugar.
All-purpose flour - You need this to bind the topping together and to give it a bit more bulk. It would be more like a sauce without the flour.
Chopped pecans - Ah, pecans. I think pecans are like God's special gift to humanity. You will want to coarsely chop them to make the pie easier to cut. Although, if you prefer, you can use pecan halves and arrange them for a prettier presentation. Just be aware that the bigger pieces will make the finished pie a lot more difficult to cut into nice wedges.
Melted butter - This is the liquid for the praline topping. Can't go without a liquid, although you could sub it out with non-dairy butter or even coconut oil if you really wanted to.
Ground cinnamon - Don't skip this either. It gives the streusel topping a nice rich sweetness.
How to make this praline pumpkin pie recipe with pecan topping
Preheat oven to 375ºF.
Press the pie crust into a deep dish pie plate. This recipe makes a lot of filling, so a very large, very deep pie plate is best.
Blend the egg, pumpkin, sweetened condensed milk in a large bowl.


Add the sugar and pumpkin pie spice and continue to mix. Pour pumpkin mixture into the unbaked pie shell and crimp the edge.


In a medium bowl, combine the brown sugar, flour, chopped pecans, butter and cinnamon with a fork until crumbly.


Carefully sprinkle praline crumb mixture on top of pumpkin mixture.

Bake for 50 to 55 minutes or until a knife inserted in near the center comes out clean. Do not under bake as this will leave you with a runny pie.

Cool completely on a wire rack before serving.
Top with whipped topping or vanilla ice cream to serve.

Tips for a perfect pumpkin pie
To prevent a burnt pie crust edge - Use the pie shield for the entire cooking time, not just when the pie crust starts to get too dark.
To prevent a soggy bottom crust - I have never had a problem with a commercial pie crust getting soggy on the bottom of my pumpkin pecan pie, but if you are worried about that, simply begin the pie on the bottom rack of your oven for about 15 minutes. Then move it up to the middle rack and continue baking. That should crisp up the bottom of the pie.
To prevent the pumpkin pie from cracking - Pumpkin pie cracks for exactly one reason: it is over baked. To prevent this, use a quick read thermometer to take the internal temperature of the pie. It is done when it reaches 170ºF. If you don't have a thermometer like that (how do you cook your meat if you don't?), then you should follow the jello rule. Take the pie out of the oven when the center jiggles like jello but does not look liquid.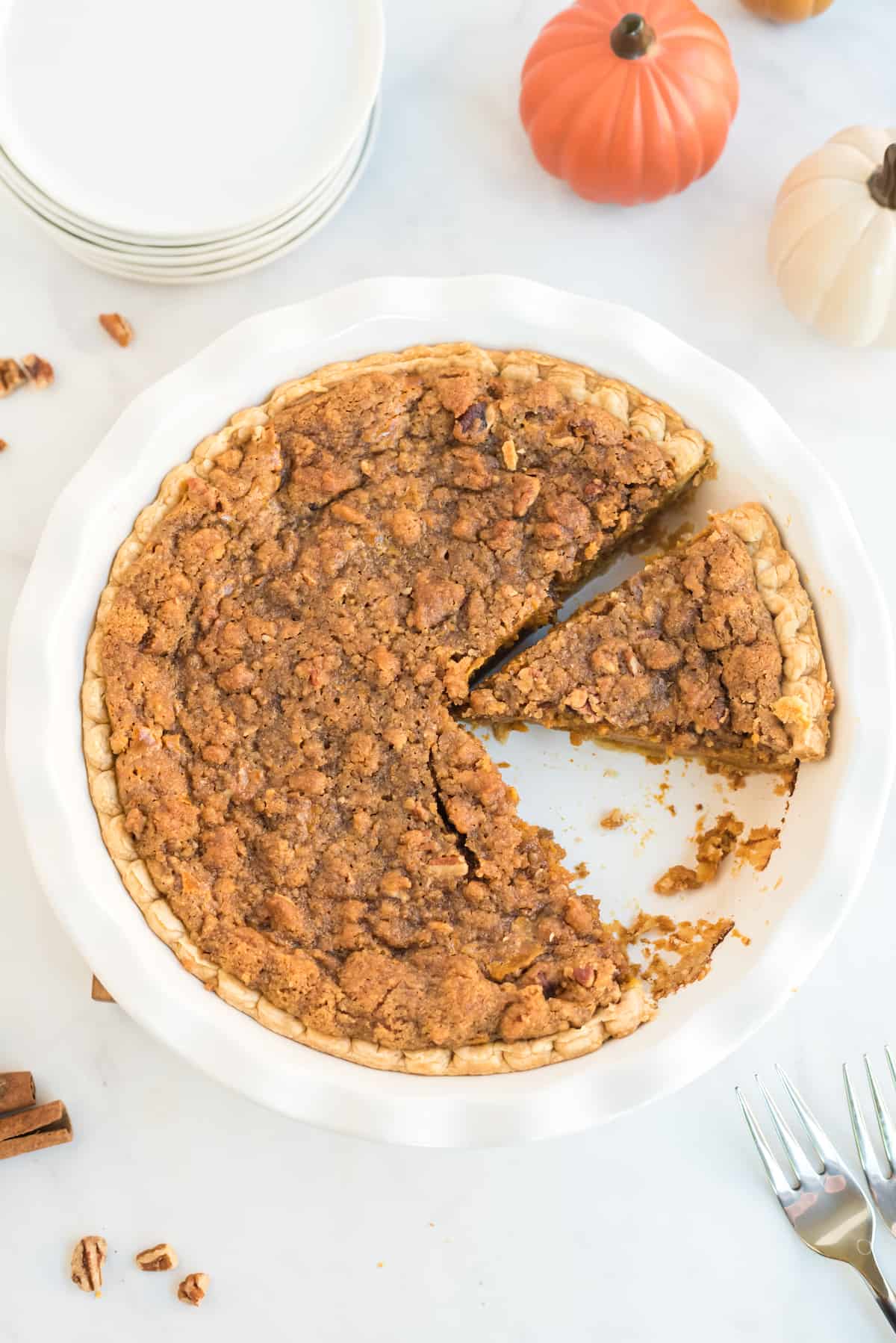 Variations on praline pumpkin pecan pie
Make your own pumpkin pie spice blend - As I mentioned above, I prefer to use McCormick pumpkin pie spice because I really like its flavor. However, if you wanted to make your own blend, you very easily could do so with this simple and easy recipe:
2-½ teaspoons ground cinnamon
½ teaspoon ground nutmeg
½ teaspoon ground ginger
¼ teaspoon ground cloves.
Whisk the spices in a small bowl really really well, then measure out 1 tablespoon of that mixture to put into your ice cream recipe.
Use different nuts - Pecans are the all around best nuts on earth, so I don't know why you'd want to change them, but if you're allergic, you could use walnuts, hazelnuts, or macadamia nuts in their place. Just be sure to chop the nuts first, before adding them to the praline topping.
Make your own pie dough - I don't personally have a good pie crust recipe because I always just buy them in the dairy case of the grocery store. The pre-made crusts taste great, and I am happy to do a little less work during the busy holiday week.
Replace the sugar - If you want to avoid refined sugar in your pie, you could replace the white sugar with ⅔ cup of pure maple syrup.
Add vanilla - You could add 1 teaspoon of vanilla bean paste or vanilla extract to your filling and/or your pecan topping.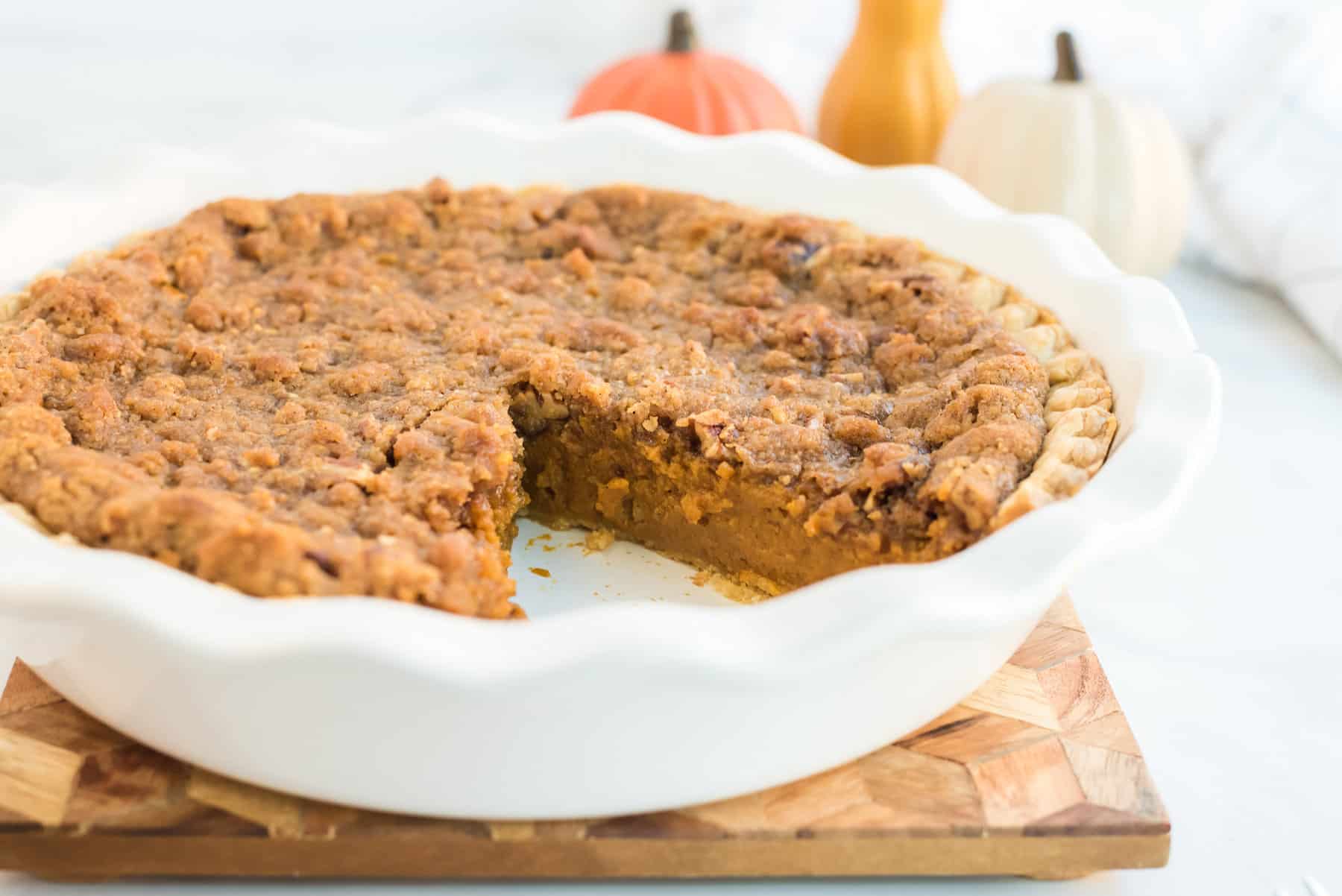 Can you make praline pumpkin pie ahead?
Yes! Like pecan pie, pumpkin pie is best served at room temperature or even slightly chilled, so making ahead is really the best option. When I'm hosting Thanksgiving dinner, I bake all my pies on Tuesday evening after work.
After the pie comes out of the oven, I cool it on a wire rack until it is room temperature, then I cover it tightly with aluminum foil or plastic wrap and refrigerate. I get my pumpkin pie out of the fridge when I get up on Thanksgiving morning so that it is room temperature when I serve it, but you can also serve it chilled.
Can you freeze praline pumpkin pie?
You definitely can! This pie freezes and thaws beautifully.
If you intend to freeze the pumpkin pie with pecan topping, I recommend using a disposable aluminum pie pan because its thin weight will help to prevent ice crystals from forming in the crust. Cool the baked pie completely on a wire rack, then wrap the whole thing in plastic wrap following by a layer of aluminum foil. Slide the wrapped pie into a plastic freezer bag or an air tight freezer container and keep it in the freezer for up to 3 months.
To serve a frozen pie, set it in the refrigerator overnight (still in the wrapping), then unwrap and allow to warm up to room temperature if desired before topping with vanilla ice cream or whipped cream to serve.
The pecan topping may get a little soggy in the freezer, so if you prefer, you can bake the pie as directed without the pecan topping, cool the pie, and follow the freezing and thawing instructions above. Bring the pie to room temperature, then mix up the praline pecan topping. Spread it over the pie and pop it in the oven at 375º for about 15 minutes. You may need a pie shield to prevent the crust from getting too brown.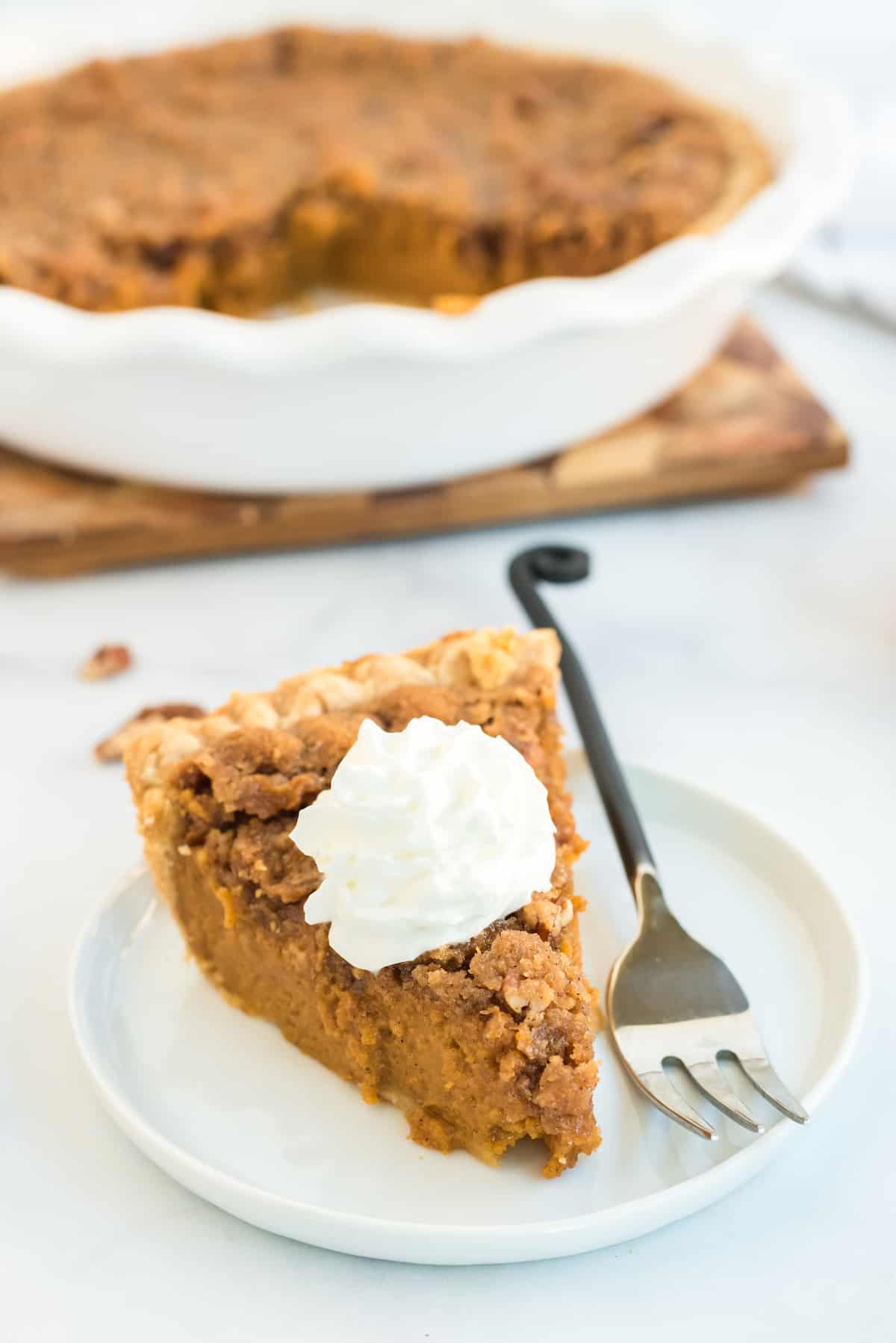 THE REST OF OUR THANKSGIVING MENU
We don't get creative with our Thanksgiving menu. We like routines. We like the comfort of the same old food.
And for the leftovers, try one of these delights:
You can read more about my easy and traditional Thanksgiving menu.
Recipe