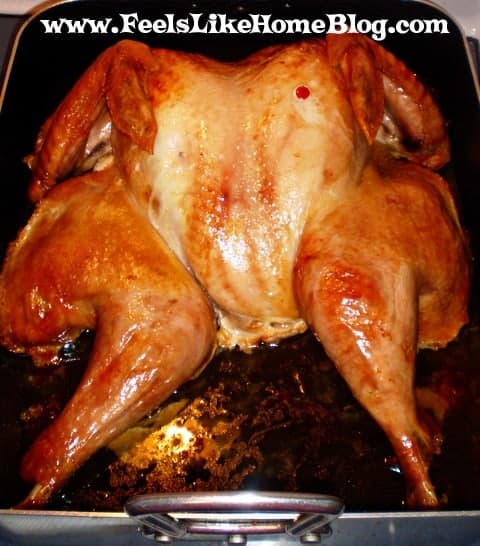 We've tried a number of different methods to cook our Thanksgiving turkey over the years. We've brined, seasoned, basted, and botched up our turkey.
Last year, we spatchcocked our Thanksgiving turkey, and the results were awesome.
What is spatchcocking?
Simply put, spatchcocking means cutting a bird so that it lays flat in the pan.
Joe used my heaviest shears to cut along the backbone of the turkey. He opened it up in the roasting pan, leaned on the breast to break it, then smeared olive oil over the flattened bird.
That's it.
Why spatchcock?
Last year, our 24-pound turkey cooked to 165 degrees in under 2.5 hours. That's record time.
Roasting normally (with no stuffing), a bird that size would take 4 or 5 hours.
Joe would get up around 5 in the morning to prepare the bird and get it into the oven early enough.
Last year's turkey was the best we've ever prepared.
I don't throw that around lightly. That turkey was perfectly roasted on the outside, but moist and juicy on the inside. It was absolutely perfect.
I'm not a spatchcocking expert.
Really. I don't cook turkeys, so I can't claim to be a turkey expert, either.
I do like to eat them, though, and I am here to tell you that you need to learn about spatchcocking a turkey.
How to Spatchcock a Turkey
The Bitten Word did a wonderful spatchcocking explanation last year. That's where I first heard about the process. After showing Joe the post they did, he decided to try it. The Bitten Word authors included Martha Stewart's original spatchcocking recipe and instructions, as well.
Because they're awesome, the authors of The Bitten Word followed their blog post with a video tutorial on spatchcocking. Joe used it to figure out the process on Thanksgiving morning.
Not Ready to Take the Plunge for Thanksgiving?
You can find instructions and a recipe for Tatiana's spatchcocked chicken here.
The Rest of our Thanksgiving Menu
We don't get creative with our Thanksgiving menu. We like routines. We like the comfort of the same old food.
And for the leftovers, try one of these delights:
You can read more about my easy and traditional Thanksgiving menu.