This old-fashioned stuffing or dressing recipe is made with cracker crumbs, garlic, butter, chestnuts, and lots of bread. It is perfect for Thanksgiving or Christmas dinner and pairs well with turkey, chicken, or even roast beef or lamb.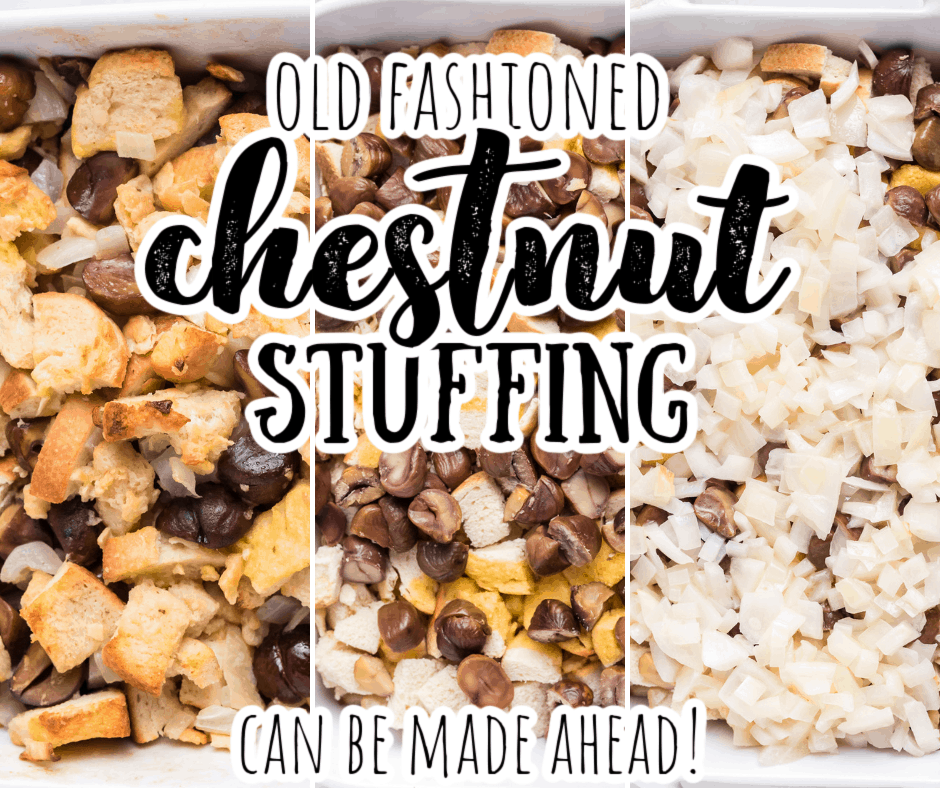 Stuffing?
Dressing?
Is there a difference? According to Alton Brown, there is. Stuffing is what's put inside the bird, and dressing is what's cooked separately. Soaking up raw meat juices with bread really creeps me out, so we have always cooked it separately.
I don't care what it's supposed to be called; I still call my outside the bird bread dish stuffing.
In years past, my father-in-law always made his beloved chestnut dressing to our annual Thanksgiving feast, and he brought it to our house a few times. The dressing had a nice flavor, and everyone liked it. I preferred to eat around the chestnuts, and Joe eagerly devoured mine, but otherwise, I really liked the side dish drizzled in turkey gravy.
Last year, my in-laws made other plans for Thanksgiving (a buffet restaurant!?!), so Joe tried to put the chestnut dressing together on his own. There was no recipe, but his father told him approximately what to do.
Fortunately for all of us, Joe figured it out, and the results were just as tasty. Joe's making it again this year, and I wanted to share his recipe with you. It is a simple recipe, and it is easy enough to put together on the morning of Thanksgiving - except you MUST peel the chestnuts ahead of time. See the note on that below.
What is chestnut stuffing?
Chestnut stuffing (or chestnut dressing) is a classic Thanksgiving side dish, but you can eat it for any holiday really. Most of the time, it is served with roast turkey.
Traditional chestnut stuffing is made from dried, cubed bread, roasted chestnuts, onions, sometimes celery, and seasonings, and then drizzled with egg and milk to moisten it. It's baked until it's hot and has a crispy and golden brown crust on top.
What you'll need to make chestnut stuffing
Equipment
There is no special equipment needed for this recipe. You will use standard kitchen tools including:
Zippered plastic bag
Mixing bowls
Wooden spoon or spatula
Small skillet
9x13 baking dish
Aluminum foil
Ingredients
Medium onions, diced - These give the finished stuffing a sweet note, but if you really dislike onions, you can leave them out.
Celery - I really really really dislike celery, so we don't put it into our chestnut stuffing. However, if you do like it, it will give your stuffing a nice flavor. Use 2-3 stalks, and slice it into ¼ to ½ inch slices.
Garlic, pressed - This gives a nice bite to the stuffing. I would not leave it out.
Butter - You need this to sauté the onions and garlic. It gives the stuffing a rich sweetness. You could use olive oil but it will dramatically change the flavor of the stuffing.
1 loaf stale bread, cut into cubes - This is the base of your stuffing. You could use any bread including gluten-free bread or keto bread.
1 sleeve Saltine crackers, crushed - The easiest way to crush crackers is to place them in a zippered plastic bag and use a rolling pin to roll over them until they are crushed.
Eggs, whisked together - These bind the stuffing together. You can't make it without eggs.
1 pound of chestnuts, peeled and halved - You need these as it is chestnut stuffing. I mean, you could leave them out, but then it wouldn't be chestnut stuffing anymore. See the note below about peeling chestnuts.
1 cup* milk - You can use any dairy or non-dairy milk. You will likely not need a full cup, so use only as much as is necessary to make the stuffing moist.
How to make chestnut stuffing
Preheat the oven to 350.
Cut the bread into bite-sized cubes.

Crush the crackers. I recommend placing them in a sealed plastic bag and then use a rolling pin to crush them.

Melt butter in a medium skillet.

Add onion and celery (if using), sauté until translucent, about 3 minutes. Press the garlic into the skillet and sauté just a bit longer, just until the garlic is fragrant (typically less than a minute). Don't overcook the garlic.

Toss bread cubes and crackers in a 9x13 baking dish and mix well.

Pour eggs, chestnuts, and onion mixture over top. Mix well.




Add just enough milk so that the bread is moisten but not wet. (*You may not need a full cup; do not use too much or your finished stuffing will be soggy.)

Cover with foil and bake for one hour or until golden brown on top. If the top doesn't get crispy, you can remove the foil and bake it for 10-15 minutes uncovered.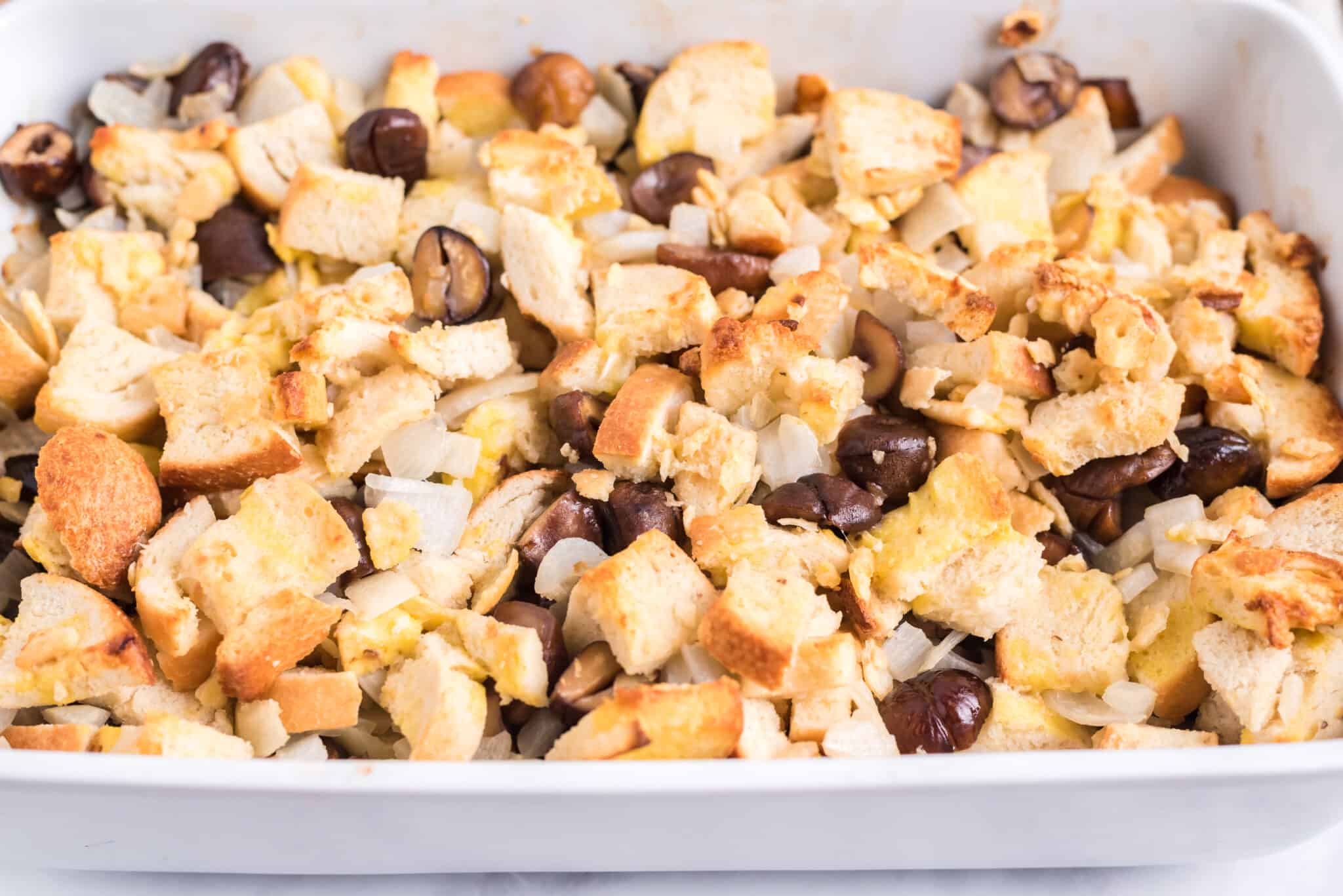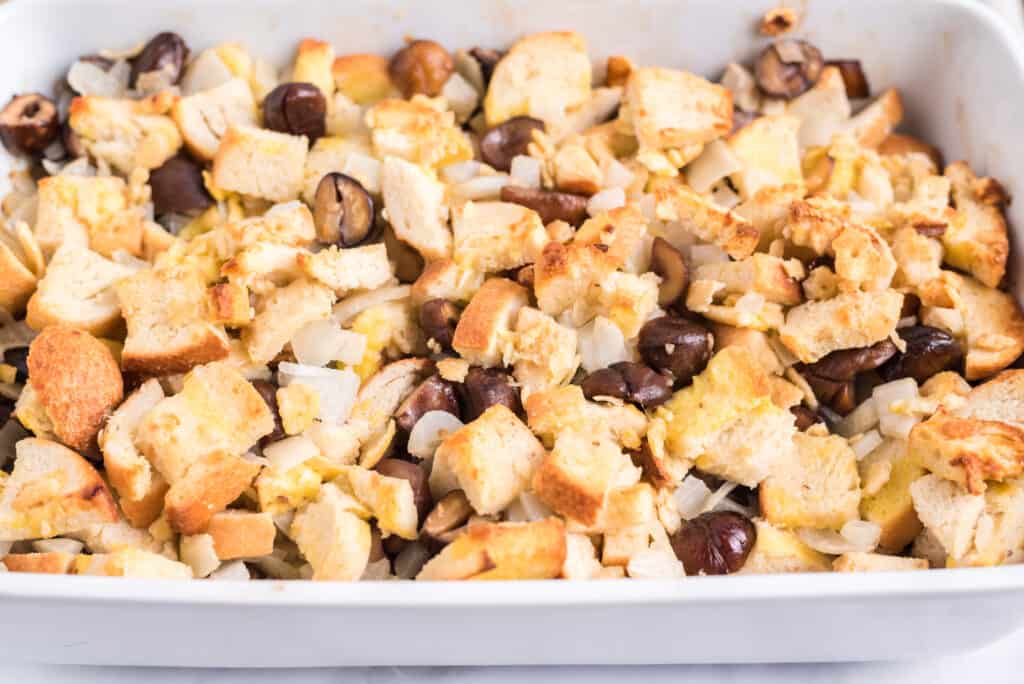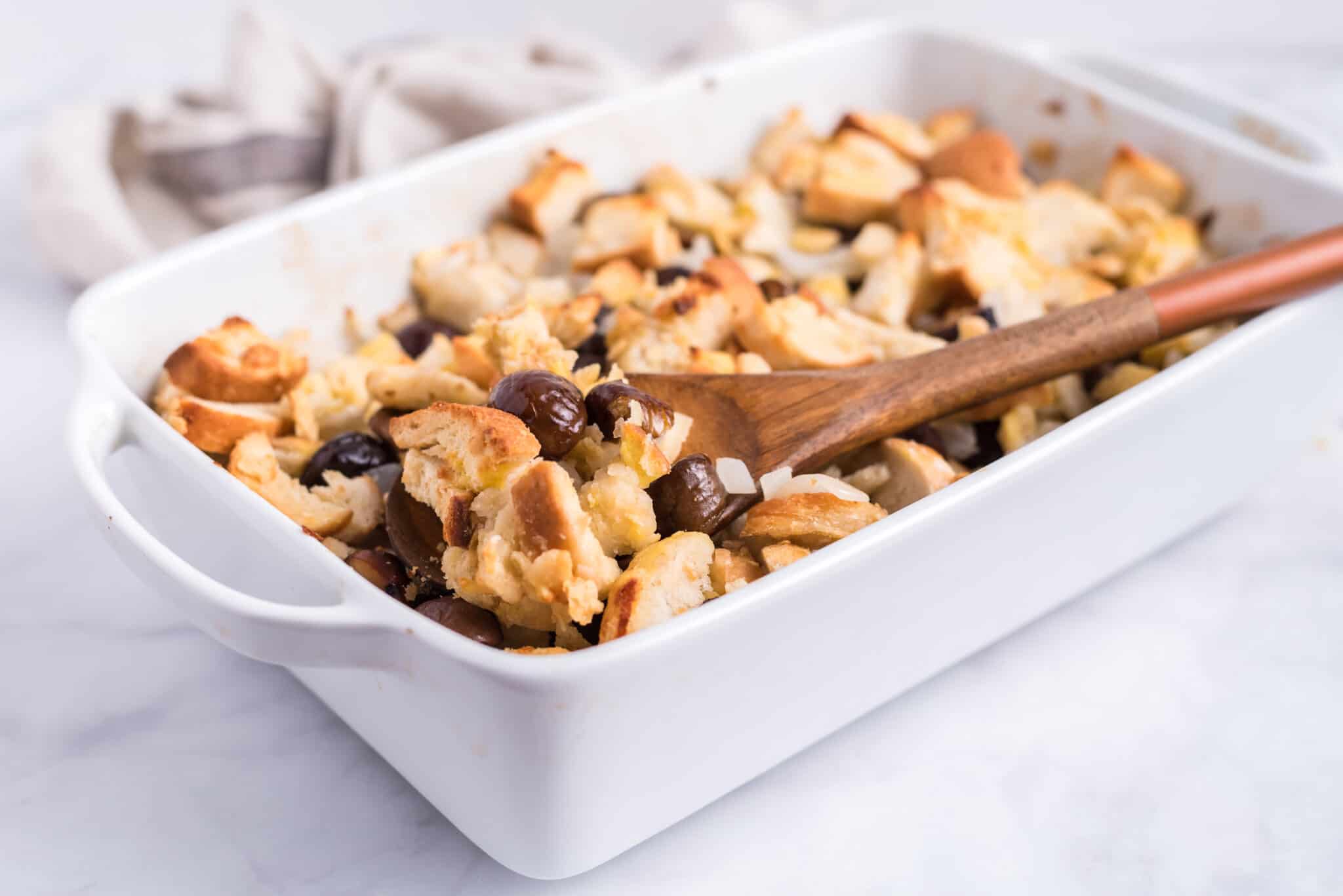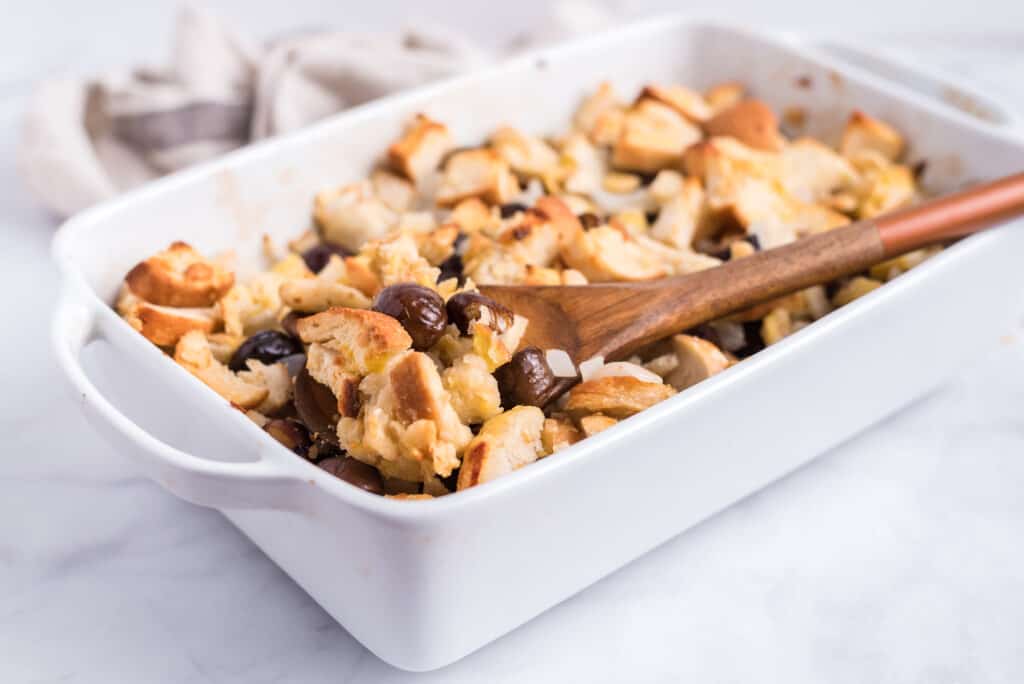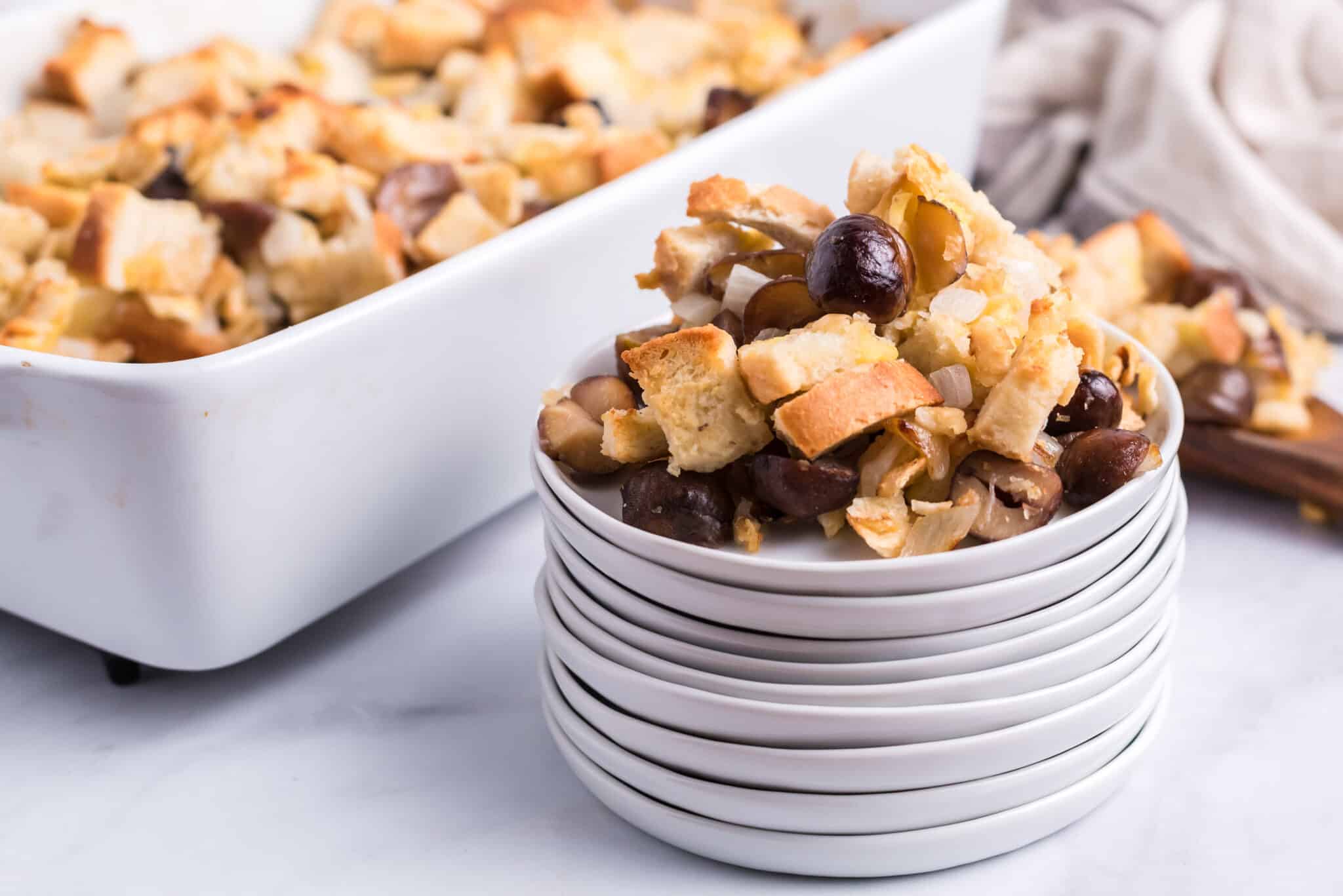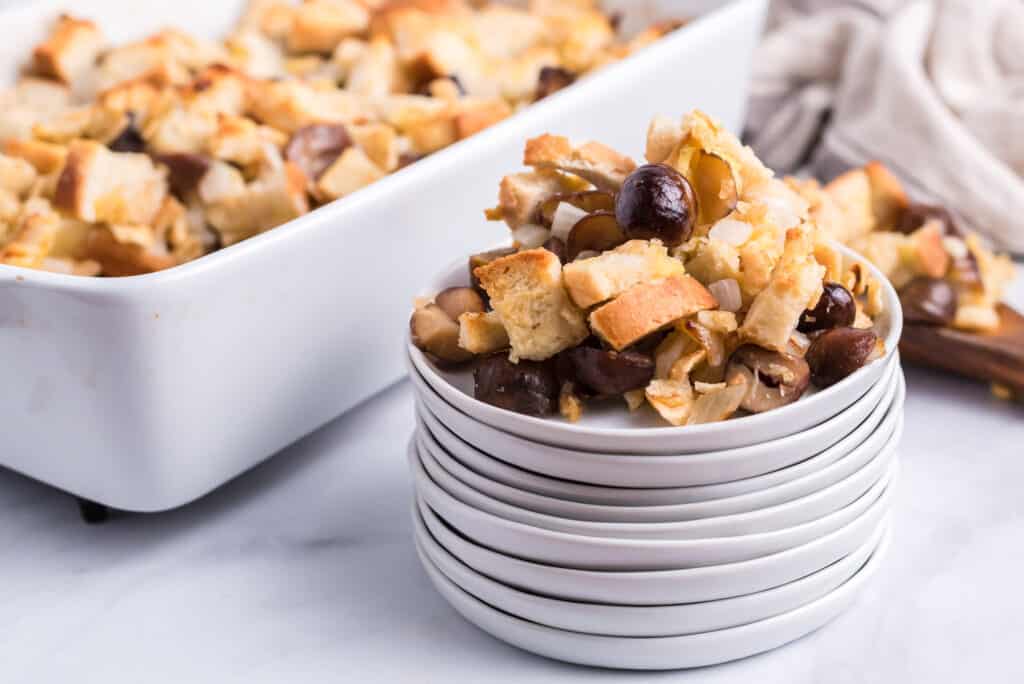 Can chestnut stuffing be made ahead?
It definitely can be! We always make ours the night before, stick it in the refrigerator overnight, and bake in the morning. Doing it this way allows the flavors to blend really nicely and makes the best stuffing.
When you prepare it in advance, you will want to cover it tightly with plastic wrap or aluminum foil, and store it in the refrigerator. You may need to cook it 10-15 minutes longer because you are starting with chilled ingredients.
A Warning - Cooking with Chestnuts
Chestnuts are tricky, especially if you've never used them before. You must not wait until Thanksgiving morning to shell them. Do it a day or two before you need them; it takes a good bit of time. You'll throw your whole Thanksgiving cooking plan off if you wait til the last minute.
Go check out Martha Stewart's video tutorial on peeling a chestnut if you've never done it before.
How to store leftover chestnut dressing
Chestnut dressing will keep for 3-4 days if you cover it tightly and keep it in the refrigerator. I would recommend an airtight container if possible.
My favorite way to use up leftover stuffing is turkey and stuffing muffins. They're delicious!
Can you freeze chestnut dressing?
You sure can! You can freeze this chestnut stuffing cooked or uncooked.
If you are freezing fully cooked stuffing, cut it into one-meal sized portions, and wrap each one tightly in plastic wrap and then aluminum foil. Stick the wrapped stuffing into a zippered freezer bag or airtight container if possible. That should keep it fresh in the freezer for up to a month.
To reheat the frozen stuffing, allow it to thaw in the refrigerator overnight. Place the thawed stuffing into a baking dish, and bake at 325ºF for 15-20 minutes or until heated through.
To freeze uncooked stuffing, wrap the dish tightly in plastic wrap then aluminum foil, and freeze. To bake, simply remove the plastic wrap, drizzle with a bit of chicken or turkey broth, recover with the foil, and bake at 400ºF for 70-90 minutes. Check it every 10 minutes starting at one hour, just to make sure it doesn't burn. But it will probably take longer because it started out frozen.
The Rest of our Thanksgiving Menu
We don't get creative with our Thanksgiving menu. We like routines. We like the comfort of the same old food.
And for the leftovers, try one of these delights:
You can read more about my easy and traditional Thanksgiving menu.
Recipe