Roasted Vegetable & Cornbread Stuffing is the perfect side dish for your Thanksgiving or Christmas dinner. Made with cornbread stuffing mix and filled with roasted squash and onions, it is the perfect addition to your holiday meal.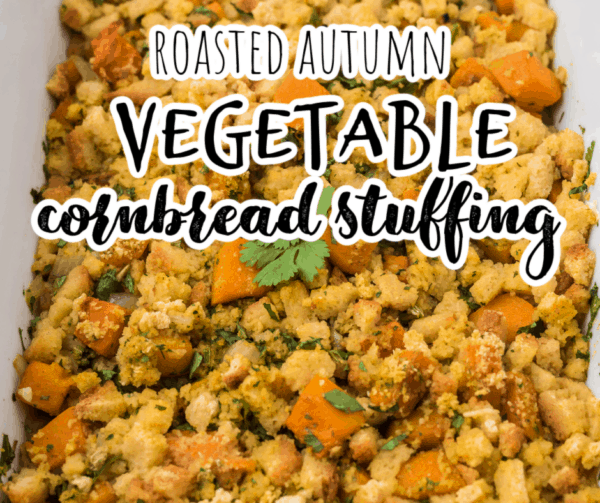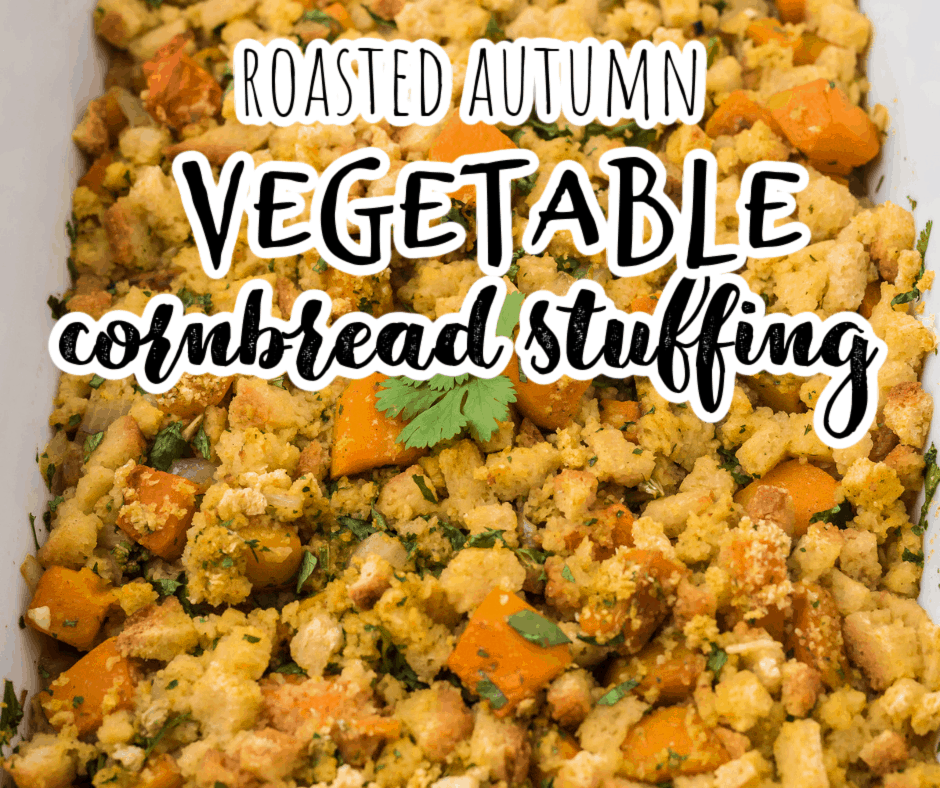 This stuffing is a wonderful recipe for holiday meals, but we've also used it to stuff chicken breasts and found that just as delicious. The stuffed chicken breasts were pretty labor intensive, so I wouldn't recommend that one for a weeknight. Or maybe, you could do it if you made your stuffing on the weekend and just assembled and baked the chicken on the weeknight. That could definitely work.
The thing I like most about this recipe is that the stuffing (or dressing if you're from the south) is sweet. It's not sticky syrupy sweet like candied sweet potatoes, but the roasted butternut squash and cornbread dressing mix both give it a slight sweetness that pairs really well with turkey and chicken.
I've even eaten this stuffing on a turkey sandwich after Thanksgiving. It was so delicious!
Ingredients
I like to use butternut squash in this stuffing, but you could just as easily use any winter squash, including pumpkin. A combination of several would also be nice. As long as you end up with 6 cups of squash, you'll be in fine shape.
You could totally go homemade and from scratch in this recipe, making your own cornbread dressing and chicken or vegetable stock. I'm sure that would taste divine. However. I am busy (as I know you are), and I don't want to take the time to do all that. I use a boxed cornbread dressing mix (brand unimportant) and I use Better Than Bouillon to mix up some chicken broth. You could also use chicken or vegetable broth from a can or box. These shortcuts work just fine, and the stuffing tastes great.
This recipe lends itself really easily to being gluten-free and/or vegetarian. To make it gluten-free, simply use a gluten-free cornbread mix. To make it vegetarian, use vegetable stock in place of chicken broth. Easy peasy.
How to make easy cornbread & roasted vegetable stuffing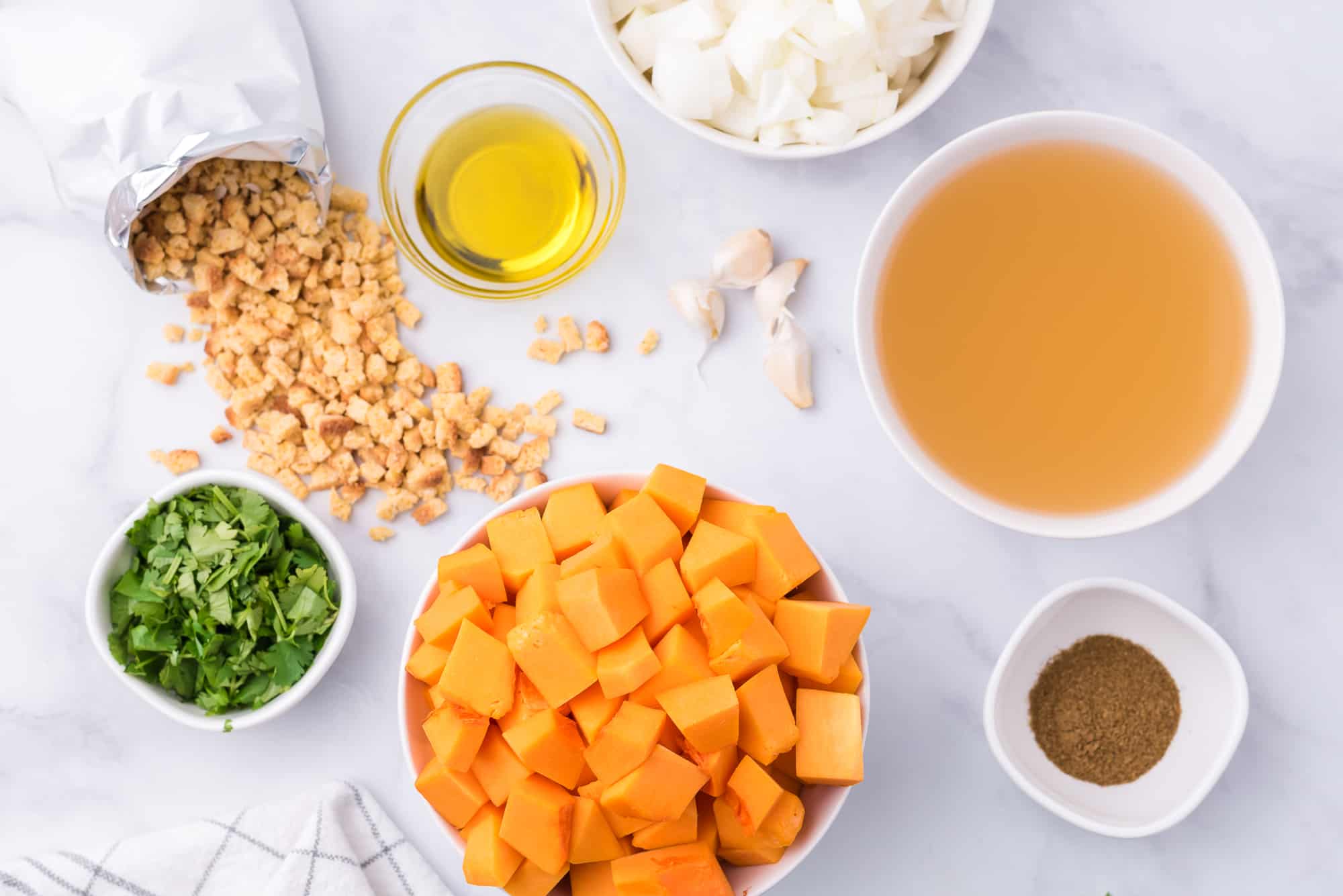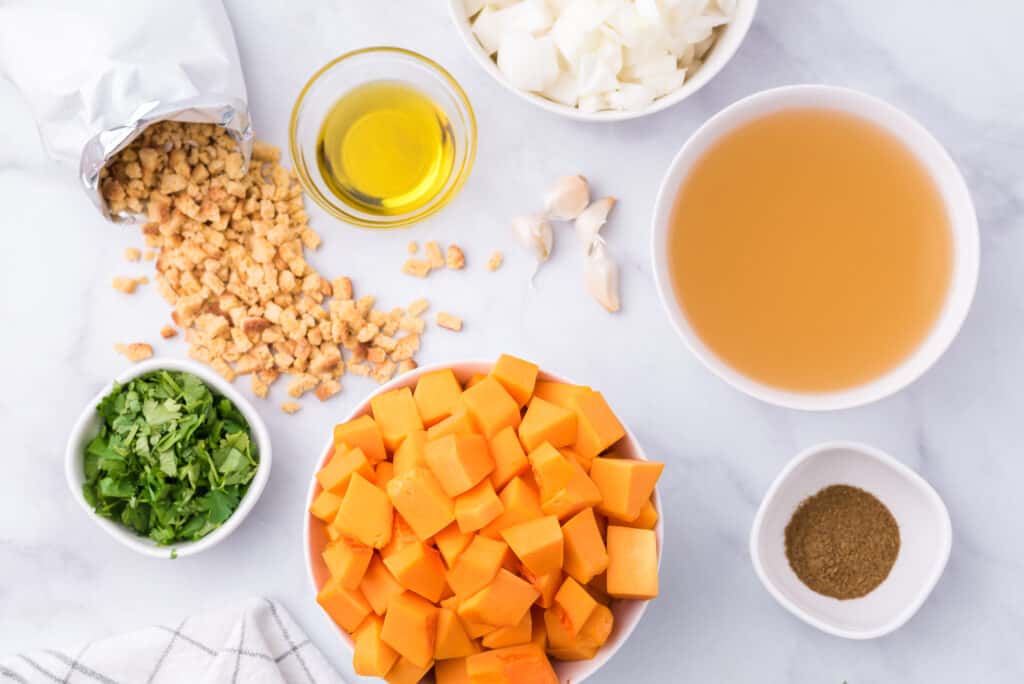 Preheat the oven to 400.
Place the squash, onions, and garlic in a large bowl. Add cumin and olive oil and toss to coat.

Spoon mixture in a single layer onto a bar pan (or other baking dish with a lip around the edge).


Roast vegetables for 30 minutes or until veggies are lightly browned, stirring occasionally.

Reduce the oven temperature to 250.
Stir the squash mixture, cilantro, and broth together in a 9x13 baking dish. Add the stuffing and mix gently.

Spoon into a greased 9x13 casserole dish. Cover with foil. Bake for 30 minutes or until hot.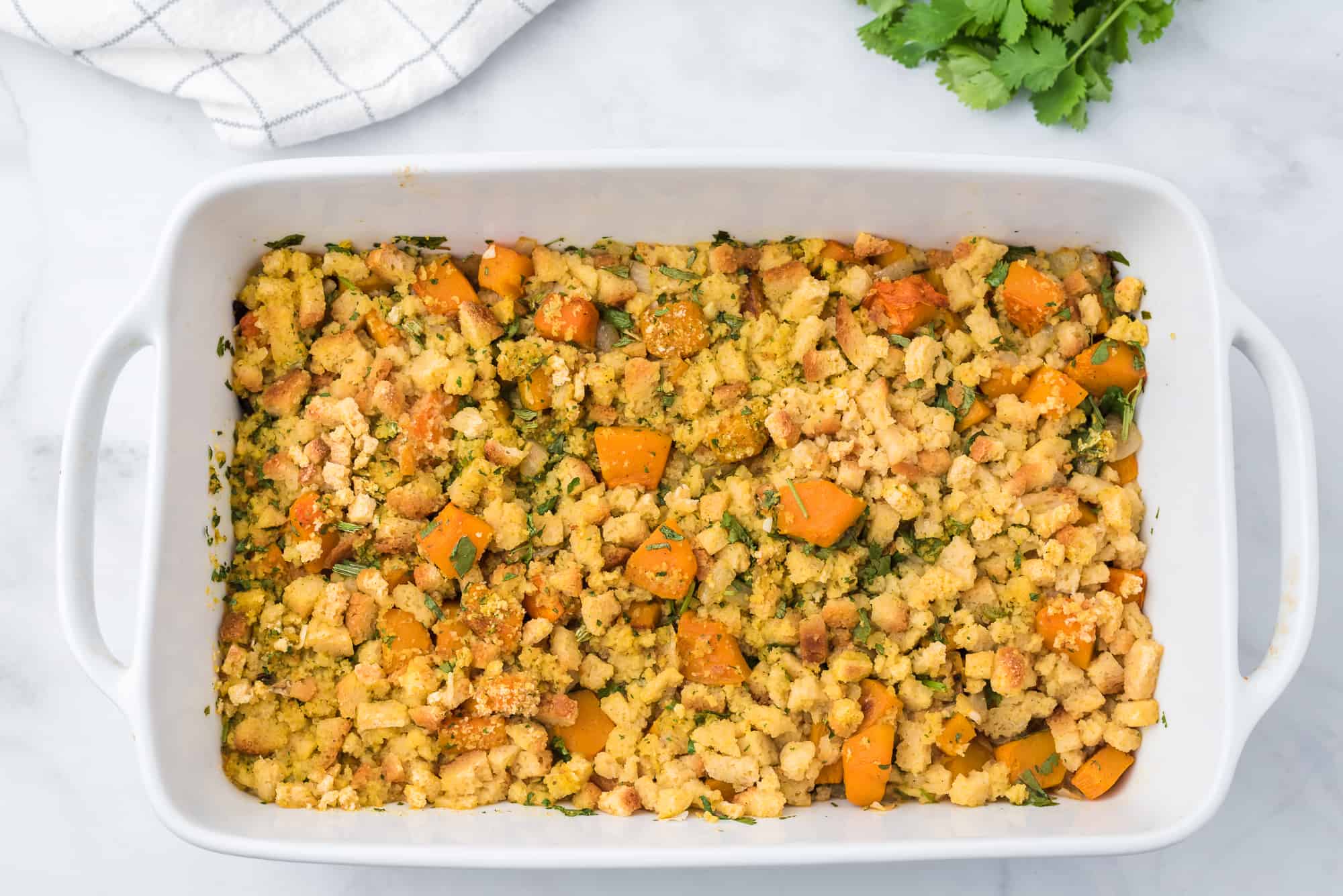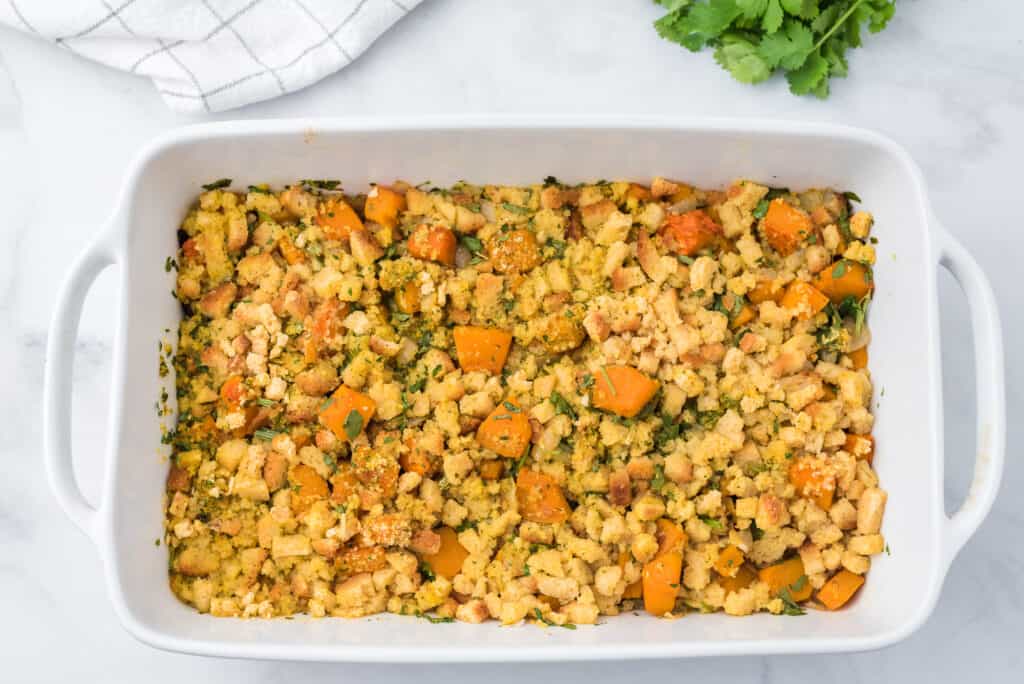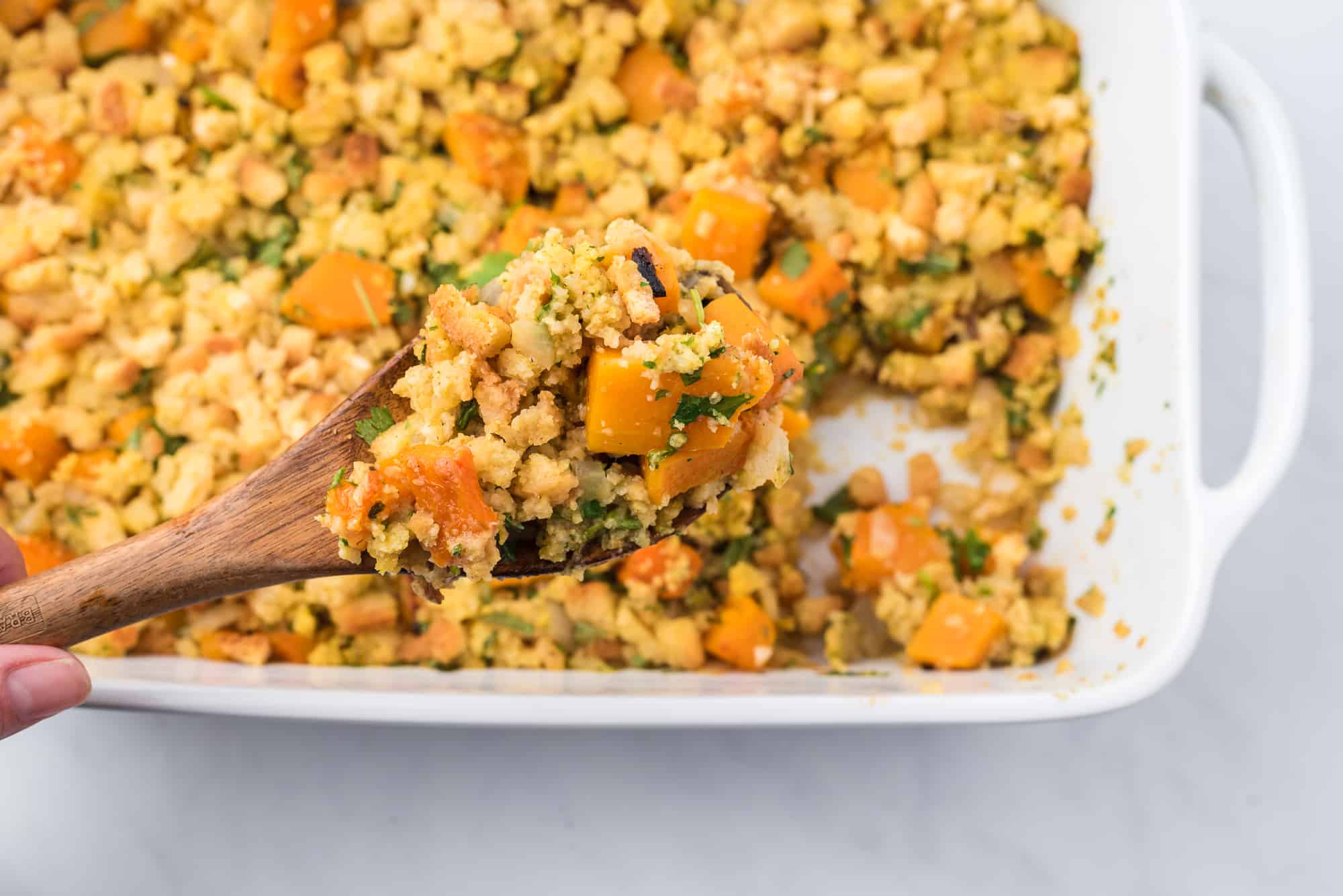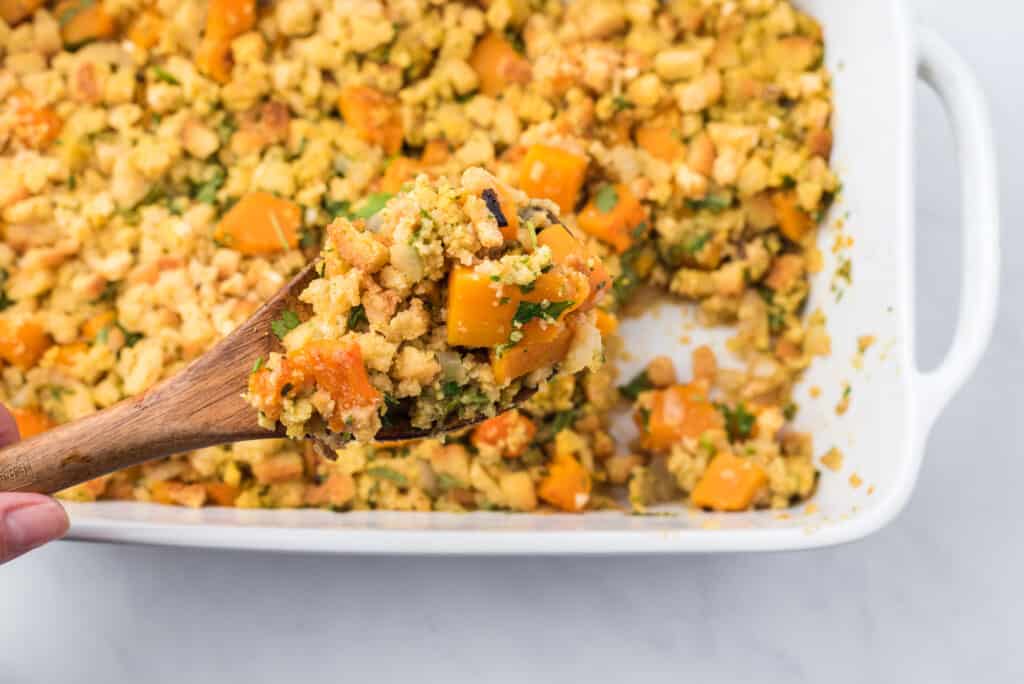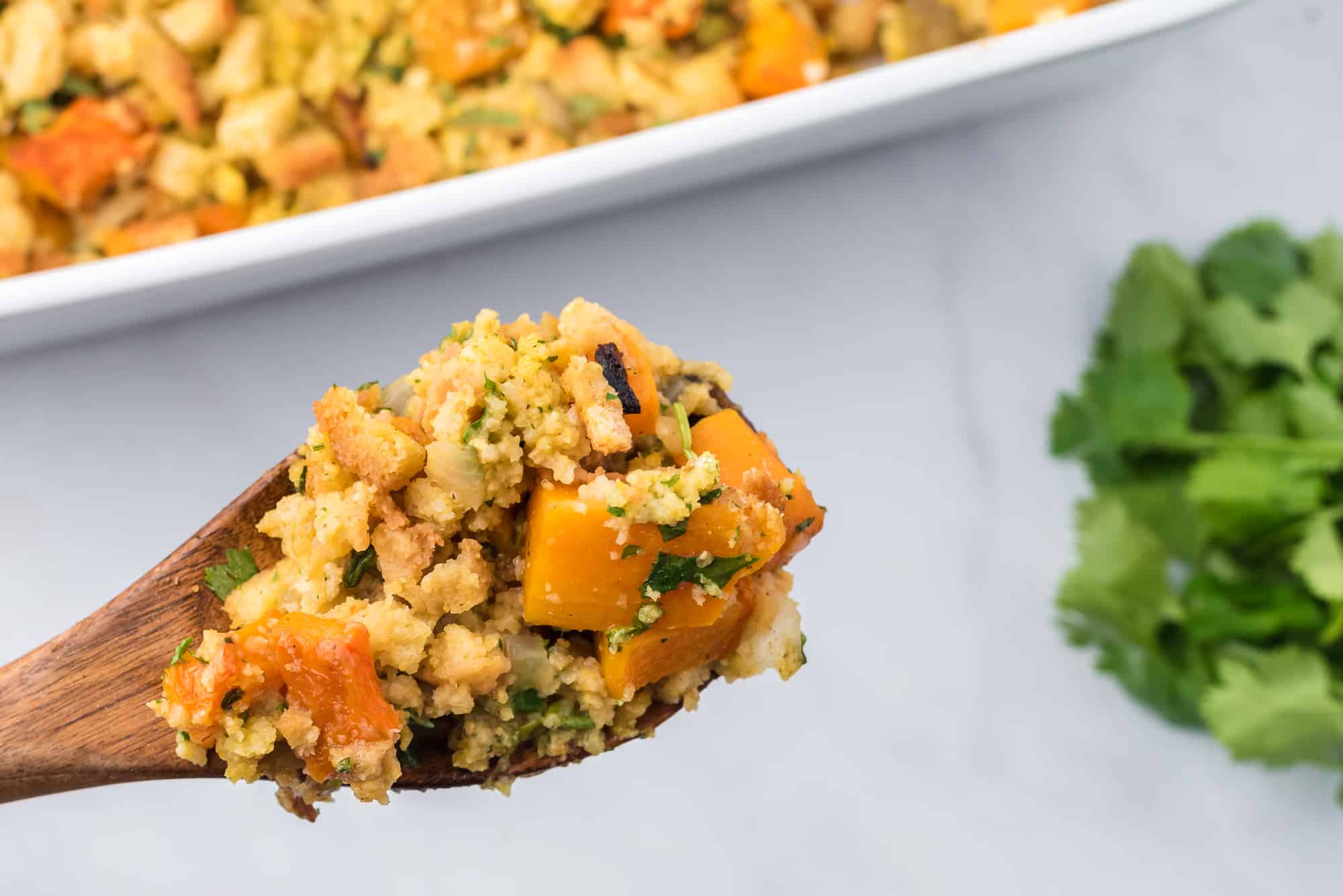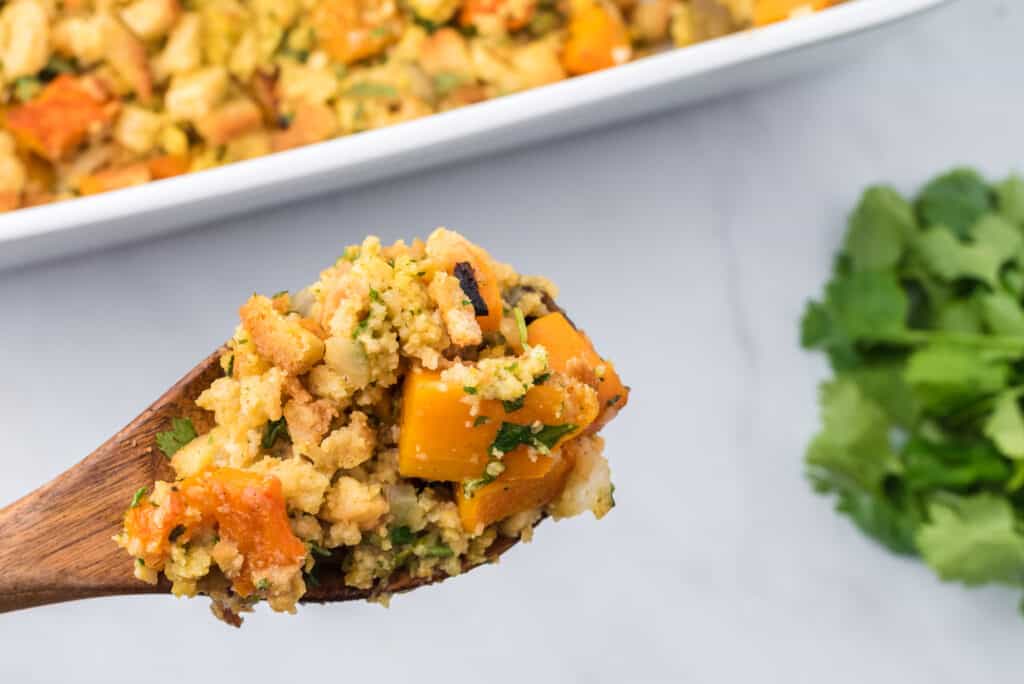 How much stuffing should I make?
If you are trying to plan ahead for a big, family meal, you can follow these guidelines:
For a "normal" family dinner, plan for 1 cup stuffing for each adult.
For a holiday meal like Thanksgiving or Christmas, plan for 1-½ cups per adult.
According to these portion sizes, this recipe will make approximately enough stuffing for 8 people.
How far in advance can I make this stuffing?
This recipe really tastes the best when it's hot and fresh. The edges get a little crispy, and the center is soft and light.
My best recommendation for a make ahead recipe is to prepare the stuffing, right up to the step where you mix it all together with the chicken broth, and then put it in an airtight bowl in the fridge. You can bake it on the morning of the holiday and it will be perfectly crisp having not been refrigerated after baking.
That said, if you needed to bake it ahead of time (such as for the stuffed chicken breasts I mentioned above), you could make it up to 5 days early and keep it in the refrigerator in an airtight container. The top won't be crispy anymore, but you probably won't mind that if you're making stuffed chicken breasts anyway.
The Rest of our Thanksgiving Menu
We don't get creative with our Thanksgiving menu. We like routines. We like the comfort of the same old food.
And for the leftovers, try one of these delights:
You can read more about my easy and traditional Thanksgiving menu.
Recipe