This is the best homemade orange cranberry sauce recipe, and it is so simple to make with 5 fresh ingredients and a few minutes. Make it ahead for an easy holiday morning. Once you taste this sweet tart sauce, you'll never eat store-bought again! Perfect side dish for Thanksgiving or Christmas dinner.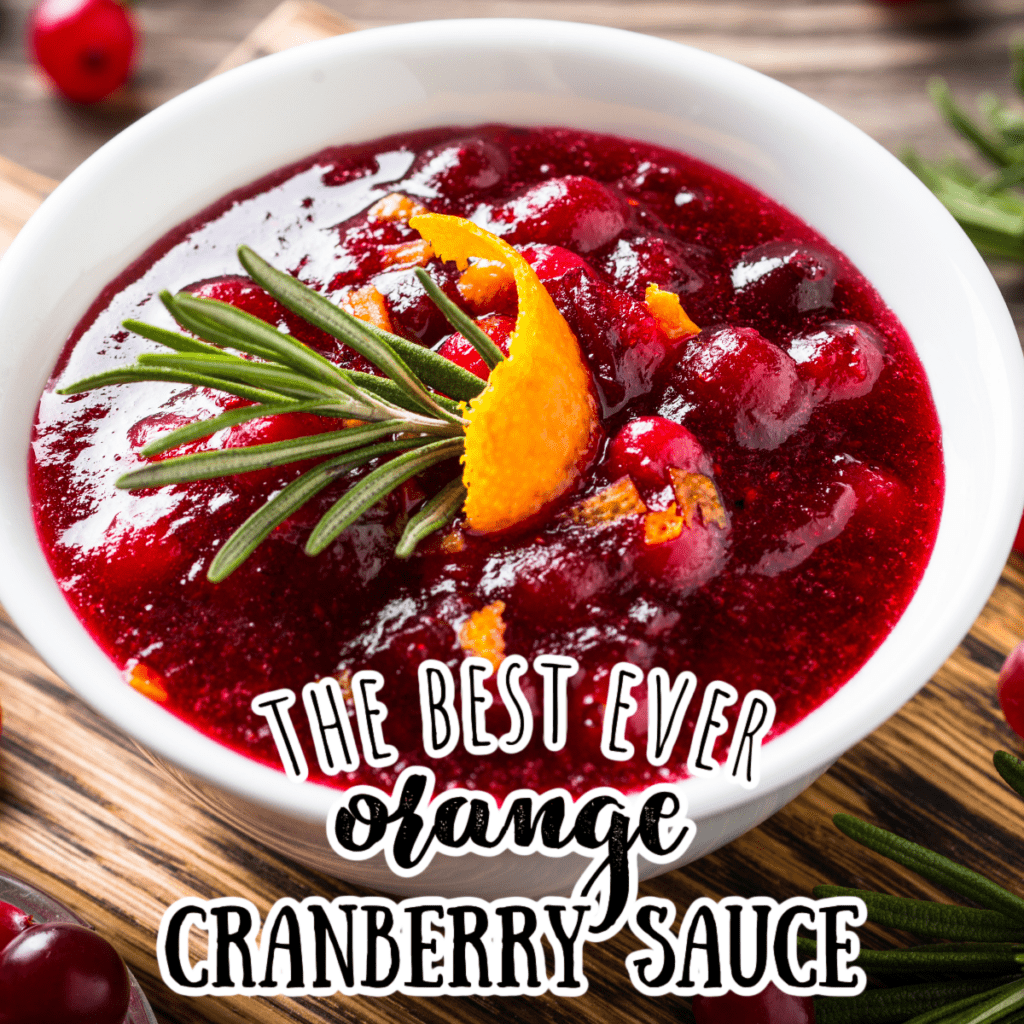 I don't like canned cranberry sauce. The whole gelatinous ooze thing doesn't appeal to me.
Actually, I think the biggest problem is the sound it makes when it schloops out of the can onto the plate, and it maintains the ridges from the can. There is nothing appealing about that, in my opinion.
When I first started hosting Thanksgiving at my home, I made my own cranberry sauce. Fresh food is always preferable to food from a metal can, so I found a fresh cranberry sauce recipe, and I cooked it.
And no one liked it but me.
Everyone else wanted the jello-like cranberry sauce out of a can. They don't know what's good. I liked the sauce. I still like the sauce, and I still make it every year.
Even if I'm the only person who eats it (and I'm not).
And I don't get offended if they bring a can of the crappy stuff. It leaves more of the fresh sauce for me.
What you'll need to make homemade orange cranberry sauce
Equipment
This recipe requires the following:
Ingredients
Can I use frozen or dried cranberries in this recipe?
You can definitely use frozen cranberries, although just be aware that it will take longer to cook the sauce.
You cannot use dried cranberries to make cranberry sauce.
Can I use less sugar in this recipe?
No, you can't, and there are two reasons why. First, cranberry sauce without sugar can be bitter and is, at the very least, incredibly tart. Second, the sugar helps the sauce to set up to a jelly like consistency. If your sauce doesn't have enough sugar, it will stay a liquid.
How to make homemade orange cranberry sauce
Rinse cranberries, picking out any spoiled berries, stems, and other undesirable material. There is often weird stuff in a bag of cranberries, so look them over carefully.
Pour the cranberries into a medium saucepan.
Add the remaining ingredients to the pan. Pour in some water, just enough to cover cranberries. (Use as little water as possible. Cranberries float, so you'll have to hold them down while you're pouring the water in. The more water you add now, the longer you will need to cook the sauce.)
Cover and bring to a boil over high heat. Reduce heat and simmer for two to four hours, until sauce reaches desired thickness. If you added a lot of water in step two, you will be cooking forever.
Taste, and add additional brown sugar as needed.
Allow to cool to room temperature. Refrigerate until serving. Serve chilled.
Why is my cranberry sauce still runny?
There are a lot of reasons why cranberry sauce stays runny after being cooked, but there are basically two solutions.
First, you can add sugar. If you don't include enough sugar, the sauce will never set up properly. However, if you are sure you included all the sugar called for in the recipe, you have a second option. Make a slurry of cornstarch and water by dissolving 2 teaspoons of cornstarch in 1 teaspoon of water. Stir this into the sauce, mixing well, and simmer for another 10-15 minutes. The cornstarch will thicken the sauce.
Is there a quicker way to make cranberry sauce?
I like to simmer my cranberry sauce because it makes my house smell amazing. However, if you want to cook it more quickly, you can simply boil the sauce for 20-30 minutes. It will thicken in that time and be ready to cool and then go into the refrigerator.
Can you burn cranberry sauce?
Yes, you definitely can, and that is why I recommend simmering it for a couple of hours rather than boiling it for a short time. If you boil it, you have to stir constantly and really watch it to avoid it burning.
Can I make cranberry sauce ahead?
Yes! Because this cranberry sauce recipe keeps for up to a week in the refrigerator (and you serve it chilled anyway), you can make it well in advance of your holiday meal. Wait until it's cooled to room temperature and then keep it in an airtight container in the refrigerator.
How to store orange cranberry sauce
Put any leftover cranberry sauce into an airtight container and store it in the refrigerator. It should stay fresh for a week.
Can you freezer cranberry sauce?
Yes, you can. Place the cranberry sauce into an airtight container or plastic freezer bag and freeze for up to one month. To serve, defrost in the refrigerator overnight.
The Rest of our Thanksgiving Menu
We don't get creative with our Thanksgiving menu. We like routines. We like the comfort of the same old food.
And for the leftovers, try one of these delights:
You can read more about my easy and traditional Thanksgiving menu.
Recipe