This Fluffy Cranberry Pineapple Fruit Salad is a delicious twist on the traditional cranberry sauce served at holiday meals. It's filled with ground cranberries, crushed pineapple, mini marshmallows, and whipped cream and makes the best side dish or dessert for Thanksgiving or Christmas dinner.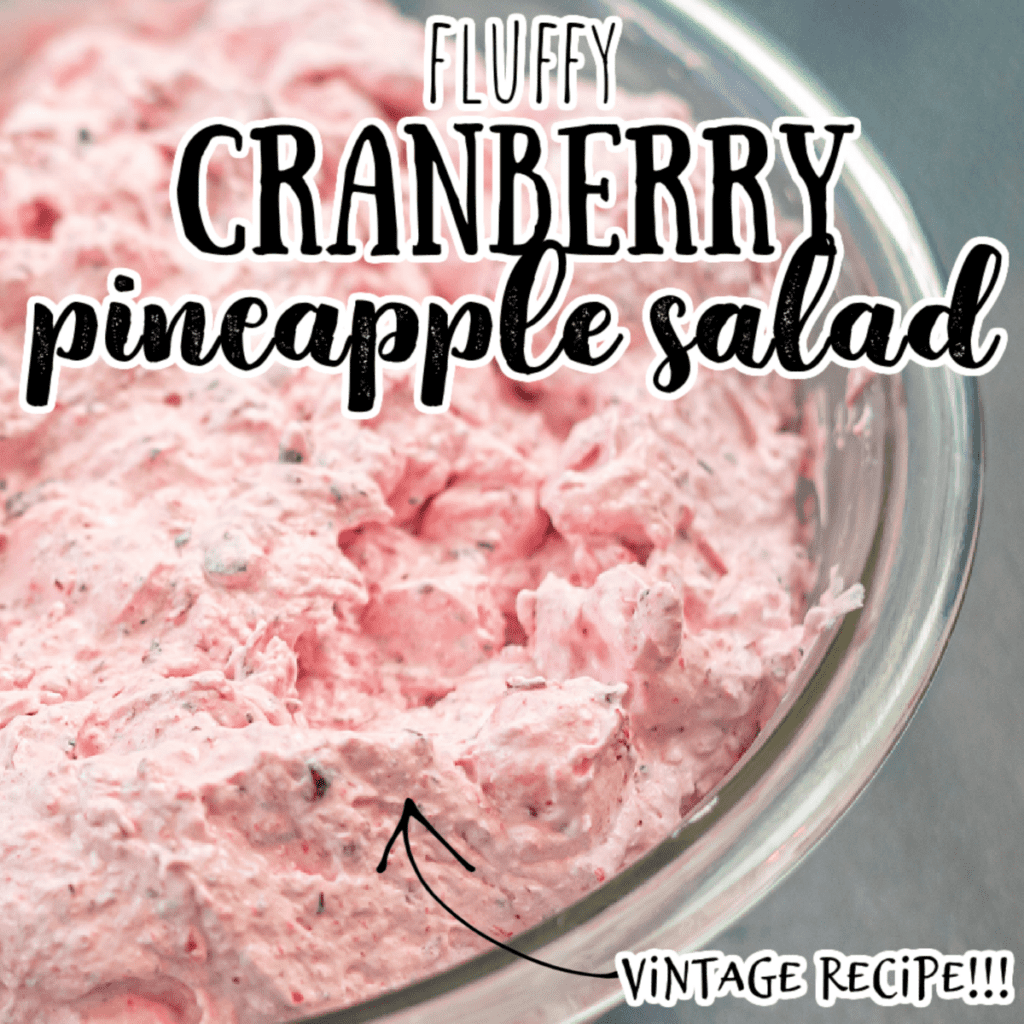 When I was a kid, my family always had a can of cranberry "sauce" at holidays. The gelatinous goo would slurp out of its can onto a plate, and someone would slice it into rounds which my family all seemed to devour. I hated the stuff.
Nearly fifteen years ago, when Joe and I hosted our first Thanksgiving dinner, I made a gorgeous and delicious homemade orange cranberry sauce with fresh berries. It simmered on the stove all day, and it made the house smell wonderful, and I was the only person who ate it. I ended up throwing most of it away because there's only so much tart cranberry sauce you can handle, you know?
And also, my mom and dad both requested the canned cranberry sauce in the future. Not only did they request it, they brought their own the following year. #hostingfail
I haven't made that sauce in many years because we've scaled back now that there are only five people who come to Thanksgiving at our house (including the four in my own family). We do send a plate to my house-bound dad, but my sister is the only person left in either of our families who lives close enough to come.
So we cook a lot less than we used to for holidays.
This cranberry fruit salad is different from cranberry sauce. It's cold for one thing, and you soak the chopped berries in pineapple juice and sugar overnight, rendering them sweet and delicious instead of tart and bitter. The texture is light and fluffy (as the name would imply!) because it's loaded with whipped topping, and it is full of mini marshmallows.
Once you've tasted this salad, you will have wished you'd doubled the recipe. It's that good!
What you need to make fluffy cranberry salad
Equipment
Ingredients
Can I use frozen cranberries in cranberry fluff?
You sure can. You can even put them in the blender and soak in the pineapple/sugar mixture without thawing them first, as long as your blender can handle the frozen berries. They'll thaw overnight while they soak.
You cannot use dried cranberries to make this recipe.
How to make fluffy cranberry salad
This recipe is pretty simple, but it requires an overnight soak plus tastes best after another overnight wait. So if you are making it for Thanksgiving, you probably want to start it on Tuesday so that you can eat it on Thursday. In a pinch, you could start it on Wednesday and assemble it first thing on Thursday morning, letting the flavors blend until dinner time.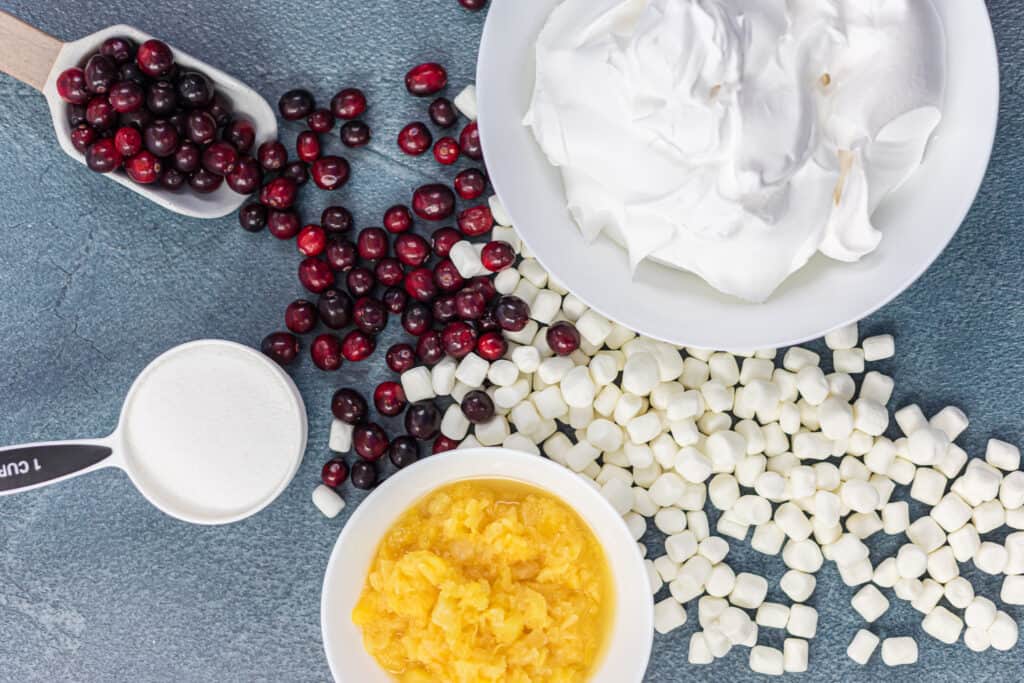 Chop the cranberries in a blender or food processor. My food processor is a huge pain to assemble, take apart, and clean, so I just use my blender for pretty much everything.

Stir chopped cranberries together with undrained pineapple and sugar. Refrigerate overnight. This step is very important as it will sweeten the berries and tone down the tartness.


The next day, pour the cranberry mixture into the mini marshmallows. Fold in the whipped topping. (Does anyone else think of Schitt's Creek every time a recipe says to fold something in? Just me?)

Refrigerate in a medium serving bowl for 2-3 hours to allow the flavors to blend. The longer, the better, up to overnight.



Can you make cranberry fluff ahead of time?
Yes, you pretty much have to make it ahead. As I said above, you should really start it 2 days before you need it, as the cranberries must soak in the pineapple and sugar mixture at least overnight in order to lose their bitterness. Then, the salad really tastes better the second day after you make it. So I recommend starting the salad 2 days before you intend to serve it.
Recipe variations
Instead of using Cool Whip, you can make your own whipped cream. Simply whip 1-½ cups of heavy cream with a mixer until stiff peaks form. Sweeten as desired with powdered sugar and fold in a few drops of vanilla bean paste.
If you want a thicker, denser salad, you can add 4 ounces of very soft cream cheese to the Cool Whip.
Substitute 2-3 cups of vanilla-flavored Greek yogurt for the Cool Whip. The salad will be very different and will not look like the photos here, but it still tastes really good.
Instead of canned crushed pineapple, use pineapple tidbits or even chunks. I wouldn't recommend a fresh pineapple just because it is pretty tart to begin with, and that won't reduce the tartness of the cranberries.
Replace the pineapple with mandarin oranges.
If you can't use pineapple or oranges for whatever reason, you could mix a half cup of sugar with the cranberries and let them sit overnight. I prefer to sweeten with fruit rather than refined sugar, but it is an option.
Replace the pecans with walnuts or chopped macadamia nuts.
Add some sweetened flaked coconut with the mini marshmallows.
Substitute homemade cranberry sauce or that gelatinous goo from a can for the fresh berries. Use 1-½ to 2 cups of sauce.
How to store fluffy cranberry salad
You can store leftovers in an airtight container in the refrigerator for up to 5-6 days. The cranberry juice may separate out a bit, and that is okay. Just stir it back up to incorporate the juice into the whipped topping, and it will be as good as new.
I would not recommend freezing this salad. It will separate and will not thaw well.
How to serve fluffy cranberry salad
You can serve this salad as a side dish in place of cranberry sauce, or you can serve it as dessert. It's so sweet and good that it works in either spot!
Although, truly, with desserts like the ones below, I think you have to serve cranberry salad at the main meal!
The Rest of our Thanksgiving Menu
We don't get creative with our Thanksgiving menu. We like routines. We like the comfort of the same old food.
And for the leftovers, try one of these delights:
You can read more about my easy and traditional Thanksgiving menu.
Recipe