This no-churn pumpkin pie ice cream recipe creates a creamy, rich pumpkin treat that's full of deliciously spiced fall flavors. No machine is needed to make this simple and easy gluten-free frozen dessert.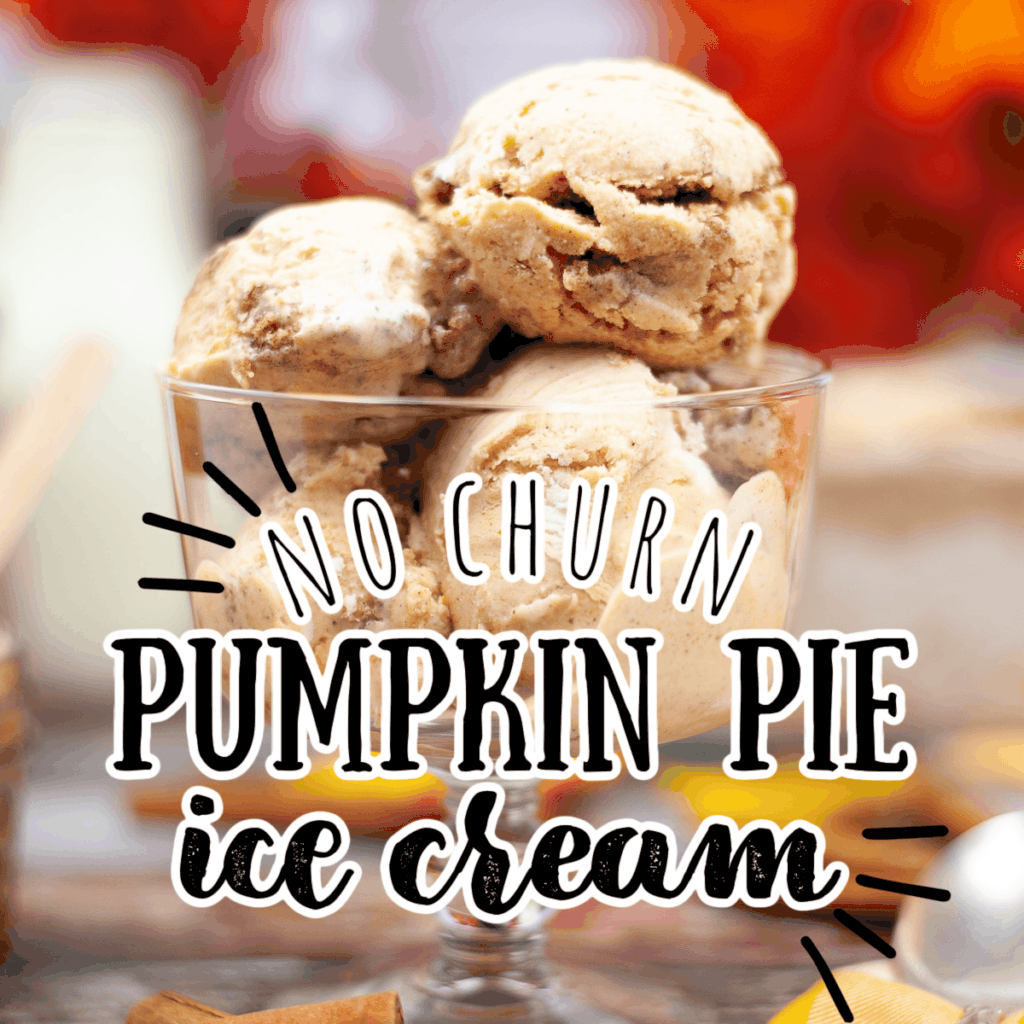 The first time I ate pumpkin pie ice cream was at least 2 decades ago, when the little ice cream shop in my town put it on the menu. I'd never before eaten pumpkin ice cream, as this was well before the pumpkin spice craze began, and I was enamored at first bite. It was everything I loved about pumpkin pie topped with gobs of whipped cream but without the overpowering spice I have never cared for.
If you're in the market for a good pumpkin pie that is not overly spiced (and has an amazing pecan streusel topping), head over to this recipe for that.
But anyway, the ice cream. It was sort of like a Dairy Queen Blizzard, with the soft serve ice cream having been mixed up in a blender type thing with the pumpkin and something crunchy. It was like heaven.
So fast forward twenty years, and the ice cream shop is now closed, and I am stuck making my own pumpkin pie ice cream.
And do you want to know something?
It's super easy to make. So easy that you may make it on the regular and especially for Thanksgiving.
I just had a brainstorm. What if you made the pumpkin pie and topped it with a scoop of pumpkin pie ice cream and then a dollop of whipped cream? That would be like the ultimate Thanksgiving dessert, and I'm here for it. I think I'm going to do it this year.
Do you need an ice cream machine to make pumpkin pie ice cream?
NO! I have an ice cream machine, and I hate its guts. First of all, I have to pre-freeze the tub of the machine for at least 24 hours in advance. It is very big, and it takes up a lot of space in my already overpacked freezer, and so I can't keep it in there to use when the mood strikes me. I have to clear out space in the freezer to put it in when I want to use it. No thank you.
Also, my ice cream machine never freezes the ice cream as much as I want it to. It basically makes ice cream that has a thin pudding consistency, and then I have to put the ice cream into an ice cream pan and put it back into the freezer for a few hours anyway. Again, no thank you.
And finally, my ice cream maker, while using an enormous tub, does not make enough ice cream in one go to feed my entire (small) family. I have to make a batch of ice cream, refreeze the big tub for another 24 hours, and then make another batch of ice cream. It's a stupid and cumbersome process. Also, no thank you.
Maybe I need to invest in a new ice cream maker. I don't know. Mine is at least 15 years old. But there are awesome no churn ice cream recipes such as cheesecake ice cream and Oreo ice cream, and I am getting along just fine without the stupid machine.
What you'll need to make pumpkin pie ice cream
Equipment
The easiest way to make pumpkin pie ice cream is using a stand mixer because you will have to beat the heavy cream to make whipped cream with stiff peaks. You can do this with a whisk by hand (but why would you?) or using an electric hand mixer, but the stand mixer is the best because you can walk away from it and prepare the rest of the ingredients while the cream is beating.
You will also need an ice cream pan. This is a shallow, rectangular pan with a tight fitting lid that is specifically made for freezing no churn ice cream. If you don't have such a pan and can't get one, you could use a regular loaf pan and then wrap it tightly on top with plastic wrap or aluminum foil.
Ingredients
For the Ice Cream
Heavy cream - This is the base for the entire recipe. You can't make ice cream without heavy cream (unless you make a vegan version with bananas, but that's a whole different story). You will beat the heavy cream using a mixer until stiff peaks form which is basically the same thing as making whipped cream.
Sweetened condensed milk - This is a thick canned milk that is already pre-sweetened, and it tastes amazing, and it will make your ice cream sing.
Pumpkin puree - You want to buy a small can of 100% pure pumpkin puree, not pumpkin pie filling. I personally hate the spices in pumpkin pie filling, and I never ever ever buy it. I always buy pure pumpkin and season it myself.
Vanilla bean paste or an equal amount of vanilla extract - I have switched over from using vanilla extract to using vanilla paste almost exclusively.
Vanilla extract is an alcohol-based liquid with the consistency of water. To make it, vanilla beans are soaked in alcohol for a long time (many months). There are no actual vanilla beans in extract.
Vanilla paste on the other hand is a combination of highly concentrated vanilla extract, crushed up vanilla beans, and a binder (which can be either xanthum gum or corn syrup, read the label). It is the consistency of Elmer's glue.The reason I prefer vanilla paste is that, aside from having actual vanilla beans inside, the paste has a richer, more bold flavor, and it has no alcohol taste when it is uncooked. I hate the bitter flavor that traditional vanilla extract gives foods that are not cooked. That bitterness cooks off when heated, but in recipes like popsicles, buttercream, overnight oats, and the ice cream in this recipe, the alcohol stays in and can taint the flavor if you are heavy handed with it (as I often am).
Pumpkin pie spice - I almost always make my spice blends from scratch, but I'm kind of in love with the McCormick brand pumpkin pie spice. It is heavy on the cinnamon and light on the ginger, which I like a lot. If you wanted to make pumpkin pie spice yourself, I would recommend combining 2-½ teaspoons ground cinnamon, ½ teaspoon ground nutmeg, ½ teaspoon ground ginger, and ¼ teaspoon ground cloves. Whisk it in a small bowl really really well, then measure out 1 tablespoon of that mixture to put into your ice cream.
Brown Sugar Crumble
Brown sugar - I use light brown sugar, but you can use what you have on hand.
Melted unsalted butter - Again, use what you have. Salted butter won't hurt this recipe at all. You probably won't even notice a difference because salted butter has such a small amount of salt in it.
Cinnamon - don't skip this as it makes the brown sugar crumble really sing.
How to make no churn pumpkin pie ice cream
In the bowl of a stand mixer, beat the heavy cream on medium speed for 5-10 minutes, until stiff peaks form. Alternately, you can beat the cream in a large bowl with an electric hand mixer. If you're going to use a hand mixer, I would recommend doing step 2 before you begin beating the cream as you won't be able to walk away from the mixer to prepare the other ingredients.
While the mixer is beating the heavy cream, whisk together the sweetened condensed milk, canned pumpkin, vanilla bean paste, and pumpkin pie spice in a medium bowl. Set aside.
Once stiff peaks have formed in the heavy cream, fold in the pumpkin mixture until it's fully incorporated, but don't over mix as this will deflate the heavy cream. Set aside.
In a small bowl, stir together the ingredients for the brown sugar crumble. Set aside.
Line an ice cream pan with plastic wrap. This will make it easier to remove the ice cream when it is fully frozen.
Pour half of the ice cream mixture into the lined ice cream pan. Sprinkle half of the brown sugar crumble on top of the ice cream mixture. Pour the remaining ice cream mixture on top of the brown sugar crumble, and top it with the remaining brown sugar crumble.
Cover the ice cream pan tightly with plastic wrap or aluminum foil. Place it in the freezer for a minimum of 8 hours but up to overnight (or longer).
Serve ice cream with a big scoop of whipped cream and caramel sauce, if desired.
Variations on pumpkin pie ice cream
Add some crunch - I wanted to keep my original recipe gluten-free, but I think it would be really tasty to add crushed gingersnaps, Nilla wafers, or graham cracker crumbs to the ice cream. If I was going to do that, I would sprinkle them over the ice cream but under the brown sugar crumble in both of the layers.
Or, if you don't want to freeze the crunchy bits (they may get soggy; I haven't tried this so I'm not 100% sure), you could sprinkle the gingersnaps or graham cracker crumbs over the top of the ice cream when you serve it.
Make your own pumpkin pie spice blend - As I mentioned above, I prefer to use McCormick pumpkin pie spice because I really like its flavor. However, if you wanted to make your own blend, you very easily could do so with this simple and easy recipe:
2-½ teaspoons ground cinnamon
½ teaspoon ground nutmeg
½ teaspoon ground ginger
¼ teaspoon ground cloves.
Whisk the spices in a small bowl really really well, then measure out 1 tablespoon of that mixture to put into your ice cream recipe.
THE REST OF OUR THANKSGIVING MENU
We don't get creative with our Thanksgiving menu. We like routines. We like the comfort of the same old food.
And for the leftovers, try one of these delights:
You can read more about my easy and traditional Thanksgiving menu.
Recipe