This 4 ingredient Oreo ice cream recipe is one of our favorite summer desserts because it is so easy to make from scratch without an ice cream machine. Add an Oreo crust, and it makes the perfect simple dessert recipe for parties, picnics, and barbecues, too.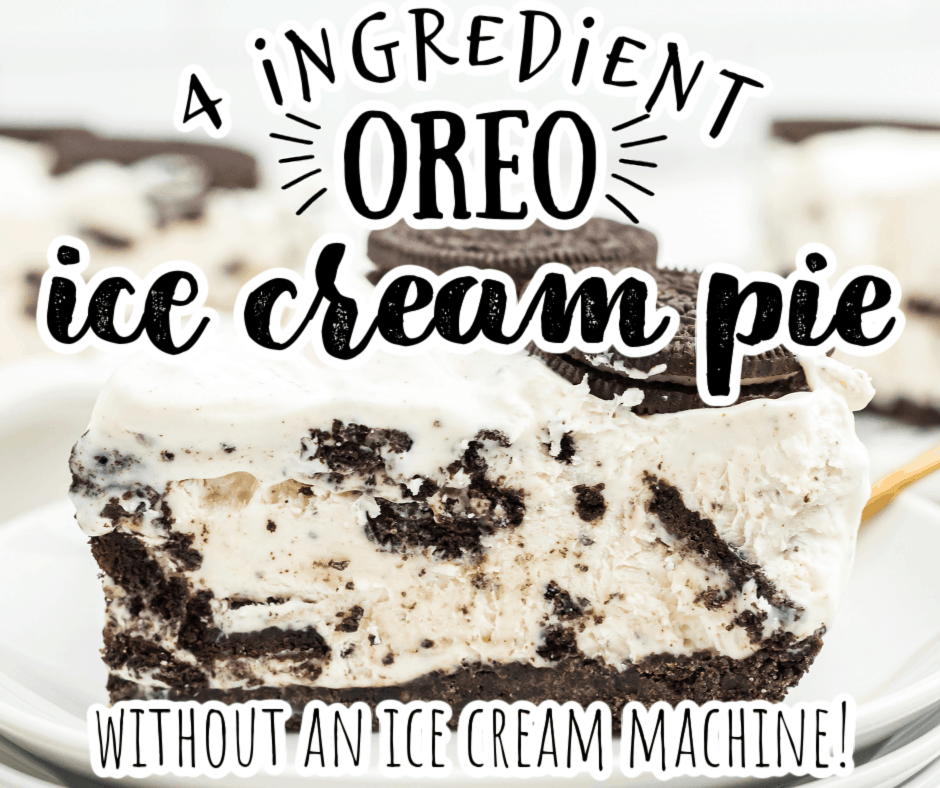 My kids take cooking classes, several a week (sometimes several a day!) and have ever since quarantine started. My 10-year-old, Allie, has developed an insatiable curiosity for all things food, and she has decided that she wants to be a chef when she grows up. It's all very exciting to see as her mom. (My teen, Grace, has gotten into cooking too, although to a lesser extent, and she mostly does baking classes which produce amazing and all too frequent sweet treats.)
Anyway, one of my 10-year-old's earliest foods was this Oreo ice cream pie. She signed up for the class because Oreos! and ice cream! and what more do you need to know? The teacher was very sweet and nice, and the class was fun, and then we had to wait 4 whole hours to sample the goods.
Allie has since made this Oreo ice cream pie several times, and it's always gobbled up quickly. There's always a bit of ice cream leftover after filling the pie crust, and she freezes that in shallow ice cream containers and eats it later without sharing with anyone. It's that good.
It looks like there are more than 4 ingredients.
So I said in the graphic that the ice cream has 4 ingredients, and the ice cream does have exactly 4 including the Oreos.
To make the ice cream into a pie, you will need a 5th ingredient (butter) to make the Oreos in the crust hold together a bit better. If you use Double Stuf Oreos, that helps too, but you really can't get around the butter if you want a crust that holds its shape.
Does the Oreo pie crust need to be baked?
No! This is a 100% amazing no bake dessert. You put the whole thing in the freezer, and there is no baking at all.
How to make homemade Oreo ice cream pie
I have seen lots of Oreo ice cream recipes that require a carton of vanilla ice cream, but I think that's totally cheating because it's not at all homemade. Plus, who wants to let vanilla ice cream thaw enough to mix Oreos in it and then refreeze? I don't know because I've never tried it, but I think that's a recipe for weird ice cream. Just saying.
This recipe uses sweetened condensed milk and heavy whipping cream to make a smooth and creamy base for the Oreo ice cream. Mix in the Oreos, freeze, and you're done. It really couldn't be easier and still be homemade.
Ingredients you'll need for homemade Oreo ice cream
For the Oreo pie crust:
18 Oreo cookies - Double Stuf is best, but regular will also work.
4 tablespoons of butter, melted - This is ½ of a regular stick of butter.
For the Oreo ice cream:
Sweetened condensed milk - one 14 ounce can
Heavy cream - 2 cups or 16 ounces
Pure vanilla extract - only 2 teaspoons
30 Oreo cookies - You will crush 10 of these to powder, crush or chop 10 more in nice, big pieces, and the remaining 10 will go on top of the pie for a garnish.
Tools you'll need to make the Oreo pie
This is a super simple recipe, but it helps if you have a few specialized tools:
Food processor - This makes crushing the Oreo cookies take about 5 seconds. If you don't have one, you can put the cookies in a plastic zippered bag and stomp on them or use a rolling pin to crush them. You won't get a fine powder this way, but it will work well enough.
Pie plate - There's no way around using a pie plate for this recipe. It's an absolute must-have.
Electric mixer - You can use a stand mixer or a handheld electric mixer, but it is very very difficult to make this ice cream without an electric mixer. I mean, your grandma's grandma made whipped cream without a mixer, but she was used to it and her arm hurt all the time.
How to put it all together
For the crust
Crush 18 Oreo cookies into a fine powder using a food processor or a large plastic zippered bag and rolling pin.
Mix melted butter and crushed Oreos together and then press into bottom and up sides of a deep dish pie pan. If you stick it in the freezer while you make the rest of the pie, it will be a little easier to fill later on.
For the Oreo ice cream
Use an electric mixer to beat cream on high for 3-5 minutes, until stiff peaks have formed. Don't whip it too long or it will become butter. This happens pretty quickly, too, so you have to be careful.
Fold in sweetened condensed milk and vanilla.
Crush 10 Oreos to crumbs using the food processor. These will give your ice cream a rich Oreo flavor. Add them to the ice cream, but no need to mix them in yet.
Add 10 more Oreos to the food processor and pulse them just a few times so that they are crushed but still in large pieces. These will give your ice cream a nice crunchy texture. Add them to the ice cream and fold in all the Oreos.
Pour the ice cream into the prepared pie plate, laying the remaining whole Oreos on the top of the pie before covering tightly with plastic wrap. Freeze for at least 4 hours or overnight.
Allow pie to thaw on the counter for about 10 minutes before cutting.
Try these other sweet treats while you're here:
Recipe