Classic root beer float popsicles are quick and easy to make! Only 2 ingredients, these delicious frosty root beer ice pops are a perfect summer treat! Great frozen treat for a sunny summer day!
My kids ask to go to Red Robin all the time. They love the place.
More than the place or the food though, they love the bottomless root beer floats. Typically, they both order a meal, and neither one finishes the meal because they have both consumed 2 or 3 very large root beer floats while waiting for their food to arrive. We bring their food home, and they eat it the next day, and they never complain because root beer floats.
So with their root beer float obsession in mind, I decided to make root beer float popsicles. I mean, what is better than a liquid float than a frozen one?
They both loved these popsicles and asked me to make them again soon. I don't know which they liked better in fact, these or the cookies and cream popsicles I shared last week.
Another of their favorites is chocolate covered frozen bananas. I feel better about those because they're healthier, but who am I kidding? It's summer, and childhood is short, and if my kids want to eat a root beer float popsicle after supper on a Tuesday, I let them.
While you're here, check out these 8 frozen treats that you can make all summer long. They're all big hits at my house.
Enjoy!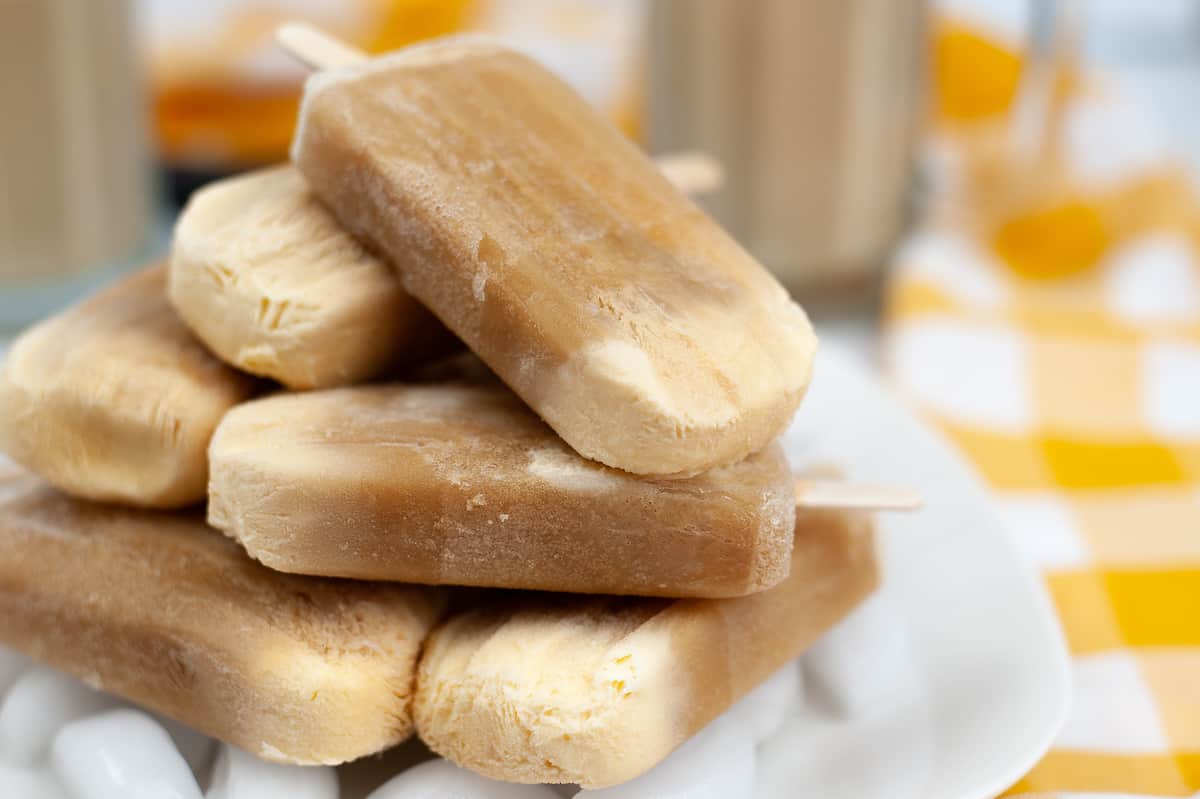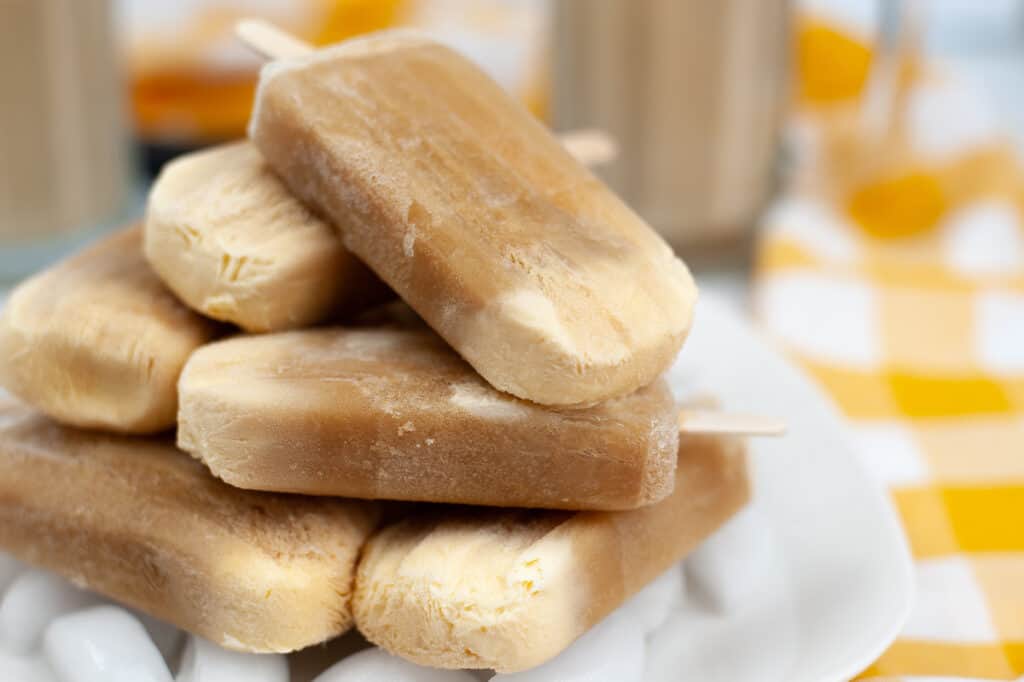 What you'll need to make root beer float popsicles
Ingredients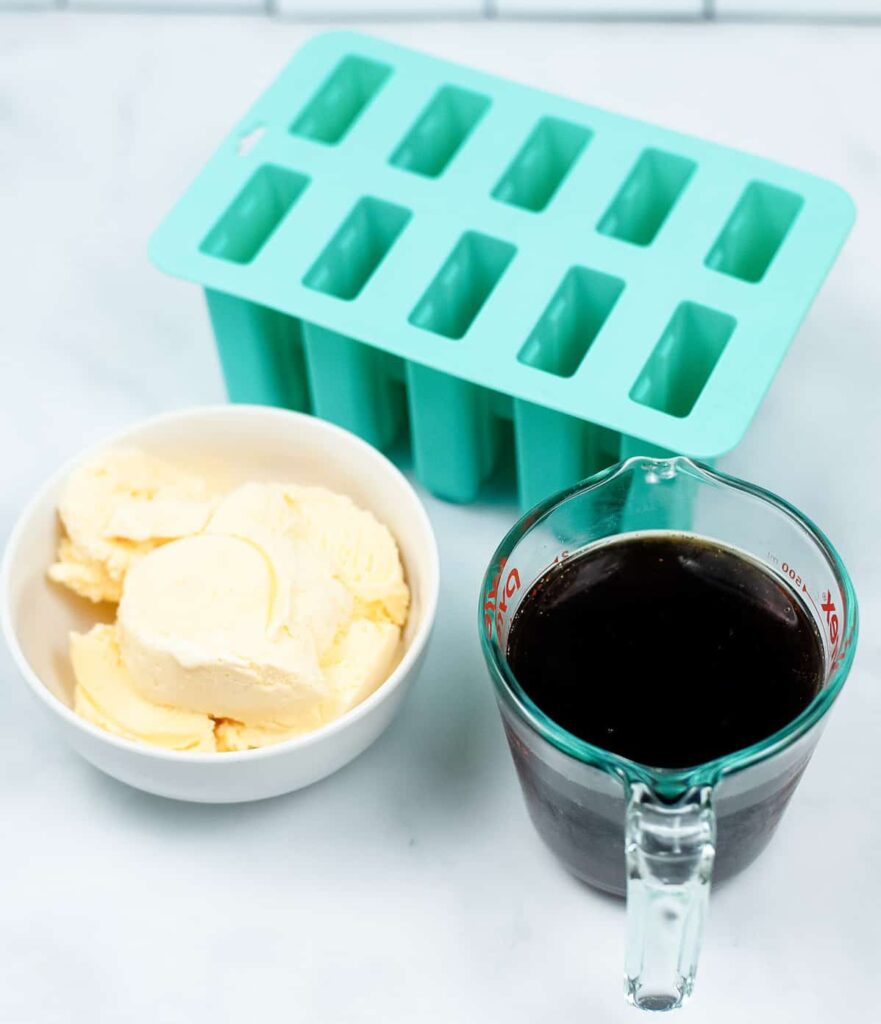 This is a very easy and straight forward recipe. All you need is your favorite brand of root beer (flat, see note below) and your favorite brand of creamy vanilla ice cream.
I say to use your favorites because these popsicles are going to taste exactly like the root beer and the ice cream you put in. There's nothing else in the recipe to change the flavor.
My kids prefer A&W root beer and Great Value vanilla ice cream, but your kids probably have their own unique preference. Use what they (and you) like.
Make sure the root beer is flat!
Why do you need flat root beer? Because the bubbles in freshly opened root beer will trap air in your finished popsicles, making them crumbly and full of big ice crystals. It is best to open the 2 liter bottle of root beer and leave it in the refrigerator at least 2 hours but preferably overnight.
If you don't have time to let the root beer get flat overnight, I recommend you pour it into a pitcher and stir with a wooden spoon until the bubbles are mostly out.
Equipment
Microwave - You have to heat the ice cream to melt it. If you don't have a microwave, you could heat it on the stove or just leave it sit out on the counter for a while. The key is that the ice cream is completely liquid, no solid chunks, but it should still be cold if possible.
Popsicle molds - Obviously, you need popsicle molds. My favorites are the kind that you can put your own popsicle stick into. I used to buy the fancy ones with dinosaur and rocket sticks, but the sticks always ended up getting lost, and then I couldn't use my popsicle mold anymore. Nowadays, I only use the wooden stick kind, and I am much happier.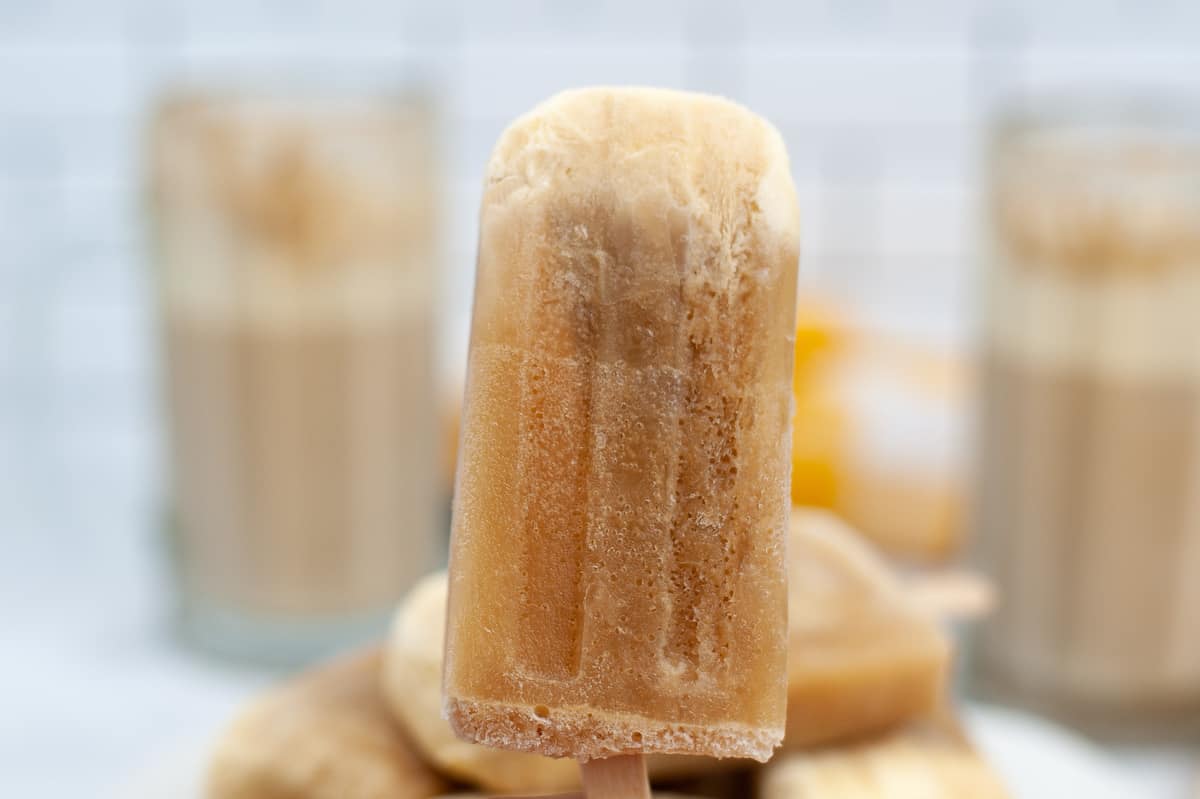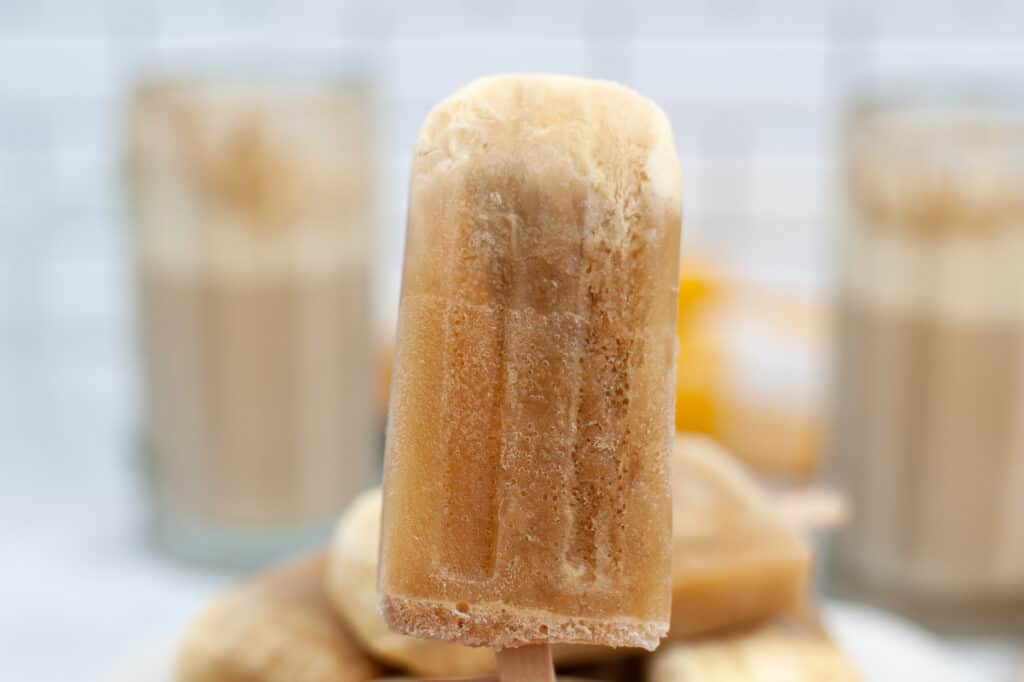 How to make root beer float popsicles
This "recipe" is so easy that it's almost not a recipe at all. There's about 10 minutes of active prep time and a couple of hours of sitting in the freezer. I like easy recipes!
Before you begin, chill the root beer in the refrigerator.
Start with your favorite brand of vanilla ice cream. Place 2 ½ cups in the microwave for one minute or until just melted. Stir to make sure there are no lumps; ice cream should still be cold.
Add 2 tablespoons of melted ice cream to each popsicle mold. This is ⅛ cup or half of a ¼ cup. Place popsicle mold in the freezer for 2 hours or until frozen.
Pouring slowing, add the root beer into the popsicle molds. It will fizz. Taking your time, pour and remove the foam with a spoon as needed. Repeat until all molds are nearly filled. Leave about ½ inch at the top of each mold, as the liquid will expand as it freezes.

Freeze for 2 hours, then place popsicle sticks in the root beer mixture in the molds and freeze for an additional 4 hours.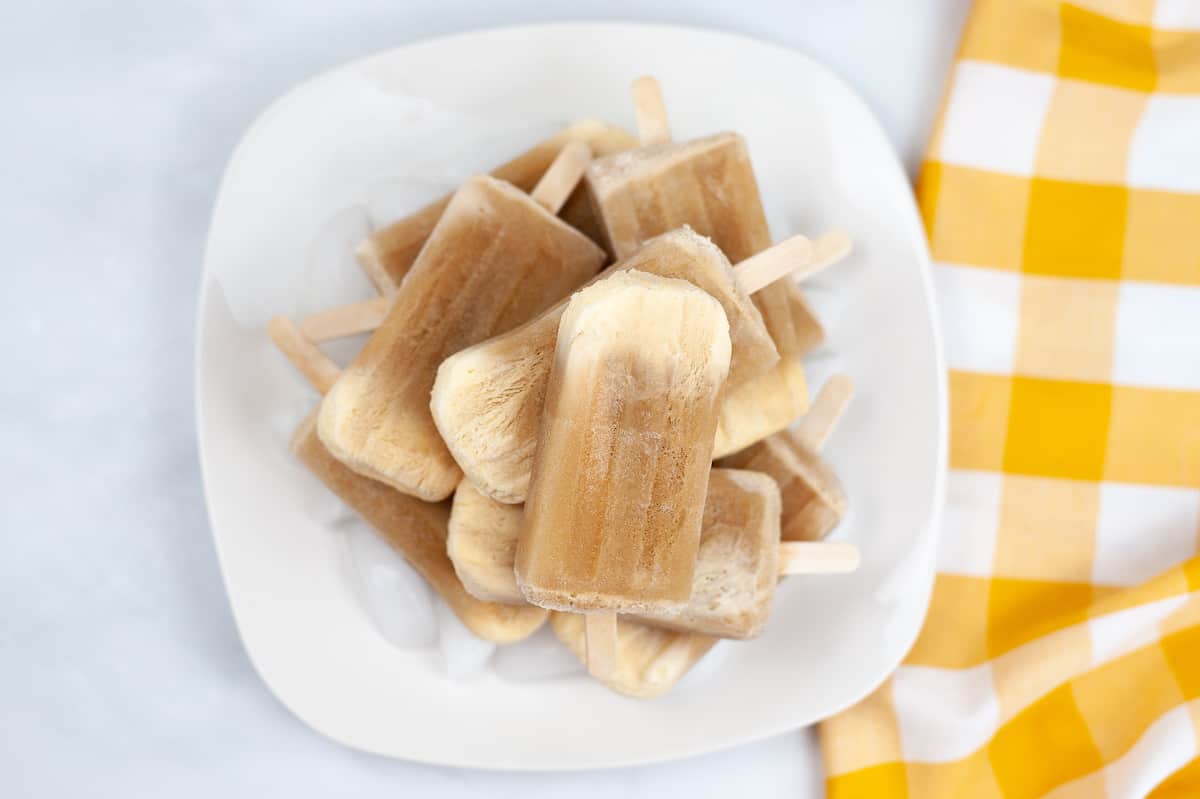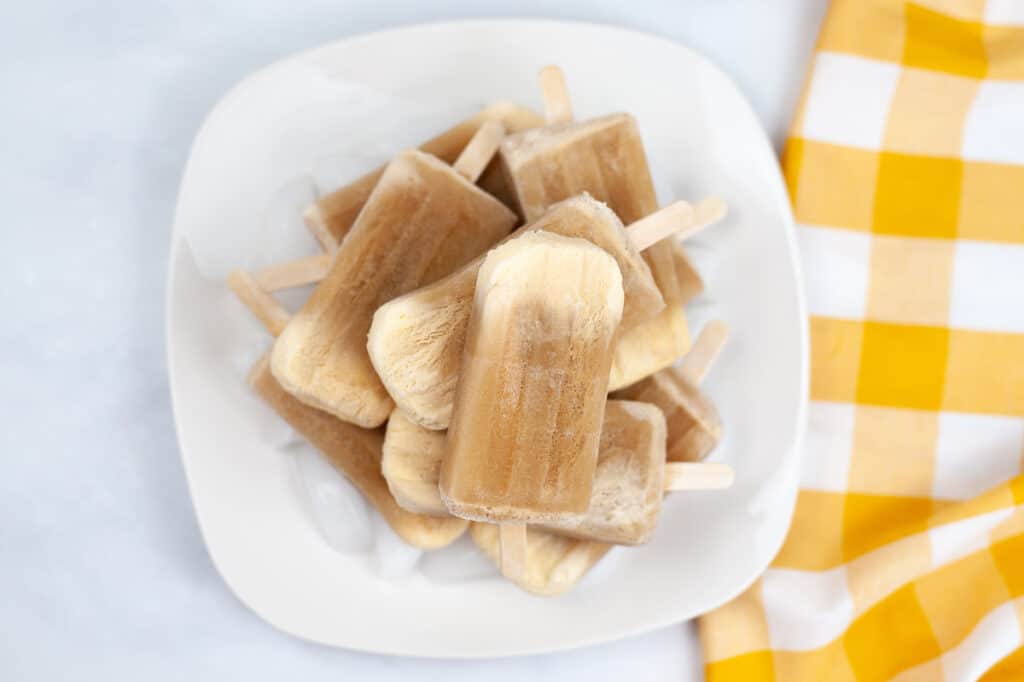 Try these other sweet treats while you're here:
Recipe