These cookies and cream popsicles are creamy and delicious because they're loaded with crushed Oreos, healthy yogurt, and sweet cream. This is an easy low sugar treat that kids can help make. Even adults will love this frozen treat! Pull out this recipe for any summer BBQ, holiday picnic, or 4th of July party!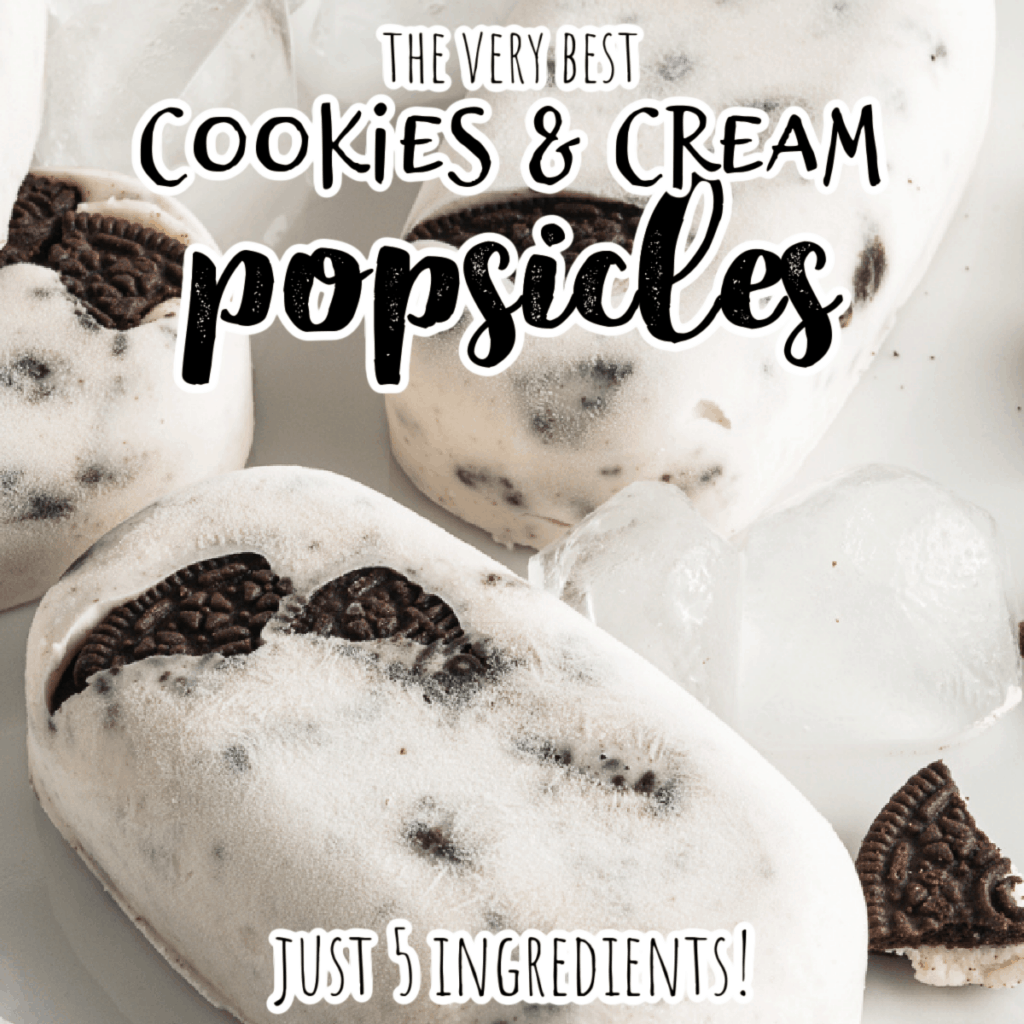 We love popsicles at my house. There is something so satisfying about biting into a creamy frozen treat in the summer.
Heck, who am I kidding? We eat popsicles in the winter, too!
Anyway, my kids' favorite popsicle (and ice cream) flavor is cookies and cream, typically made with Oreos. Our Oreo ice cream pie is amazing, and it does set up pretty firm, but I wanted to try something different with these popsicles.
Partly to up the health factor and partly just to experiment, I used yogurt as the base for these Oreo pops. I really like how they came out, and the kids did too - they're all gone!
So, if you want to make your own cookies and cream popsicles, you could either use the ice cream recipe from that other post that I linked or the one below. They'll both be great.
In either case, splurge for the flat popsicle mold because it makes assembly way easier since you will use a few chunks of Oreo cookie, and it is a lot harder to place those and adequately fill a vertical mold. You'll end up with a lot of air pockets and the cookies will all smush together at the top.
What You'll Need to Make Oreo Ice Cream Popsicles
Equipment
Flat popsicle molds - You could use the vertical popsicle molds, such as these which I normally would recommend, but it is much more difficult to place the bite-sized Oreo cookies where you want them in the mold. For this recipe, I prefer the flat molds where I can place the cookie pieces exactly where I want them.
Potato masher - This is totally optional. You can break up the cookies however you want. I prefer bigger Oreo pieces for a nice bite, and if you do too but don't have a potato masher, you could put the cookies in a zippered plastic bag and beat it a bit with a wooden spoon until they are broken up. If you wanted Oreo crumbs, you could pulse them in the food processor or use a rolling pin to crush them in a zippered plastic bag.
Ingredients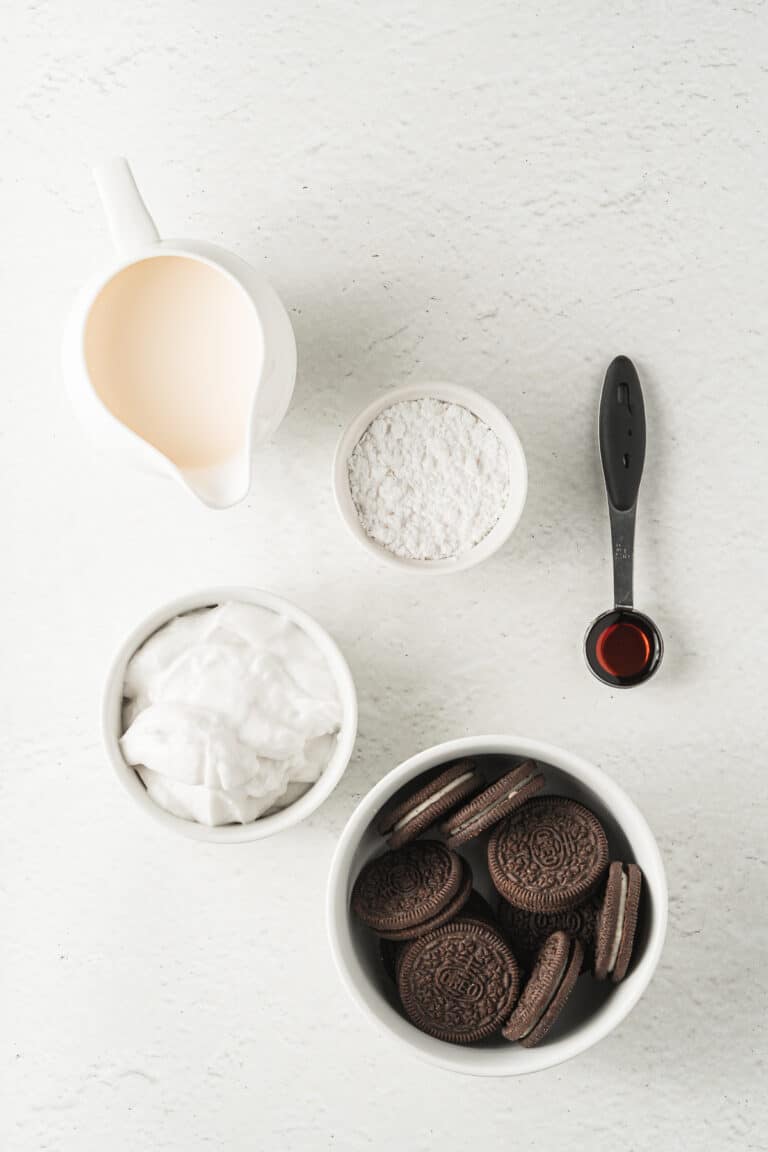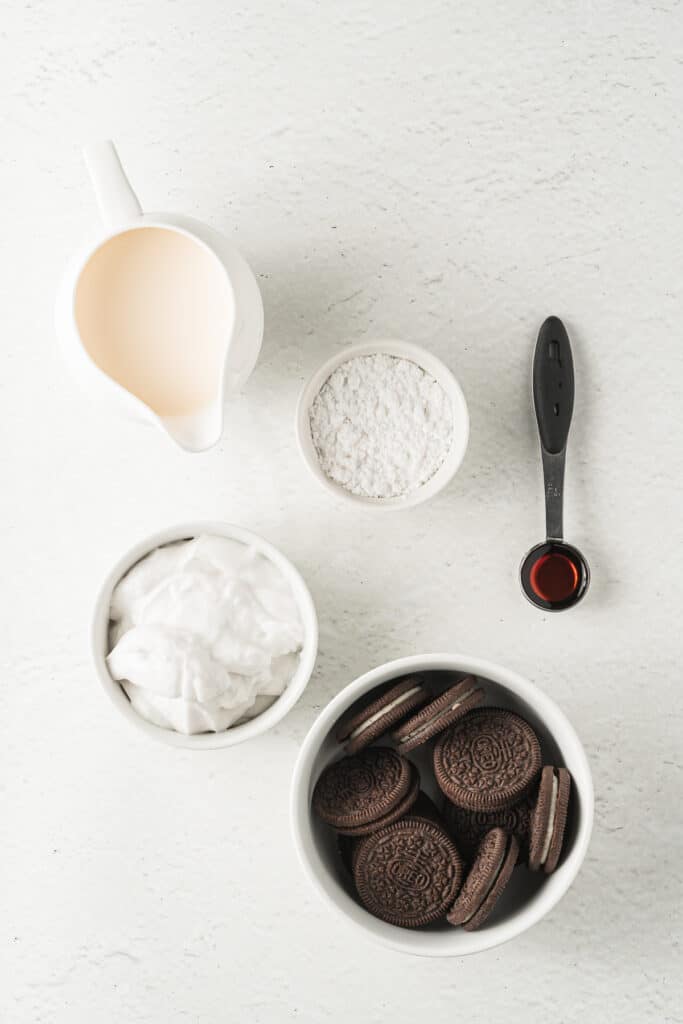 20 Oreo cookies, divided - You will need 6 whole cookies at the end, and the rest will get crumbled and mixed in with the yogurt batter.
1 cup heavy cream - See note below about using less than a full cup for a lighter recipe.
¾ cup plain yogurt - I think traditional yogurt has a nice flavor in this recipe, but you could also use Greek yogurt for a healthier popsicle or if you just prefer the flavor. If you want to reduce the dairy, you could also use a non-dairy coconut yogurt.
2 tablespoons caster sugar - Caster sugar is also labeled as extra fine or superfine sugar. Basically, it is milled into smaller particles than traditional granulated white sugar. If you can't find it or don't want to buy some for 2 tablespoons' worth, it is okay to use plain white sugar. Just be forewarned that your popsicles might be slightly gritty if you don't use the superfine stuff.
1 teaspoon vanilla extract - I have switched over from using vanilla extract to using vanilla paste almost exclusively but continue to include vanilla extract in my recipes because that's what most people have.
Vanilla extract is an alcohol-based liquid with the consistency of water. To make it, vanilla beans are soaked in alcohol for a long time (like many months). There are no actual vanilla beans in extract.
Vanilla paste on the other hand is a combination of highly concentrated vanilla extract, vanilla bean powder, and a binder (which can be either xanthum gum or corn syrup, read the label). It is the consistency of Elmer's glue.
The reason I prefer vanilla paste is that, aside from having actual vanilla beans inside, the paste has a richer, more bold flavor, and it has no alcohol taste when it is not cooked. I hate the bitter flavor that traditional vanilla extract gives foods that are not cooked. That bitterness cooks off when heated, but in recipes like popsicles, buttercream, and overnight oats, the alcohol stays in and can taint the flavor if you are heavy handed with it (as I often am).
How to make Oreo pops
Place 14 Oreo cookies in a small bowl and roughly crush them with a potato masher. This will give you large pieces which I think are quite nice in the popsicles. Alternately, you could place them into a zippered freezer bag and use a rolling pin to crush them. This will give you crumbs for your popsicles. Also nice, but not my personal preference.

In a second bowl, mix the heavy cream with the yogurt.

Add caster sugar and vanilla extract. Stir.

Add the crushed cookies and stir again until is all well combined.

Next, chop one Oreo cookie into bite-sized pieces and place those large pieces into one well of your popsicle mold. Repeat with 5 more Oreo cookies, placing the pieces of one cookie into each mold.

Spoon the yogurt mixture into the popsicle molds until the molds are full. Place a popsicle stick in each mold, being careful that it is in the center of the yogurt mixture and completely covered within the popsicle (otherwise the popsicle will fall off the stick when you try to eat it).

Freeze the popsicles for 4 hours or until completely solid.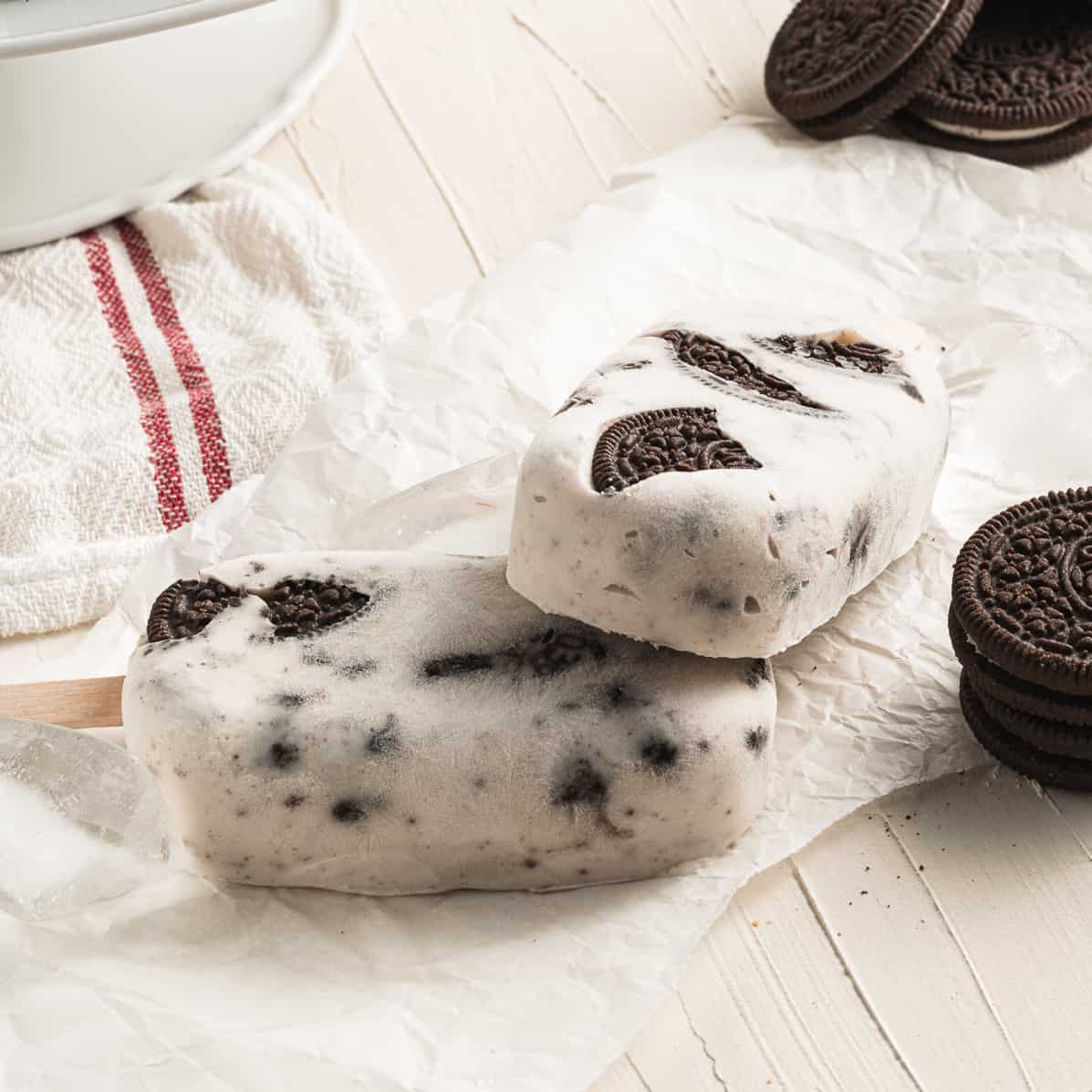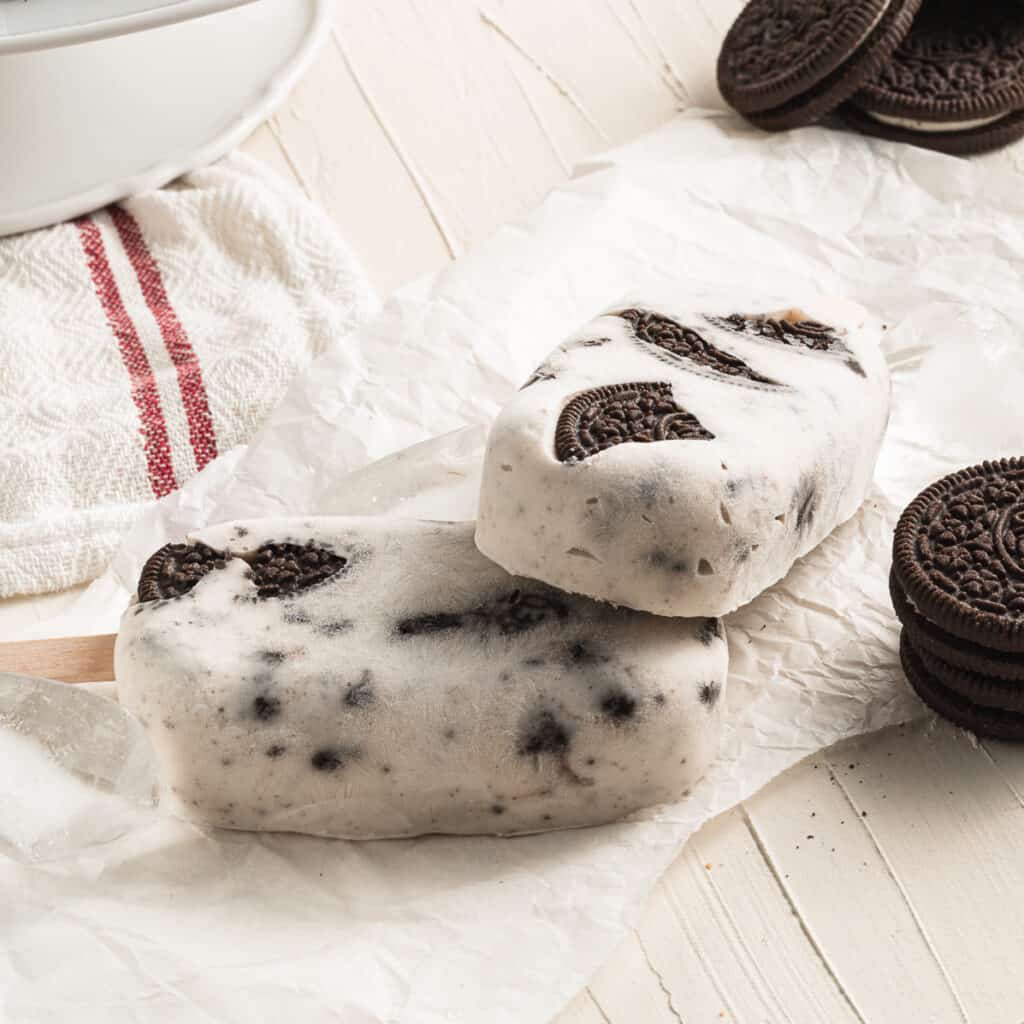 To lighten the recipe
Given the amount of heavy cream in this recipe, it can't really be labeled healthy. BUT if you are calorie conscious, it is easy to adjust the recipe to suit your diet without losing much in the way of flavor.
First, substitute plain Greek yogurt for the plain traditional yogurt. This will increase the protein and lower the fat.
Second, decrease the heavy cream to ½ cup and increase the yogurt to 1 ¼ cups.
Third, you could leave out the sugar (although I don't - you will have popsicles that pretty much taste like frozen yogurt) or substitute honey, agave nectar, maple syrup, or another sweetener of your choice.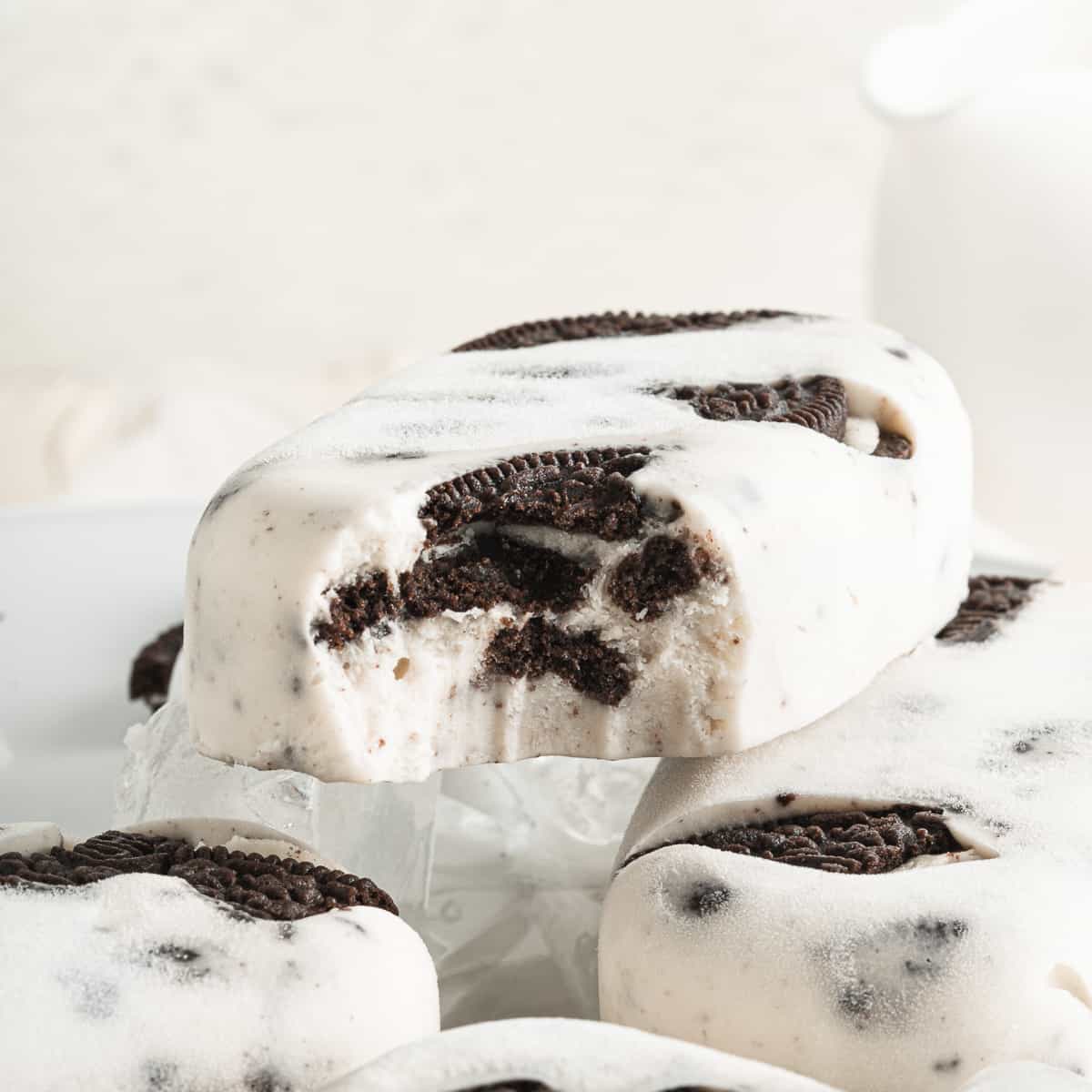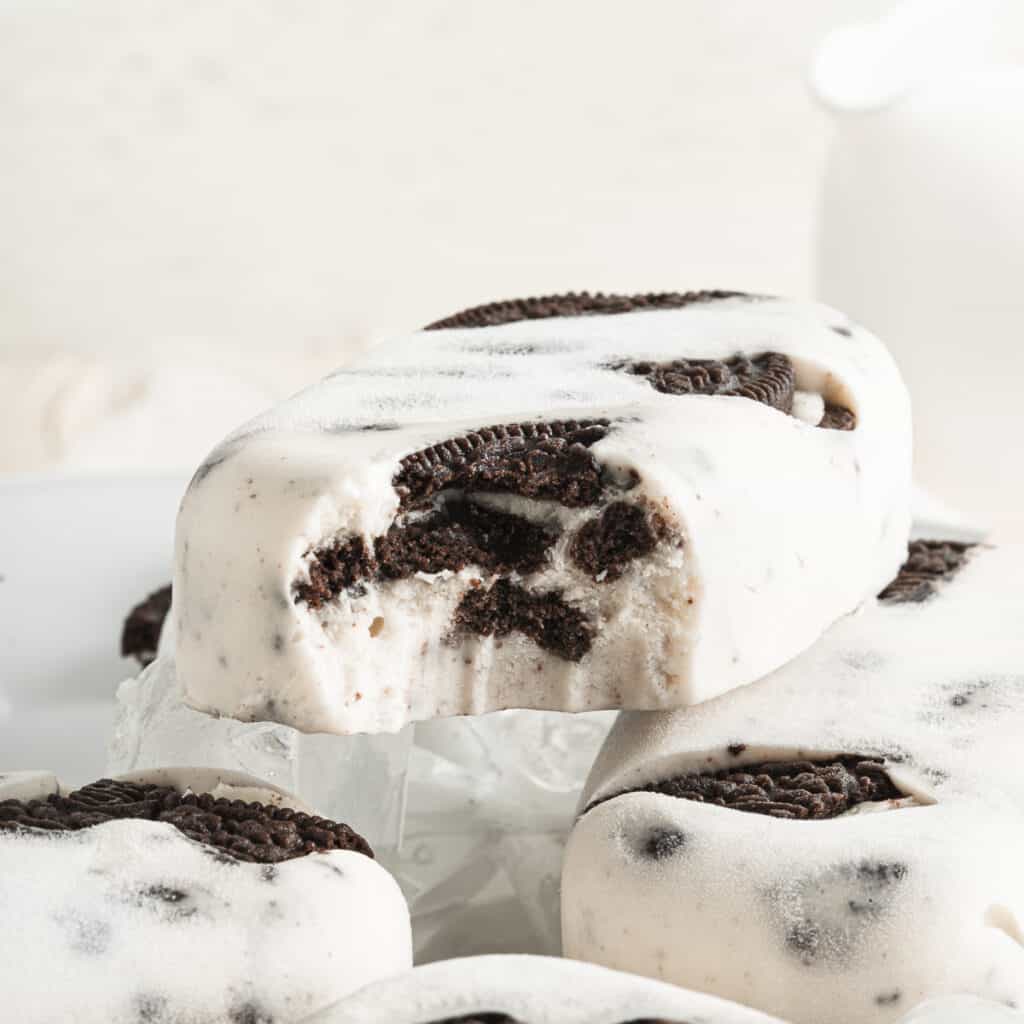 Storing leftover popsicles
You can store leftover popsicles in airtight containers (such as plastic freezer bags or plastic or glass containers made for the freezer) for up to 2 months. After that, they won't spoil, but the quality will decrease quickly, and you won't want to eat them.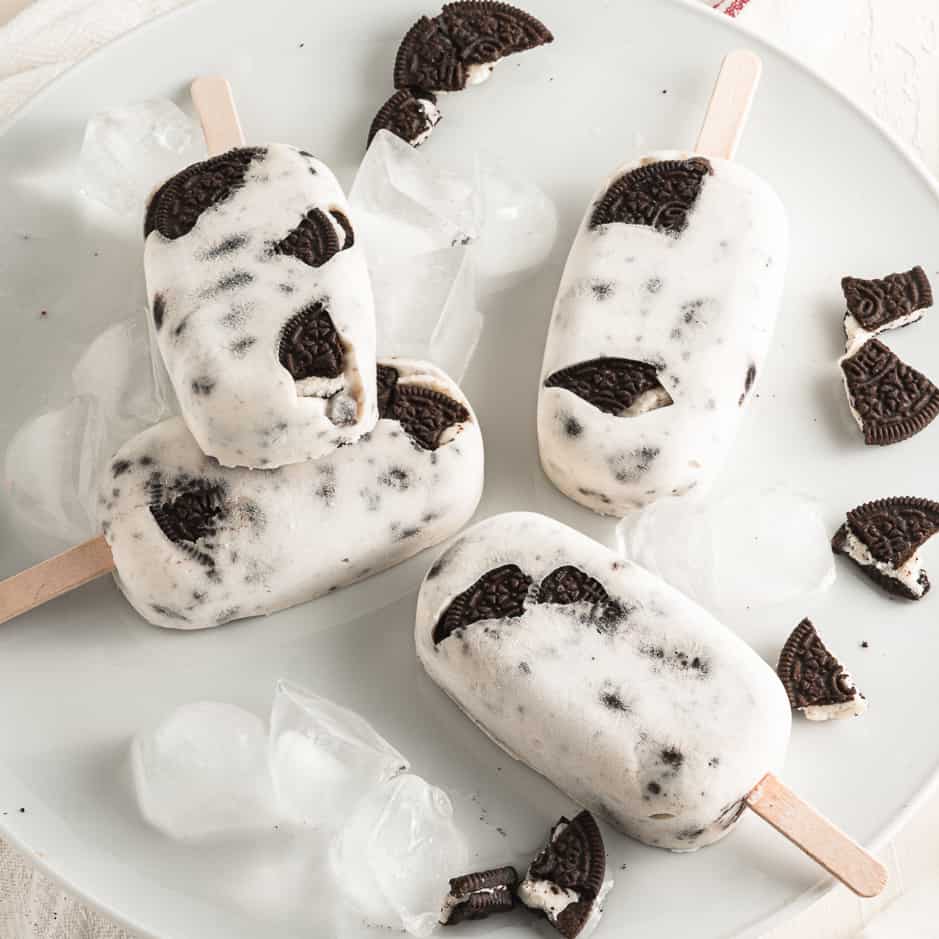 Try these other sweet treats while you're here:
Recipe