Sweet Tea Peach Popsicles are the perfect treat for the whole family because they're full of delicious summer flavors! Make these simple and easy frozen treats with 3 ingredients in a few minutes, then freeze and have a yummy dessert or snack on hand for any hot summer day.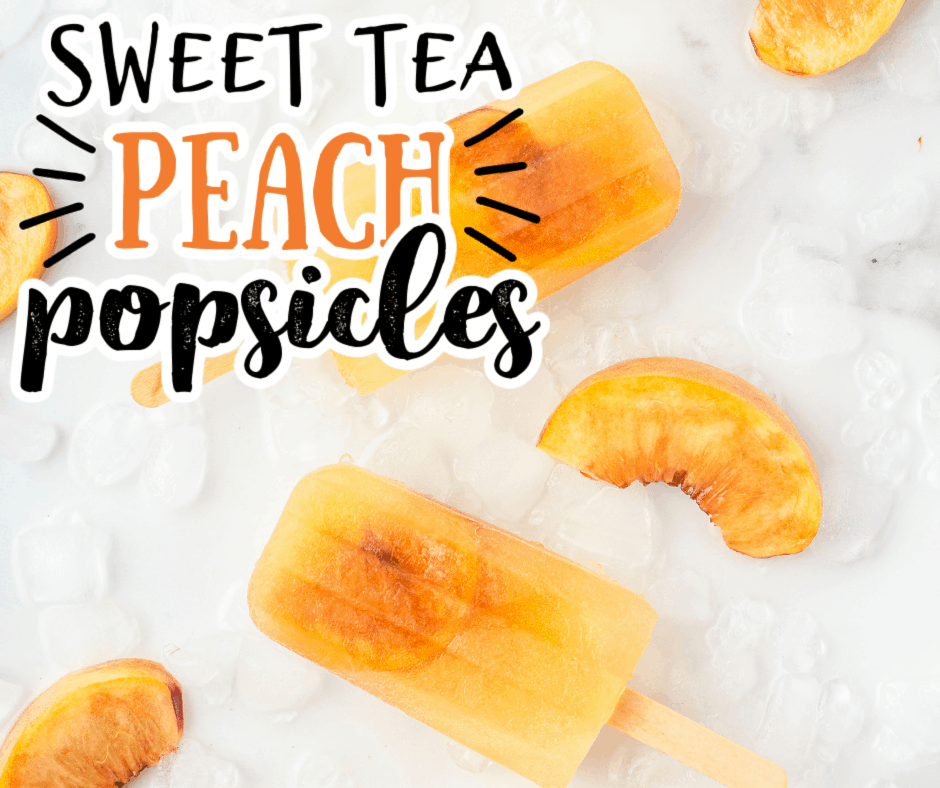 Peach tea has always been my favorite drink.
Well, actually, that's not entirely true. Before my stomach surgery, my #1 favorite drink was Mountain Dew, but peach tea ran a close second. After my surgery, I could no longer drink anything carbonated, so Mountain Dew was out, but peach tea remained.
These days, I drink Crystal Light Peach Iced Tea most of the time because it is very low calorie. But I do love a glass of real sweet tea as a very occasional treat.
These popsicles came from my love of peach tea. I suppose you could make them with Crystal Light too, and then you would have a lower calorie popsicle, but I was worried that straight Crystal Light would have a weird ice cube like texture when frozen, and that's not my thing. I prefer a softer, more bite-able popsicle.
You add peach juice or peach punch to the sweet tea in these popsicles, and that keeps them from becoming like ice cubes. I included my favorite proportion in the recipe below, but you can play with it a bit to find what you like best. More peach punch will make them a bit softer and peachier, less will make them harder and more ice cube like.
You could also add pureed peaches to the mixture, and that would make them even softer. I might play with that and see how it comes out, but in the meantime, I wanted quick and easy popsicles with my favorite flavors, and these fit the bill.
What do you need to make peach sweet tea popsicles?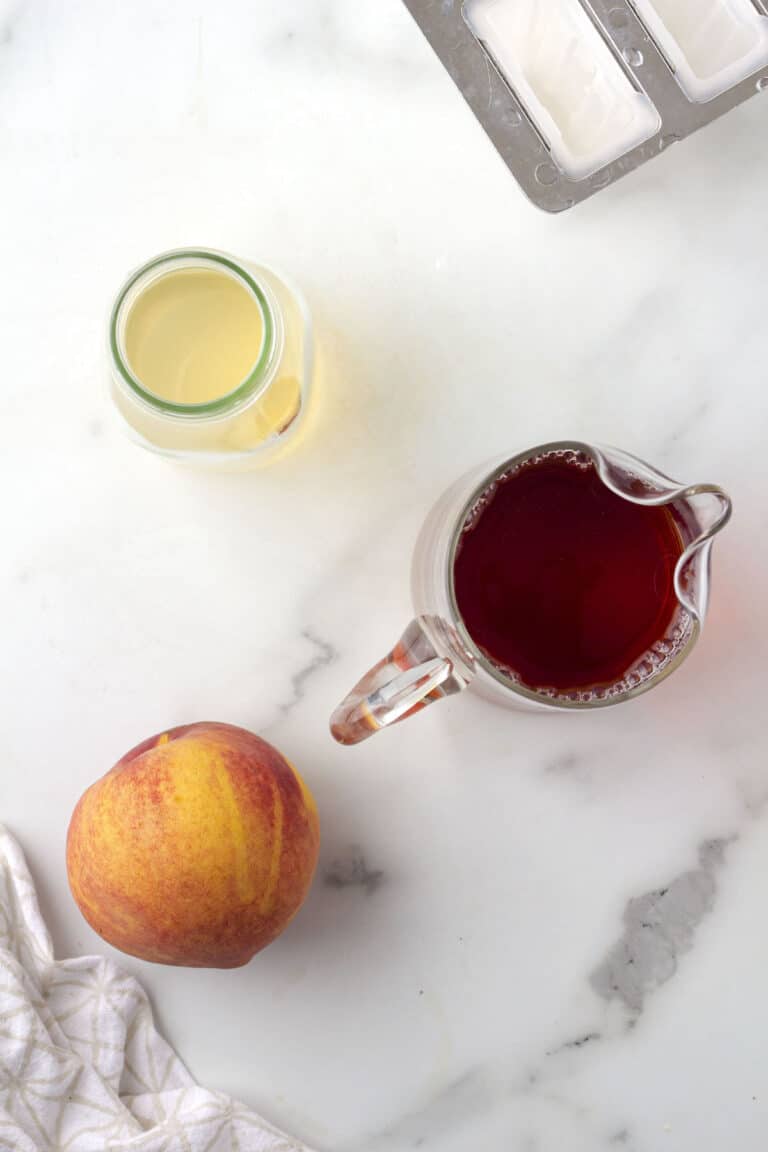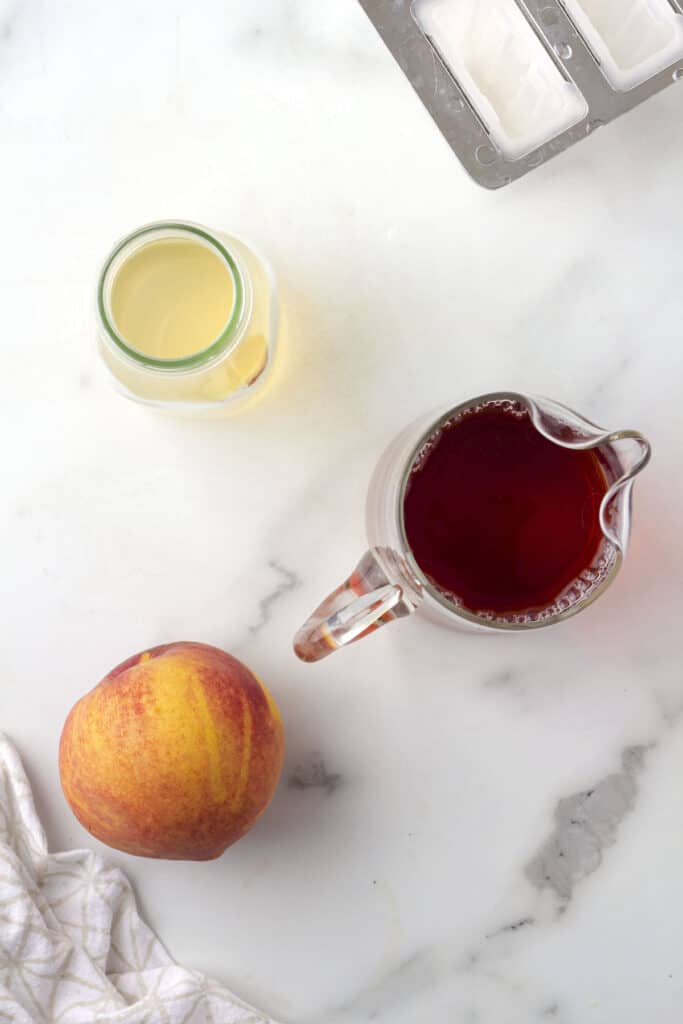 1 large peach
2 ½ cups sweet tea - This recipe makes 16 cups, so you will have plenty to make several batches of peach tea popsicles.
Peach juice/peach punch - See note below on where to find this.
Where do you find sweet tea?
You can very easily make your own with this sweet tea recipe. It only has 4 ingredients, and it takes less than 20 minutes from start to finish, including boiling the water.
Where do you find peach juice?
You can find it in the refrigerator section of the grocery store. I like Minute Maid Peach Punch and Simply Peach, but there are also other brands available. We have also tried V8 V-Fusion Peach Mango, and it is amazing too. It's not in the refrigerated area; it's found in the juice aisle with the apple juice, grape juice, and other V8 juices.
How do you make peach sweet tea popsicles?
Add the peach juice to the sweet tea and stir to combine.

Slice the peach so that one slice can fit into one well in the popsicle mold.

Place one peach slice into each well of the popsicle mold.

Pour the tea mixture into the molds, leave a small gap at the top of the molds for the liquid to expand.

Place the mold in the freezer on a small tray for one hour.
After one hour, remove the mold from the freezer and place a stick into each well.

Place the mold back in the freezer for an additional 3 hours or until frozen solid.
How do you slice a peach?
So, there are 2 different kinds of peaches: freestone peaches and clingstone peaches. The flesh of freestone peaches is not really attached to the pit in the middle; clingstone peaches are firmly attached. It is a million times easier to slice a freestone peach than a cling peach.
Most peaches sold fresh in grocery stores are freestone peaches, but if you shop at a farmer's market, you will need to be careful about the variety you are buying. Clingstone peaches are sweeter and juicier, but so much harder to process that they are mostly only used for canning and preserving. The canned peaches you buy in the grocery store are most likely clingstone peaches.
To slice a freestone peach, cut around the center of the peach and twist the two halves until they split apart. Pull the pit out of the peach and slice. It is not necessary to peel the peach, although you could if you really wanted to.
Why I chose the popsicle mold I have
I have 2 different popsicle molds, one red and one blue. They are basically the same. They have a base with wells into which I pour the liquid, and then there is a lid that sits on top of the wells and holds the sticks. I also bought a set of mini cooking trays because the molds aren't rigid and get a wee bit floppy when they are full of liquid. So I put the metal tray under the mold before I fill it, and then I use the try to move it into the freezer and freeze the mold and tray and all. It's a lot easier than it sounds.
Over the years, I have purchased many different sets of the cutesy popsicle molds with handles shaped like rocket ships and dinosaurs and such, but they never make it a whole season without getting lost. Then, the only way to replace the sticks is to buy a whole new set of molds, and that gets expensive quickly.
The plain old molds with wooden sticks are so much easier because I don't have to worry about where the kids went with their popsicles and try to round up all the wayward sticks again. It keeps me sane, and buying new sticks once or twice a summer is way cheaper than having to buy new molds all the time.
Can you make sweet tea popsicles without a popsicle mold?
I guess you could, but popsicle molds are inexpensive and so much more convenient.
If you are committed to not buying a popsicle mold, you can pour the sweet tea mixture into paper cups. When they are frozen, peel the paper cup off of the popsicle.
I personally hate paper cup popsicles because they are so fat that you can't bite them or suck on them properly. You can only lick them, and then eventually, they melt and drip all over your hand because you haven't eaten them fast enough because you couldn't bite them.
Paper cup popsicles are a huge pain. Spend the $15 and buy a mold. You'll thank me later.
Try these other sweet treats while you're here:
Recipe