These healthy and easy chocolate covered frozen banana pops are the best summer treat with only 4 ingredients! Frozen bananas are a fun dessert to have on warm days because they're simple & refreshing – the perfect cool and creamy treat. Kid-friendly and adult-approved!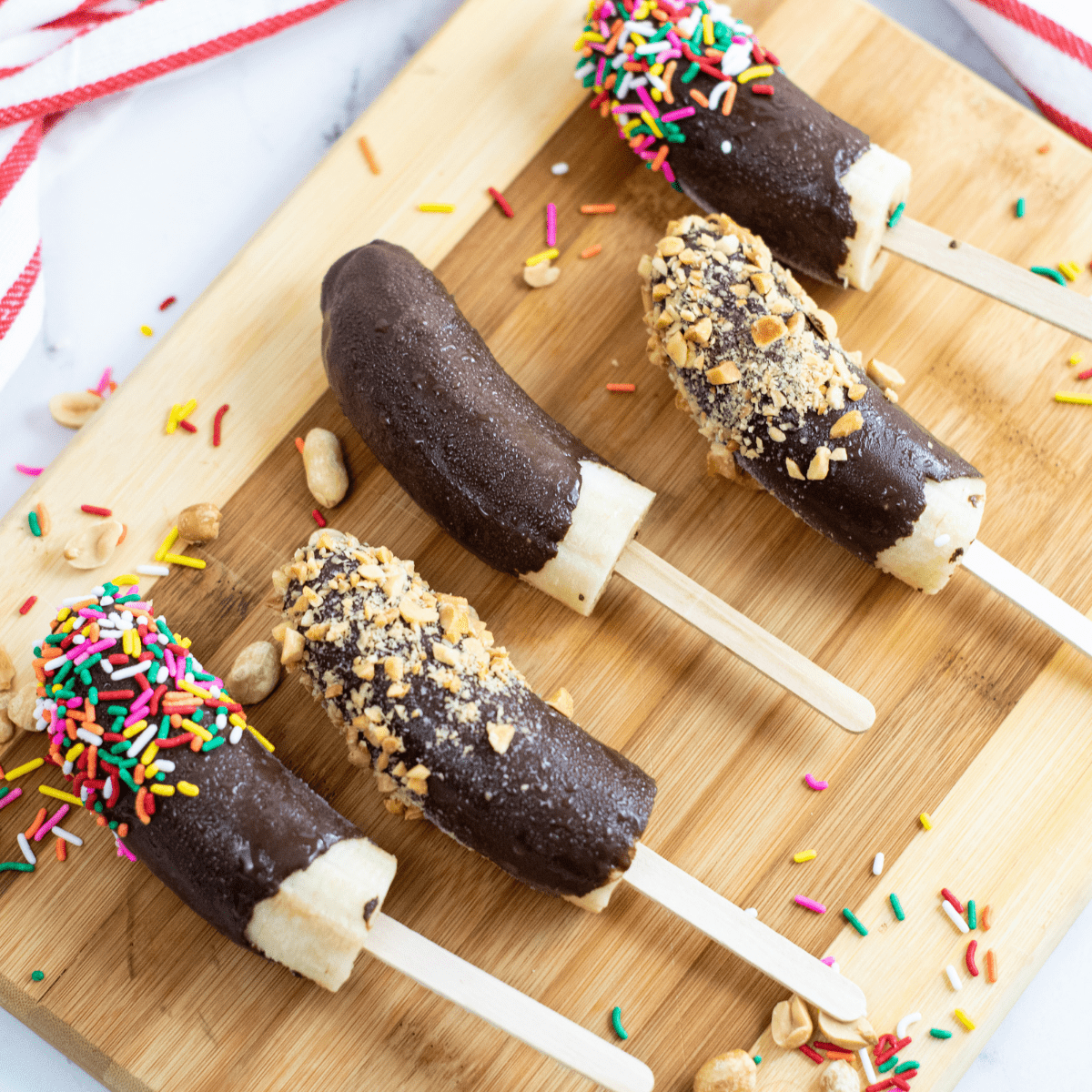 For several years when my kids were little, we had season passes to Hersheypark, the amusement park owned by the Hershey candy company.
Almost every time we went to the park, we had to stop at the little nut shack in the center of the park and buy frozen chocolate-covered bananas. The girls loved them and were totally bummed on the odd occasion that they were already sold out for the day.
Fast forward five years. We no longer go to Hersheypark (the kids got tired of the rides and only wanted to swim, so we quit getting season passes there and joined a pool and sports club instead), but Allie still occasionally asks me to make frozen bananas.
These are seriously the easiest popsicle you will ever make, even easier than pudding pops (and those are pretty easy!).
Why you'll love frozen chocolate covered banana popsicles
These are the quickest & easiest popsicles to make with almost no prep.
You can use overripe bananas - and the kids won't even know!
You don't need an ice cream maker or any special equipment.
These popsicles are super healthy and sugar-free if you use semi-sweet or dark chocolate.
Kids can help make them.
You can add whatever sprinkles or nuts that you want for a cool and pretty topping.
These frozen banana pops can be customized for any party or theme if you replace the multi-color sprinkles and nuts with a certain color of sanding sugar or jimmies.
What you'll need to make frozen chocolate covered bananas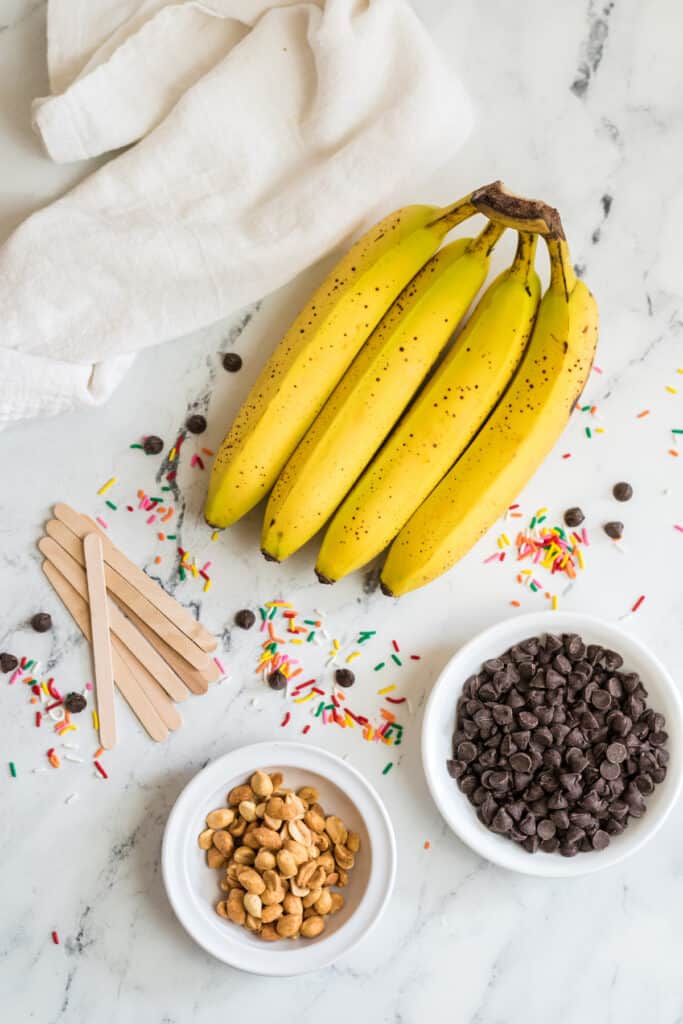 Bananas - They should at least have some brown spots, but even more ripe than that will be great. Bananas get sweeter as they ripen.
Chocolate chips - You can use milk chocolate, semi-sweet, or even dark chocolate.
Coconut oil - This helps to thin the chocolate and makes a crispy shell on the outside of the bananas.
Sprinkles - Sprinkles are just plain fun, am I right? You could also use sanding sugar.
Chopped nuts - You can use peanuts, almonds, pecans, or any nuts. Make sure they are chopped fine.
Equipment:
There's virtually no equipment required for this recipe beyond what is already in your kitchen.
How do you make chocolate covered banana pops
Peel the bananas and cut in half.

Push a popsicle stick into the cut end of each banana half, placing the halves on a baking sheet covered in parchment paper. Cover with plastic wrap and place in the freezer for at least 3 hours.

While the bananas are freezing, place the sprinkles and chopped nuts into small bowls.
You have several options for melting the chocolate:

You could add the chocolate chips and coconut oil to a microwave safe bowl and zap it for 20-30 seconds at a time, stirring for at least 30 seconds between each heat burst.
You could add the chocolate chips and coconut oil to a double boiler and heat gently over medium heat, stirring occasionally until melted and smooth.
Add the chocolate chips and coconut oil to a Mason Jar in a small pot filled halfway with water and heat gently over medium heat, stirring occasionally until melted and smooth. This is probably the best method because the tall skinny jar makes it easier to dip the bananas.


Remove the frozen bananas from the parchment paper and place on a plate, keeping the parchment on the baking sheet for the dipped bananas.
Dip the bananas one at a time into the melted chocolate, allowing any excess to drip off.

Immediately sprinkle with nuts or sprinkles as desired. Place back on the parchment on the baking sheet and pop into the freezer for 10 minutes so that the chocolate can cool and harden completely.

Once the chocolate is hardened, you can serve right away or wrap each one tightly with plastic wrap and place in the freezer until ready to serve.

If serving from the freezer, remove from the freezer for 5-10 minutes before eating to soften it a bit.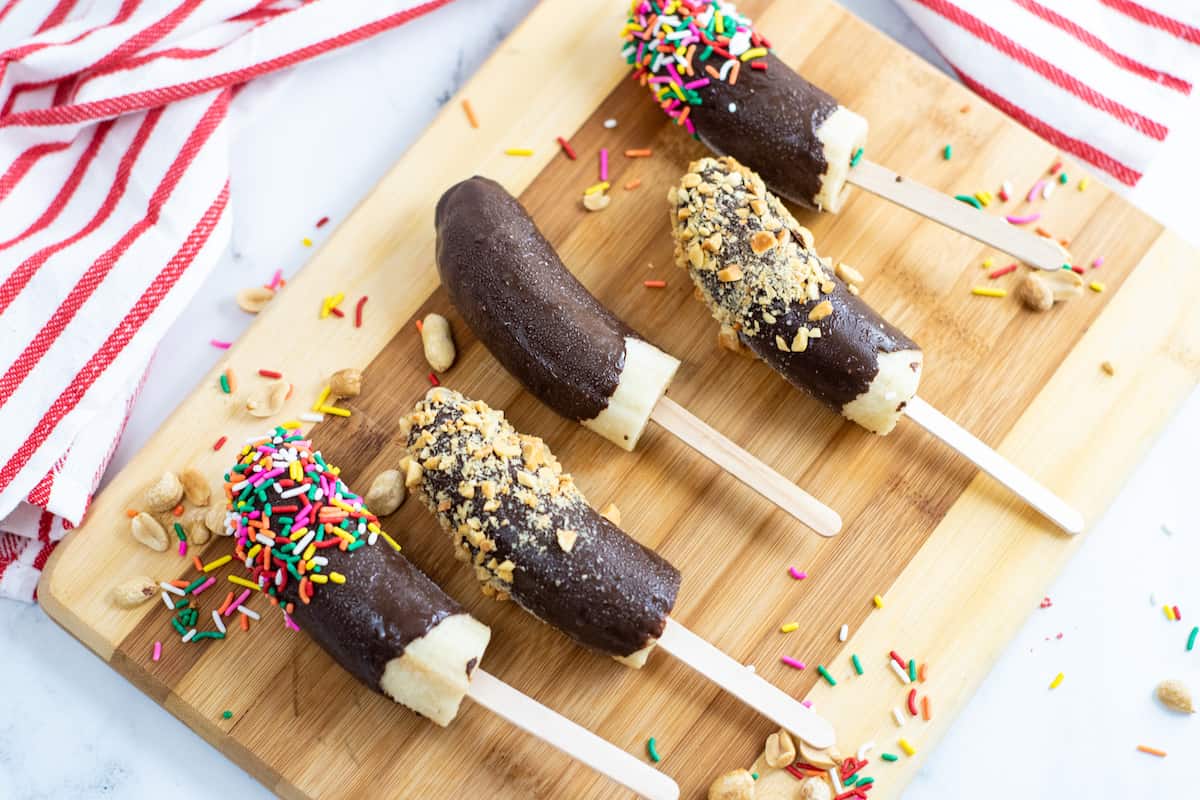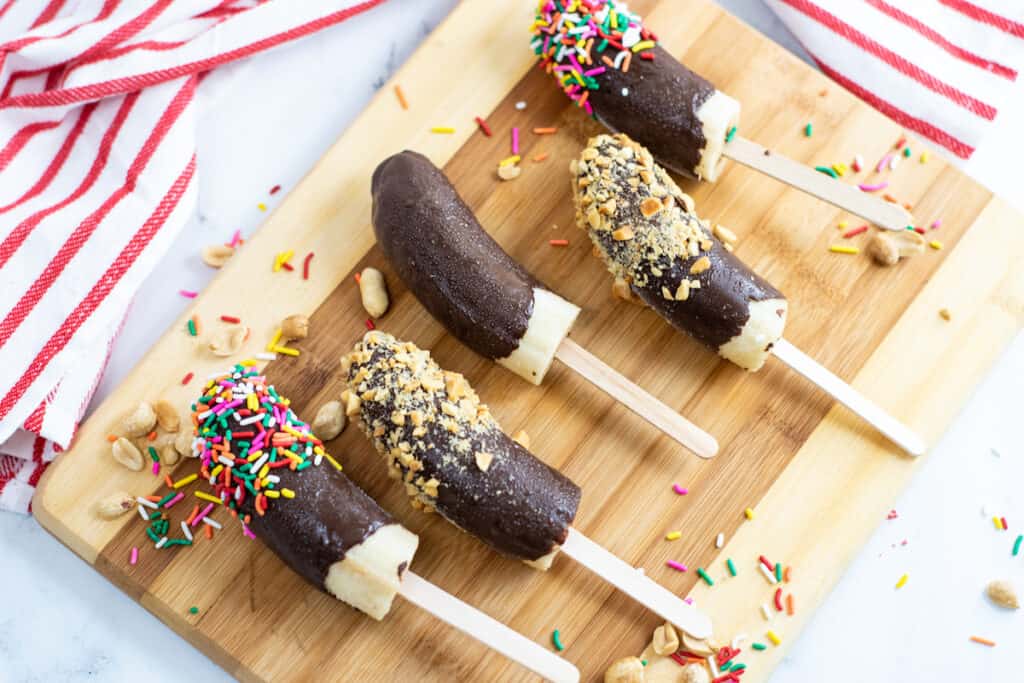 How to store frozen bananas
You'll want to wrap the frozen chocolate covered bananas tightly in plastic wrap or store them in a zippered plastic bag intended for the freezer.
Store the bananas in the freezer for up to a month or so.
If you decide to store the bananas in the freezer in the long term (rather than eating them right away), you will want to leave them out on the counter for 5-10 minutes before serving so that they can soften a bit.
If you are going to serve these bananas at a picnic or party, you can drop them into these popsicle bags after the chocolate has set.
Why use coconut oil in the chocolate?
Did you ever have Magic Shell when you were a kid? It's this chocolate liquid that you drizzle over ice cream, and it freezes rock hard as soon as it touches the ice cream. We always had some when I was a kid.
When you add the coconut oil to the chocolate, it helps the chocolate to freeze hard and get crunchy when it comes in contact with the frozen banana.
I've also heard of people adding shortening like Crisco to their chocolate, but I prefer coconut oil because it's a little healthier and gives the chocolate a richer flavor.
Variations for your banana pops
Peanut butter bananas - Melt ½ cup of peanut butter in the microwave and dip the frozen bananas in the liquidy peanut butter. Return to the freezer for 10 minutes to harden the peanut butter, then dip in the melted chocolate. Sprinkle with chopped peanuts and refreeze for 10 minutes.
Turtle bananas - Turtle is one of my favorite flavors, and this does not disappoint. Dip the bananas in caramel ice cream topping, then refreeze for 10 minutes before dipping into the melted chocolate. Sprinkle the melted chocolate with chopped pecans and refreeze. Heaven!
Nutty bananas - If you love a variety of nuts as much a I do, you can totally play with the chopped nuts. Try pecans (my fave!), almonds (also a favorite of mine!), cashews, pistachios, macadamia nuts, or walnuts to the outside. If you want to get really fancy, you could get or make flavored almonds or candied pecans or walnuts.
Double chocolate bananas - You could sprinkle the melted chocolate with mini chocolate chips.
Themed bananas - If you have a special occasion with a theme (like a birthday party, tailgate, or holiday picnic), you could use colored candy melts instead of chocolate chips and/or sprinkles or sanding sugar that match the theme. Think red, white, and blue for July 4th, blue and white for Penn State, or the plate and napkin colors for a party.
Candy bananas - I used peanuts and sprinkles for the bananas in my phots, but you could also use finely chopped candies. Think M&Ms, Reese's Pieces, peanut butter cups, or Oreos. You are limited only by your imagination here. If you can chop it, you can sprinkle it on your bananas!
Cereal bananas - Fruity Pebbles are my favorite cereal, and I love these with the cereal flakes sprinkled on top. You could also use Rice Krispies, chopped Fruit Loops, or just about any other kind of cereal. If the pieces are large, chop the cereal before sprinkling.
Coconut bananas - You can use sweetened or unsweetened coconut to sprinkle over the chocolate.
S'mores bananas - You could sprinkle graham cracker crumbs and mini marshmallows that have been cut into quarters. (Use scissors.)
Fruity bananas - Crush freeze dried fruit into a powder and sprinkle it on the melted chocolate.
Toffee bananas - You can use toffee bits (near the chocolate chips in the grocery store) or crush toffees or toffee bars like Skor bars and sprinkle the melted chocolate with that.
Try these other sweet treats while you're here:
Recipe