Homemade Southern-style sweet iced tea is an easy drink recipe that is perfect year-round! This classic, vintage recipe has been passed down for generations and makes the very best sweet tea!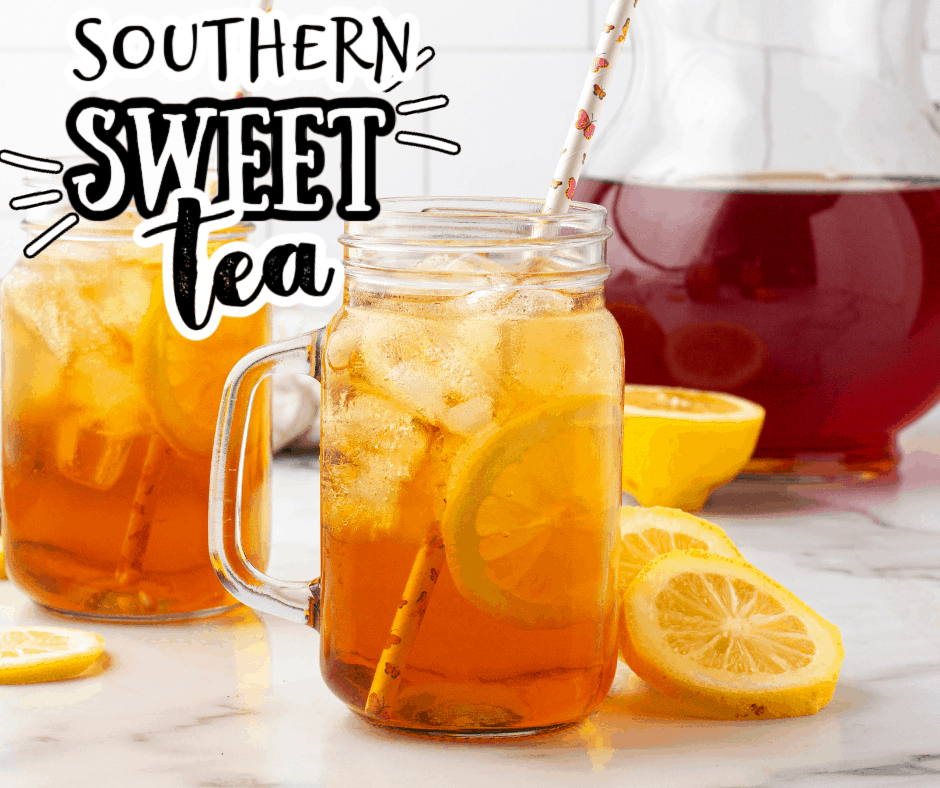 A few years ago, we went to North Carolina on vacation. We stayed at a Christian "resort" (which was much more like a campground), and it had a cafeteria that served sweet tea.
Every person in my family sucked that sweet tea down like it was the elixir of life. It was amazing, and none of the four of us had ever had something that tasted so darn good.
I'd had sweet tea in Pennsylvania before, namely at McDonald's, but it didn't appeal to me at all. It tasted nothing like the North Carolina sweet tea.
And don't even get me started on the sweet tea that comes in a bottle at the grocery store. I think that stuff is downright nasty.
I had to figure out how to make that sweet tea, the magical North Carolina version, if my family was ever going to get it again. So I did.
This recipe is so simple that it seems like it shouldn't be a recipe. You just steep the tea, dissolve the sugar while it's hot, and then cool it down. Make it once as written, and then if you want to make it more or less sweet the next time, add more or less sugar. If you want to add a lot more, you'll have to make a simple syrup to dissolve it. I have explained that process below. It's also easy, but it does add a few minutes to the prep time.
What do you need to make southern sweet tea?
1 gallon of water - Half will be used boiling hot, and the other half will be used cold.
3 pitcher-sized black tea bags or 12 regular-sized black tea bags - My favorite brands are Luzianne & Lipton, but you could try different brands and flavors if you feel adventurous.
¼ teaspoon baking soda - This helps counteract bitterness.
1 ½ cups sugar - More or less if desired
fresh mint, lemon slices, peach slices, or raspberries - Choose only one; these are to garnish the tea and are completely optional.
1 gallon pitcher - I prefer a glass pitcher but have not been able to find one that's big enough for a gallon of tea or lemonade. I use this one because it has a strainer in the lid which is nice if I decide to add peach or lemon slices to the tea.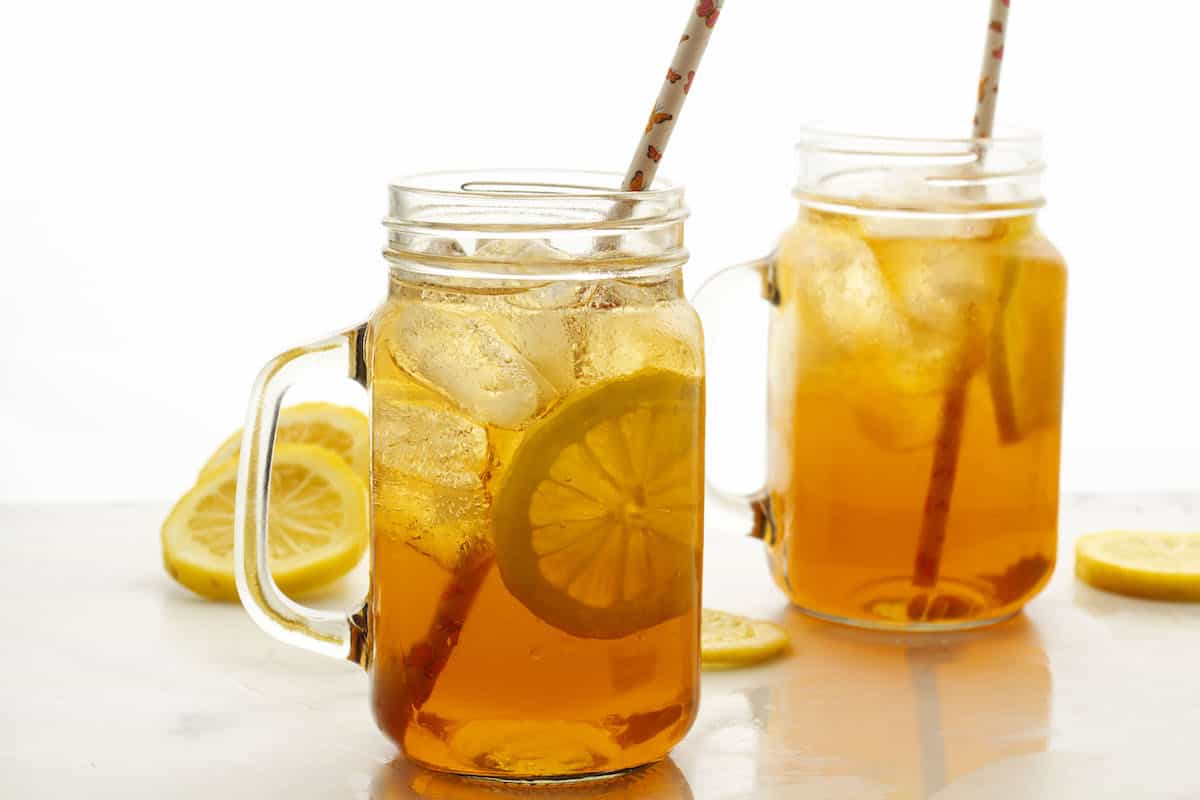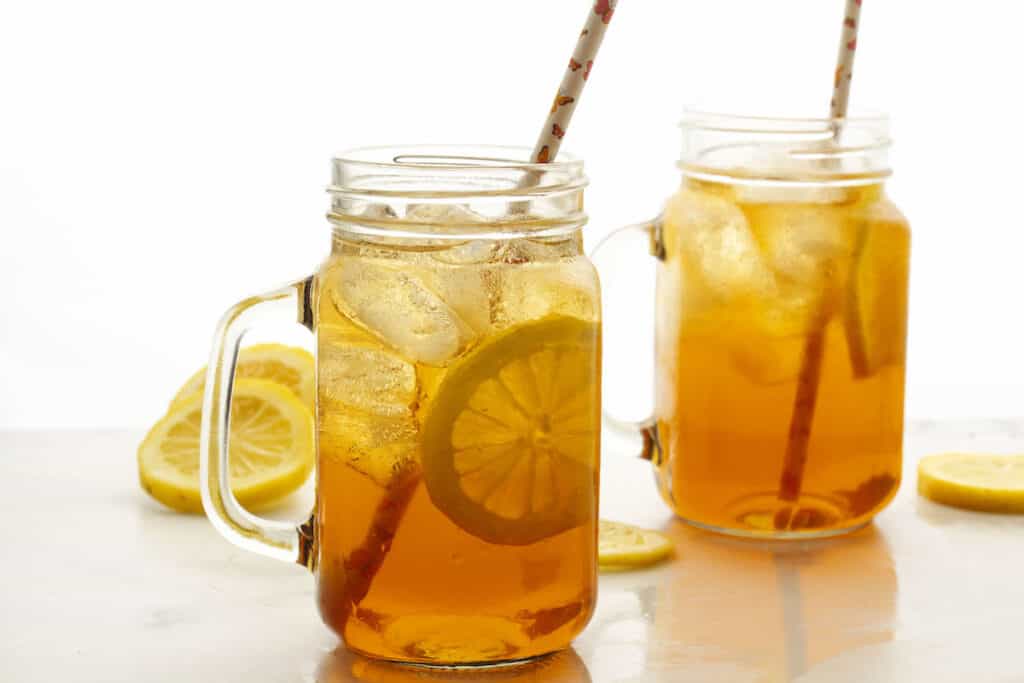 How do you make traditional southern sweet tea?
It's really easy, basically the same as making a cup of plain old hot tea.
Bring half of the water up to a boil over high heat. Once it has reached a rolling boil (constant big bubbles), remove the pot from the heat and add in the tea bags and baking soda. Ideally, you would pour the boiling water over the tea bags, but if your pitcher isn't heat safe (and many plastic gallon-sized pitchers are not), then you will have to add the tea bags into the pot of water.

Allow tea to steep for 5-6 minutes, but no longer.

After steeping, carefully remove the tea bags from the pot without squeezing the liquid from the bags. (Squeezing the tea bags makes tea bitter.) Add in the sugar and stir until dissolved.

Add the remaining cold water to the tea mixture and pour it into a pitcher.

Pour tea over ice in a tall glass. Add mint leaves, sliced lemons, sliced peaches, or raspberries, as desired.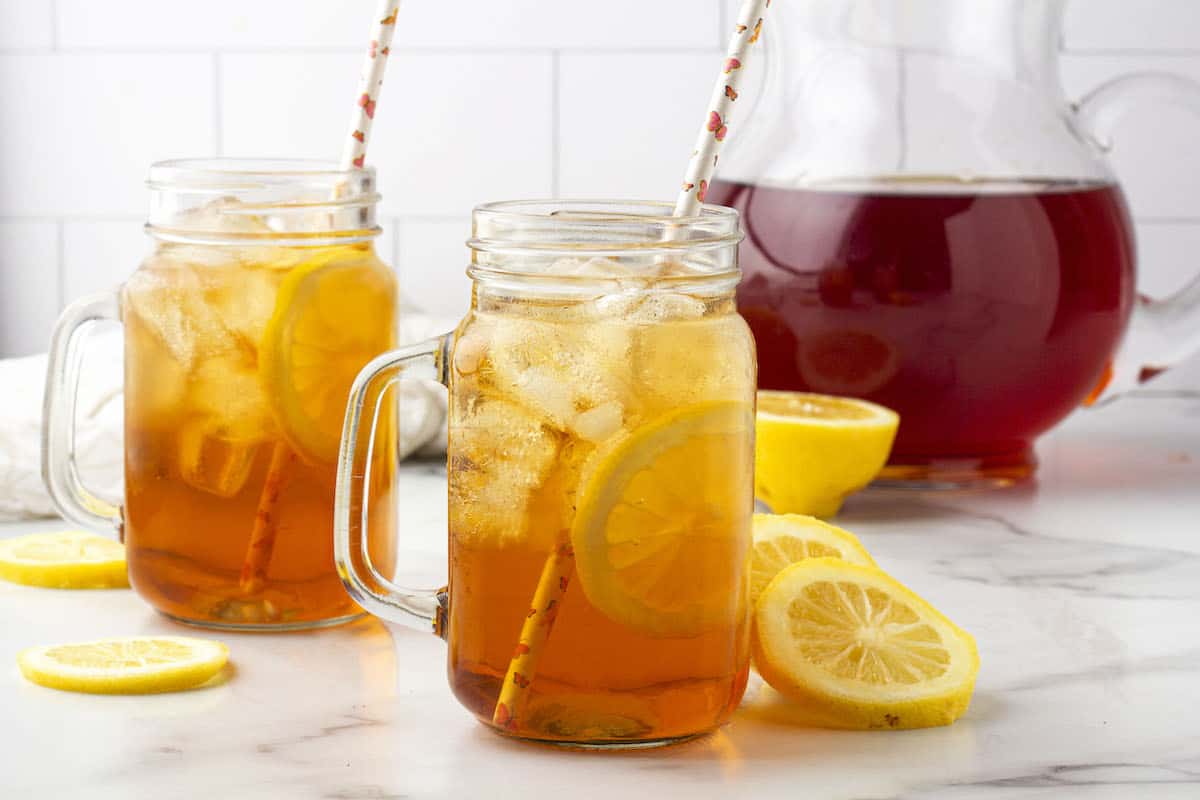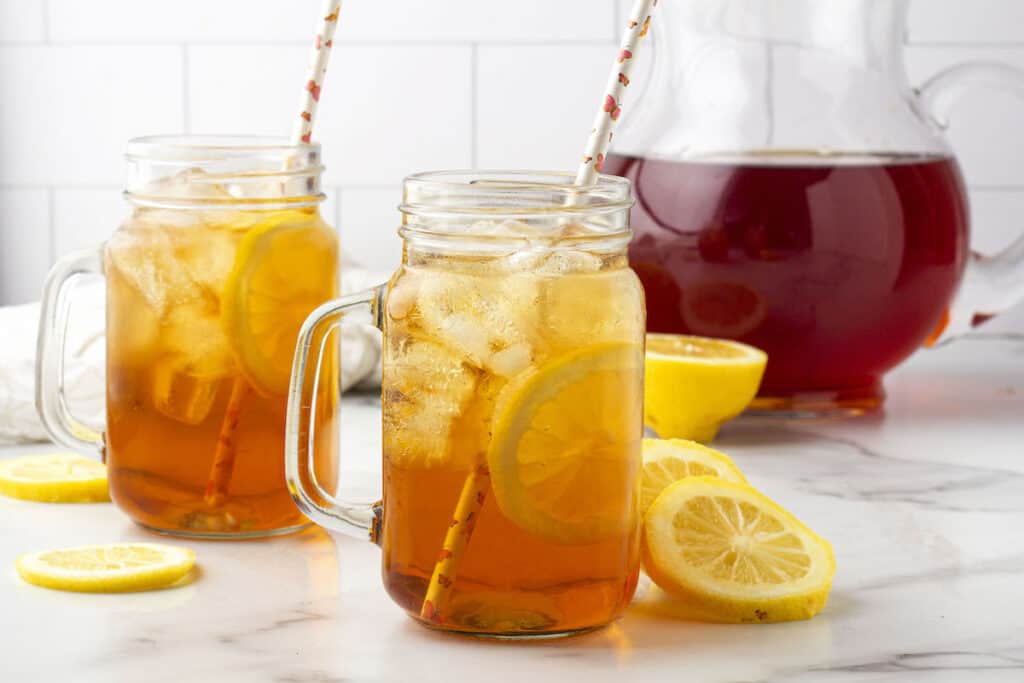 Why do you add baking soda?
Some people say that baking soda helps neutralize the tannins from the tea and take away some of the bitterness. Some people say it doesn't do anything at all. I haven't noticed a big difference one way or the other, so I add it to be on the safe side.
Why only steep for 5-6 minutes?
Tea becomes bitter when steeped for too long or at too high a temperature. For black tea, you should boil the water first, then remove from the heat and add the teabags, then steep for a relatively short period of time.
If you set a timer and steep for 5 minutes, your tea will have lots of flavor but will not get bitter.
Where do I find pitcher-sized tea bags?
You can find them in the grocery store right next to classic size tea bags. The best, in my opinion, are Luzianne and Lipton, but other brands make them as well.
This tea did not turn out as sweet as I wanted. Can I add more sugar?
The short answer is yes, but it's not really that simple.
While you can add more sugar after the tea is cooled, the tea will become grainy with undissolved sugar crystals. If you need to add additional sugar to the sweet tea after it's cooled, I recommend heating a half cup of water on the stove and stirring the extra sugar into the heated water to make a simple syrup. You can then stir the syrup into your tea.
Is sweet tea the same as iced tea?
Yes and no. Sweet tea is always served over ice, so it is often called sweet iced tea. But in the south, sweet tea is sweetened while hot, and iced tea is served unsweetened with sugar or artificial sweetener on the side.
Sweet tea popsicles? Yes, please!
Head over to this post to learn how to make peach sweet tea popsicles with a bit of the tea you've made with this recipe. They are amazing!
Check out these other delicious drink recipes:
Recipe