Sparkling Pink Lemonade with berries and mint is so refreshing during hot summer days and is always a huge hit with adults and kids. You'll love the sweet mixed berries, tart lemons, and sparkling water stirred together with simple syrup! As written, this lemonade is great for kids, but it's easy and delicious to add a shot of vodka for a hard adults only drink.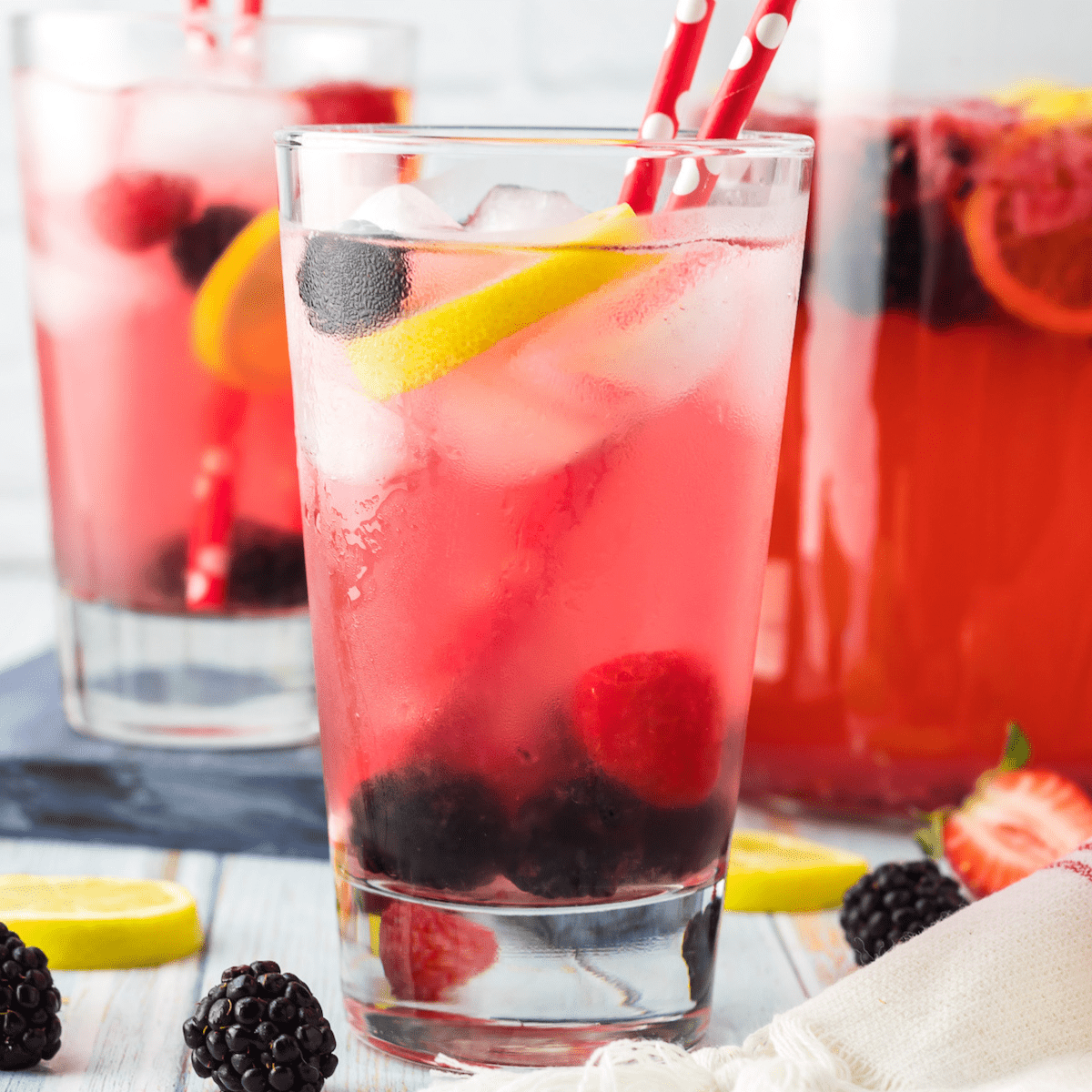 For most of my adult life, I have thought I was allergic to strawberries.
For years, every spring, I would eat fresh, local strawberries by the quart. Often, I ate strawberries for an entire meal.
Unfortunately, after many food journals and many doctor appointments with allergy and skin specialists, the medical community decided that I shouldn't eat strawberries anymore because, two or three days after I did eat them, I broke out in "chronic urticaria" all over my body. It had something to do with mast cells and immune response, and I do not really remember the specifics.
If you've never had the pleasure, chronic urticaria is the medical term for constant, unending hives over a period of weeks or more. For me, the hives were so itchy that I scratched them until they were scabby and sore - and still itchy.
So, I stopped eating strawberries for nearly 20 years.
Fast forward to last year. Sweet Allie was eating strawberries and they just smelled so good, so I had a bite.
A week later, I had not broken out into hives.
The next time she had strawberries, I ate a couple.
No hives.
I have not tested fate by eating more than a handful of berries. I think, just maybe, there is a threshold below which I CAN safely eat the fresh berries, but it is definitely much less than a pint of them.
Anyway, you probably don't even care about my strawberry saga, and that is totally understandable. Let's move on to the recipe.
This lemonade recipe is perfect for spring and early summer because strawberries, raspberries, and blackberries are fresh and local, and fresh local food always tastes the best.
How to use all fresh & local berries even though they aren't picked at the same time
Here in Pennsylvania, strawberries, red raspberries, and blackberries are not all picked at the same time (they are staggered by a couple of weeks), so I pick mine, clean them, dry them in my berry spinner, and freeze them in a single layer on a cookie sheet. When they are completely frozen, I transfer them to a zippered freezer bag or a Tupperware freezer container. Doing it this way allows the berries to freeze as single berries rather than as one frozen clump of mush. It works.
When it is time to make my lemonade, I simply measure out ¾ cup of each type of berry, thaw on the counter or in the fridge, and then make my lemonade. Previously frozen berries are a little mushier than fresh berries, but they are just as good in this recipe.
How to make sparkling pink lemonade with berries & mint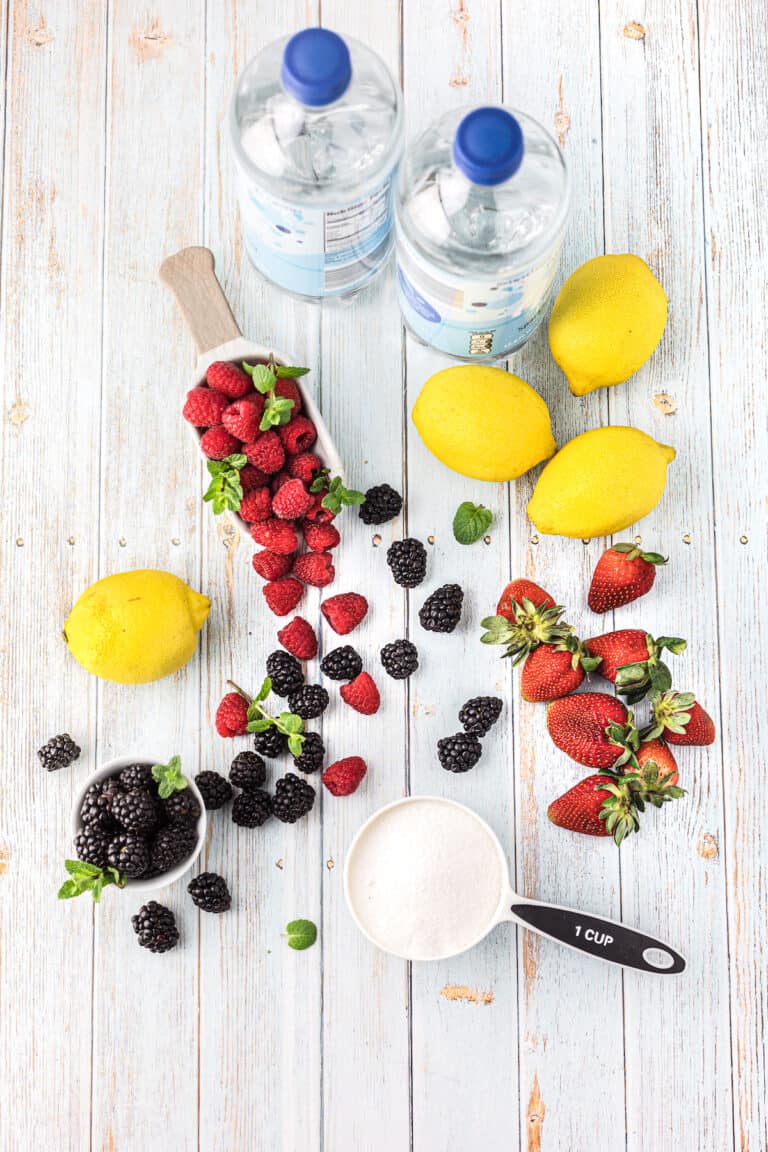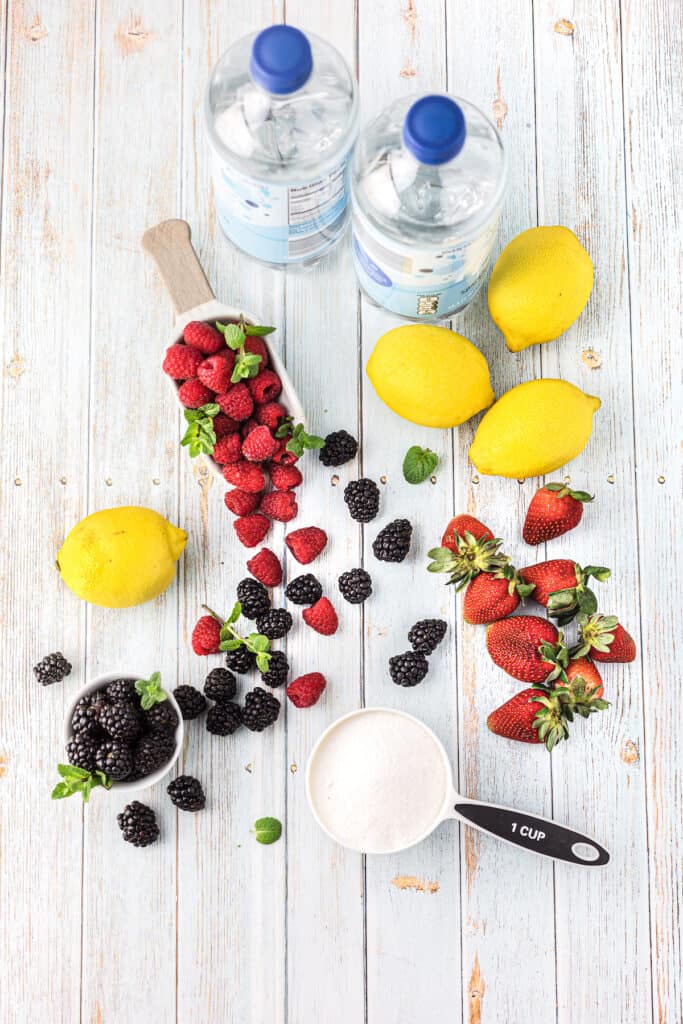 Place water, mint sprigs, and sugar in a small saucepan. Bring to a boil, stirring until sugar has entirely dissolved.

Remove the syrup from heat. Cover and steep for 15 minutes, then remove mint leaves from syrup and set aside. (If you omit the mint, there is obviously no need to steep. Simply remove the pan from the burner, cover, and set aside until you are ready to add it into the lemonade.)

Squeeze lemons using a citrus press, measuring a full cup juice (it should take 5 medium or 7 small). Slice remaining lemons into ¼" slices.
Using a mortar and pestle, smash half each strawberries, blackberries, and raspberries and dump into the large drink dispenser. Alternately, you could also use a muddler or even a wooden spoon to muddle the berries directly in the drink dispenser if preferred.

Add syrup, lemon juice, remaining berries and lemon slices to pitcher. Stir to combine.
Just before serving, add sparkling water and ice, if desired. Garnish with extra berries, lemon slices, and/or fresh mint.

A few recipe notes:
It is not necessary to dry the berries after rinsing if you are using them fresh, as you will be adding them into liquid anyway. Do dry them if you are freezing them before making lemonade. A berry spinner is a must for this purpose.
Soda water or seltzer water can be used in place of sparkling water. Tonic water is something different and will make the lemonade have a slightly bitter flavor (which I don't personally like). Alternately, if you don't want carbonation, see below for instructions for a still version.
This lemonade is also good without carbonation. If that is preferred, just add 8-½ cups (68 ounces) of regular drinking water in place of the sparkling water. (Bariatric patients like me typically cannot drink carbonated beverages. It makes our smaller than normal stomachs hurt like you wouldn't believe.)
Sparkling pink lemonade can easily be converted to an alcoholic cocktail by adding your choice of vodka (citrus flavored is good here) to each glass of lemonade one shot at a time until the desired potency is reached.
This recipe as written will produce lemonade with a slight minty taste. You can leave the mint out altogether or steep more mint in the syrup in steps 1 and 2 if you want a stronger flavor.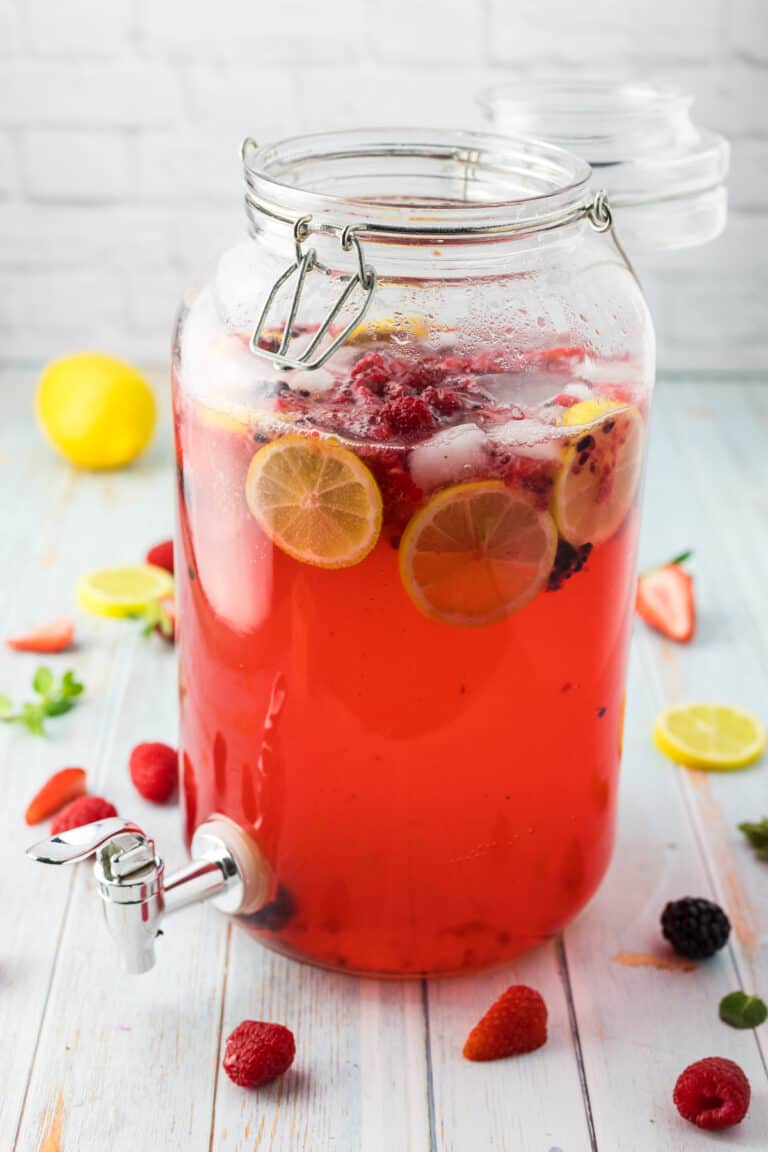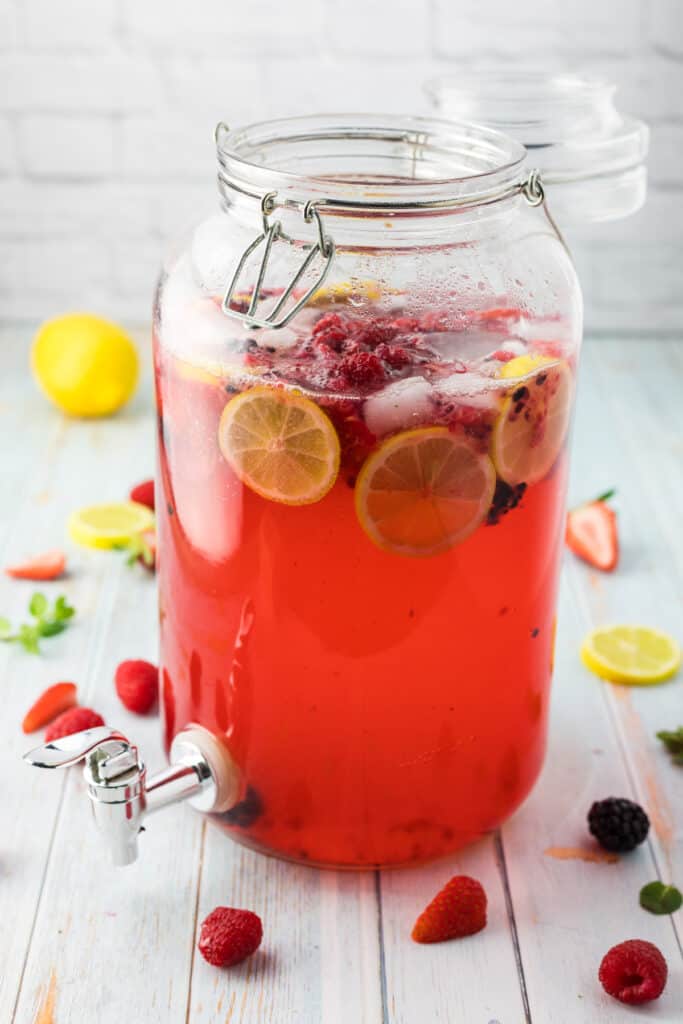 Equipment notes:
I recommend a drink dispenser because it is large enough to hold the entire recipe (which will make 80 ounces of liquid, plus the berries and any ice you add) plus, it pours from the bottom rather than the top. If you use a pitcher, you must use a glass or stainless steel pitcher as lemon will leach chemicals out of most plastics. If you do go the pitcher route, I would recommend a large glass pitcher with a removable strainer, if possible, so that all that berry goodness stays in the pitcher rather than flowing out into the first couple of glasses poured. You can always remove the lid to scoop out a bit of berries when serving. A strainer lets you control this rather than have it all plop out at the same time.
In the recipe, I tell you to use a mortar and pestle to crush the berries. This is my preferred method, but you could alternately use a muddler or even the back of a big wooden spoon right in the drink dispenser or pitcher.
Finally, if you don't already have one, I love this egg slicer for making nice, even cuts in slippery strawberries.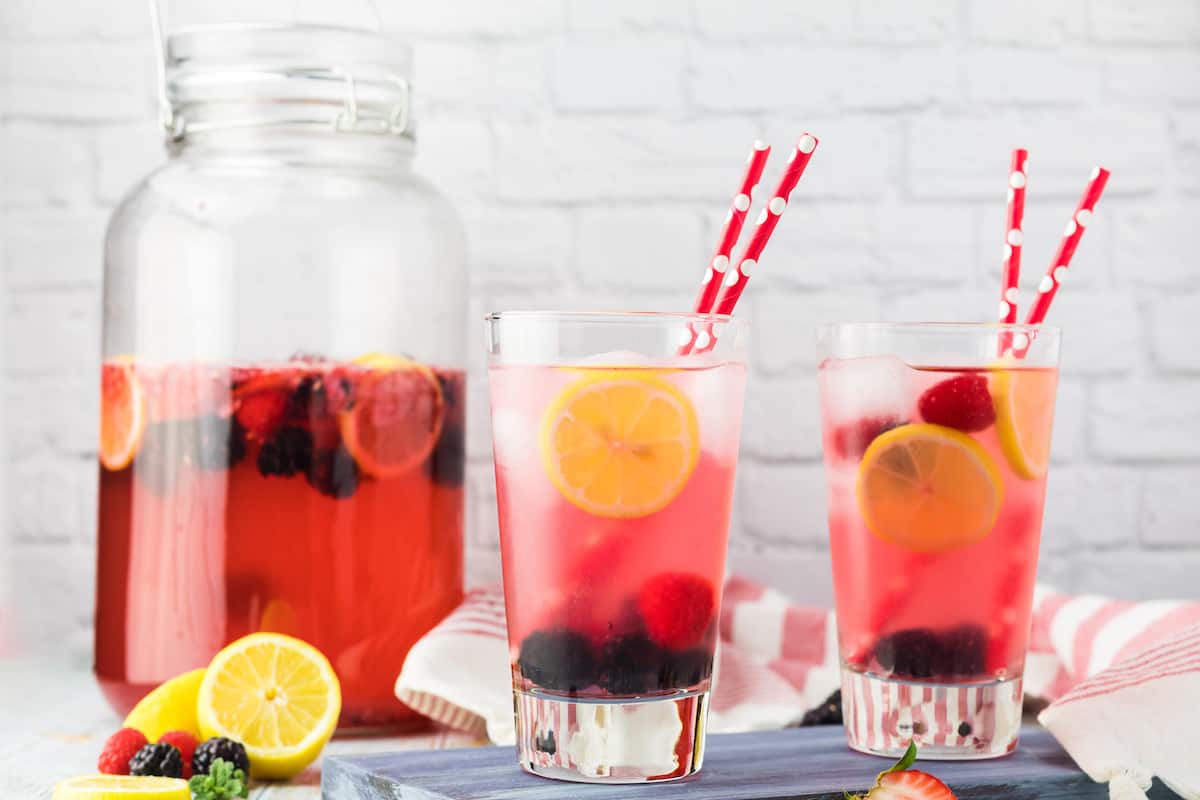 Recipe