This Copycat Shamrock Shake Recipe is better than the McDonald's original! Easy to make with only 4 ingredients and blended to creamy perfection in under 5 minutes. No need to leave the house to enjoy this amazing mint milkshake that we all love so much. It's the perfect St. Patrick's Day dessert for the whole family!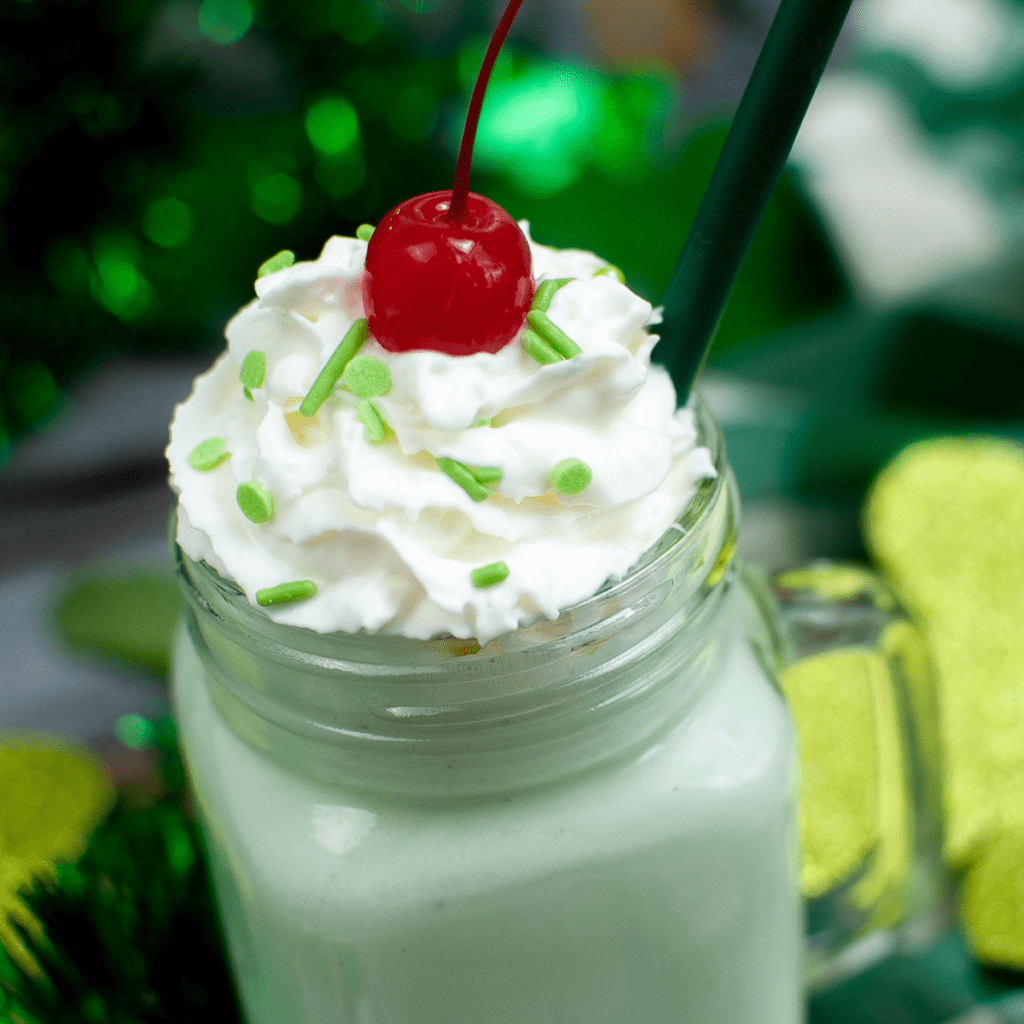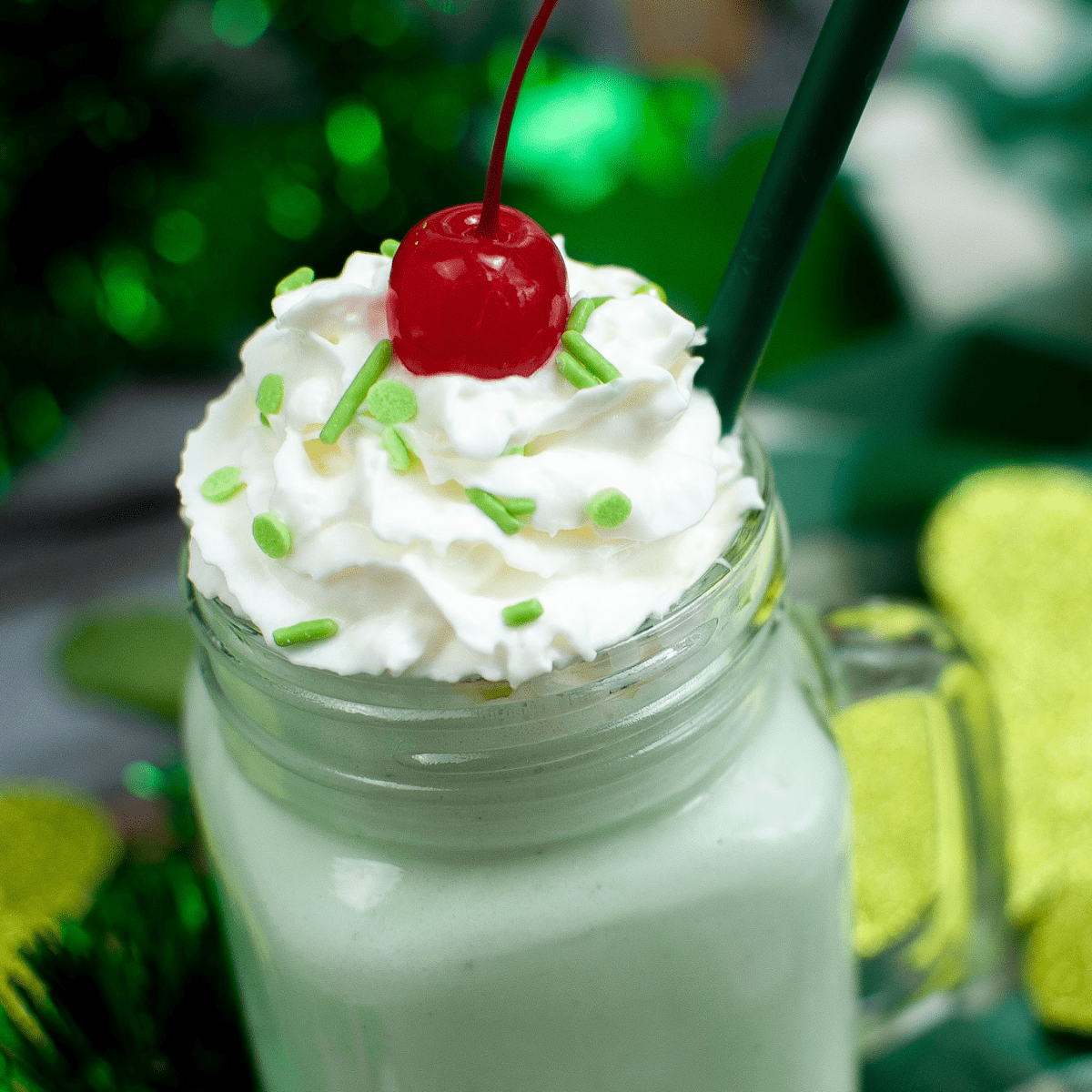 My kids have always always always loved Shamrock Shakes.
When they were really little, my mom would pretend to the Lucky the Leprechaun, and she would come into our house when we weren't home, and she would make little messes and leave little gifts, and Shamrock Shakes were always the gift on the actual St. Patrick's Day.
After my mom died, I couldn't manager to do Lucky on my own, but the tradition of Shamrock Shakes has persisted. And of course, as they got older, they started requesting the shakes more often.
Nothing says St. Patrick's Day like a green mint milkshake, am I right?
And last year, McDonald's started making a Shamrock Oreo McFlurry which sort of changed my life. That was so good!
This post is primarily about the Shamrock Shake recipe, but I have included a variation below that comes really close to the Shamrock Oreo McFlurry too. Read on for that.
What you'll need to make homemade Shamrock Shakes
Equipment
You will need an ice cream scoop and a blender for this recipe.
Ingredients
Vanilla ice cream
Whole milk - Don't go low fat on this.
Pure mint extract - You have two options on this. Pure mint extract tastes like an authentic McDonald's Shamrock Shake. Peppermint extract tastes more like a candy cane. You can use peppermint if that's all you have, but it won't taste like what you get at McDonald's.
Green gel food color - Gel food color is more vibrant than liquid food color, but you can really use either one.
Whipped cream - This is for the topping.
Green sprinkles or sanding sugar - This is for the garnish.
Maraschino cherries - Can you have a milkshake without whipped cream and a cherry? I suppose you could, but it would not be as fun.
How to make the best McDonald's copycat Shamrock Shakes
Place all of the ingredients in a large blender or food processor. Pulse until well blended.

Top with whipped cream, sprinkles, and a maraschino cherry.

Enjoy immediately.
Tips for the best Shamrock Shake
Vanilla ice cream - I think plain vanilla is better than vanilla bean or French vanilla in this recipe, but you can use whatever you have. I buy the cheapo Great Value gallon tub from Walmart, and I think my shakes are awesome. So don't feel like you have to buy super premium ice cream for this recipe. You don't.
Pure mint extract - As I said above, there are two options for mint extract. Pure mint extract is made from spearmint and will give you the same flavor as the McDonald's Shamrock shake. Peppermint extract will give you a flavor more like a candy cane. Peppermint extract is stronger than pure mint, so if you use peppermint, you might want to use a little less than the recipe calls for. You can use whatever you have, but keep that difference in mind.
Food color - I prefer gel food color and don't buy the liquid anymore. Gel is much more vibrant and makes foods look nicer. Plus, it doesn't water down the finished food. If you're using liquid food color, you'll probably need 10-15 drops to achieve a nice deep green color.
Adjusting the consistency - Start out with the ratio in the recipe. If you want your shake to be thicker, add an extra scoop of ice cream and blend again. If you want it to be thinner, add an extra splash of milk and reblend.
Shamrock Shake variations
So you have some options in doctoring this recipe up, most importantly that you can make an adults only version by adding some alcohol.
Dairy free Shamrock Shake - You can use coconut milk ice cream and full fat canned coconut cream for the ice cream and milk. You can also use oat milk or soy milk and the corresponding ice cream to make a dairy-free version of this shake. Don't forget to replace the real whipped cream with a non-dairy version.
Vegan Shamrock Shake - Same as dairy-free option above.
Boozy Shamrock Shake - You won't find this one on the menu at McDonald's! Try adding an ounce or two of vanilla, whipped cream, or marshmallow flavored vodka to the blender with your ice cream. You could also replace the mint extract with crème de menthe or mint flavored vodka. Use at least a whole ounce or more. In either case, I'd reduce the milk by the same amount so that it's not too liquidy, and be prepared to add an extra scoop of ice cream if it needs to be thicker.
Extra creamy Shamrock Shake - You can substitute heavy cream for the whole milk for an extra thick and rich shake.
Chocolate Shamrock Shake - Replace the vanilla ice cream with chocolate ice cream. You can also throw a handful of milk chocolate or semi sweet chocolate chips into the blender and/or add a tablespoon or so of chocolate syrup in the same step. If you add chocolate into the shake, you might also like to drizzle the whipped cream with chocolate syrup.
Oreo Shamrock McFlurry - This is my favorite way to enjoy the Shamrock flavor. To make a Shamrock Shake into a Shamrock Flurry, add 4 Oreo cookies to the blender and leave the milk out. If the mixture is too thick for your blender, add whole milk 2 tablespoons at a time until it's thin enough to pulse.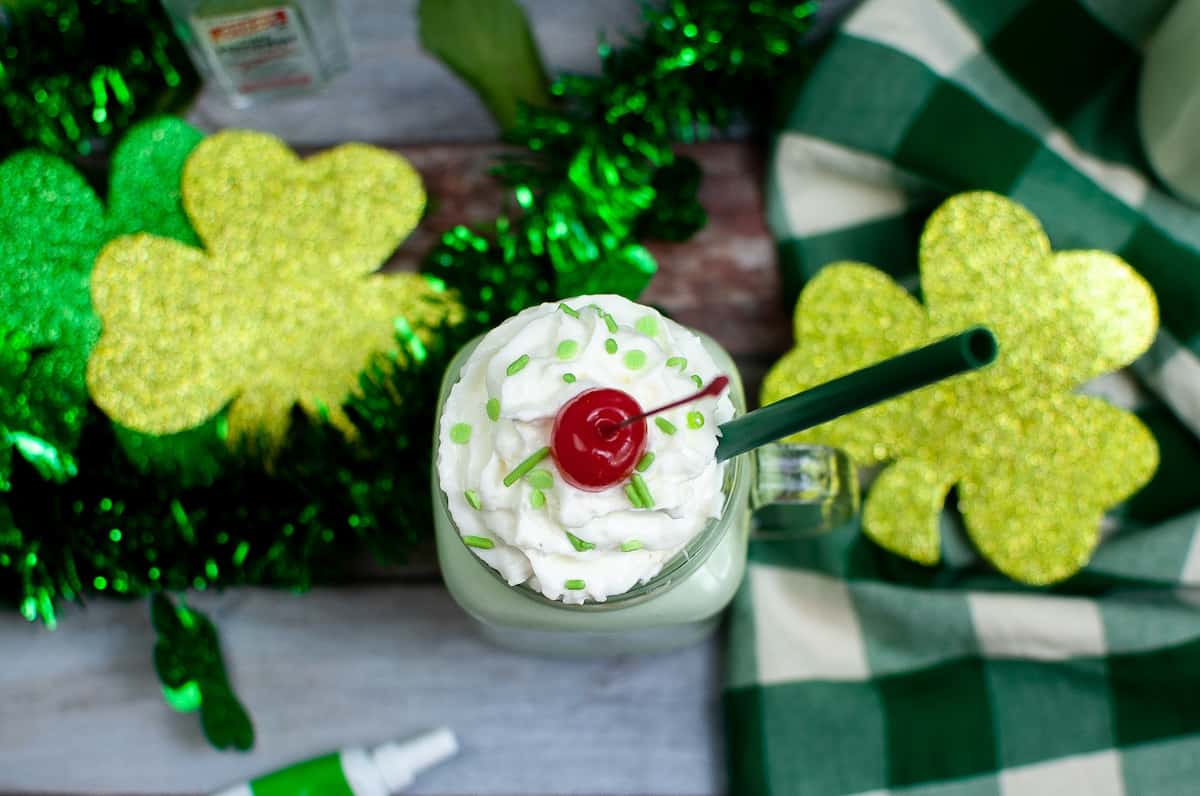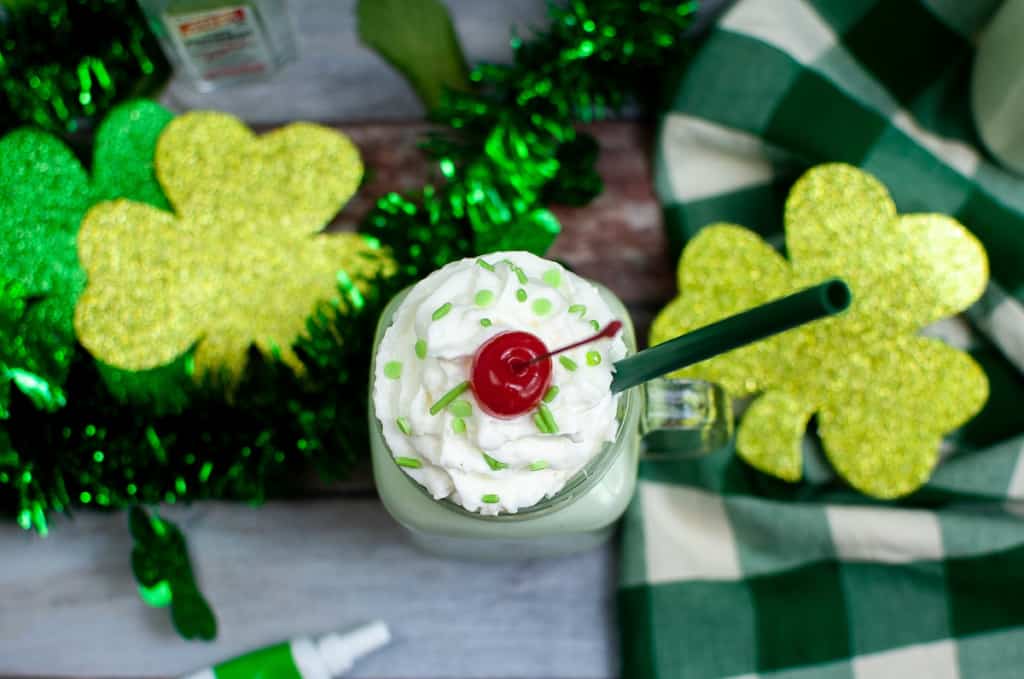 Is this the same recipe that McDonald's uses?
Probably not. Their website states that the official Shamrock Shake is made from their soft serve vanilla ice cream, "Shamrock syrup," and whipped cream. Who knows what's in Shamrock syrup? It's hard to say, but it's probably some combination of high fructose corn syrup (because it's cheap), preservatives, flavorings, and color. I've seen sources that claim the syrup contains more than 50 different artificial ingredients! Plus, a medium Shamrock Shake from McDonald's has over 660 calories - more than a Big Mac!
My version of the Shamrock Shake still contains color (because can you have a Shamrock shake that's not green?!), so that is artificial, but the mint extract is a natural food, and the ice cream and whole milk are natural, mostly unprocessed foods, so I think my version is probably a whole lot healthier than the McD's shake. Plus, mine has only 350 calories per shake which is just about half of the original.
Is a Shamrock Shake healthy?
Well, the main ingredients are ice cream and whole milk, so... probably not. But mine is comparatively healthier than the original version, containing far fewer artificial ingredients and half the calories, while still tasting really really great.
Storing Shamrock Shakes
Milkshakes are best served immediately after being made. If you absolutely have to, you could stick them in the freezer for a short time, but if they are in the freezer too long, they'll turn into a block of ice which is pretty much impossible to eat.
More St. Patrick's Day Fun
And here are more delicious frozen dessert recipes
Recipe