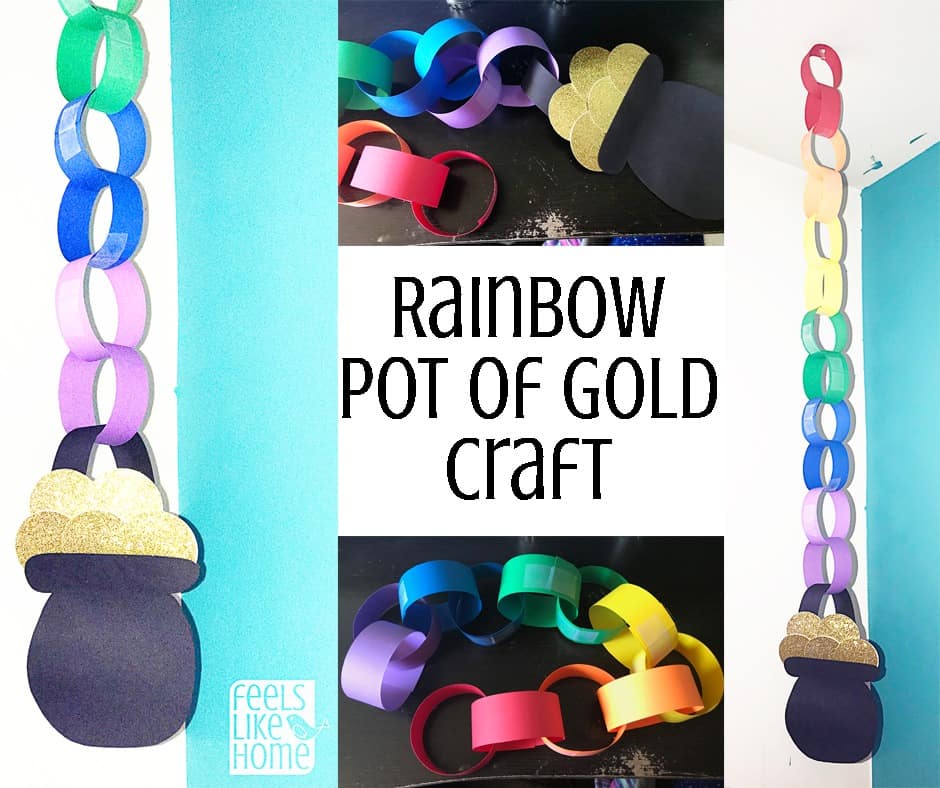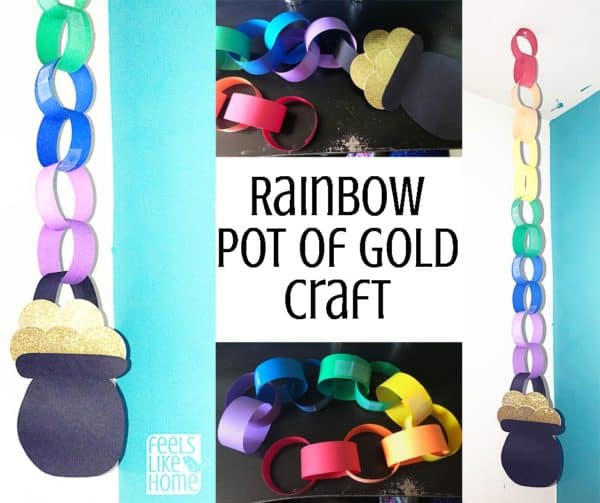 Pin
This cute St. Patrick's Day pot of gold craft uses paper chains to make a rainbow and minimal glue, and no glitter, or mess at all. Kids cut the paper and assemble in minutes.
There was a time when I did crafts with my kids nonstop, every single day. We painted and cut and pasted and I loved every minute of mess and goop and fun.
Since they have discovered Minecraft and DIY (an iOS app) and Animal Jam, the crafts have largely fallen by the wayside. They prefer to spend their time on screens which pains me greatly.
We have rules and limits around screens, but they are unwilling to spend their unstructured playing time with me doing crafts these days. They would rather play with Lego or Barbie or some other toys and I am left to do my crafts alone.
You can feel bad for me.
Anyway, I thought this craft was really cute and would be perfect for preschoolers on up because it is very quick and easy. If I can get Allie to sit with me for a few minutes, I might see if she'll make another one for our dining room as I have this one hanging in my office next to the window where it shines and glitters in the morning sun.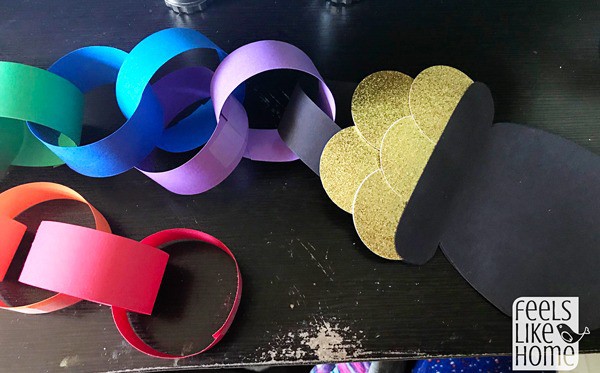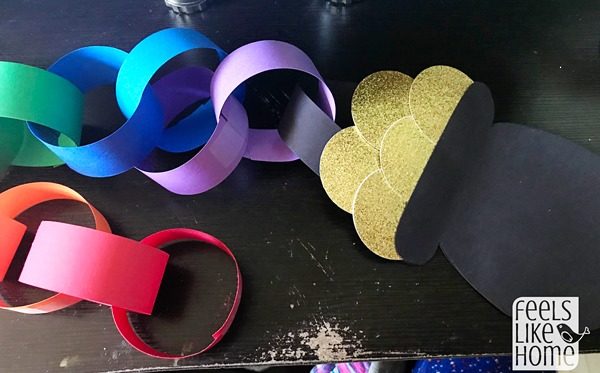 Pin
What Is St. Patrick's Day?
When I think of St. Patrick's Day, I think of green beer and shamrocks and Irish Potato Candy, but that's not what it is really all about.
St. Patrick's Day was originally a religious holiday marking the death of St. Patrick, the patron saint of Ireland, in the year AD 461. It began in Ireland in the early ninth century and was traditionally celebrated by Catholics, Lutherans, and several other denominations, marking the arrival of Christianity in Ireland. It has changed over time to honor Irish culture in general with the wearing of green and shamrocks.
St. Patrick was a missionary and priest in Ireland in the early 5th century. He used the 3-lobed shamrock to illustrate the holy trinity to the people there, symbolizing God the father, Jesus, and the Holy Spirit as separate beings but one God.
Traditionally, St. Patrick's Day was a time when the restrictions of Lent were waived, and that's how it became associated with alcohol consumption and corned beef even though it is right in the middle of the Lenten season.
Today, many cities hold St. Patrick's Day carnivals and parades in honor of the holiday.
Green is worn on St. Patrick's Day because it is the symbolic color of Catholics in Ireland. This tradition dates back to the 1680s though, not the whole way back to the time of St. Patrick himself.
Somewhere along the lines, leprechauns became part of the St. Patrick's Day celebration as they are traditional folklore of Ireland appearing in many stories and poems throughout history. The mischievous little men spend most of their time making and mending shoes and playing practical jokes, and each one has a pot of gold hidden at the end of a rainbow.
That's where this craft came from.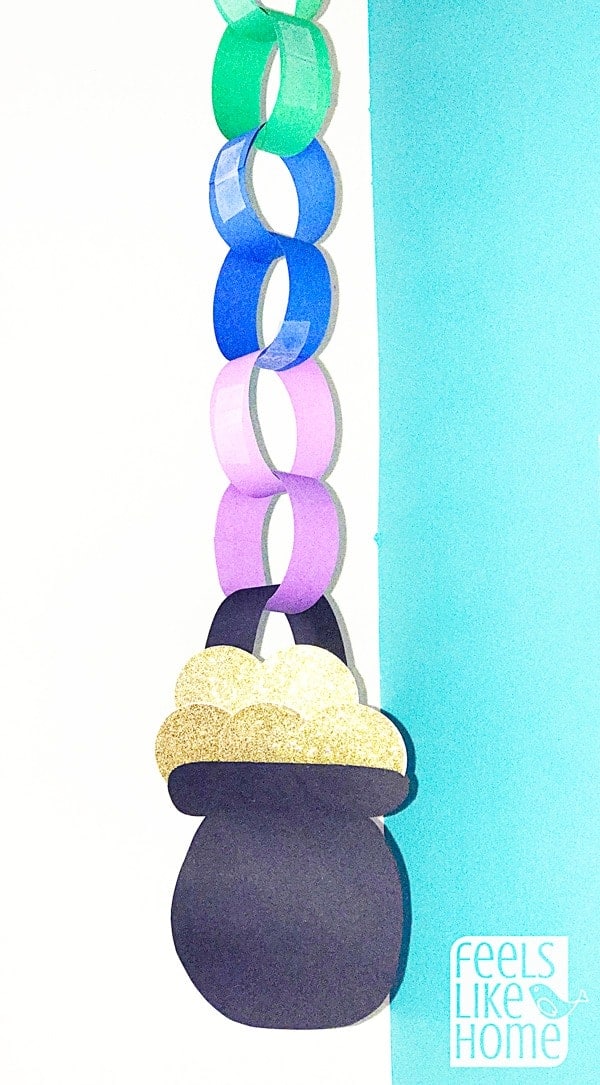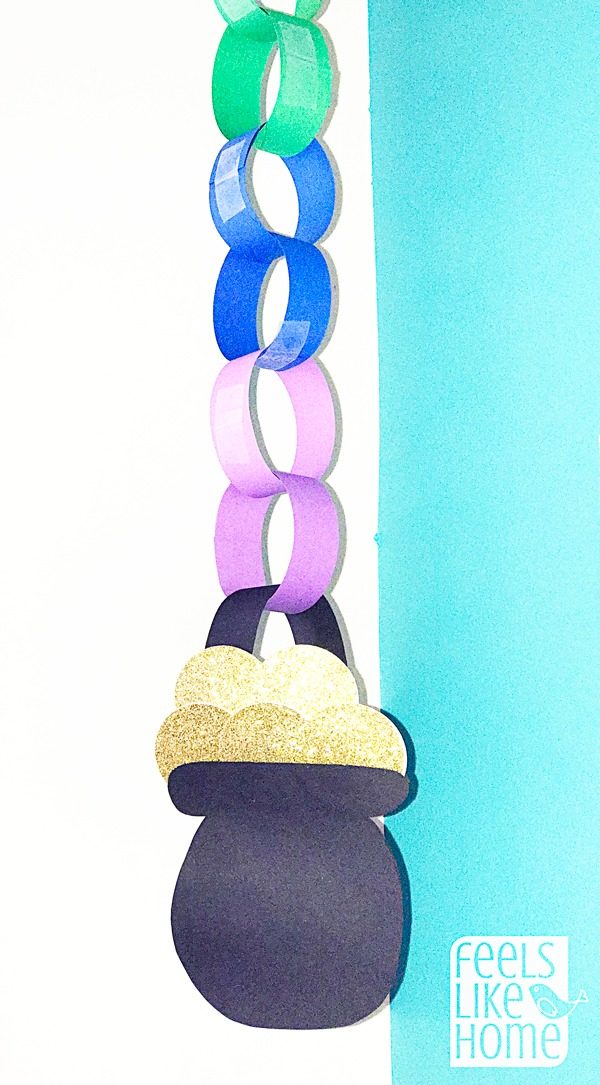 Pin
Rainbow Pot of Gold St. Patrick's Day Craft for Kids
I love paper chains. I remember making them even in high school as we prepared for spirit days and pep rallies for sporting events. I made this one using a rainbow of colors (remember ROYGBV?) and then a pot of gold at the end.

Materials
Paper or cardstock in six colors - red, orange, yellow, green, blue, and purple
Black paper or cardstock
Gold glitter cardstock
A 2-inch hole punch
Scissors
Glue stick
Tape
Instructions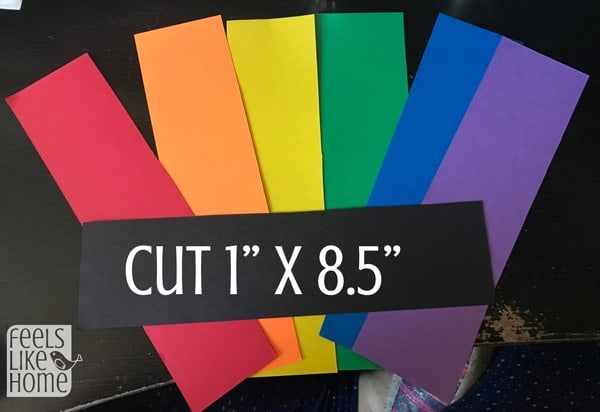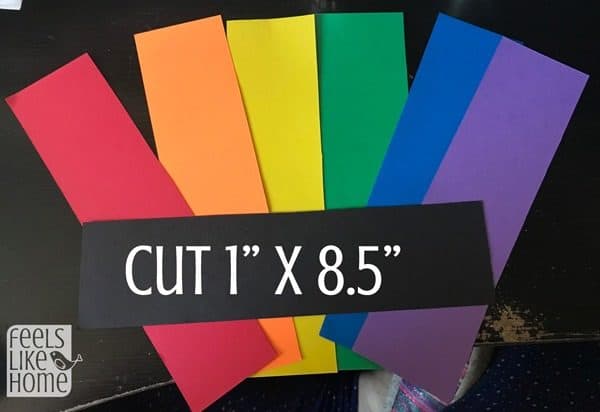 Pin
Start out by cutting on strip from each color of paper. I initially made my strips 2 inches wide, but once I assembled the chain found that those didn't work so well. I cut each strip in half and the 1 inch strips worked much better.
What I did was to cut two strips of paper across the short side of each color of paper, so each strip is 1" by 8.5". Again, two of each color. You could do just one of each color if you want a shorter finished product.
Cut one 1" by 8.5" strip of black paper, but don't put it in the chain. You will use it at the end.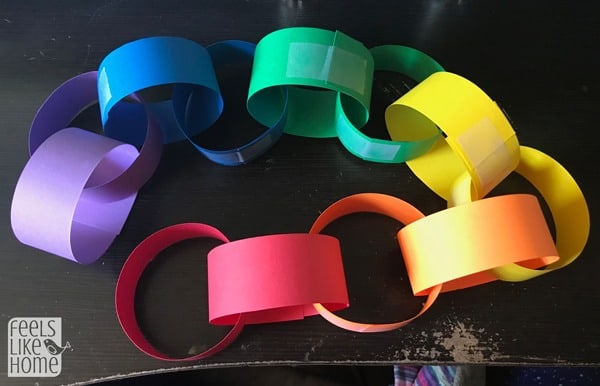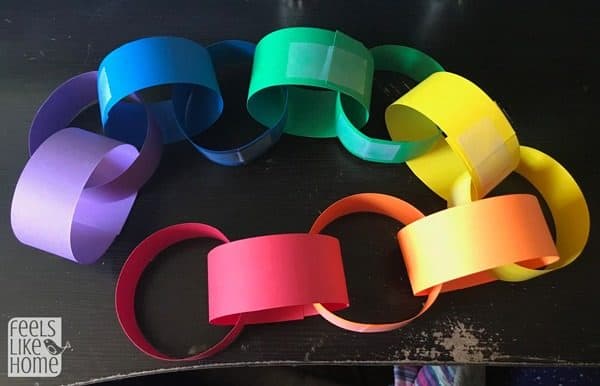 Pin
Assemble the chain in order of the rainbow - red, orange, yellow, green, blue, purple. You could staple these if you want, but I just used a piece of tape on each one.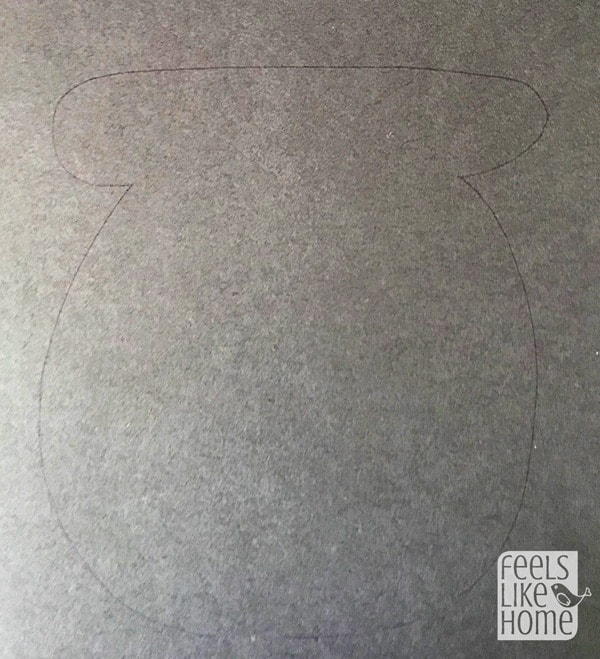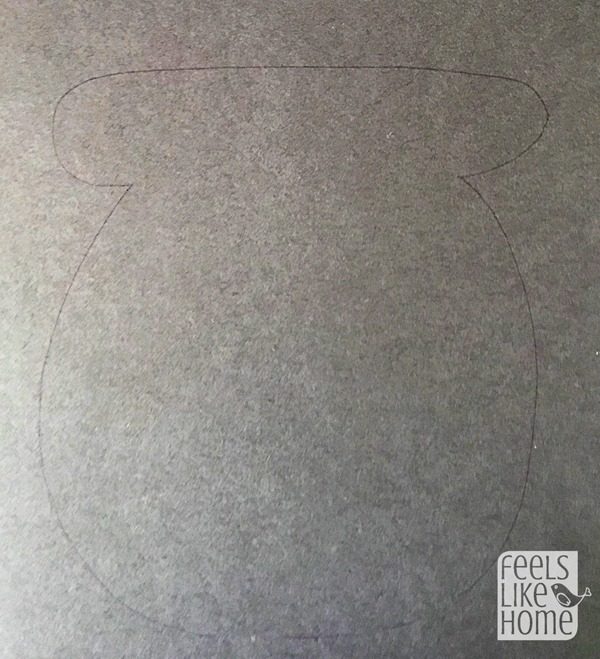 Pin
Draw a rough pot shape on one of the pieces of black paper. It's basically a circle with a lip at the top. Cut out the first one, then trace it on another piece of black paper so that the two pots are exactly the same size and shape.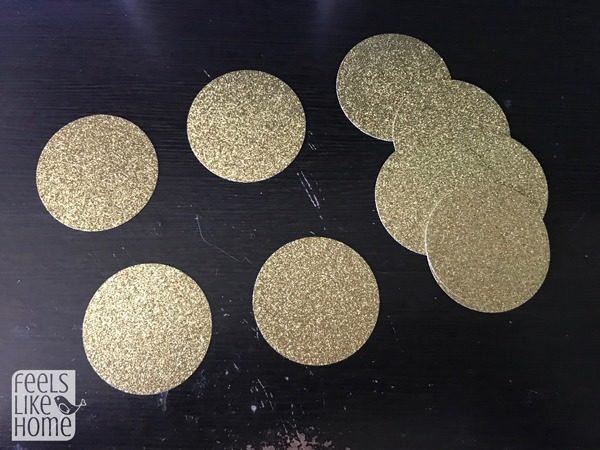 Pin
Using a circle punch (mine is 2" but you could use 1.5" but I wouldn't go bigger than 2" or smaller than 1.5") to cut 10 circles out of the glitter cardstock. If you can't get glitter cardstock, you could use a goldish yellow paper and glue on gold glitter, but I'm not a glitter fan so just used the fancy cardstock to begin with.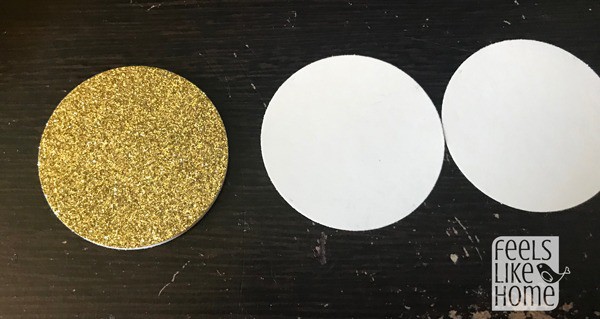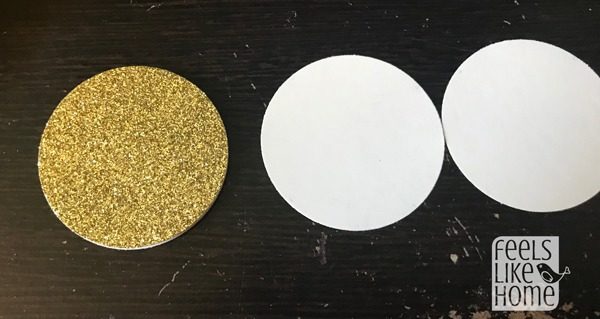 Pin
Glue the gold circles together back to back, so that you have 5 gold coins that are gold on both front and back.
Glue the five gold coins to one of the black pots in a sort of pyramid shape. Use a lot of glue so that they stay on. The gold glitter surface doesn't hold glue too well, but if you use enough, they will stay.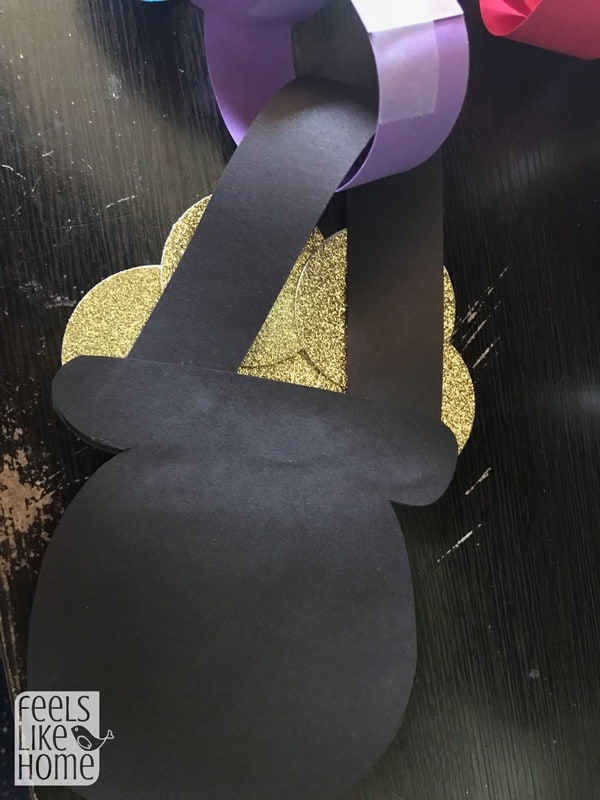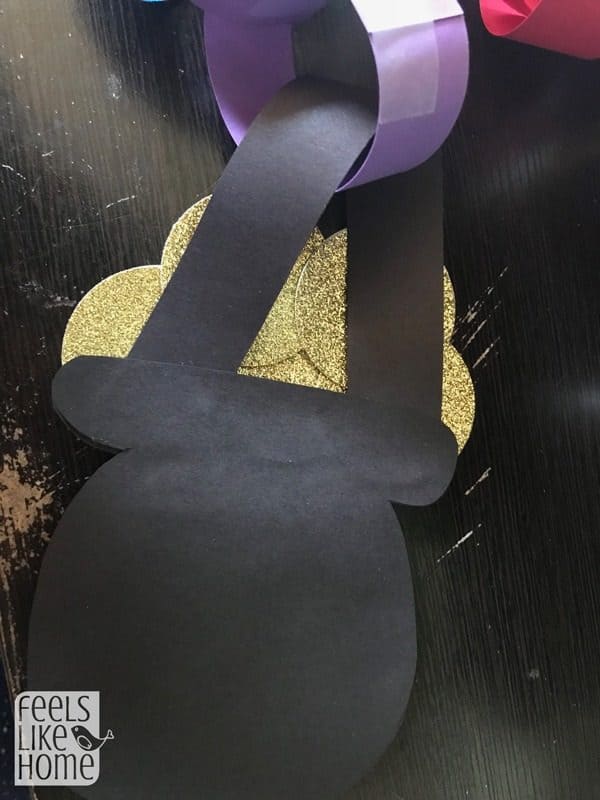 Pin
Once the coins are glued in, glue the strip of black paper on top of the coins so that it makes a handle for your pot. Glue the other pot on top of the coins and handle so that it sandwiches everything together. Again, use a lot of glue.


Pin
Hang your rainbow chain in a bright location where the sun will make the glitter sparkle. I used a thumb tack in the top link and stuck it right in the ceiling, but you could also tie a piece of thread around the top link and attach it to a ceiling fan or light fixture or something.
That's it! Your pot of gold rainbow craft is finished!
More St. Patrick's Day Fun
Check out these St. Patrick's Day family traditions and Minute to Win It Games, as well as 37 of the best St. Patrick's Day books for kids.