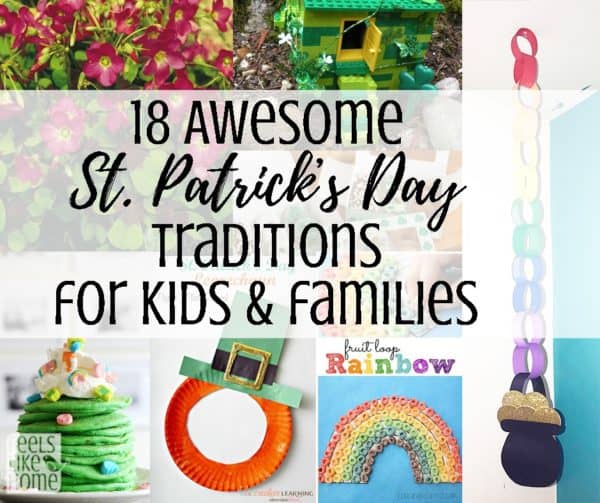 My kids have always loved St. Patrick's Day. It all started 9 years ago when my mom stole into our house in secret to make messes and leave little green treats while we were at story hour at the library. She did that every year for quite a while, often culminating in a green donut and Shamrock shake.
The year she was dying from pancreatic cancer, she fell in the garage trying to make it happen. It was that important to her.
Even though my mom is gone (and has been for almost five years), we still carry on the Lucky the Leprechaun tradition though to a lesser degree. It's trickier when you're the one taking the kids out of the house.
Anyway, it is still possible and makes the holiday fun for the kids.
In any case, you will need a large bottle of green food coloring. Those little squirt bottles that come in the multi-color package will not do.
This is part 2 of my original 10 St. Patrick's Day Ideas for Kids post from 2011, so get the first 10 simple ideas from that post.
14 More St. Patrick's Day Activities for Kids
Leave evidence of Lucky. My favorite place to leave this evidence is in the toilet. Make the water really, really green. I have seen people paint little green foot prints on the toilet seat, but I don't want a green arse, so I don't do that. You can also dye the cat or dog's water (he won't mind) and definitely go for magic milk and other drinks as specified in the other post.
Challenge your kids to make a leprechaun trap. Let them use their imaginations and be as creative as possible. Put in some bait - maybe chocolate coins or Lucky Charms cereal, and rig something up with a cup to trap him inside. Here's a great post full of examples of leprechaun traps to show them for some inspiration.

Play Minute to Win It. We played Minute to Win It for Valentine's Day, and it was the best fun we've had in a long, long time. We liked it so much that I wrote out a whole post on St. Patrick's Day Minute to Win It ideas. (PS. This is my favorite item out of the whole list!)

Make rainbow pancakes. These pancakes are really simple to make, and they have rainbow colored Fruity Pebbles in them which makes them perfect for St. Patrick's Day. They taste great, and your kids will love all the colors.

Make green pancakes. You don't really have to do anything special for this, just put green food color in the batter. They're even better if you add some whipped cream and lucky charms on top.

Make a rainbow cake. This super fun cake includes rainbow-colored cereal in the batter which makes it perfect for St. Patrick's Day. We decorated ours with extra Fruity Pebbles for an added punch of color.
Make green slime. Oh how I hate slime. It is all over my house and has gotten all over my towels, blankets, and the couch which we just threw out yesterday. But, if your kids are responsible with it or you throw it away in secret in a day or two, you could easily make some because it is a great science lesson and kids absolutely love it. Click the link for an article on the science of slime.

Make a rainbow paper chain craft. I think these are super cute, and they would be a very easy craft for even the littlest of kids.

Make a leprechaun mask and take silly pictures. Another really easy craft that would have great results. And my kids absolutely love to take pictures, so I know they would be ecstatic to have a leprechaun photo booth at home.

Make a rainbow out of Fruit Loops or buttons. I love button crafts, so I would personally give my kids rainbow buttons and have them do it that way, but Fruit Loops would certainly be better for younger kids.

Challenge your kids to make a Lego leprechaun house. I think this is genius. My kids are Lego fanatics, so I know they will love to make one of these. My only hesitation is that we might not have enough green Lego, but I know they will figure something out.

Make leprechaun donuts. These donuts are adorable and perfect for a leprechaun trap (instructions on how to build one in the post I linked). They're made from Cheerios (genius again) and candy melts from the craft store. I love them!
Read some St. Patrick's Day books. That's a link to my 37 St. Patrick's Day favorites. Don't miss Jamie O'Rourke!

Play musical shamrocks. I know this is intended for preschool kids, but with a few modifications, I am certain that my much-older kiddos would love it.

Make homemade shamrock shakes. Grace loves these, and this recipe makes them so easy to make at home!

Make green ice cream. Nothing says St. Patrick's Day like green food, and green ice cream makes the grade every single time. This particular recipe is easy to make because it's no churn (i.e. no ice cream machine needed!), and the flavor is perfect.

Make rainbow fruit parfaits. These are gorgeous and healthy, too! Even my picky eaters would love them.

Send them on a green scavenger hunt. My kids are gaga over scavenger hunts, so much so that I send them on one for every holiday - Christmas, Easter, Valentine's Day, and so on. This will be a great addition to our holiday line up.

Grow a lucky four leaf clover plant (called oxalis). My mom had a purple oxalis all the time I was growing up, and I loved it. I thought it was so interesting and pretty. She had a three-leaf variety. I ordered a four-leaf variety last week, and I'm currently waiting for them to grow. They're quite an easy houseplant to care for, requiring bright light and weekly watering. The reviews of this grower on Amazon are good, so I think they are going to be good. Planting some oxalis would be a great opportunity to talk to your kids about shamrocks and St. Patrick (find some background at the top of this post).

Make leprechaun play dough. This recipe looks easy enough and is sure to delight any dough fans, like my Allie who still adores Play-Doh.

Have a green food taste test. I think this is a great idea, although I don't know how it would go over with my extreme picky eaters. It's worth a try if it makes them at least attempt one new food, I guess.

Read St. Patrick's Day books. There are dozens of really good books for kids on the history of St. Patrick's Day as well as legends and myths associated with shamrocks and leprechauns. Check a few out and read them with your kids this week.
St. Patrick's Day gets a bad rap in my opinion. It's frequently associated with green beer and drunken debauchery, but it can be a really fun and wholesome excuse to spend some family time together and celebrate the coming of Christianity to a whole nation. Try a few of these fun family traditions on this year and see how it goes.