No churn mint chocolate chip ice cream is better than store bought - creamy mint ice cream made without an ice cream maker and stuffed full of chocolate chips. It's sweet, creamy, and easy to make. Perfect for St. Patrick's Day or a warm summer day. 5 simple ingredients.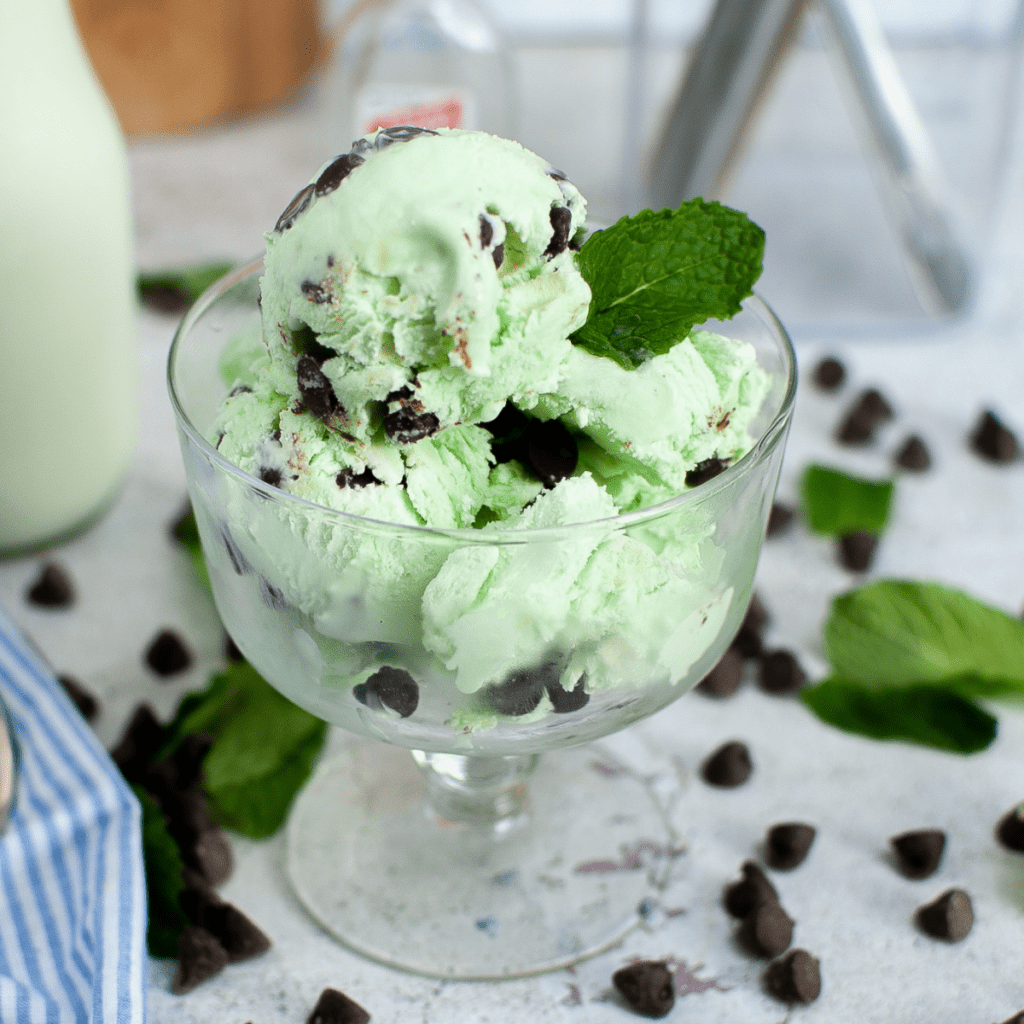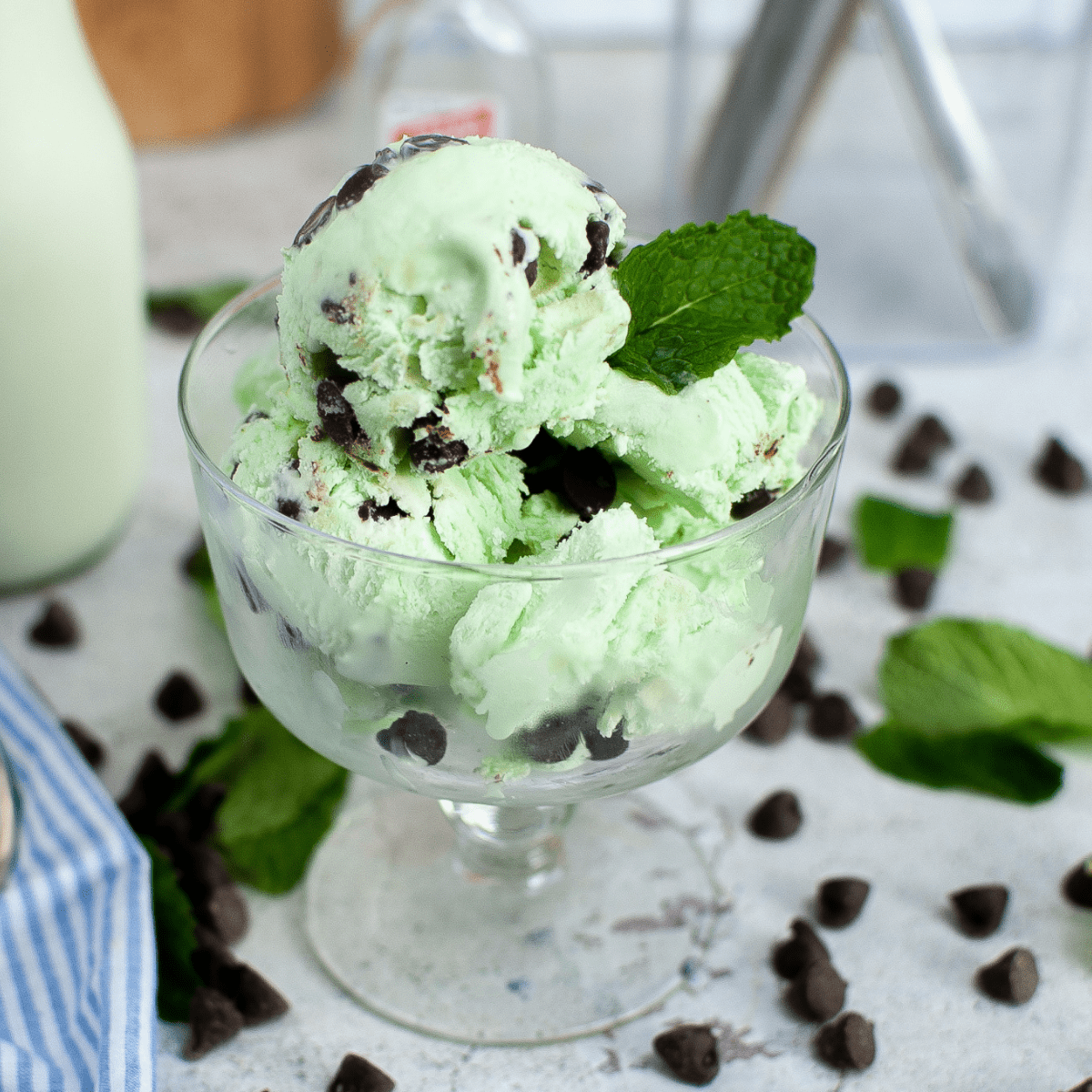 St. Patrick's Day is coming up, so I thought this would be a great time to make one of my daughter's favorite ice cream flavors: mint chocolate chip.
Mint chip ice cream was recently ranked as the fourth most popular ice cream in the United States, so a lot of people love it!
I didn't know this until I started researching this blog post, but mint chocolate chip ice cream is relatively new having been created in 1973 in honor of Princess Anne of England's wedding (she's Queen Elizabeth's daughter and the sister of Prince Charles).
Why this is the best homemade ice cream recipe
No churn ice cream is easy to make and tastes great. I can get my daughter involved and sometimes she even makes it on her own. I do have an ice cream maker, but since I discovered the beautiful process of no churn ice cream, I haven't used it even once.
No churn ice cream is super simple, and all of it starts with the same basic recipe: heavy whipping cream and sweetened condensed milk. I do not understand how you go from that mixture to ice cream, but that's what it does. It's magic.
The process for no churn ice cream is the same no matter what flavor you make: first you whip the heavy cream to form soft peaks, then you stir in some sweetened condensed milk, then you fold in the flavorings, mix-ins, and any color you might want to add.
This process is exactly the same for this no churn mint chip ice cream.
What you'll need to make no churn mint chocolate chip ice cream
Equipment
No churn ice cream is easy to make without an ice cream maker, but you will still need a few tools.
First, you will need a mixer. It can be a handheld electric mixer or a stand mixer. I suppose your grandma would have used a whisk and some elbow grease, but it's so much easier to use a mixer.
You'll also need an ice cream pan or a loaf pan in which to freeze the ice cream. I prefer an ice cream pan because it has a lid that prevents the ice cream from becoming freezer burned while it freezes. If you're going to use a loaf pan, you will want to wrap it tightly with plastic wrap.
Ingredients
Heavy whipping cream - Make sure this is super cold, just out of the refrigerator. You'll beat it to make whipped cream.
Sweetened condensed milk - This makes your ice cream sweet without adding additional sugar.
Pure mint extract - This will make your ice cream taste more like a Thin Mint cookie. If you'd prefer your ice cream to taste more like a candy cane, use peppermint extract instead. Pure mint extract comes from spearmint which is more mild than peppermint. If you are going to use peppermint, you'll probably want to use a bit less than the recipe suggests.
Green food coloring - I suggest starting with ¼ teaspoon and adding more if you want to make your ice cream more green.
Milk chocolate chips - You can use any kind of chocolate chips, but I personally prefer the milk chocolate best. You could also use slightly larger chocolate chunks or mini chocolate chips, if you prefer a different texture.
How to make the best homemade mint chocolate chip ice cream recipe
Whisk the heavy cream in a large mixing bowl until soft peaks form. Do not over whisk.

Once soft peaks are formed, stir in milk, mint flavoring, and food coloring. Mix in slowly to avoid splashing over or deflating the cream's whipped texture.

Fold in the chocolate chips.

Pour mixture in an ice cream pan or loaf pan and freeze for 6-8 hours or overnight.

Scoop frozen mint chip ice cream and garnish with fresh mint leaves, whipped cream, and a drizzle of homemade hot fudge sauce, if desired.
What kind of chocolate do you use in mint chip ice cream?
I suggest using the milk chocolate variety of regular sized or mini chocolate chips. I like milk chocolate the best, and chocolate chips make it so easy to just open the bag and dump them in the ice cream mixture.
Traditionally, mint chocolate chip ice cream contains either semi sweet or dark chocolate, so you can't really go wrong with either one. I've even seen mint chip ice cream with white chocolate.
Some mint chip purists claim that you shouldn't use chocolate chips and that the only way to make it is to chop a bar of baking chocolate. Doing it that way is a bit more work, but it does give you a variety of sizes of chocolate from teeny tiny to slightly smaller than bite-sized, and that variation can be very nice.
You can do whatever you want to do given those options.
Tips for the best mint chocolate chip ice cream
Make sure everything is super cold. Keep the heavy cream in the fridge until the last possible moment, and put your bowl in the fridge for a half hour before you start whipping the cream. Having everything be really cold will help the heavy cream form peaks more easily and prevent over beating.
Fold it in! Does anyone else think of Schitt's Creek every time a recipe says to "fold it in?" I sure do. But anyway, when you add the sweetened condensed milk, flavoring, coloring, and chocolate, you'll want to very gently fold them in.
Folding means that you'll use a large, flat spatula to turn the mixture over from the bottom over and over until the ingredients are well blended. Do this gently so that the cream doesn't get flat. If you try to stir the milk in, you will deflate the whipped cream and your ice cream will be a frozen chunk of milk rather than light and airy ice cream.
If you've put the ice cream in the freezer overnight, you may need to let it sit out on the counter for a few minutes to make it easier to scoop. This ice cream gets pretty hard.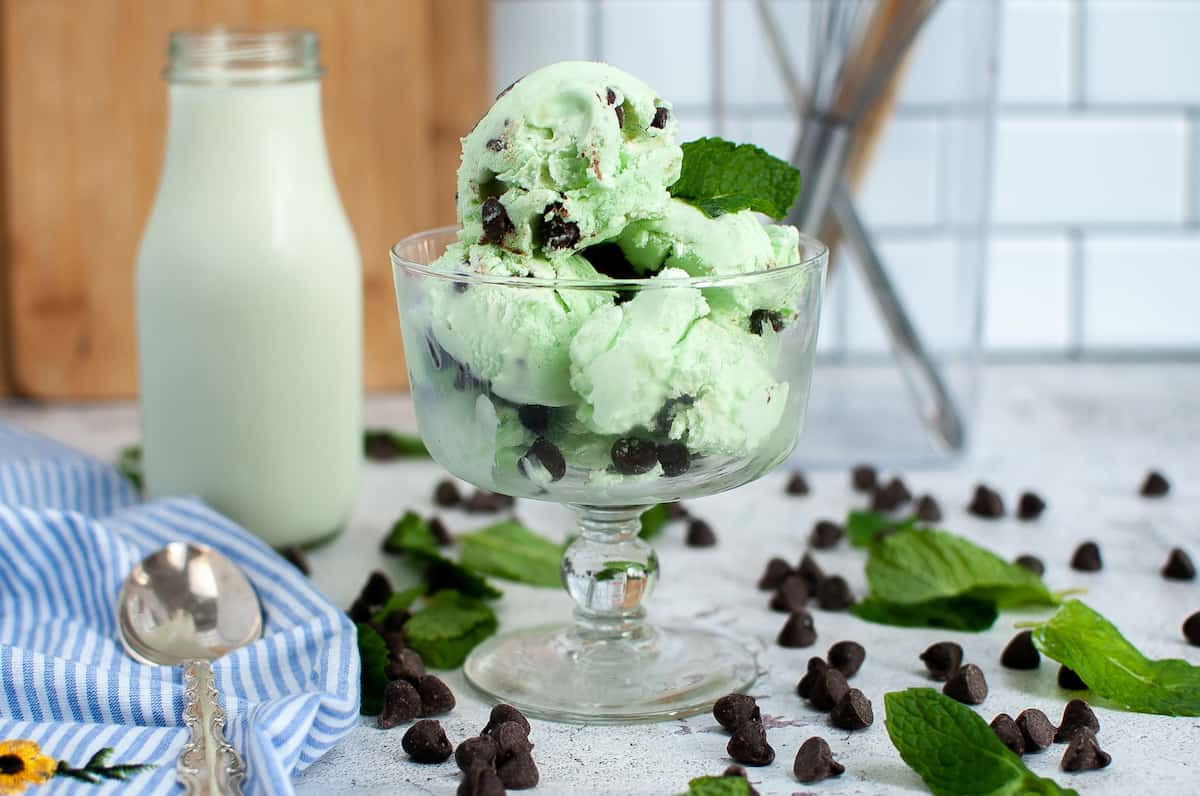 Variations on this recipe
If you want a slightly different flavor, you can add ½ teaspoon of vanilla bean paste or vanilla extract with your mint extract.
You could use dark chocolate chips or semi sweet chocolate chips instead of milk chocolate chips.
If you don't have an ice cream pan, make sure you cover your loaf pan tightly with plastic wrap or the top might get a little weird in the freezer.
Don't try to make this ice cream low fat. It will have an unpleasant consistency, and it will taste like trash. You need heavy cream and sweetened condensed milk. Nothing else will work.
Chocolate chips and chocolate chunks are pretty big, so you may like your ice cream better if you pulse them a couple of times in a food processor or even just chop them with a nice, sharp chef's knife.
Pure mint extract is not the same as peppermint extract. See ingredient notes above.
How long does no churn mint chocolate chip ice cream last in the freezer?
At my house, it lasts about a day, but I don't think that's what you are asking.
If you use an ice cream pan with an airtight lid, no churn ice cream will generally stay good for about two to three months.
If you use a loaf pan and wrap it tightly in plastic wrap and then aluminum foil, you will probably be able to keep it one to two months.
If you leave the ice cream open to the air in the freezer, it will get freezer burnt in less than two days. Keep it covered.
More St. Patrick's Day Fun
And here are more delicious ice cream recipes
Recipe