The best simple, quick, and easy old fashioned hot fudge sauce recipe - Made from butter, sugar, unsweetened cocoa powder, evaporated milk, vanilla, and chocolate chips, this is the perfect sauce to top any dessert! Great on ice cream, brownies, cake, and more!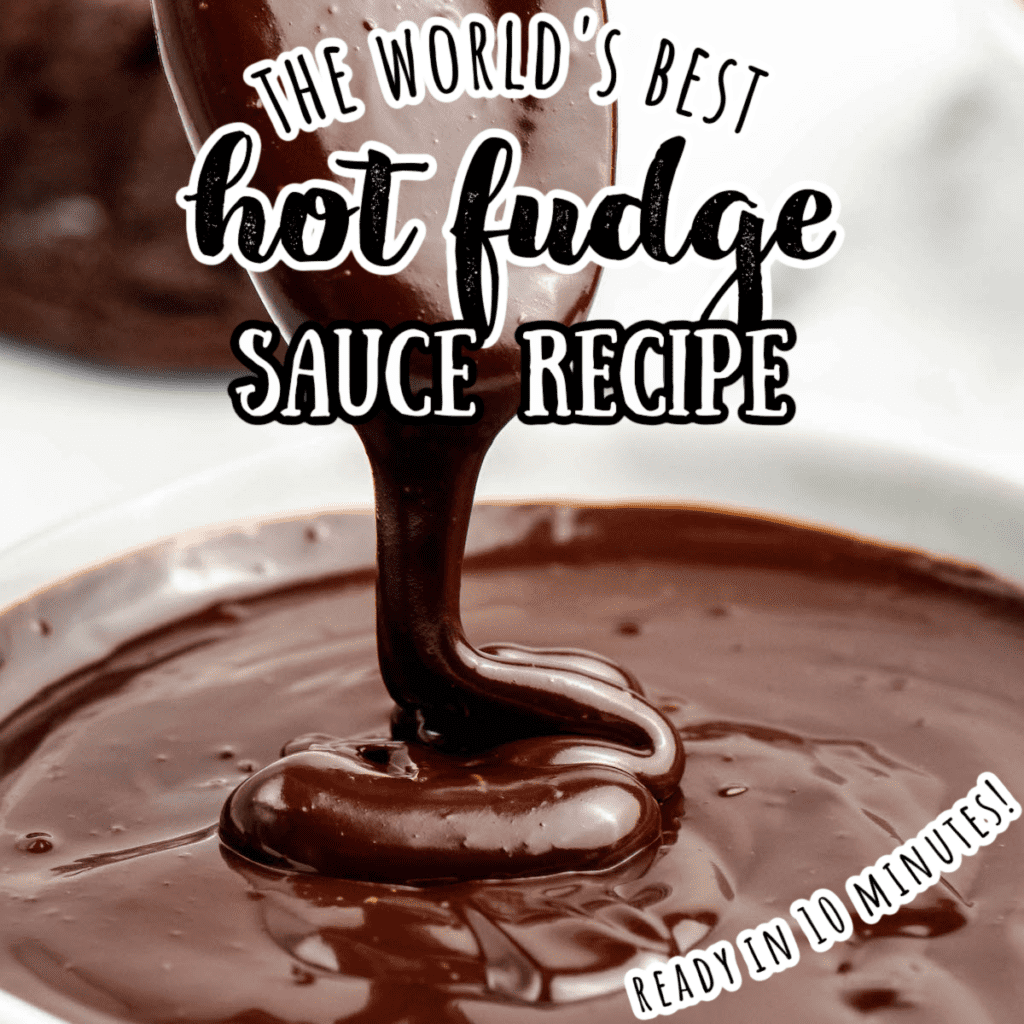 Who doesn't love hot fudge? Is there anyone out there? You have to tell me if there is because I don't believe it.
I for one adore hot fudge, and I worked really hard on this recipe to get it just right. It's simple to prepare and ready in less than 15 minutes. You're going to love it!
I've seen hot fudge recipes with only 3 or 4 ingredients, but trust me, they lack the depth and richness of this one. This is the old fashioned recipe that your grandma made when she made hot fudge sundaes at home. It's thick enough to be slightly chewy, but when hot, it pours well and makes an awesome topping for ice cream, brownies, cake, or whatever dessert you have.
Why is this the best homemade hot fudge sauce
This is the best fudge sauce because:
It is thick and gets a little chewy when it's cold, and it gets cold when it's poured over ice cream.
It has to be heated in order to pour it.
It has deep, rich flavor that is exactly what is needed to set off a perfect vanilla or caramel ice cream.
You can vary the flavor based on your preferences, using semi-sweet, dark, or even bittersweet chocolate.
What you'll need to make homemade hot fudge
Equipment
There is no special equipment needed for this recipe, just measuring cups and spoons, a medium-sized saucepan, and a stove.
I don't recommend making this recipe in the microwave.
Ingredients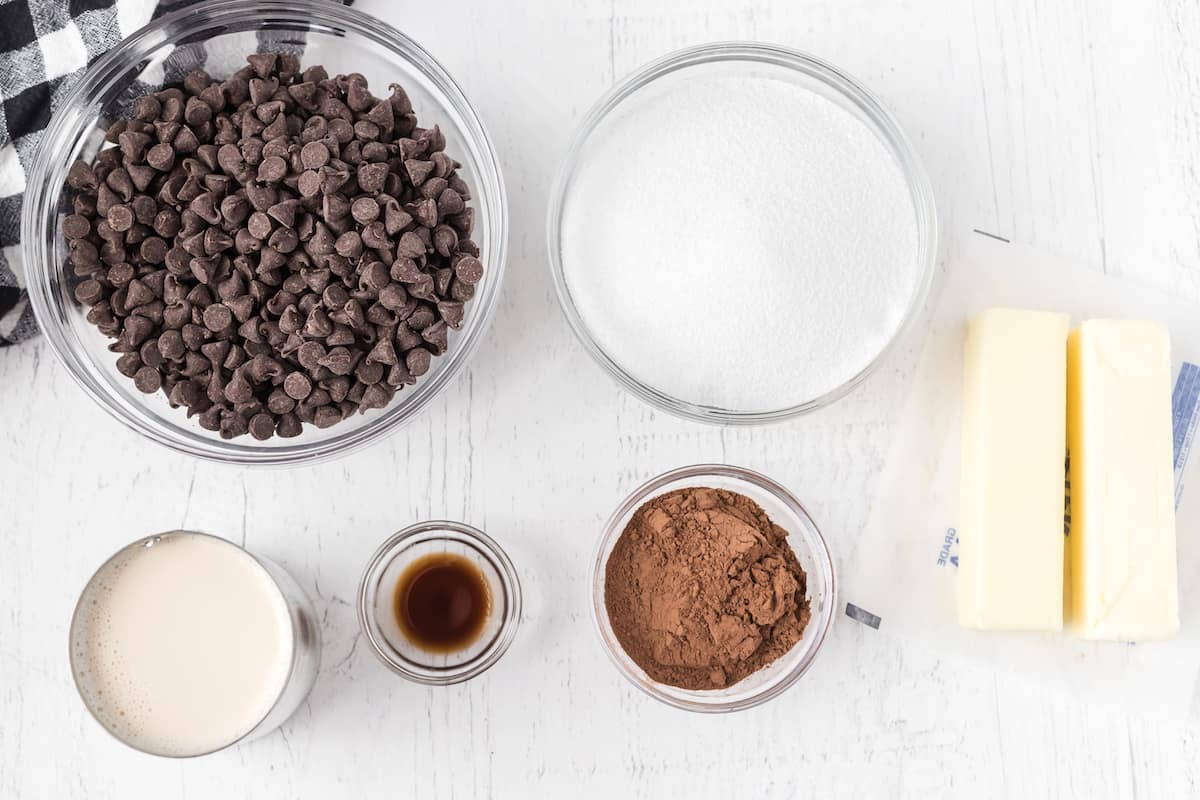 Unsalted butter - I prefer unsalted, but you could use salted butter and not notice a difference.
Unsweetened cocoa powder - Use the best quality cocoa powder that you can find. I use Hershey's name brand cocoa, and I think it turns out perfectly.
White sugar - You can also use an equal amount of brown sugar for a slightly different flavor.
Evaporated milk - This is the kind that comes in a can. If you don't have any, you can substitute 12 ounces of heavy cream.
Vanilla - I used to use vanilla extract, but I have switched over to vanilla bean paste which has a much richer and deeper vanilla flavor
Semi-sweet chocolate chips or dark chocolate chips - The hot fudge sauce is going to taste just like these chocolate chips, so use the best quality chocolate chips you can find.
Also, do not use milk chocolate chips as they are too sweet and that sweetness will be weird in your hot fudge. Trust me on this. Semi-sweet or dark is the way to go. You can even use bittersweet chocolate if you like it.
How to make homemade hot fudge sauce
Add butter, cocoa, sugar, and evaporated milk to a medium saucepan over medium-low heat until everything melts and the mixture is entirely liquid.
Raise the temperature to medium or medium-high heat and cook until the mixture boils, stirring occasionally with a whisk, and continue to boil for 7 minutes.

After 7 minutes, remove the sauce pan from the heat and immediately stir in the vanilla and chocolate chips. Continue to stir until the chocolate chips are all melted and the sauce is smooth.
Hot chocolate can burn very easily, so it is necessary to turn the heat off under the chocolate sauce before stirring in the chocolate chips.

If for some reason, you have trouble getting the sauce to a smooth consistency, you could put it in the blender and whir it around in there for a few minutes. This will smooth out any lumps.
I would not recommend reheating the sauce to smooth out the lumps because the chocolate will burn very quickly. You can't fix burnt chocolate; you just have to throw it in the trash and start over.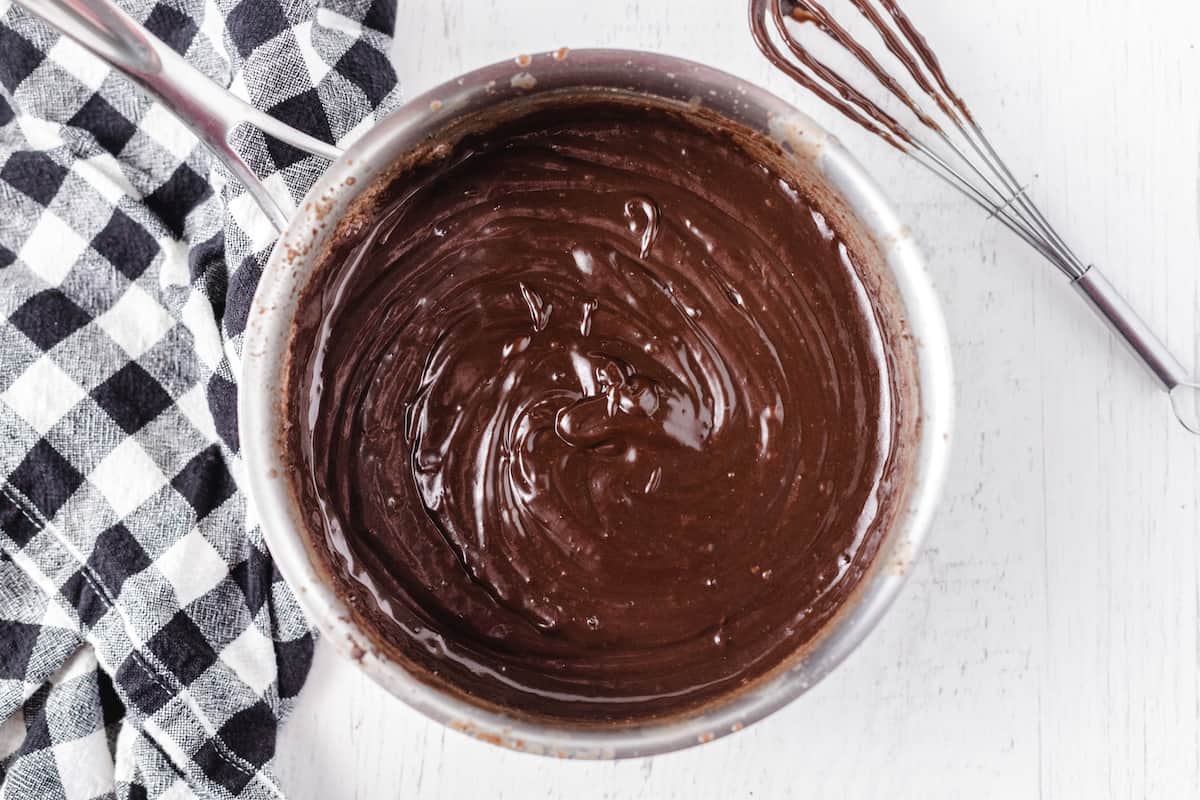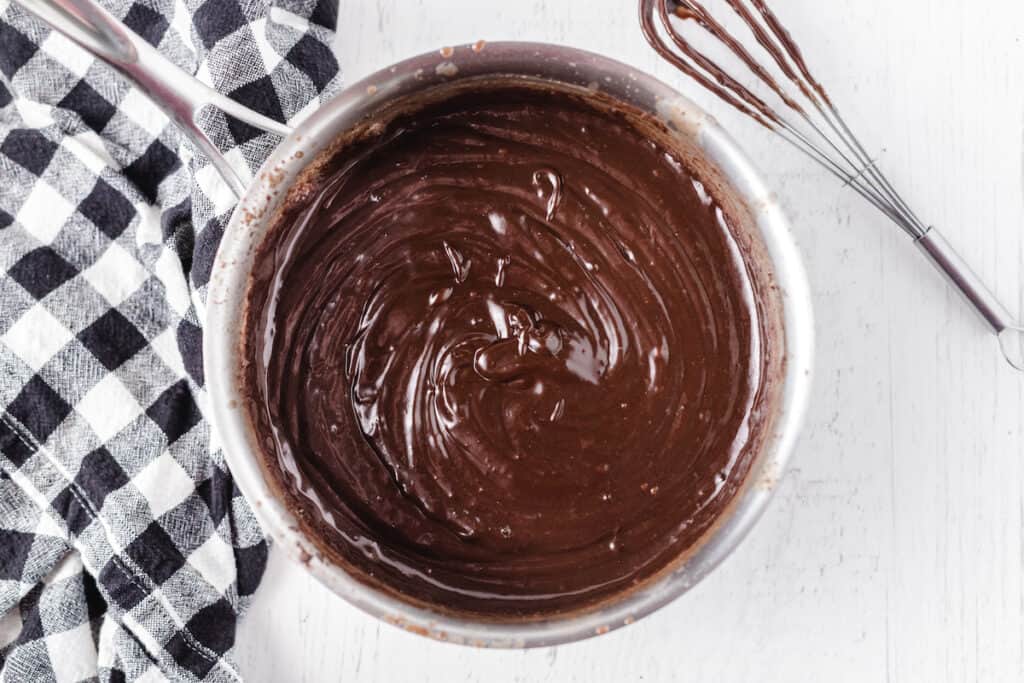 Hot fudge variations
Try adding one or more of the following (but not all at the same time) to change the flavor:
¾ teaspoon of kosher salt
1 ounce of rum or liqueur
2 teaspoons of vanilla bean paste
2-3 tablespoons of orange zest (chocolate and orange are a winning combination!) plus 1 teaspoon orange extract
1 teaspoon ground cinnamon
2 teaspoons peppermint extract
2 teaspoons caramel extract
2 teaspoons butterscotch extract
¼ cup freeze dried fruit
2 tablespoons very strong coffee
What is a serving size?
In the recipe below, I have said that a serving is 4 tablespoons which is the same as a ¼ cup. This is probably more than you need, but I like a lot of hot fudge, so there it is. If you use less, you can cut the nutritional information as well.
What is the difference between hot fudge and chocolate sauce?
Chocolate sauce or chocolate syrup is thin and runny, and I don't like it one bit (although I know a lot of people do). It is made from light corn syrup or sugar, water, and cocoa powder.
Hot fudge is thick and viscous. It is made from butter, sugar, cream, cocoa powder, and real chocolate. As you can see in the photo above, it pours when it's hot, but when it's cold, it's almost solid. Hot fudge has a much creamier and richer flavor than chocolate sauce.
What do I do if my hot fudge sauce is too thick?
If your sauce turns solid when you drizzle it over your ice cream, you may want to add a bit more milk or cream. Simply reheat the sauce in a double boiler and whisk in 2-4 tablespoons of evaporated milk or heavy whipping cream.
What do I do if my hot fudge sauce is too thin?
If your sauce just runs off of your ice cream and into the bottom of the bowl, you might want to thicken it a bit. To do this, put it back in the saucepan and heat it very gently over medium-low heat until it boils. Allow it to boil for a few minutes to thicken.
How to enjoy homemade hot fudge sauce
I love to drizzle this homemade hot fudge over a bowl of ice cream. In fact, that's my favorite way to eat it, especially ice cream sundaes with warm brownies. Here's a great fudge brownie recipe that goes perfectly with some vanilla ice cream, homemade hot fudge, whipped cream, and a cherry.
You can also use homemade hot fudge to dip fruit like strawberries or banana slices.
You can make hot chocolate or chocolate milk by whisking hot fudge sauce into a glass of cold milk or a mug of hot milk. Add as much as you need to reach the level of chocolatey-ness that you prefer.
Homemade hot fudge sauce is featured in this s'mores cheesecake recipe and would also be tasty drizzled over these desserts:
You could also replace the chocolate ganache in these recipes with hot fudge sauce. Ganache gets a little crunchy when chilled (such as it is on a cheesecake), whereas hot fudge sauce stays a little softer and chewier.
How do you store homemade hot fudge sauce?
I like to store hot fudge in a mason jar in the refrigerator. Some keep it at room temperature and don't have any problems, but it is safer in the fridge and will stay fresher longer.
To store, let the sauce cool completely to room temperature before chilling. It will keep in the fridge up to a month or so. You can also can hot fudge and keep it for 6 to 12 months.
To serve, reheat in a double boiler or spoon into a microwave-safe bowl and heat in the microwave for 15 seconds at a time until it's hot. Remember that chocolate burns very easily, and you can't fix burnt chocolate.
Recipe