This is the best peanut butter cheesecake brownies recipe! Featuring a simple fudge brownie made from scratch and a layer of decadent peanut butter cheesecake, these easy and delicious peanut butter cream cheese brownie bars will become your new favorite brownie recipe!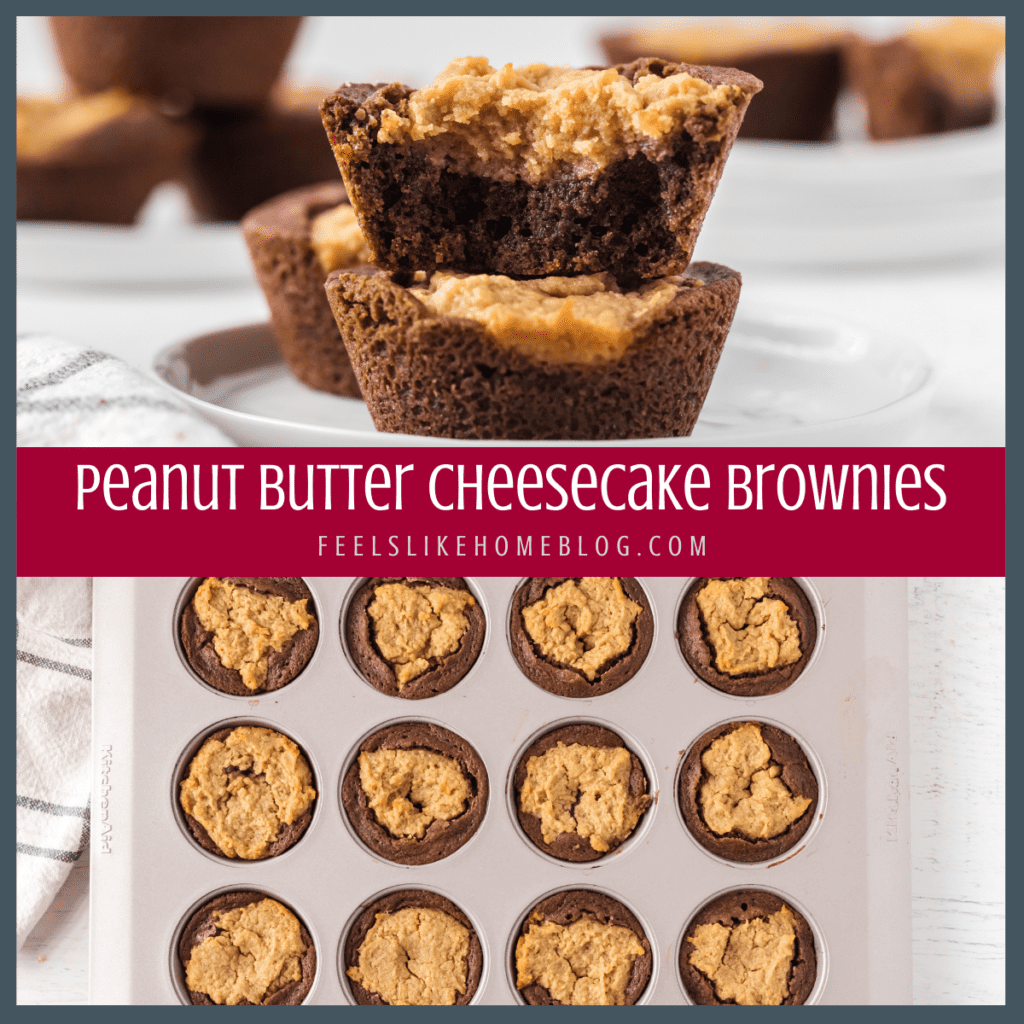 Whatever you call this strange time in world history, it has been wonderful for my family. I usually have my kids and husband scheduled out of the house every evening and weekend with lessons and practices and outings. We go to sports games and plays and movies and Girl Scouts and 4H. We are busy busy busy, and I kind of like it that way.
But these last couple of months, we have been un-busy. We have gone nowhere (save a couple of trips to the grocery store and for take out). There have been a couple of piano lessons via Facetime and a couple of 4H meetings via Zoom, but otherwise, our time has been wide open. We have planted plants and read books and watched movies and made crafts and tried new things. My kids have grown to hate, "Hey little children! I need you!" (which I say tongue-in-cheek whenever I want them to do something I'm pretty sure they will not want to do).
Anyway, during all of this wonderful do-nothing time, Allie and I have started baking. It started innocently enough with a boxed mix, but when we ran out of boxed mixes, we had to bake from scratch.
And baking from scratch was so very much fun. We measured and mixed and measured again. We scooped and swirled and laughed and tasted.
When you bake from a boxed mix, you throw a couple of eggs and some oil into the batter, mix it up, and bake.
Not so when you bake from scratch. There are a multitude of steps which does mean more work, but it also means more tasting opportunities and more occasions for laughing and merry making.
I love baking with my kids. My older daughter is over cooking in all shades, but little Allie is still quite into it. I helped with the basic brownie recipe, and then she put together the peanut butter and cream cheese (two of her most favorite flavors) and put that mixture right on top of her brownies with delightful results.
We have some brownie pans where each brownie is a separate square well, sort of like a cupcake pan but for brownies. They are neat little things, and we had enough brownie batter for 23 of them. The 24th well was filled with Allie's peanut butter cheesecake mixture alone, and we sort of argued over who would get to eat the peanut butter goodness. (Well, not really because Allie is the most generous of souls and offered it to me as soon as I said I wanted it.) But the peanut butter "brownie" wasn't as good as the chocolate brownies with peanut butter topping, and I was sad that it didn't have chocolate attached.
I have included instructions below for making these brownies in a muffin pan because I assume that most people don't have fancy brownie pans. And if you don't have a a brownie pan, consider buying one because they are good not only for brownies but also for mini pizzas and a whole host of other handheld foods.
How to make peanut butter cheesecake brownies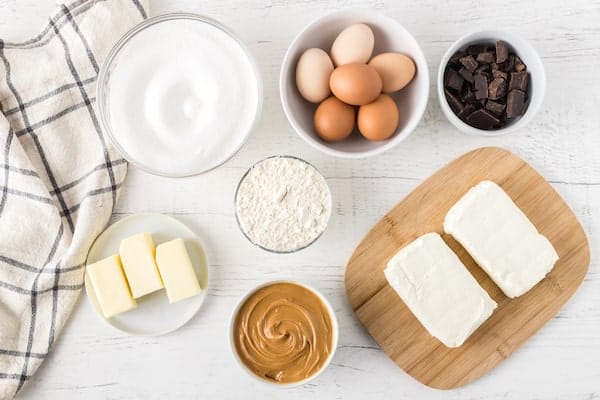 Preheat your oven to 350º.
Prepare a brownie pan or muffin pan by spraying the wells with cooking spray.
Microwave the butter and chocolate together for 1 minute. Stir well and microwave for another 30 seconds, then stir. Ours was not completely melted after 90 seconds, but I stirred it for about 30 seconds, and the last of the chocolate melted without any additional microwaving. You can continue to heat in 30 second increments until the butter and chocolate are all melted, but be careful not to overheat. If your chocolate gets hard and grainy, you have ruined it. Be sure to stir well after each heating and heat it a little less than you think is really necessary.

Add 2 cups of the sugar to the butter and chocolate. Mix well.

Beat 4 of the eggs in a small bowl and add to the batter. Stir in the flour and mix well. It will taste very good at this stage!

Pour the batter into the wells of your pan. Fill each a little more than half way.
Soften the cream cheese by putting one block into the microwave for about 45 seconds. (If you try to soften both blocks at the same time, you will most likely end up with some cooked cream cheese and some still hard cream cheese. I've done this before, and it didn't work very well.) After the first block is soft, remove it from the bowl or plate and heat the second block.
Add the peanut butter, 1 cup of sugar, and 2 eggs to the cream cheese and mix well.


Drop the peanut butter mixture onto the brownie batter so that there's almost as much peanut butter mixture as brownie batter.

Bake for 20 minutes or until a toothpick inserted in the center comes out with just a few crumbs. Do not overbake.

Cool at least 30 minutes, then serve warm. They are also amazing at room temperature.

Check out these other amazing desserts while you're here:
Recipe