How to make the best fudgy cocoa powder brownies - This simple and easy recipe uses Hershey's unsweetened cocoa powder with eggs, flour, sugar, butter, and oil to make the best moist homemade chewy chocolate fudge brownies from scratch. One bowl recipe.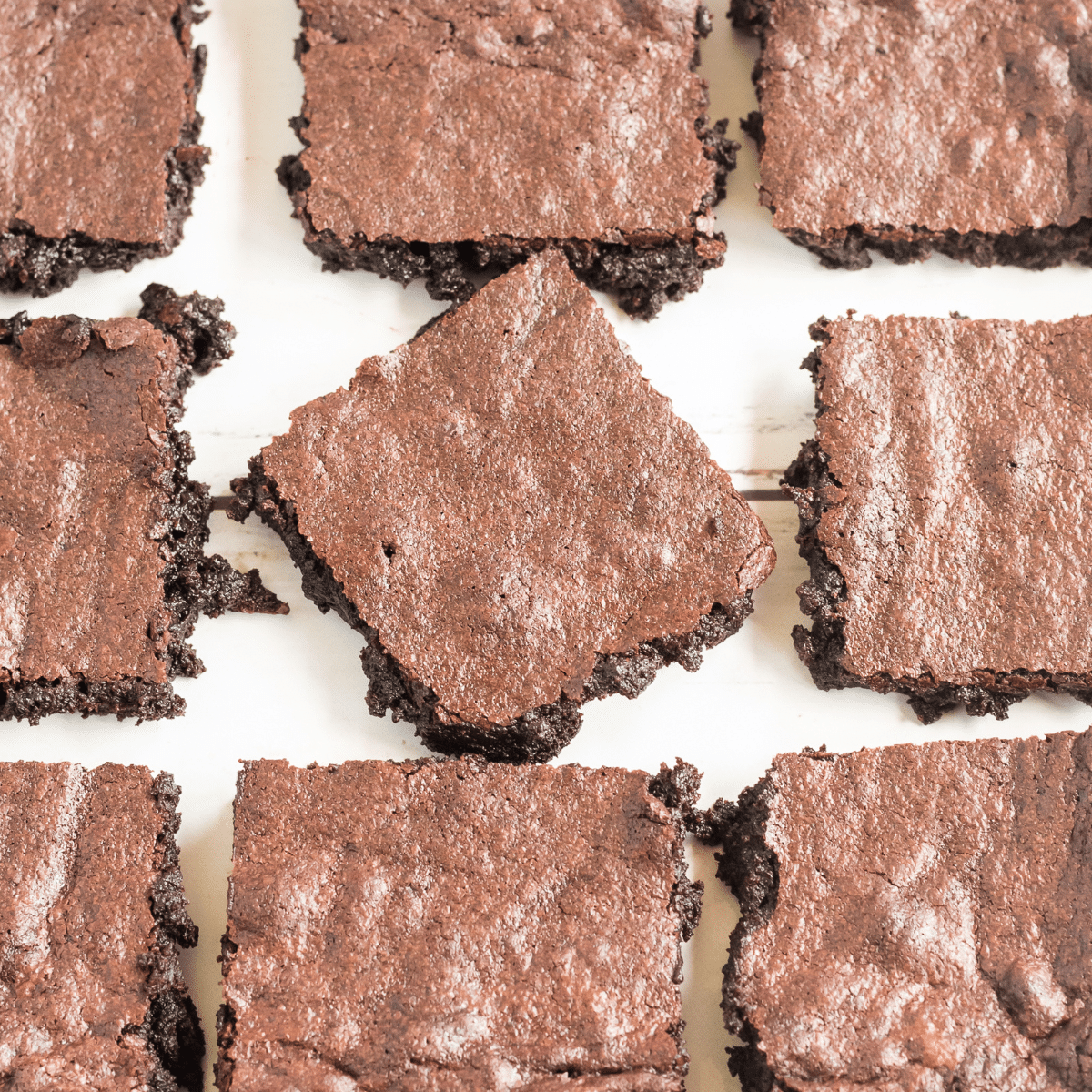 My go-to hobbies during the quarantine were walking, reading, crocheting, baking, and gaining weight. I have done a lot of all five.
When the lockdown was really tight, and we were asked not to go to the grocery store more than once a week, I was had a chocolate craving and was desperate to make some homemade brownies but had no box brownie mix and no bakers chocolate and no chocolate chips. And even if it would have been okay to go to the store, they were closed since now that there is a pandemic, even Walmart closes at 8:30pm. (The horrors! What is this world coming to when Walmart closes?)
I had only ever made fudgy brownies with chocolate chips or unsweetened chocolate before, so I didn't know exactly what to do. Even so, I was convinced that it was possible to make good brownies with only cocoa powder, and I went to work.
I fudged (haha) my way through the brownies though and ended up with a very nice fudge brownie recipe. I have included the single batch recipe, but I always double it because they disappear so quickly. As always, I prefer to use a brownie pan, but a muffin pan or even a 8x8 inch square baking pan will work.
I prefer the single serving pans because then no one complains about having been cheated by poorly measured cutting, and also because everyone gets brownies with a fudgy texture in the center and crisp edges. My family likes the crisp edges (even though I prefer the softest center piece).
Why is this the best brownies recipe?
I have always liked box brownie mixes, but it's because I adjust the ingredients to make them as fudgy and dense as possible.
This recipe goes way beyond a box mix to make an incredibly dense and rich brownie with a light and crispy, crinkly top. I know I'm biased, but these are by far the best brownies I've ever eaten - and they are made with very simple pantry ingredients which is perhaps the best thing of all.
Oh, and did I mention that these brownies require only one bowl and a few minutes to mix and bake? YES!
What you'll need to make this cocoa powder brownies recipe
Equipment
I used an electric mixer to combine the batter, although you could use a mixing bowl with a spatula to do that.
You'll need to sift the dry ingredients into the wet, so you'll need a sifter or strainer.
I prefer to bake brownies in a brownie pan (similar to a muffin pan but with square wells) that I fill with a large cookie scoop, but you can also use an 8x8 inch pan (as my photographer did below). I have and love the pan I've linked here. It is made in the USA from a nice, thick aluminized steel.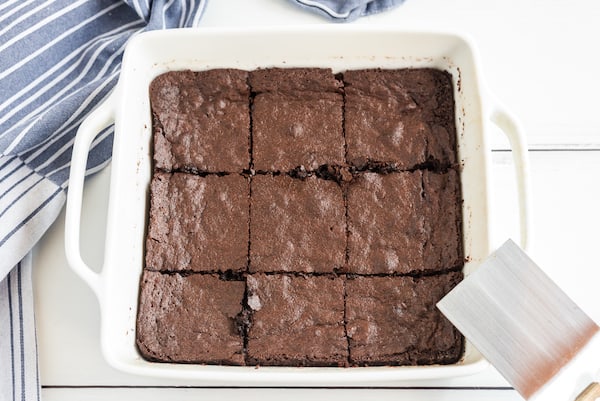 Ingredients
Melted butter - You will need this to be very hot when you use it. I use unsalted butter, but you can also use salted, and you won't notice a difference. I do not recommend using vegetable oil instead. You need hot butter in this recipe.
Canola oil - You'll mix this with the hot melted butter. I like canola oil because it has a very neutral flavor. You can use another type, but you may taste it in the brownies. I do not like olive oil in my brownies.
White granulated sugar - You need a good bit of sugar to balance out the bitterness of the cocoa powder, so don't skimp and try to make these brownies healthy. Good brownies aren't healthy. White sugar is what makes the tops of the brownies nice and crinkly. If you substitute brown sugar, the consistency of the brownies will be different.
Large eggs - Preferably removed from the fridge an hour or so before mixing the brownies. Cold eggs won't ruin the brownies, but room temperature eggs work a little better.
Vanilla bean paste or vanilla extract - I have recently discovered vanilla bean paste, and I now use it exclusively in place of vanilla extract. Vanilla bean paste is thick, with a glue-like consistency, and it is made from crushed vanilla beans. It actually has vanilla beans in it, and you can see them. It has a strong vanilla flavor that is wonderful, especially in baked goods. Vanilla extract is okay, but it is watery and made by soaking vanilla beans in alcohol. After soaking, the beans are completely removed from the liquid, so its flavor is not as strong. You can use whichever you want, but if you haven't tried vanilla bean paste, I highly recommend you order a bottle and give it a try. I think you're going to love it.
All purpose flour - This recipe uses just a tiny amount of flour, and that's why it makes a fudgy brownie and not a cakey brownie.
Unsweetened cocoa powder - I like the Hershey's brand, but you can use whatever kind of cocoa that you have and like. The brownies will have the chocolate flavor from your cocoa powder, so if you prefer dark chocolate, use a dark cocoa.
Salt - This recipe uses a tiny bit of salt, and you need to add it even if you use salted butter. Don't leave it out.
How to make the best cocoa powder brownies
Preheat the oven to 350º. Spray the pan you'll be using with cooking spray and set aside. If you are using an 8-inch x 8-inch pan, it would be helpful to line it with parchment paper before spraying. If using a pan with wells, this is not necessary.

In a medium bowl, stir together the hot melted butter, canola oil, and sugar. Whisk for at least a minute so that everything is well combined, and the sugar is as dissolved as possible. Add the eggs and vanilla to the mixture and beat until the batter turns a lighter color, at least another minute.


Sift in the flour, cocoa powder, and salt. (If you don't have a flour sifter, you can use a strainer or even a metal colander in a pinch.) Fold the dry ingredients into the wet ingredients until they are just incorporated. Be careful not to overbeat after you add the dry ingredients or your brownies will get too much air inside and be more like cakey brownies than fudgy brownies.


Use a large scoop to measure out the batter into the wells of your prepared pan. Alternately, pour the mixture into the baking pan and smooth it out with a rubber spatula so that you have an even layer.

Bake for about 20 minutes or until the top is just set. A toothpick inserted in the brownies should come out dirty with moist crumbs but not wet with batter.

If you have made your brownies in a pan with wells, you can pop them out and eat them while they're still warm. If you've made them in an 8x8 pan, you will need to wait until they have cooled completely to room temperature in order to cut them or they will be too gooey and may fall apart.

How do you know when the brownies are done?
First of all, it is better to under bake brownies than to over bake them. Over baked brownies are dry and hard and make people sad. Under baked brownies are moist and gooey and much preferable to the alternative.
I recommend you bake these brownies for 20 minutes, but remember that every oven is different, and yours might need a few minutes more or less. Set your timer for 17 minutes, and check the brownies often after that.
When you think the brownies are done, stick a toothpick in the center. If it comes out with liquid batter on it, they aren't done.
If the toothpick comes out with moist crumbs, the brownies are perfect.
If the toothpick comes out clean, the brownies are over baked. Get them out of the oven right away!
You want to take brownies out of the oven when the edges are starting to get firm and the center looks al little squidgy. The center will continue to cook after they come out of the oven, so you want them to be slightly underdone when you take them out.
What makes brownies fudgy or cakey?
Fudgy brownies are dense and chewy, with a strong chocolate flavor and not a lot of air. Typically, this is achieved by using more fat per the amount of flour. That's why you use melted butter and canola oil in this recipe. You also want to beat fudgy brownies as little as possible after adding the dry ingredients to the wet. More air in the batter = more cakey consistency.
Often, fudgy brownies require melted chocolate to achieve the desired consistency, but I have achieved a dense fudge brownie with just cocoa powder in this recipes (as you can see in the photos).
Cakey brownies are tall and light with a lot of air in the batter. They typically have more flour per the amount of fat and usually include baking powder for leavening (that means raising the brownies with air bubbles like a cake would have).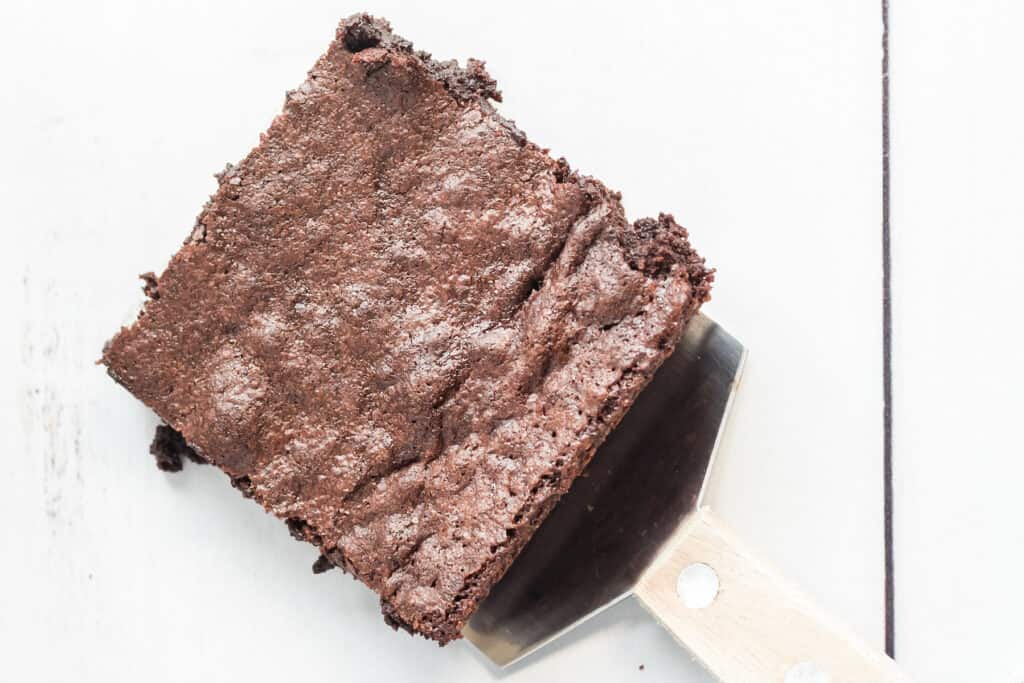 Tips for making the best brownies
To save yourself washing another dish, melt the butter in the glass mixing bowl you'll use to make the brownies. Why use a smaller dish and then have to dump it into a bigger one?
Using hot melted butter and white sugar is what makes the tops of the brownies crispy and crinkly.
You can't over beat the moist ingredients. In fact, you should beat them longer than you think is necessary. The eggs, oil, and butter need to be completely incorporated.
However, you must not over beat the batter after the dry ingredients have been added. That's what will turn them into cake brownies which we do not want here.
You can double this recipe and make it in a 9x13 pan.
Cook the brownies on the top rack of your oven. That will help them to stay fudgy and moist rather than dried out.
Let the brownies cool before cutting them. If they're too warm, it will be hard to cut them, and the edges will get all messed up.
Cocoa powder brownie variations
If you have them, you could add a couple of handfuls of:
Semi-sweet chocolate chips
Milk chocolate chips
Peanut butter chips
Chopped nuts - my favorites are pecans or walnuts
M&Ms or Reese's Pieces
Marshmallows
What else can you think of to add? Maybe some diced maraschino cherries or freeze dried strawberries?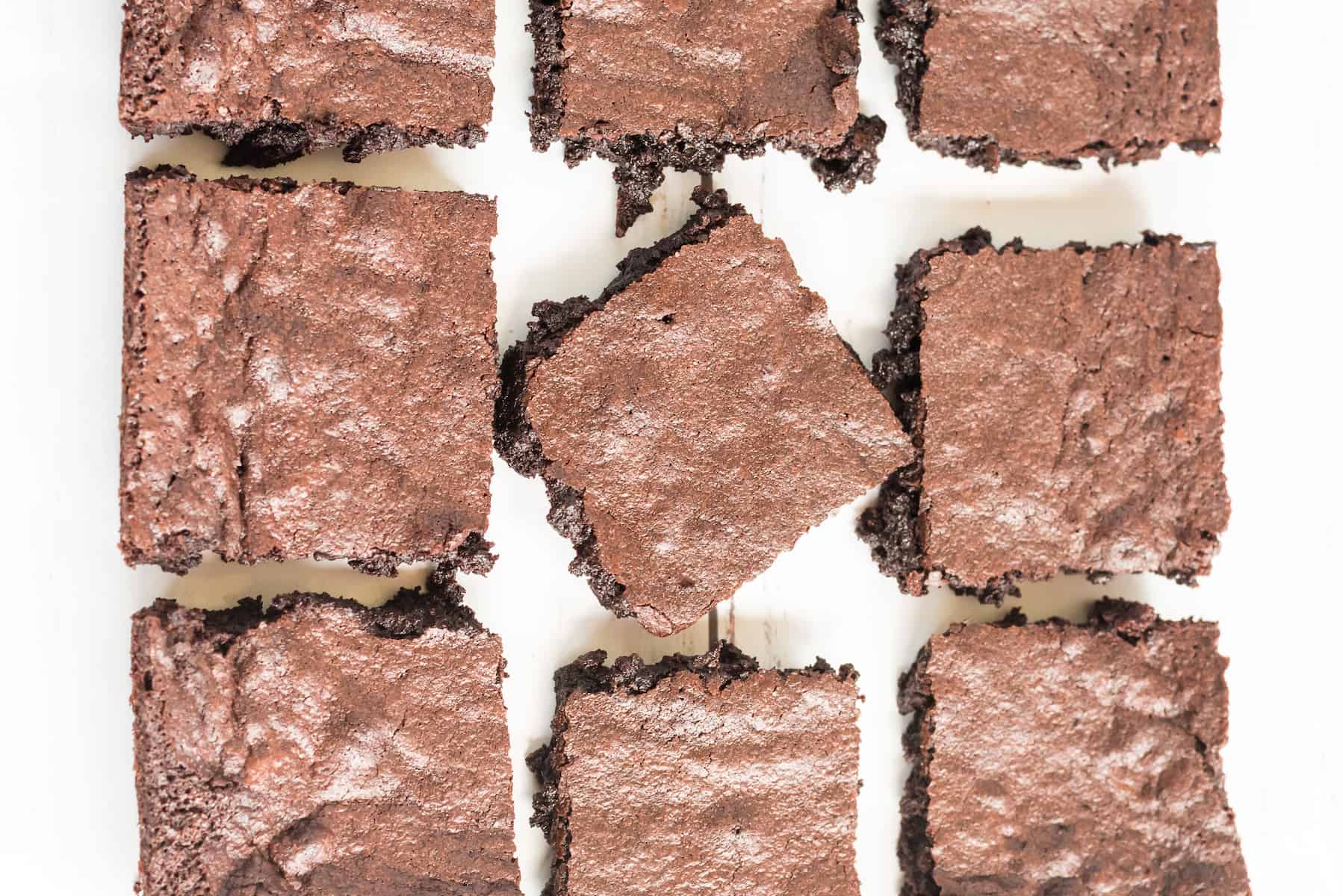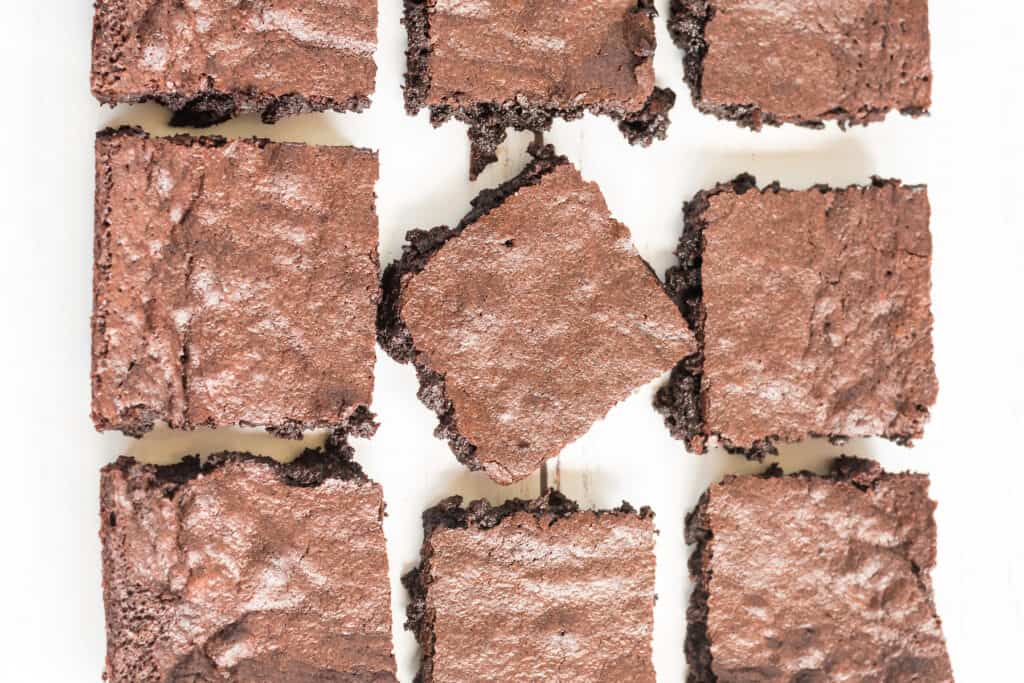 How to store cocoa powder brownies
You can keep these brownies in an airtight container at room temperature for up to 3 days (if they last that long, which they probably will not).
Don't put your brownies in the fridge; that will dry them out.
You can also wrap them in plastic wrap and then aluminum foil, and then put that package into a zippered freezer bag. The whole thing can go in the freezer for up to a month.
Here are some other amazing recipes that I am certain you will love:
Recipe