How to make the best fresh cherry almond clafoutis - This simple and easy pudding cake recipe uses sweet black or red cherries (fresh or canned) with a homemade, made from scratch vanilla almond cake. It is amazing with ice cream and real whipped cream!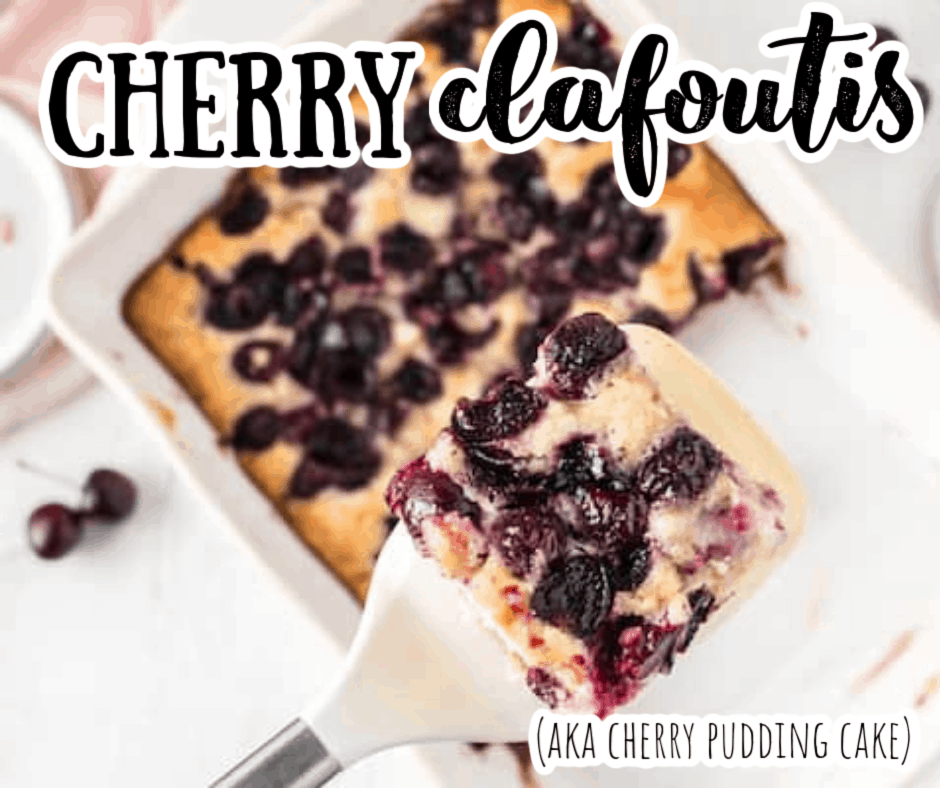 Last week, after several days of Allie begging, I took the girls to a local farm to pick blueberries and cherries. I know you can buy these foods at the grocery store, and they may well be cheaper there, but there is no substitute for fruit that was growing at sunrise and on your plate for supper. They taste so much sweeter and cleaner and richer than anything you can buy at the grocery store.
Plus, shopping local is good for your economy and the environment, too, if those matter to you.
But I digress. I really wanted to tell you about how my dad and I have an unnatural love of all things cherry. For years, I made a third pie at Thanksgiving - a couldn't be easier cherry pie - even though my dad and I were the only two people who ate it. Typically, the cherry pie turned moldy before it could be finished, because my dad and I would each have a couple of slices, and then it would sit.
But we loved our cherry pie, and I continued to make it.
So every year, when cherry season rolls around, I am in the orchard, picking myself quart after quart of fresh, sweet cherries.
This year, I first made a fresh blueberry cobbler, and it was delicious, but I couldn't wait to make my favorite cherry clafoutis (also called cherry pudding cake, but doesn't clafoutis sound so much fancier?). It comes out a little gooey, and there is an explosion of cherry in every single bite.
We were headed out to a local diner this past weekend, and I called my dad (who doesn't get out much) to see if he wanted take out when we were done.
"You know what I would like?" he asked. "I'd like a piece of cake. You could bring me one." My dad has a big sweet tooth, and we discussed exactly what kind of cake he would like to receive. Then I remembered.
"Oh, hey!" I gasped. "I made a cherry cake from scratch using the cherries I picked last week. Would you like a slice of that or do you want me to bring you a slice of cake from the diner?"
"The cherry cake would be alright," he replied. I knew that's what he would say.
So we ate our dinner (I had a reuben sandwich, and it was amazing as always), and as soon as we got home from the diner, I cut my dad and sister each a nice big slice of my cherry almond clafoutis with two big scoops of vanilla ice cream.
Normally, I walk over to their house, but I didn't want their ice cream to melt, so I drove.
My dad took two bites of the cake and told me that it was better than anything I could have gotten at the diner - and that is saying something big because this particular diner is famous for its giant, delectable cakes. And also, my dad does not dole out compliments very often, so I was doubly delighted by his reaction.
Both my dad and sister ate their cakes, and they practically licked their plates clean. I mentioned that I had enough cherries to make a second cake, and my dad said simply, "Well, you'll know where to find me when you do."
I was hoping that Joe wouldn't want a piece, but he too asked for some, and I gave him a piece with ice cream. He said it was perfect.
I mentioned that I was thinking about tweaking the recipe to make the cake part thicker, and he said, "NO! It is perfect. Don't change anything!" So I didn't. You have it here just as I made it the first time, thin cake layer and all.
Then Grace, who I thought didn't even like cherries, asked for a piece. When I asked if she liked it, she asked if she could have another slice, so I think she did.
I am down to one very small piece of cake left to eat for breakfast tomorrow, and I am a little sad about it. I may be making a new cherry cake sooner than I intended.
How to make the best cherry almond clafoutis
Preheat the oven to 375º and spray a 9x13 pan with cooking spray. Alternately, you could rub it with butter or shortening, but I prefer to go the lighter route and use the cooking spray.

Pit and halve the cherries. When there are approximately 2-½ cups of halved cherries in the bowl, sprinkle them with ½ cup sugar and toss to coat. Finish pitting and halving the cherries, and sprinkle with the remaining ½ cup sugar and toss the whole batch to coat thoroughly. Set aside.

Add the flour, sugar, and baking powder to a large bowl. Whisk together.

Add the milk, oil, and vanilla and almond extracts to the bowl, and whisk until well blended.

Pour the batter into the bottom of the prepared 9x13 pan and smooth out. It may seem like there's not enough batter for the whole pan, but there is. It will be a thin layer, but it will puff up during baking. This is normal.

Spoon the sugared cherries over the cake batter and spread them around in an even layer.

Bake the cake for 40 minutes or until a tester inserted in the cake part comes out clean.

Best served warm with ice cream, but almost as good served cold (also with ice cream, of course!). It's also really good served with a big fat dollop of real whipped cream. Or go crazy and have both whipped cream and ice cream!

Please note that this recipe requires sweet cherries. There are tons of recipes for sour or tart cherries, and they are very tasty, but this particular recipe requires sweet cherries. If your cherries are dark red to black, bright yellow, or yellow and red mixed, you have sweet cherries. If they are small and only bright red, they are probably sour cherries, and you will need to find a different recipe.
While you're here, check out these other amazing cherry desserts:
Recipe