This easy cherry pie recipe takes about three minutes to assemble and then 45 minutes to bake. There is no easier and more delicious cherry pie out there. You're going to love it!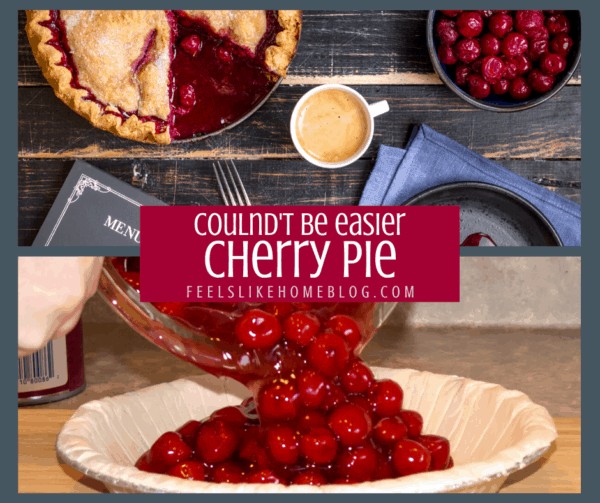 I make 3 pies for Thanksgiving dinner. It doesn't matter how many guests are coming, nor who they are.
Thanksgiving isn't Thanksgiving without a slice of cherry pie.
And a slice of pumpkin pie.
And a slice of pecan pie.
It just isn't.
And I make all 3 of them myself, usually on the Tuesday before Thanksgiving.
Are you impressed?
Everyone always raves about all that work I did to make three pies, but all three are so easy that it's embarrassing.
See, I buy two boxes of pre-made pie crusts. It doesn't matter whether they're Pillsbury or the store brand; they're all flaky and delicious. So I buy the crusts, roll them out into my pretty pie pans, and then I cook the pies. It does take a bit of work, but one evening after work, I take care of it and then it's done.
To contrast, I make a chocolate cherry cheesecake for Christmas dinner, and I think that is more work than the three pies.
This cherry pie is by far the easiest of the three pies I bake, and it's a great place for my young daughter to feel like she's helping.
What makes this cherry pie so easy?
The secret to this cherry pie is that everything is pre-made, and I don't mean that you make it ahead of time. I mean that you buy it.
Is that cheating? Maybe it is, but who cares? The pie will be baked, and it will taste good.
So you take two refrigerated pie crusts and two cans of cherry pie filling, and you plop it all in a pie plate and bake it. Voilà, you've got an impressive cherry pie with all the flavor you love, and it took you 5 minutes to prep.
What you'll need to make an easy cherry pie
Equipment
The equipment for this pie is standard to any pie. You'll need a 9-inch pie dish (preferably a deep one), a rolling pin, and a pie shield.
A mini cookie cutter makes it easier to cut vent holes in the top crust of the pie, but if you don't have one, you can just cut diamonds or even plain slits in the top crust.
Ingredients
2 prepared pie crusts - I always buy pie dough in the dairy case pre-made. I am normally a make-it-from-scratch kind of girl, but on Thanksgiving, there's so much to do already, without making homemade pastry dough. I have gotten the store brand and the Pillsbury, and both come out very nicely.
2 cans cherry pie filling - I have used both the regular and the lower sugar. These days I use either 2 cans of regular or one of each. Two cans of lower sugar with Splenda makes the pie come out tasting odd. Also, try to find cherry pie filling that has extra cherries and fewer juices/syrup. If you look, you can usually find some labeled "30% more cherries!" or something like that. Go for that stuff; it's better.
1 teaspoon almond extract - You don't have to add this, but I think it makes an ordinary cheater cherry pie go over the top of the delicious scale.
Milk
Granulated white sugar
How to make this easy homemade cherry pie recipe
Instructions
Preheat the oven to 425ºF.
Roll one pie crust out to an 11-inch circle. Place that dough circle in a deep dish pie plate. Use your fingers to press it into the bottom, sides, and especially the corners of the plate. (Yes, pie plates are round and don't have corners. I mean the place where the sides connect to the bottom. That's kind of a corner.)
Open the cans of pie filling and scrape it into the pie plate. Add the almond extract and mix it with the cherries and juice. Smooth it all out with a spatula.
Lay the remaining pie crust on a large cutting board (or directly on the counter). Roll it out to about 10 inches. Make four cut outs (these will allow the steam to leak out of the pie; without them, the top crust will have big air bubbles trapped under it). If you don't have a cookie cutter, you could cut a couple of Xs or even a couple of slits with a sharp knife after you've put the top crust on the pie.
Alternately, if you're feeling fancy and have a few extra minutes, you could cut the pie crust into strips and make a lattice on top of the pie. You just lay a few strips on direction, and lift up the strips to weave in a few strips going the other direction. Here's a YouTube video explaining the lattice crust process.
Carefully lay the second pie crust on top of the pie filling, and press the edges together. You may need to use a bit of water or egg to get them to stick together nicely. Cut the top crust so that it's even with the bottom crust, and finish the edge however you want. The easiest way is to crimp the top and bottom crusts together with your fingers, squishing them together as you go around.
Brush the top crust with milk and sprinkle with sugar. This is just to make it pretty and not at all necessary. Place pie in the oven on top of a baking sheet, just in case there are drips.
Bake until the crust is golden brown and the filling is bubbling, about 40-45 minutes. After the first 15 minutes, cover the outer edge of the pie with aluminum foil or a pie shield to make sure it doesn't get too brown. (See link in notes for a pie shield.)
Cool at least an hour before serving. The filling will set up as the pie cools.
Top with a scoop of vanilla ice cream and serve.
What is a pie shield and why should you use one to bake a homemade cherry pie?
A pie shield is a lightweight (aluminum) ring that sits on the outside edge of a pie crust, protecting it from the heat and preventing it from getting too brown.
The best way to use a pie shield is either to put it on right at the beginning or to bake the pie for 10-15 minutes and then put it on. If you wait until the edge of the crust is getting too brown, it will be too late. You can still use it, but it won't keep the crust from burning in that case.
If you don't have a pie shield, fold aluminum foil into a ring and place that over the edge of the pie.
How to store a cherry pie
You can leave this pie, fully cooked, at room temperature for a day or two. After cutting the pie, you should cover it tightly with plastic wrap and store it in the refrigerator for up to 5 days.
If you prefer to eat your pie warm, unwrap the pie and place the whole pan in a 250ºF oven for about 20 minutes or until warm.
THE REST OF OUR THANKSGIVING MENU
We don't get creative with our Thanksgiving menu. We like routines. We like the comfort of the same old food.
And for the leftovers, try one of these delights:
You can read more about my easy and traditional Thanksgiving menu.
Recipe