These candied yams are like dessert with a roasted marshmallow topping and thick syrupy sauce made from orange juice, brown sugar, and butter. Cook candied sweet potatoes in the microwave for an easy Thanksgiving side dish. Perfection!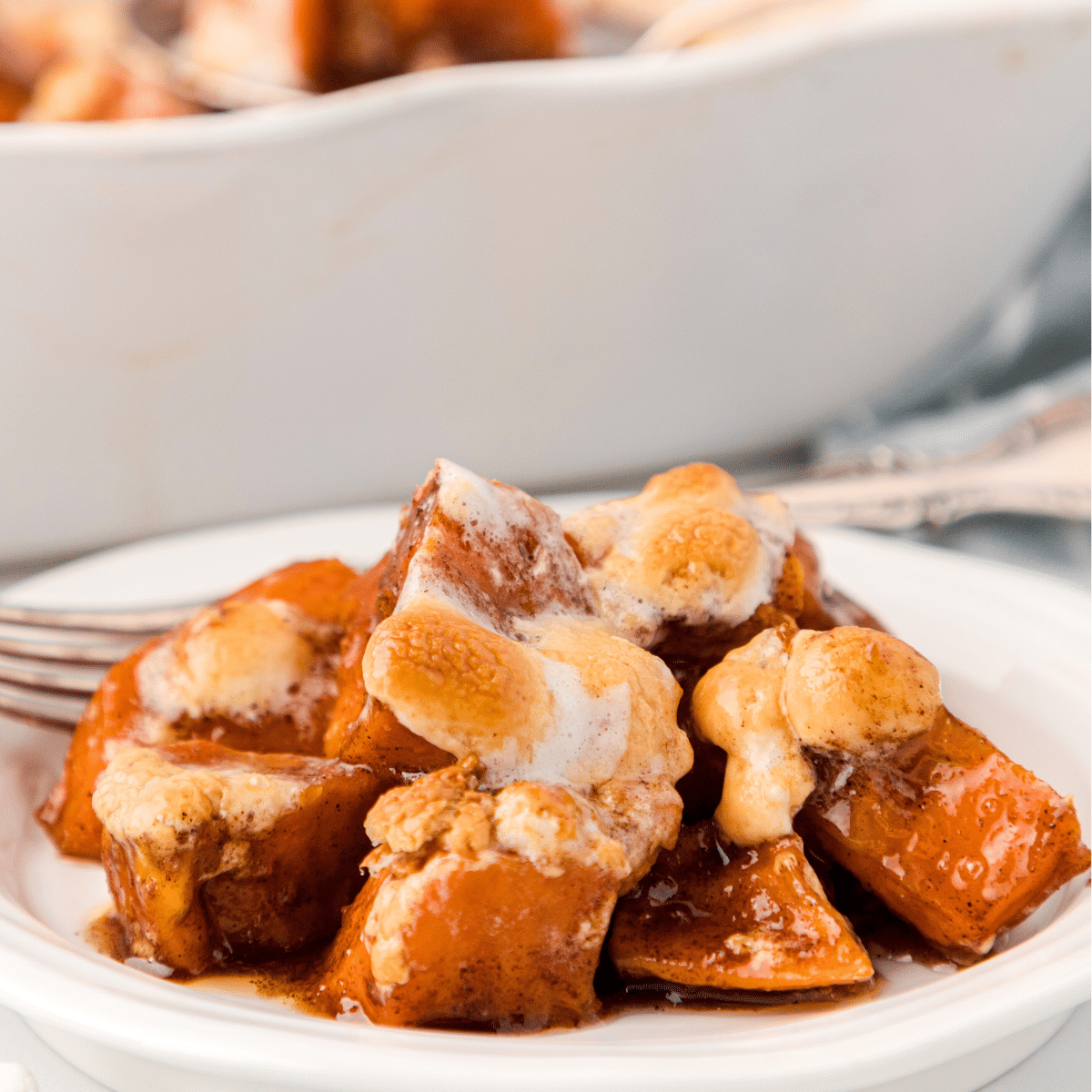 The perfect make-ahead candied yams recipe
In my opinion, the best Thanksgiving and Christmas recipes are classic and easy, and they tolerate being made a day or two ahead of time with no loss of flavor or texture.
This is one of those recipes.
Depending on how things are going with cleaning (and how much room there is in my refrigerator), I will either peel and pre-cut the sweet potatoes the night before or cook the whole dish the night before, stopping just before adding the marshmallows.
It reheats beautifully, so it really doesn't make any difference to the finished dish. When I make it ahead, I simply cover the whole thing and put it in the fridge, then on the morning of the holiday, I bring it out, put it in the microwave for five or so minutes to heat everything up, and then I cover it with mini marshmallows and pop it in the oven for ten minutes to toast them.
About half the time, I forget to take it out and the marshmallows melt into the syrup. Oh well. Toasted marshmallows always sound nice, but no one cares either way.
Well, maybe the kids care. But for as much as they eat, they'll get over it.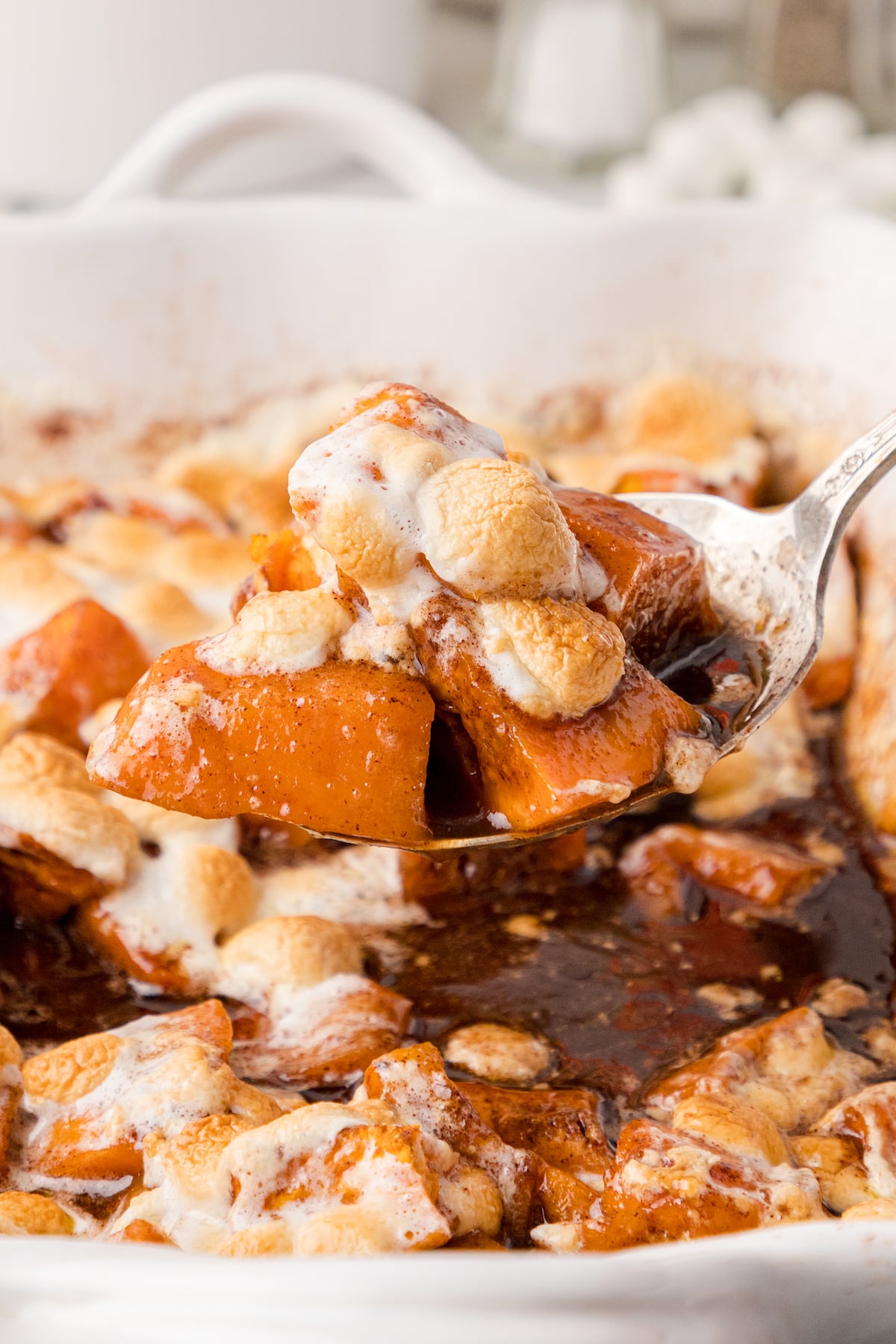 The perfect day-of candied yams
Now, all that said, our family has shrunk significantly and we now cook for only 6 people including our two children. So. I don't make much of anything ahead anymore. It's simply easier to do the cooking once and on the morning of the holiday.
What I do these days is peel and cut up the potatoes on the morning of the holiday, prepare the sauce, pour over the potatoes, and microwave. It takes less than 15 minutes from start to microwave, so I don't sweat doing it ahead of time.
After that, it's the same. I microwave until the potatoes are tender, then I cover them with marshmallows and put them in the already hot oven to toast. And then usually I forget to take them out and the marshmallows all melt into the sauce.
What you'll need to make candied yams with orange juice and marshmallows
Ingredients
4 large sweet potatoes, cleaned and peeled - Long, skinny sweet potatoes are easier to cut into slices and then quarter slices. If you are going to cut them into cubes, you could use bigger, fatter ones.
½ stick of melted unsalted butter
1 cup packed brown sugar - I think brown sugar really matters, but if you don't want to use it, you could substitute an equal amount of maple syrup.
¼ cup orange juice
1½ tablespoons pumpkin pie spice - Or to taste.
1 large bag of mini marshmallows - These are optional, but I think the dish is a lot better if you use them. The first handful will melt into the sauce. Then, just before finishing the dish, you'll add the remaining marshmallows and toast them in the oven.
How to make candied sweet potatoes with orange juice and marshmallows
The night before your meal, clean, peel, and chunk the sweet potatoes. I like to leave mine in bigger-than-bite-sized chunks. Place the cut up potatoes in a large baking dish. Use a dish big enough that the potatoes are mostly in a single layer.

Combine butter and orange juice in a mixing bowl.

Add brown sugar.

Mix well, until brown sugar is completely dissolved.

Pour sugar mixture over potatoes. Sprinkle with pumpkin pie spice and top with a handful of miniature marshmallows, which will melt into the sauce.

Cover with plastic wrap.

Microwave for 20 minutes, or until the potatoes are fork tender. If you're making ahead, allow the potatoes to cool and refrigerate until it's time to serve. If not, just move on to the next step.

To serve: Top with remaining marshmallows.

Bake at 375ºF for 10 minutes (20 minutes if chilled), until the potatoes are hot and marshmallow topping is just toasted.

How to cook candied yams: microwave, oven, or boiling water
I prefer to microwave my sweet potatoes because they cook quickly. If you cut the potatoes into cubes about an inch and a half on each side, they'll cook in about 20 minutes in the microwave. Then you can bake them for 10 minutes to toast the marshmallows.
If your pan won't fit into your microwave or you prefer to bake them the whole time, cover the potatoes with aluminum foil and bake at 375ºF for about 75 minutes. Remove the pan from the oven, top with marshmallows, and bake for an additional 10 minutes to toast the marshmallow topping.
I don't recommend boiling the yams because boiling washes away a lot of the nutrients and flavor, but if you must boil them, here's how: bring a few quarts of water to a boil in a large pot. Add the yams and boil for about 8-9 minutes or until fork tender. Drain well, then add the cooked sweet potatoes to a baking dish, top with the butter/brown sugar/orange juice sauce, top with marshmallows, and toast them at 375ºF for 10 minutes.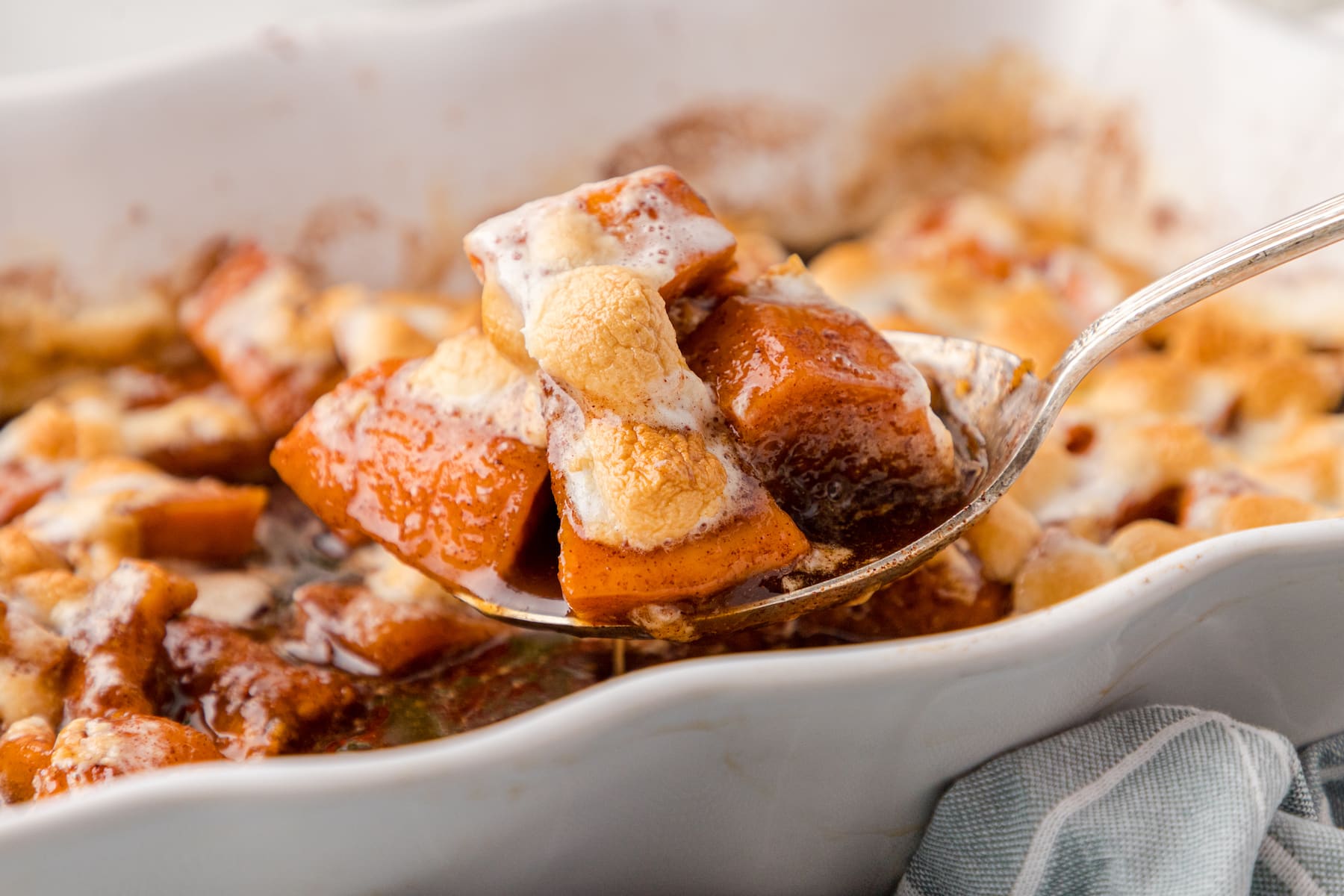 What's the difference between sweet potatoes and yams?
In the United States, we use the terms "sweet potato" and "yam" interchangeably, but they are actually very different things. The orange fleshed root vegetable we buy in the US is a sweet potato.
Yams are yellow-fleshed root vegetables with thick, brown, bark-like skin. They are native to Africa and can get quite large - up to 55 pounds a piece! It is very rare to find true yams in traditional American grocery stores.
Often, sweet potatoes are mislabeled as yams, but no matter what your grocery store calls them, if they have thin skin and orange flesh, they are sweet potatoes.
Can you make candied sweet potatoes with canned yams?
Yes, you can, although they won't taste as good as fresh potatoes. Canned yams are already cooked and tend to be a bit mushy. All you'll need to do is drain them, toss the yams with the butter/brown sugar/orange juice sauce, and bake for 30 minutes at 375ºF or until heated through. Then top with marshmallows and toast them for 10 minutes.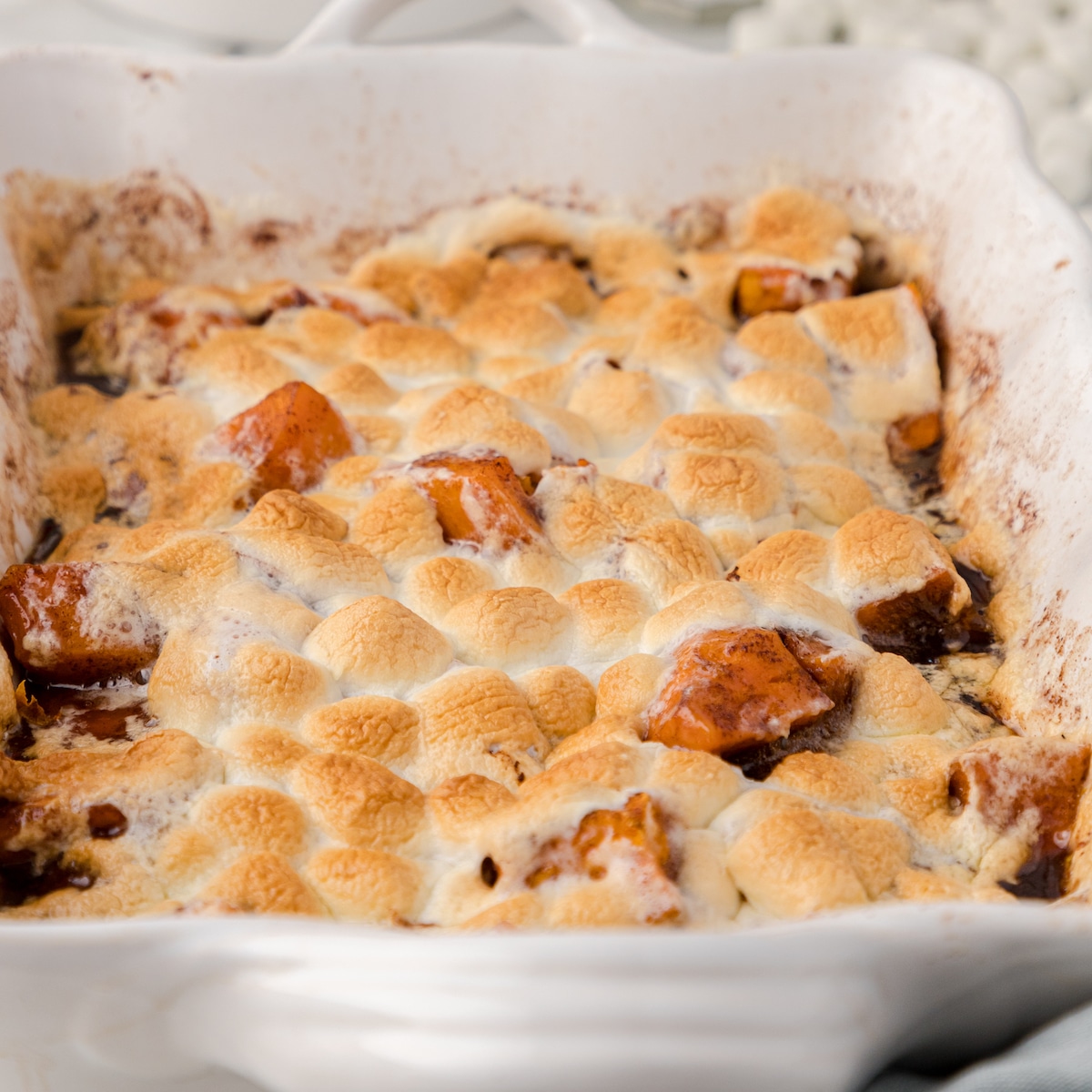 Candied yams variations
There are a lot of ways you can doctor this recipe to make it more your own.
Swap out the pumpkin pie spice for cinnamon, nutmeg, and ground ginger in a 3:1:½ ratio (1 tablespoon ground cinnamon:1 teaspoon ground nutmeg:½ teaspoon ground ginger). Mix the spices well in a small bowl before adding them to the sauce.
Add 1 teaspoon of vanilla extract or vanilla bean paste with the brown sugar and orange juice.
You can leave out the marshmallows. (But whyyyyyyy?)
Replace the orange juice with bourbon, rum, or whiskey for boozy candied yams.
Sprinkle the yams with ½ to 1 cup of chopped pecans before adding the marshmallows.
If you want to leave the marshmallows out, you can replace them with a pecan streusel topping. In a small bowl, mix ½ cup of packed brown sugar, ½ cup of flour, ¼ cup (4 tablespoons or half of a stick) of melted butter, and ¼ cup of chopped pecans with a fork until it forms crumbles. Sprinkle the topping over the yams before baking.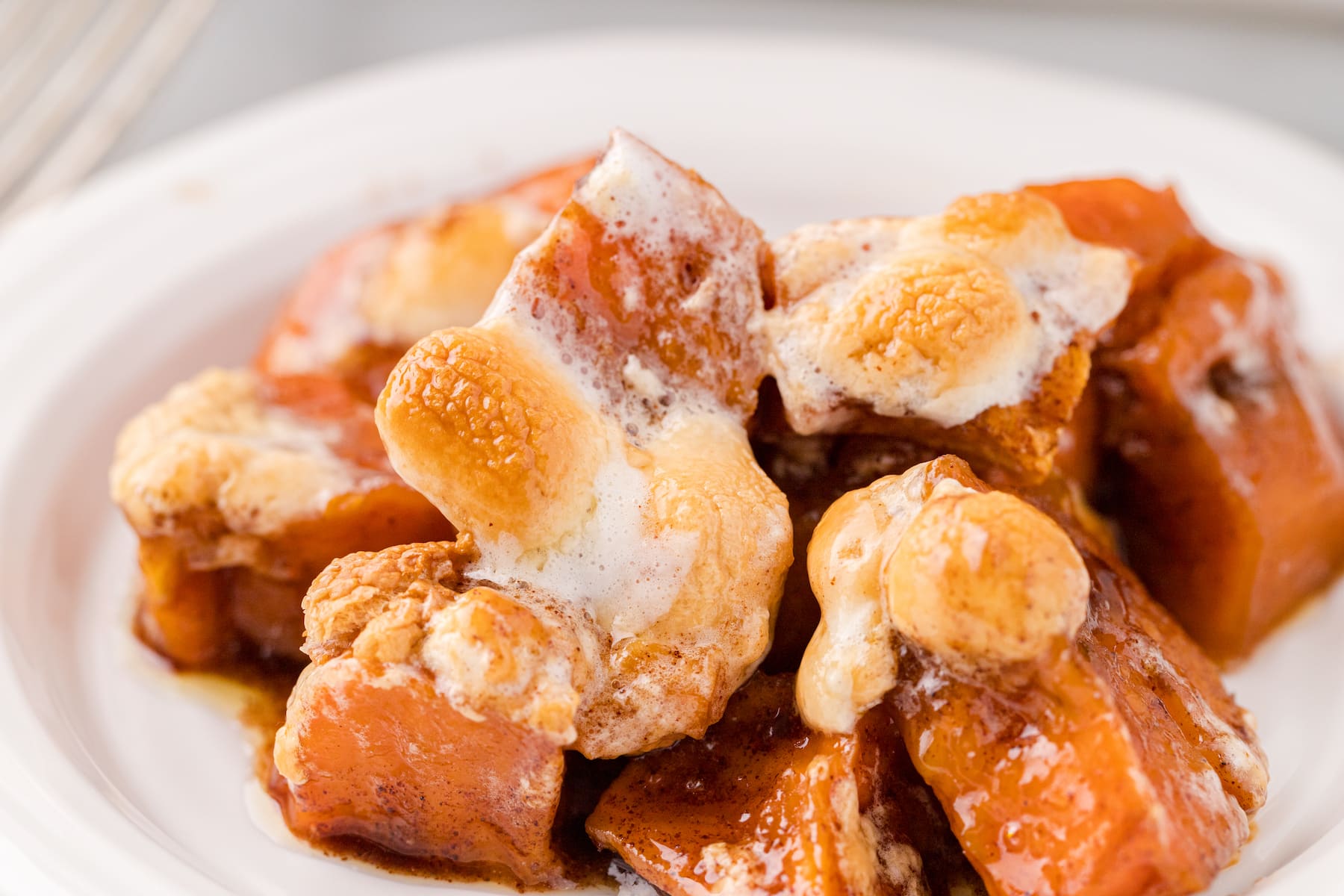 How to store leftovers
Store cooled candied yams in an airtight container in the refrigerator for 3-5 days.
You can also freeze candied yams. Wrap the dish with plastic wrap then aluminum foil then place in the freezer for up to 4 months. To reheat, thaw overnight in the fridge. When completely defrosted, cover with aluminum foil then bake at 375º for 30 minutes or until hot and bubbly.
Candied yams are part of my How to Host a Stress-Free Holiday Meal ebook which is available now.
THE REST OF OUR THANKSGIVING MENU
We don't get creative with our Thanksgiving menu. We like routines. We like the comfort of the same old food.
And for the leftovers, try one of these delights:
You can read more about my easy and traditional Thanksgiving menu.
Recipe