This healthy leftover turkey enchilada casserole recipe is so simple and an easy way to use up turkey leftovers with bold and spicy Mexican flavors.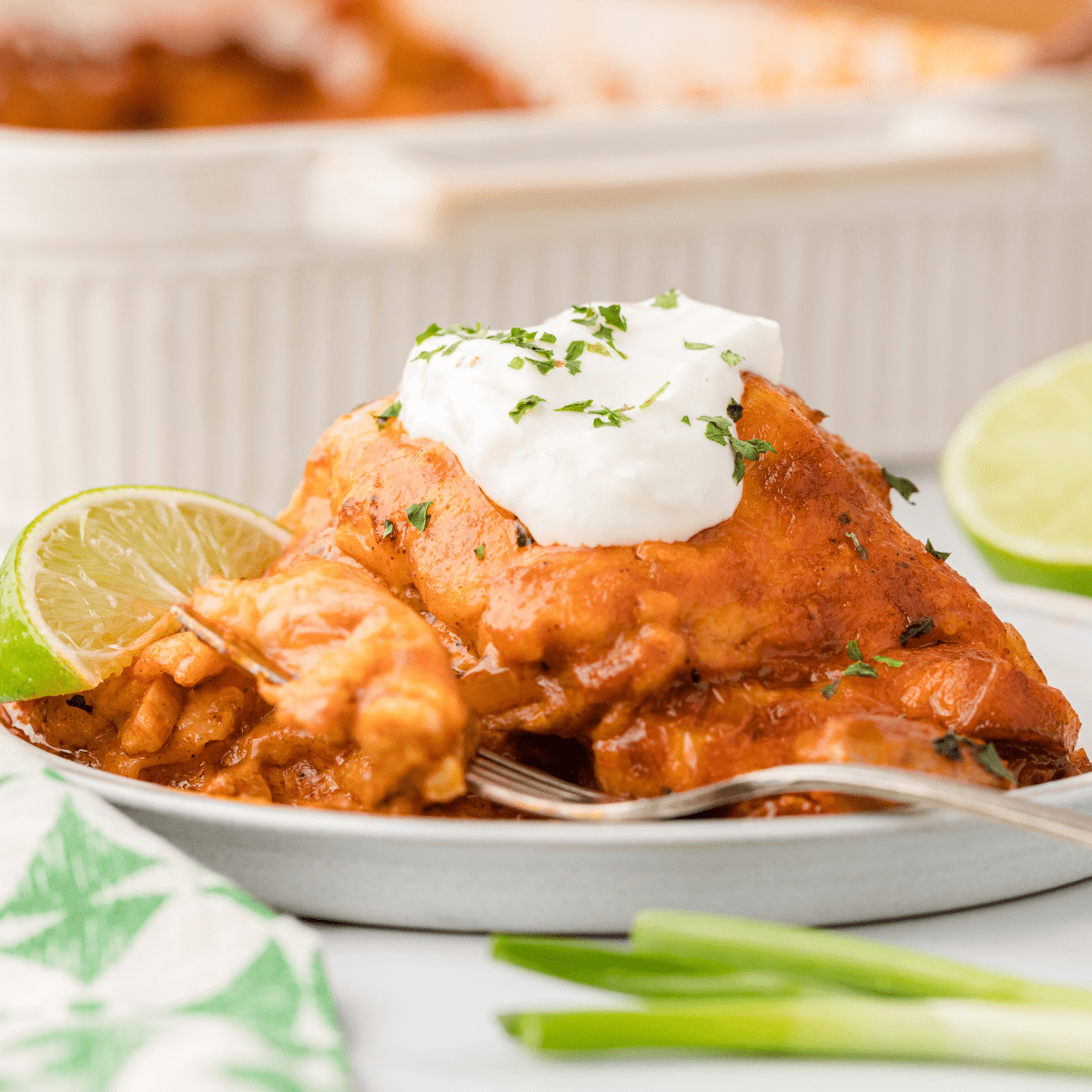 I love Mexican food in all varieties. It has been a little challenging to eat Mexican since my bariatric surgery, but I am still able to find good things to eat. This lasagna-style casserole is one of those very good things.
When you are left with a glut of leftovers after a big holiday meal, you quickly get tired of repeating the big meal over and over and over again. At least, I get tired of it.
What we try to do in the week after the big meal is to come up with creative ways to use the turkey (or ham, as is the case at Christmas and Easter). That's where this Mexican casserole came from.
We love our homemade enchilada sauce recipe because it is spicy and full of rich flavors. Pair that recipe with the ease of an enchilada casserole (rather than the laborious process of rolling individual enchiladas) and some diced left over turkey, and you have this gloriously gooey and cheesy "lasagna" casserole.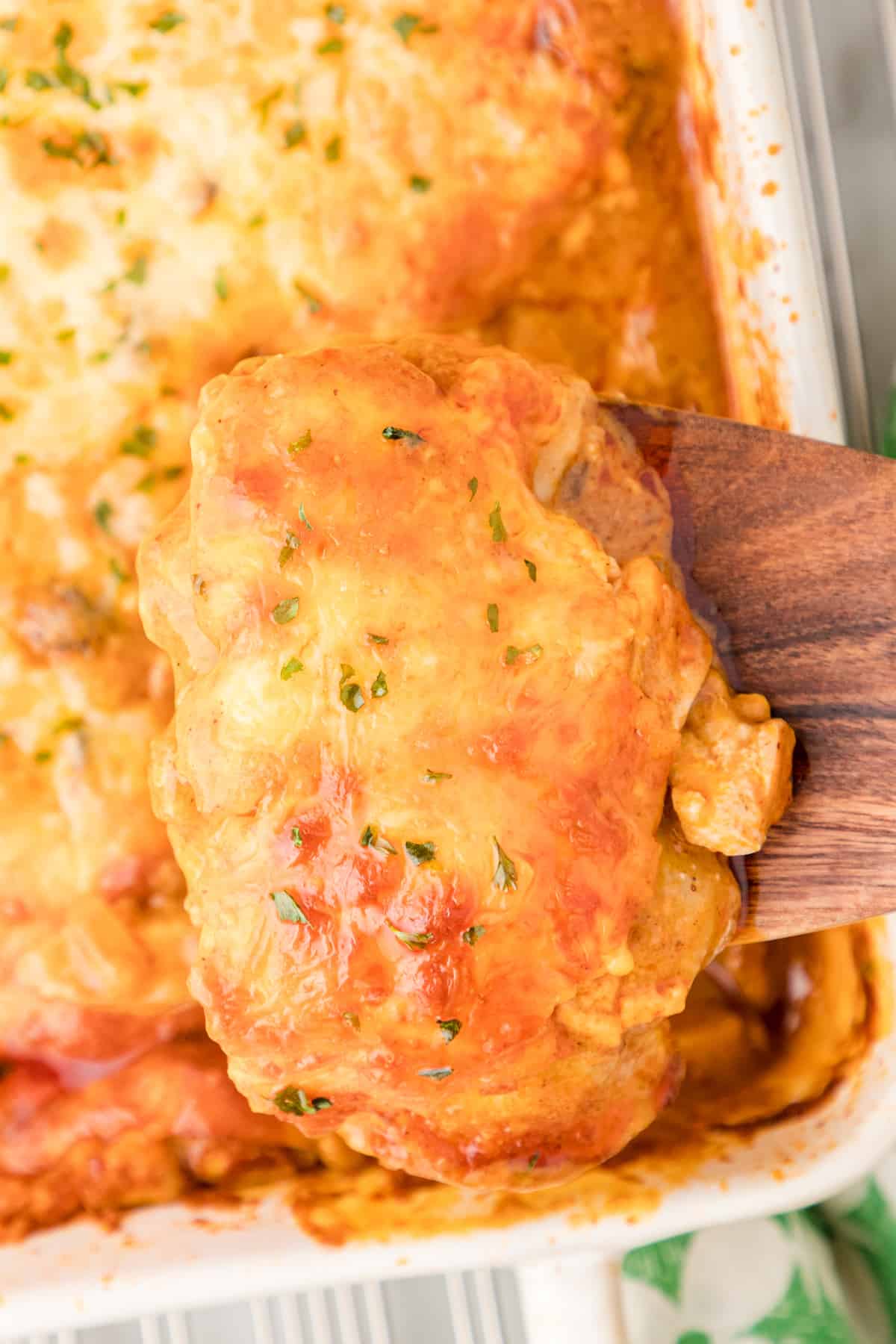 While my family eats this dish the way it's presented in the recipe, I eat only the filling. When Joe is preparing the meal, he sets aside about 12 ounces of the turkey/sauce/veggies mixture for me, and I eat half of that per meal topped with half an ounce of cheddar cheese and half of an avocado. I feel great about my meal which is delicious, and I avoid the carbs that would fill my small stomach.
What you'll need to make leftover turkey enchilada casserole
Equipment
You'll need standard kitchen equipment, including:
Ingredients
See printable recipe card at the bottom of the page for measurements.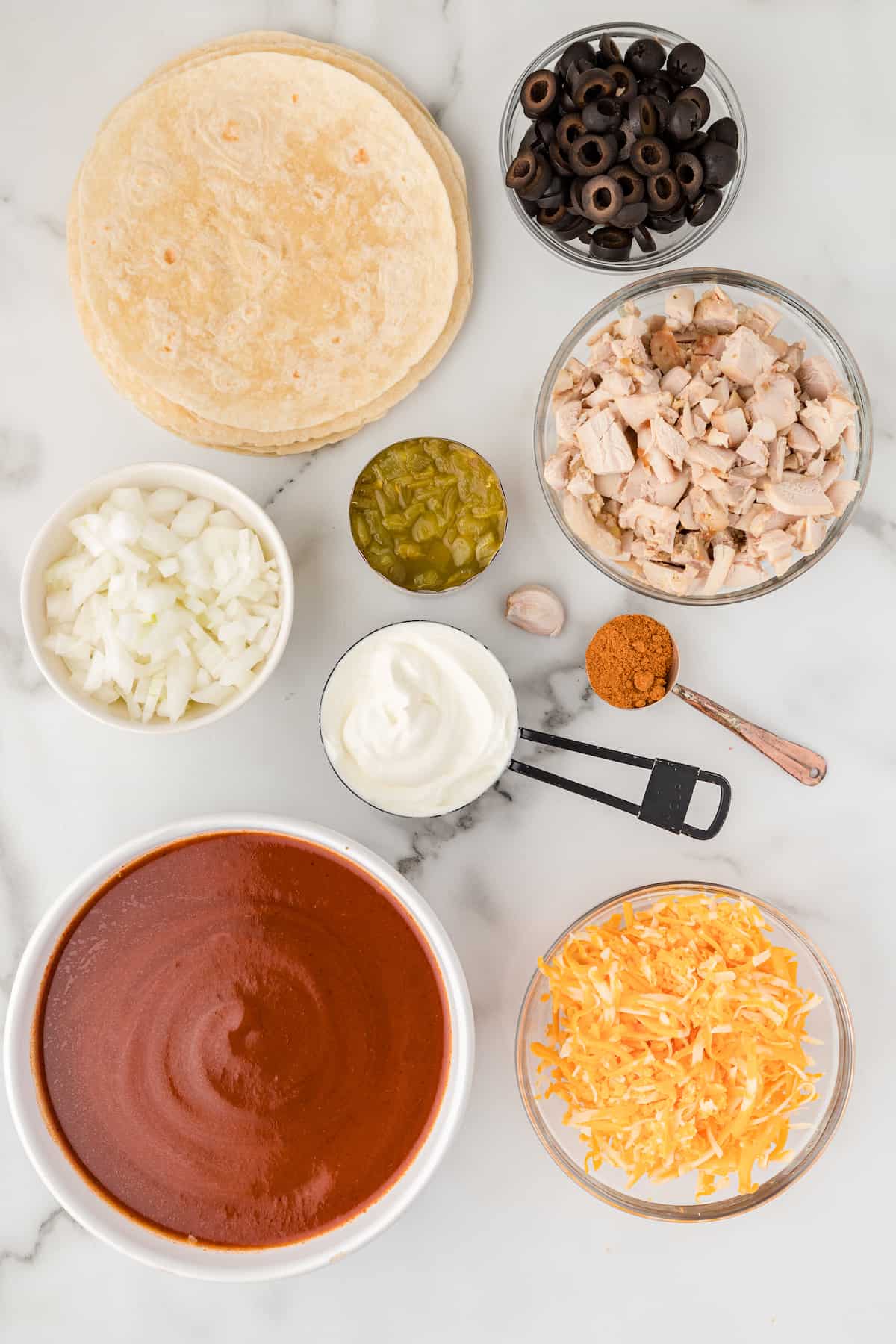 How to Make Turkey Enchilada Casserole
Preheat the oven to 375º.
Heat olive oil in a large skillet over medium-high heat. When the oil is hot, add the onion, green chiles, garlic, black olives, and taco seasoning. Sauté until the onions are soft and translucent.

Add turkey and 2 cups of enchilada sauce to the skillet and stir gently until thoroughly mixed.

Add Greek yogurt and simmer until the sauce begins the thicken, about 10 to 15 minutes.

Spoon some of the reserved enchilada sauce over the bottom of a 9x13 pan. Arrange 4 tortillas in the bottom of the pan. They will overlap.
Spoon ⅓ of the turkey mixture over the tortillas.

Sprinkle with 1 cup of shredded cheese.

Repeat layers twice more.

End the layers with shredded cheese.

Bake for 30 to 40 minutes, until the cheese is melted and the sauce is bubbly.

Top with a dollop of Greek yogurt and serve with a wedge of fresh lime.

The Rest of our Thanksgiving Menu
We don't get creative with our Thanksgiving menu. We like routines. We like the comfort of the same old food.
And for the leftovers, try one of these delights:
You can read more about my easy and traditional Thanksgiving menu.
Recipe