This simple and easy green bean casserole uses cream soup, cheddar cheese, and french fried onions to make the ultimate comfort food for holiday meals or any time of year! It is so quick to put together and can be made ahead to simplify the holiday preparation.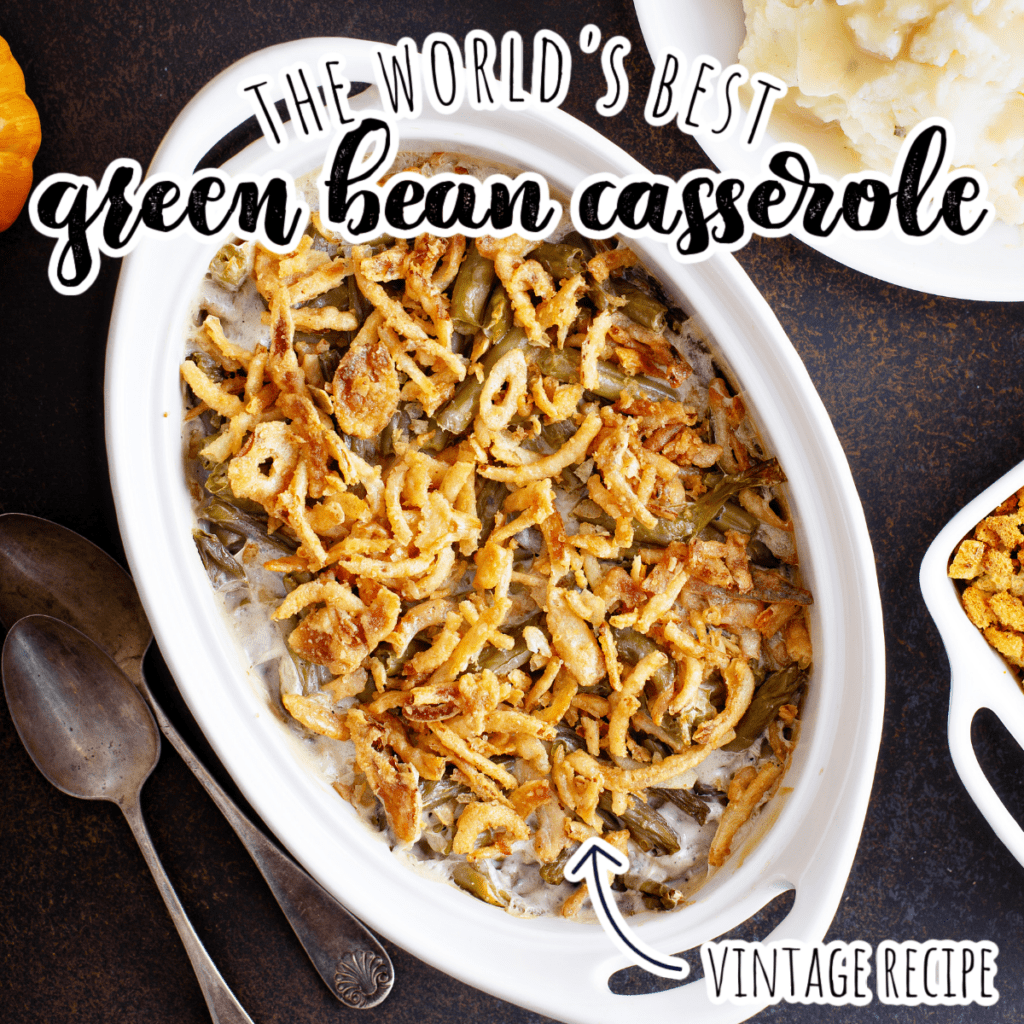 Green bean casserole is my favorite holiday food. It's creamy and rich and our recipe includes garlic for a little zip.
Green bean casserole is one of those recipes that is synonymous with holiday meals for me. We used to have it only for Thanksgiving dinner, and then when we started hosting Christmas, we naturally added it to that menu, too.
If we have green bean casserole for dinner at another time of year, I instantly think about all of the wonderful sights and smells of the holiday season. It's comfort and happiness with a gooey, cheesy crust on top.
What you'll need to make traditional green bean casserole
Equipment
You will need standard kitchen equipment for this recipe, including a casserole dish, mixing bowl, and garlic press.
Ingredients
4 cups green beans, drained and cut into bite-sized pieces - You can use thawed frozen beans, canned beans, or steamed fresh beans. I prefer to use two 14-oz commercial cans because the beans are already cut into bite-sized pieces, and there is no additional work required. I normally won't touch canned vegetables with a ten foot pole, but they work in this recipe.
1 10.75-ounce can condensed cream of mushroom soup -I buy low sodium fat free soup, but you buy whatever you want. If you are gluten-free, you can make your own cream of mushroom soup using this recipe from Once a Month Mom. I've used it for years.
Lots of shredded cheddar cheese - It's not green bean casserole without loads of cheddar cheese
Fresh garlic - There is no flavor on earth like fresh garlic. Refrigerated garlic and garlic powder can't touch it. Go for the fresh cloves if there's any possible way. It makes a difference.
Onion powder - If you don't mind the extra work, you could sauté a diced onion in butter until the onion bits are starting to brown. That would make this casserole even better than it already is.
10 oz cheddar-flavor French Fried onions - Please don't skip these as they make the whole casserole. You can't have green bean casserole without a crunchy fried onion crust on top.
How to make classic green bean casserole
Instructions
In a large bowl, combine green beans, soup, 1 cup of shredded cheddar cheese, pressed garlic, and onion powder. Mix well. I usually do this the night before so that I don't have to bother on the morning of Thanksgiving.
Transfer the green bean mixture to a 9x13 casserole dish. Top with remaining shredded cheese.
Bake at 350ºF, until bubbly and heated through, about 30 minutes. Add the French Fried onions and bake until onions are browned, usually 5 to 10 minutes.
The Rest of our Thanksgiving Menu
We don't get creative with our Thanksgiving menu. We like routines. We like the comfort of the same old food.
And for the leftovers, try one of these delights:
You can read more about my easy and traditional Thanksgiving menu.
Recipe